Goal Setting Ideas for Teachers for the New School Year
As teachers, you constantly help your students work towards their learning goals and targets. But have you ever stopped to think about how important it is for you to set goals for yourself too? These goal setting ideas for teachers will help you determine which professional goals you want to focus your efforts on for the new school year.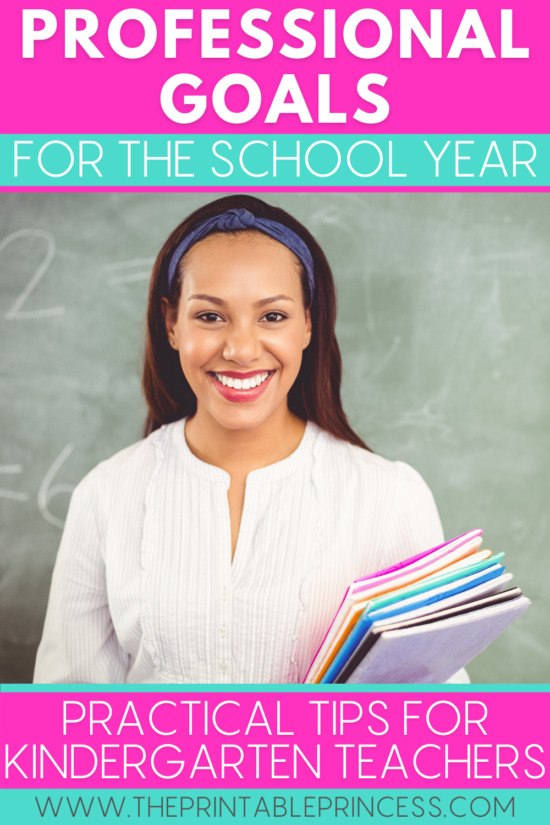 The Importance of Setting Goals for the New Year
As educators, it's important to always be learning and looking for ways to grow in your teaching practice. Teachers are lifelong learners after all. By setting goals for the next school year, you'll be able to dive deep into the topics and areas you want to grow in. This will help you refrain from focusing on too many goals at a time.
At the end of the school year, it's important to do an end of year reflection to think back on the challenges you faced, the wins you had in the classroom, and the areas you want to improve on next school year. This reflection is a great way to determine the areas in which you want to grow and improve.
Think back on your conversations with your administration and colleagues as well when thinking about your new school year goals. Did your principal offer a suggestion after your evaluation on something you could work on? Did a colleague tell you about a new strategy that they're trying that you are curious about learning too?
By pooling these conversations and your reflections together, you'll know just what areas you want to focus on for next school year.
Why Goal Setting in the Summer is Effective
Summer is definitely a time to rest, relax, and unplug from school. However, it's still a great time to think about your professional goals for next school year.
During the school year, it can be hard to sit down, reflect, and think about the areas you want to grow in. Your mind is going a mile and minute and your time is limited.
In the summer, you have more time and mental space to think about the goals you want to work towards. There's a big difference between saying, "I want to be a better reading teacher" and "I want to implement literacy centers in order to improve as a reading teacher."
The second option is specific and states exactly what it is you want to learn and focus on. Additionally, you have more time to research, learn, and dive into professional development. You actually have time to consume information on the goal without distraction.
Goal setting is also effective in the summer because you have time to prep the materials you may need to achieve the goal. In the example of the literacy centers, you can actually take the time to learn what you'll need, find the literacy centers you want to use, and prep them ahead of time for the year.
Goal Setting Ideas for Teachers
When setting goals, you want to make sure they are SMART goals. This means they are Specific, Measurable, Achievable, Relevant, and Time-Based. By setting SMART goals, you'll be able to get specific and create an action plan that's in line with your timeline and what you want to achieve.
In the list below, I'm sharing some of my favorite goal setting ideas for teachers. I'm also including an example SMART goal for each one. These are some of the most common topics that I hear from teachers that they want to improve on.
Organize all of my manipulatives and classroom supplies into labeled totes before I report back to school in August.
Establish 5 main classroom rules and plan and prep for a mini lesson to explicitly teach them on the 2nd day of school.
Choose 3 classroom community building strategies from this blog post and implement them during the first week of school.
Print, prep, and organize math and literacy centers into labeled baggies for the entire year before I report back to school in August.
Plan a daily directed drawing activity for our writing lessons for the first month of school.
Prep and store a Back to School set of morning work activities for students to complete each day during the first month of school.
Tracking Your Progress
After you've determined which goal setting ideas for teachers you're going to focus on, you must track your progress and check-in with yourself frequently in order to achieve your goal.
This is where the Measurable and Time-Based portion of the SMART goals come in. You want to be able to measure your progress and give yourself a deadline for when you'll accomplish the goal. If you don't set a deadline, you may fall victim to procrastination and constantly putting your goal on the back burner.
Make sure you write your SMART goal down so you know exactly what it is you want to achieve. You can even write it in a journal so you can take notes, make to-do lists, and track your progress towards your goal.
Another way to ensure you're moving forward on your goal (and to make it a little more fun) is to get an accountability partner! Maybe your team teacher wants to also implement centers next year. Check-in with each other on how the prepping is going. You can even get together over the summer to print, laminate, and prep.
Is there another teacher in your building that has a great morning routine? Pick their brain over the summer and ask them for their best advice. Tell them the goal you're working towards. Ask them to hold you accountable by checking in with you once or twice over the summer.
Lastly, remember this…you don't have to be perfect. It is summer and you shouldn't be spending every day thinking about your goals for next year or working on school tasks. Give yourself grace, forgive your mistakes, adjust your plans if needed, and keep moving forward.
What are your teacher goals for next year? I'd love for you to comment below and let me know so I can encourage and help you along the way!