Summer Bucket List for Teachers
Summer is one of the best parts of the year. It's your time to recharge, relax, and enjoy time with family and friends. To help you make the most of your time, I put together a summer bucket list full of fun and simple activities. You don't need a fancy vacation to feel accomplished this summer (although that's definitely a bonus!).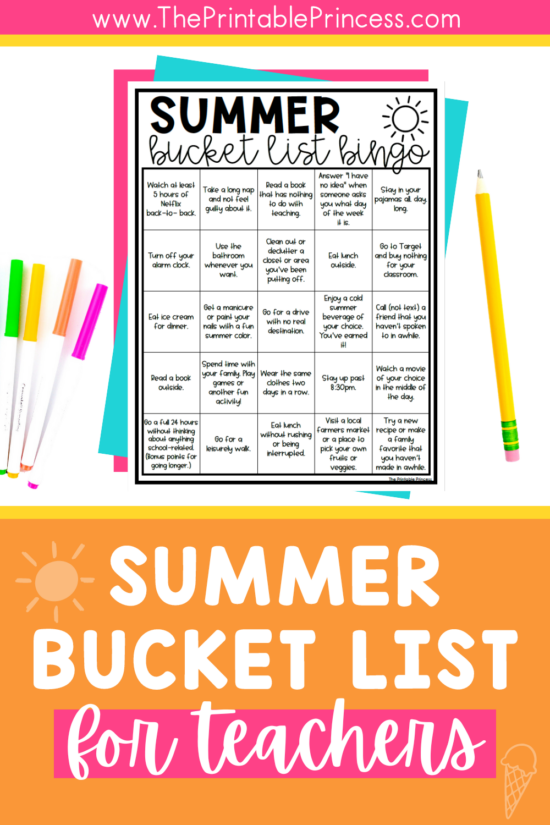 #1 – Reflect. Then Put It Away.
When summer first begins, you might find it hard to get your brain into summer mode. Reflecting on the school year can help you brain-dump all the thoughts swirling in your mind and allow you to fully embrace your free time. During this reflection, jot down the challenges and wins from the school year. You can also note any goals you have for next year.
Then, when it's time to switch back into school mode, you can pull out this reflection sheet!
#2 – Unplug
Nowadays, it's hard to go a whole day without staring at a screen (inside and outside of the classroom). However, screens can actually cause us a lot of stress with the constant stream of notifications and things asking for our attention.
As a challenge, add a screen-free day to your summer bucket list. Take some time to get outside and enjoy nature. Pick up a new hobby or one you haven't done in a while. Read a book. Play a board game with your family or friends.
It's always nice to step away from technology, even if it's just for a day.
#3 – Get Outside
Speaking of stepping away from the screen, another fun bucket list idea is to get outside. Whether you live near a body of water, a bike path, or simply have a backyard, it's time to enjoy that summer sun.
Maybe you'll find a new trail and take a long hike to breathe in the open air. Or perhaps you'll head to the beach, lake, or neighborhood pool and take a refreshing dip in the water on a hot summer day. Either way, the sun is good for the soul.
Don't forget to lather up on sunscreen and bring a hearty snack with you on your way!
#4 – Read a New Book (Just For You)
During the school year, you probably read books that you want to share with students or to help you gain more knowledge about teaching.
Now that it's summer, you can pick up a book just for fun. Adding a book to your summer bucket list is a good way to relax and unwind. If you want to challenge yourself to a thought-provoking nonfiction, go for it! Or you can stick to a quick and light-hearted beach read.
#5 – Catch Up on Sleep
You'll definitely want to add this to your summer bucket list! It's time to catch up on those restless nights and take back your mornings. Pick a day (or multiple days!) when you can fall asleep without setting an alarm.
You can also enjoy some mid-day cat naps, especially if you have little ones at one. After a long day out and about, turn down the blinds and enjoy a little respite. Naps are one of those luxuries you don't get during the school day, so soak them up!
#6 – Discover a New Series and Binge-Watch It
During those rainy or scalding hot summer days, settle into the sofa for a relaxing binge-watch session. This summer bucket list idea is perfect for catching up on a new season or rewatching your favorite series.
Of course, don't forget to grab a snack, a tasty drink, and some comfy clothes to maximize the experience!
#7 – Make Memories
The days are long and the weather is (mostly) beautiful, which makes summer the perfect time for creating lasting memories. Do things you normally don't have time for during the school year, like going to a drive-in theater, traveling to see family, testing out a new recipe, and more.
If you're feeling ambitious, you can also create a family summer bucket list. Ask each family member to come up with a few things they would like to do over the summer. Write them down and check them off one by one.
#8 – Get Creative
As teachers, the school year can be so busy, and often our self-care time gets neglected. However, during the summer, you have the time, energy, and brain space to get creative.
For example, grab some sidewalk chalk and head outdoors to create an obstacle course for the neighborhood kiddos. Head to the craft store and get items to tie-dye t-shirts or paint rocks. You could even take a class like cooking, art, or woodworking. Challenge yourself to tune into your creative side. Not only is it super relaxing, but you might also just discover new talent.
#9 Prepare for the Upcoming Year
When summer comes to an end, your brain might start thinking about back to school and the new year. While you should still soak up the summer sun while you can, it never hurts to start planning ahead for next year.
You can use moments over the summer to get organized, grab new school supplies, or even print and prep classroom activities. Additionally, you can try out meal prep recipes and even cook and freeze meals to make the first weeks of school a lot smoother.
Grab the Free Summer Bucket List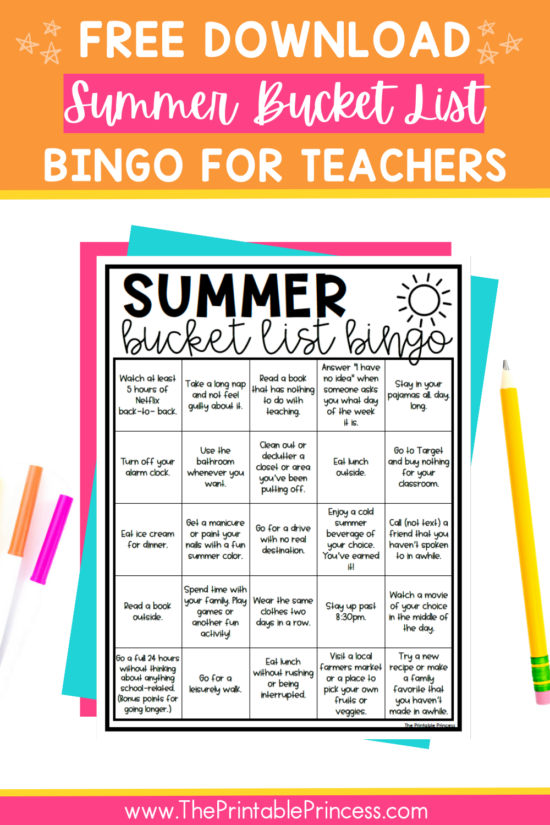 Want all of these summer bucket list ideas and more? Grab the free summer bucket list for teachers! You can complete these bucket list items alone or grab your teacher bestie and knock it out together.
Summer is the perfect time of year for you to breathe a fresh perspective into your life. Remember, it's not selfish to take some time for yourself. It's important to fill your cup before you can fill others. I hope these summer bucket list items help!