Summer Bucket List for Teachers
To say that this school year has ended unlike any of us planned is a small understatement. Between schools closing early all over the country to learning how to teach virtually, educators everywhere certainly deserve to take a moment to catch their breath and recoup and recharge their batteries. I know it can be hard to think of things to do for yourself, so I've come up with some ideas that are perfect for a summer bucket list for teachers! Be sure to grab the Summer Bucket List for Teachers printable included!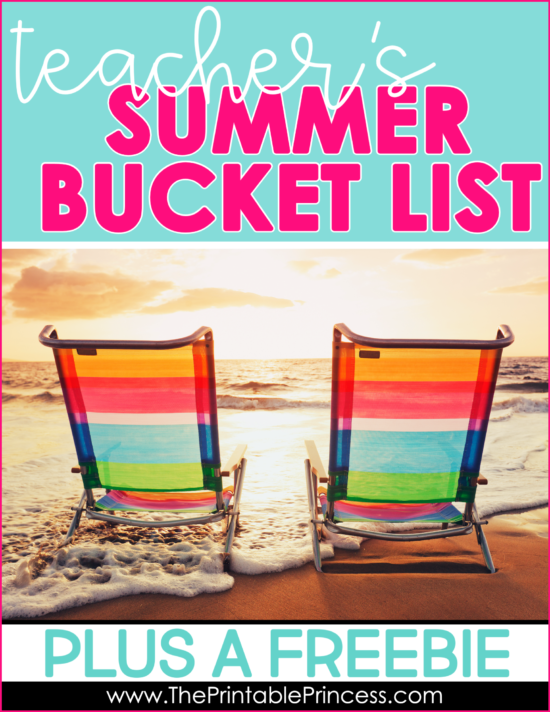 #1 – Reflect. Then Put It Away.
Before you fully release yourself to the summer days, take the time to think through the highs and the lows from the year. Was there something new you tried out this year that maybe didn't turn out the way you planned it? Was there an "a-ha" moment of clarity, or a moment for student celebration? Jot some of your thoughts down, and use these insights to plan for the next school year to come.
However, the most crucial part about self-reflection is to remember then move on; meaning don't think about school all summer. You can pick back up those ideas that you reflected on at the beginning of summer when back-to-school rolls around.
#2 – Unplug
This year our classrooms became our computer screens before our very eyes, and we had to quickly adapt. The days rapidly filled with whole-class Google Meets meetings, online presentations, and Google Classroom/Seesaw assignments. It was no easy feat! However, you did it, and you earned a break. Taking a step back also allows you to reflect on the year's events and connect back with life outside of the screen. Even if it's just for the day.
Step 1: No Social Media – remove the notification alerts or turn your phone on airplane mode
Step 2: No Checking Email – no more need to panic about all of your meetings for the day!
Step 3: Put Your Phone Away Altogether – be present and remember to do things for you
By the time you reconnect, you will be more ready than ever to get back to it all.
#3 – It's Summer! Get Outside!
Whether you live near a body of water or near a beautiful mountain range, it is important to get back outside. Maybe you'll want to find a new trail and take a good long hike to breathe in the open air. Or perhaps you'll want to head to the beach, lake, or neighborhood pool and take a refreshing dip in the water on a hot summer day. Either way, the sun is good for the soul.
Don't forget to lather up on sunscreen and bring a hearty snack with you on your way!
#4 – Read a New Book (Just For YOU!)
Most teachers love to read, but so often they are reading books for school. Now that you have the free time, try picking out a fun book to read that is just for your own pleasure. One that can help you truly sit back and relax – remember that means one that has nothing to do with school! Getting lost in a good book could be exactly what you need to recharge.
As a bonus, reading keeps your mind active and sharp over the summer – no summer slide here! Keeping your mind active will help you mentally prepare for the upcoming school year.
#5 – Catch Up on Sleep
This is your time to sleep freely and put to bed (no pun intended) those restless nights. Spend some extra leisure time in the morning and sleep in – hit that snooze button, guilt-free! Warm morning coffee in your pj's anyone?
Or, take a nap in the middle of the day. If you have little ones, then nap when they nap. Naps are one of the summer's great luxuries, so enjoy it while you can.
#6 – Discover a New Series and … Binge. Watch.
No more missing out on your favorite shows you didn't have the time for during the school year! Don't worry if you don't have a particular show in mind either, there are plenty of options to choose from. From DVR to Netflix, to Hulu, to Disney+, there is certainly something for everyone. Choose something that interests you (The Great British Baking Show, anyone?) and watch until your hearts content!
#7 – Make Memories
The days are long and the weather is (mostly) beautiful, which makes summer the perfect time for creating lasting memories. Do things that you normally don't have time to do during the school year. Last year, my family and I went to every summer festival we could. If you'd like to stay closer to home, you could make a recipe that you don't normally have time to make, go to the drive-in theater, get ice cream after dinner. Do things that you wish you could do during the school year, but you don't have time for.
You could also create a family summer bucket list. Ask each family member to come up with a few things that they would like to do over the summer. Write them down and check them off one by one.
#8 – Get Creative
As teachers, the school year can be so busy, and often our self-care time gets neglected. During the summer, get your creativity on. You might get some sidewalk chalk and head outdoors to create an obstacle course for the neighborhood kiddos. Maybe you want to head to the craft store and get items to tie-dye t-shirts or paint rocks. You could even take a class: a cooking class, a fun woodworking class, or an art class. Challenge yourself to tune into your creative side. Not only is it super relaxing, but you might also just discover new talent.
#9 – Find a Bucket List and Complete It
Experiences help shape our view of the world, which we then in turn pass along to our students. So count these experiences as professional development and check that off your back-to-school to-do list! (See you're getting ahead already!) Check out this summer bucket list for some great ideas to get you started.
Bonus: Try it out with a teacher friend, and see how many you can do together!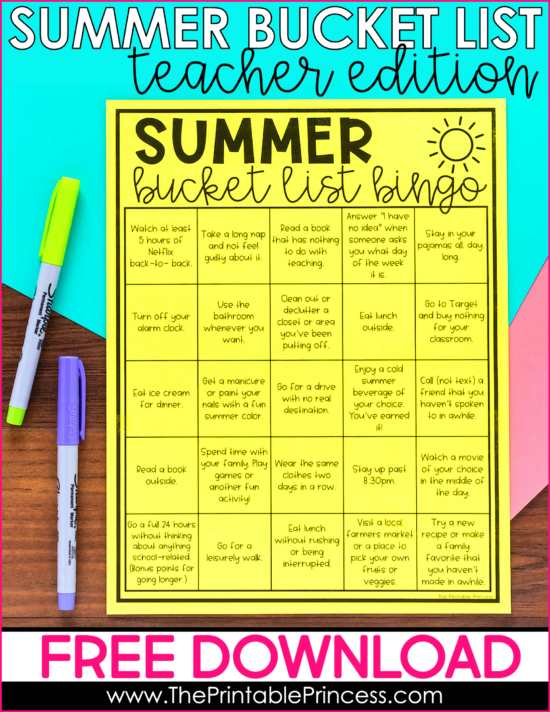 #10 Prepare for the Upcoming Year
Don't spend your entire summer thinking about school. Summer break is the time to disconnect, refresh, and recharge. But as summer comes to an end, think of things you can do to make life easier on your back-to-school self. Use pockets of time over the summer to get organized. Start with your closet, which will make getting ready for school much easier. Make meals that you can freeze and pull out on those busy first few days back to school.
I hope you find this Summer Bucket List for Teachers helpful and you have the opportunity to take these next few weeks and months to take stock and take time for yourself. Summer is the perfect time of year for you to breathe a fresh perspective into your life. Remember, it's not selfish to take some time for yourself. It's important to fill your cup before you can fill others. If you are looking for more ways to take care of yourself, check out these tips.