November Morning Tubs for Kindergarten
November is such a fun month in Kindergarten. You've settled into a rhythm, students better understand routines and procedures, and hopefully you're starting to see them master the skills you've been teaching. As an added bonus, we get a few days off to rest, recuperate, and spend time with family. However, that can also mean that just like you, your students are excited about the upcoming holidays. It can be more difficult to keep their attention and keep them on task. To help you keep their attention and learning going, I wanted to share with you November Morning Tubs for Kindergarten.
Don't let the "morning" part fool you – these tubs can be used any time. Whether you need a few fun activities to keep your students engaged as everyone arrives, need math or literacy stations, or just some fun filler activities – these activity tubs are a perfect fit.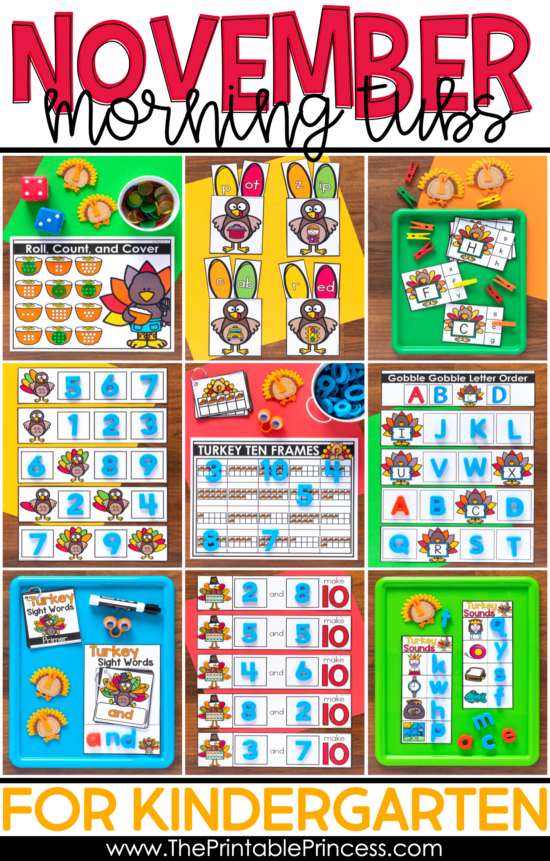 This article, along with many other articles on The Printable Princess, contains Amazon affiliate links. If you purchase through the links I earn a small commission. Clicking these links does not cost you any extra but helps this website to keep great articles and freebies coming your way.
November Literacy and Math Tubs
The November Morning Tubs for Kindergarten kit includes literacy and math activities with a fun turkey theme. The skills included in this resource are ones that your Kindergartners are most likely working on during the month of November. It is packed full of games and interactive, hands-on activities to keep students engaged and learning.
Each activity comes with an "I Can" card to promote independence. piece or card is labeled to help you stay organized and pair up missing pieces if something gets lost.
These activities use basic classroom supplies like magnetic letters, dry erase markers, plastic math cubes, play dough, and more.
Literacy Tub Activities
Feather-y Onset and Rime: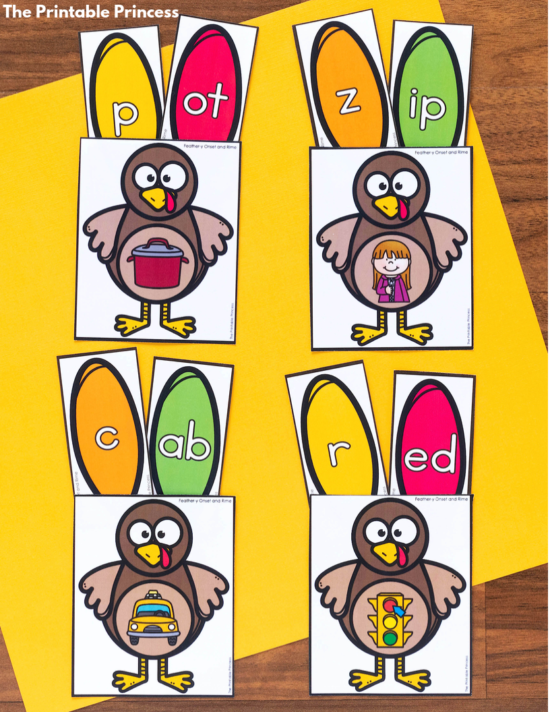 Students say the name of the CVC picture on the turkey. They match the feathers to show the onset and rime.
Gobble, Gobble Letter Order: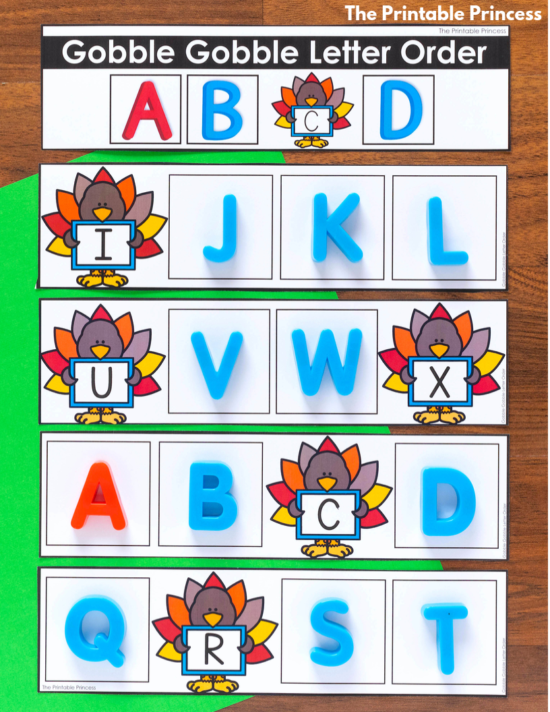 Students identify the letters in the letter sequence and fill in the ones that are missing. You can use magnetic letters or dry erase markers for this activity. You could even have students use play dough and letter stamps.
Turkey Sight Words: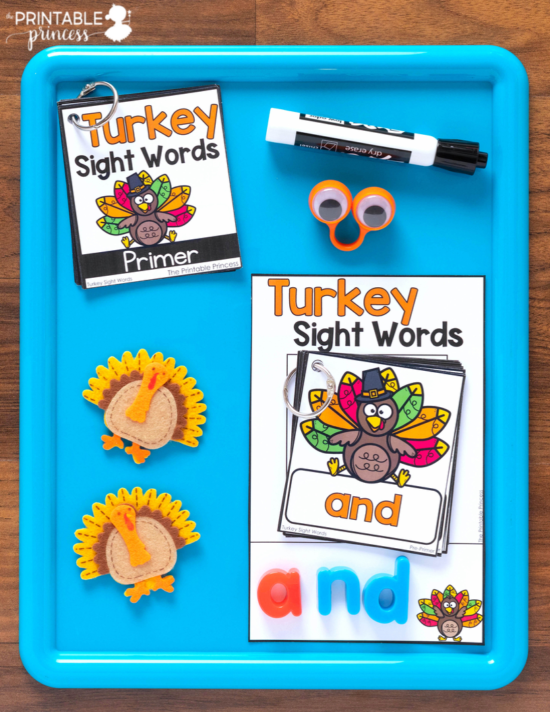 Students select a sight word card and place it on the mat. They build the word using a dry erase marker or magnetic letters. This activity is editable, so you can add your own sight words and customize the front covers! This allows you to create different sets for each student or group.
Turkey Sounds: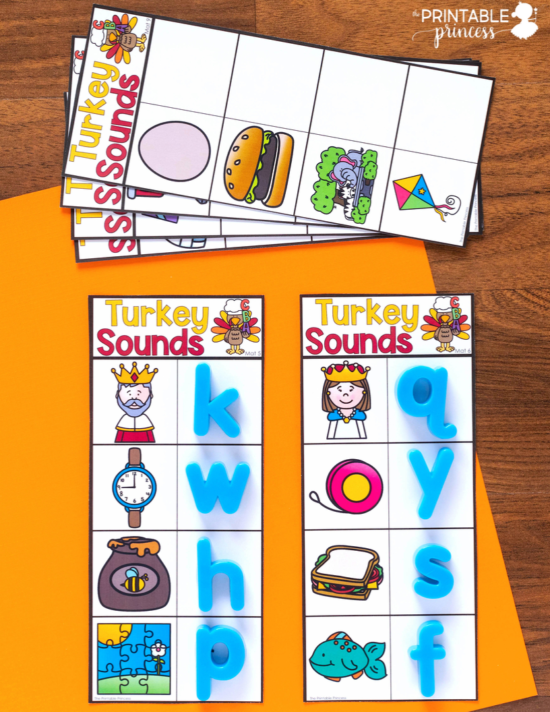 Students say the name of the picture to identify the beginning sound. They find the matching magnetic letter and place it on the mat to show the beginning sound. Another option is to have students write the matching letter with a dry erase marker.
Turkey Letter Clips: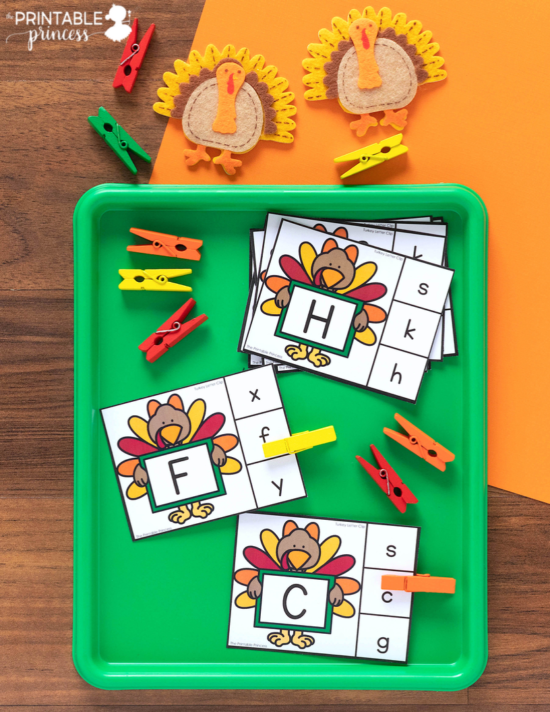 Students identify the uppercase letter and clip the lowercase letter to make a match. To make this activity self-checking, put a small sticker or mark on the back of the correct answer before laminating.
Other literacy skills include syllables, more beginning sounds, ending sounds, rhyming words, and vocabulary.
Math Tub Activities
Feather-y Number Order: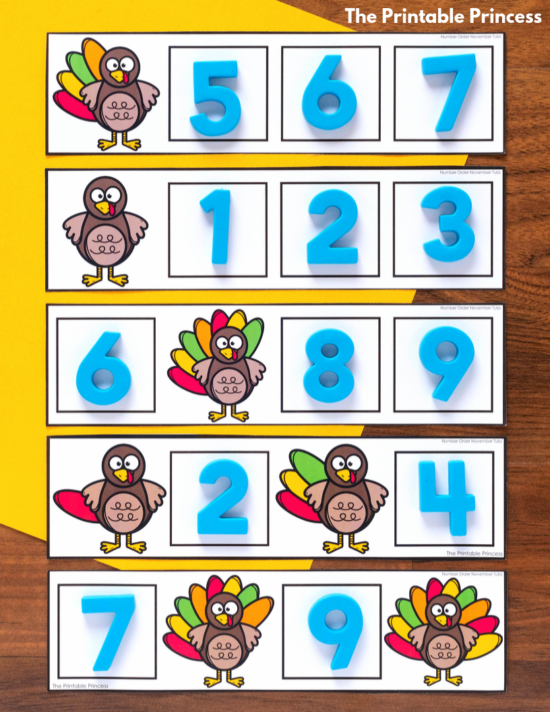 Students count the number of feathers on the turkey. They count back or count on to fill in the missing numbers.
Turkey Ten Frames: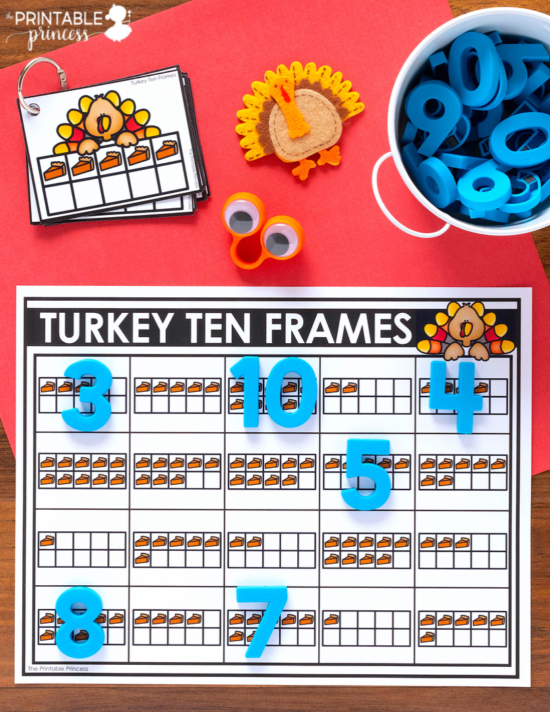 Students identify the number represented on the ten frame. They find and cover a corresponding ten frame on the activity mat.
Turkey Feather Match Up: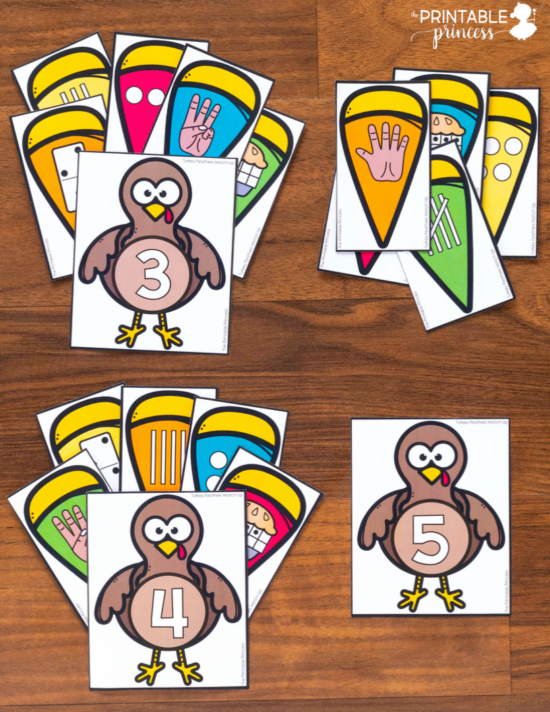 Students identify the number shown on each feather. They match the feather to the corresponding turkey. There are five feathers for each turkey.
Turkey Make 10: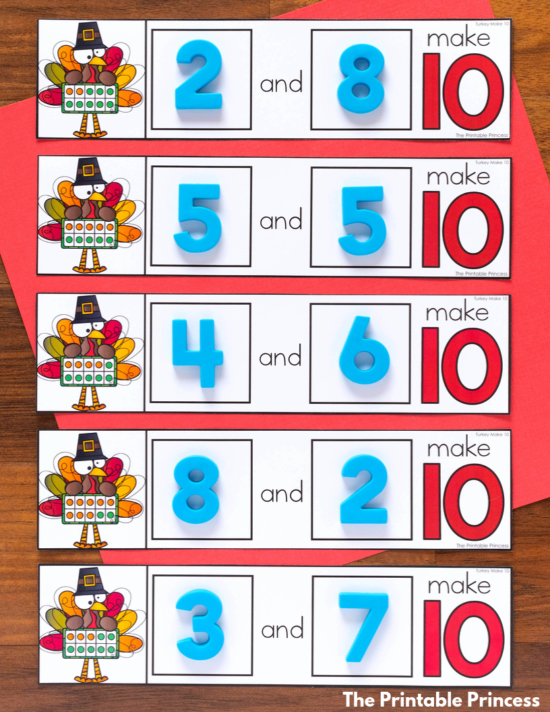 Students use the ten frame on the left of the mat to identify a way to make 10. They use magnetic numbers or dry erase markers to show a way to make 10.
Other math skills include: more/less, numbers to 20, one-to-one correspondence, subitizing, and more.
For a more in depth look at the November Morning Tubs, check out this video:
You can read more about morning tubs in these blog posts.