Kindergarten Morning Tubs FAQ
Morning tubs are a great way to transform your mornings in kindergarten from chaos to consistency. They provide students with open-ended, stress-free activities to start the day. Read on to learn the answers to some frequently asked questions about morning tubs.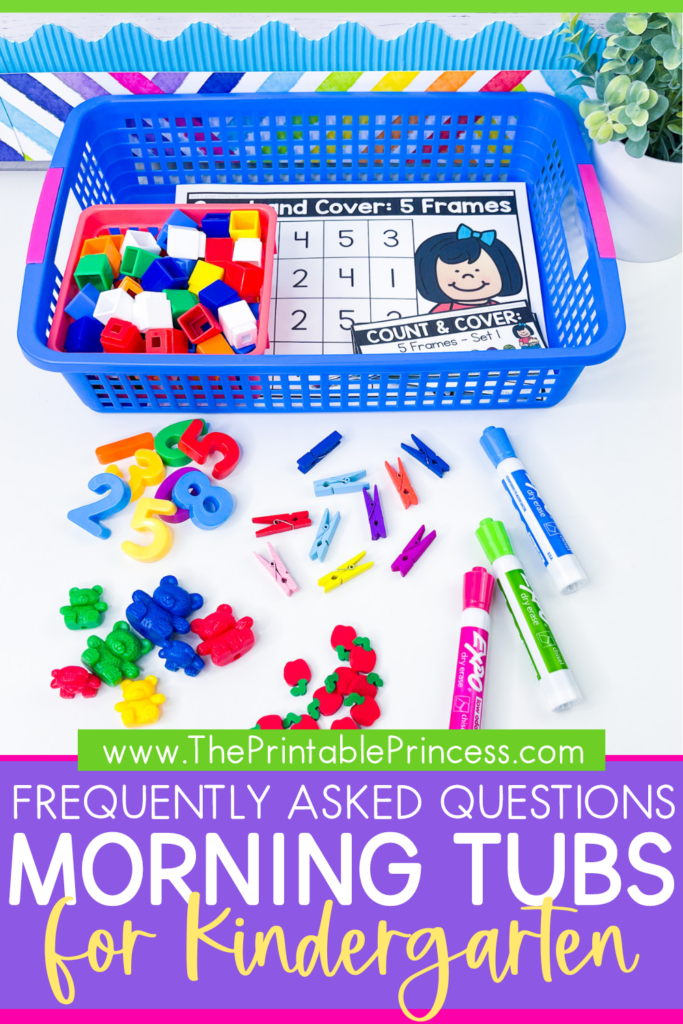 This article, along with many other articles on The Printable Princess website, contains Amazon affiliate links. If you purchase through the links, we earn a small commission. We only share links to things that we love.
Morning tubs make a huge difference with young students. Having a fun, educational activity for students to work on as soon as they arrive in the classroom sets up the day for success and gets their brains ready to learn.
They are also easy on teachers because there are no recording sheets involved, which means no extra copying, grading, or filing papers.
The Printable Princess is very passionate about helping teachers implement morning tubs effectively.
I recently polled the members of our kindergarten teacher Facebook group to see what some of the most frequently asked questions were pertaining to morning tubs. In this blog post, I'll dive into the answers of the most common questions so you can implement them with success and ease in your classroom.
If you're looking for more ideas and information about morning tubs, click here.
How Do You Group Students and Rotate Between Morning Tubs?
There are several options for grouping students and rotating between morning tubs.
First, decide whether you want students to work on the activities independently or with a partner/small group. You can mix it up and do a little bit of both, especially for the activities that have multiple pieces.
At the beginning of the year, it is a good idea to have students work in partners or small groups of no more than 4. This allows you to give guidance to them all at once.
If you do have students working together, 2-4 students per group is ideal. These groups can be same level or mixed ability. You can also rotate between both groupings weekly.
As students become more independent, they can work on their own. If you choose to have students work independently, you'll just need to plan to have more morning tub activities prepped, as each student will need their own.
Decide if your students will rotate through activities or stay at the same morning tubs. This answer will depend on the amount of time you have in the mornings.
If you only have 10-15 minutes, plan for each student or group to only complete one morning tub activity per day. If you have more time you can have students rotate to a second activity.
Plan for about 10 minutes per activity. At the beginning of the year, allow closer to 15 minutes per activity.
If your kindergarten students rotate between morning tubs, have them put all the pieces back in the container. Then, have the kids rotate the containers. This is often quicker and more efficient than rotating students.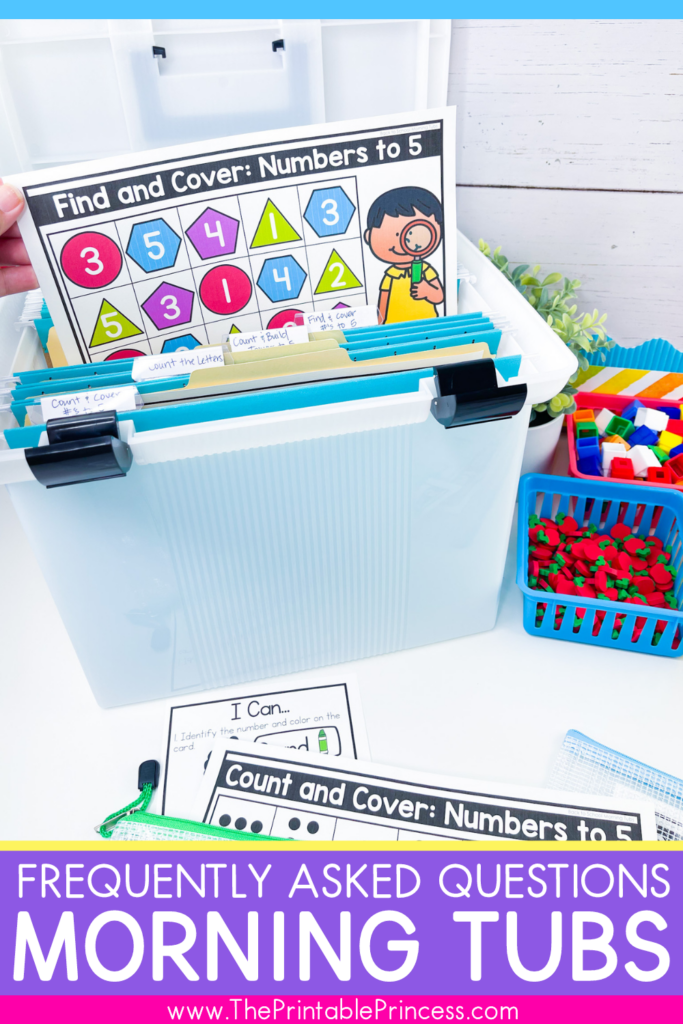 How Long Should You Allow for Morning Tubs Each Day?
Morning tubs are very open-ended, which means the time in which students are working with the activities can be flexible.
Most activities included in this Kindergarten Morning Tubs resource have multiple versions, therefore, students have more than one task to complete.
It's ideal to allow at least 15-20 minutes for morning tubs. However, if you only have 10-15 minutes, that is okay!
As mentioned above, just have students complete one activity if you have less than 20 minutes.
If students only complete part of the activity, it's not a big deal since there are no recording sheets.
Where Do Students Sit?
Depending on how you choose to group students as well as your classroom layout, you can have students sit in a few different places.
If your students are working on morning tubs independently, they can sit at their desk.
If students are working in partners, they can sit at one of the students' desks or choose a spot on the floor around the room.
You can lay out carpet squares or tape a laminated, die-cut star on the floor to designate the spaces that partners can sit around the room.
If students are working in small groups of up to 4 students, they can sit at a small table or space at the carpet area of your classroom.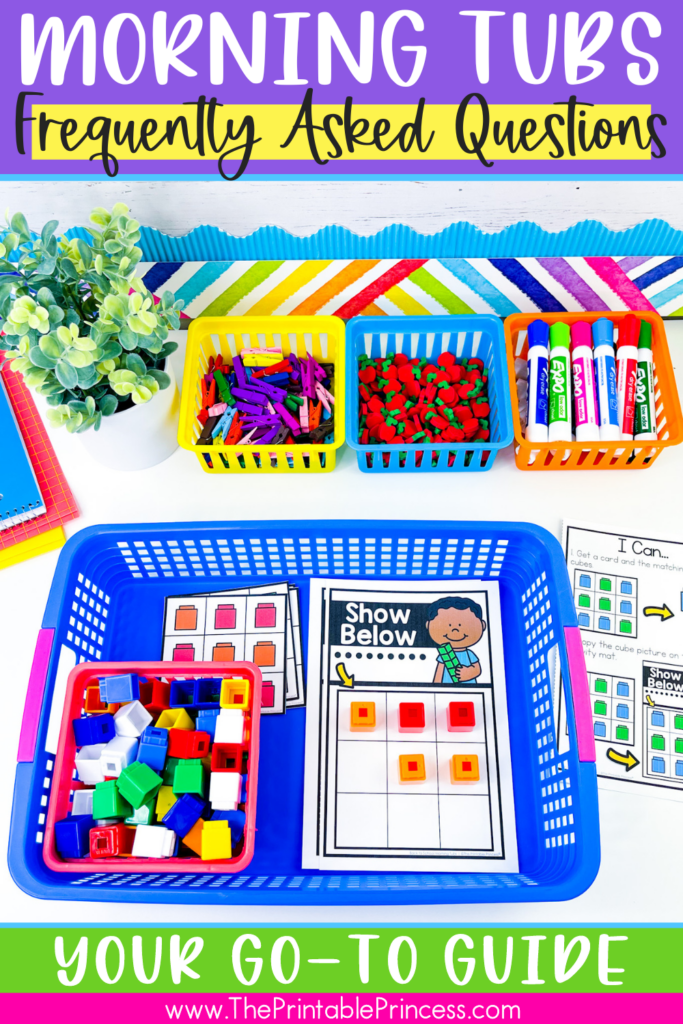 How Do Students Choose Morning Tub Activities?
There are different options for how your students can choose morning tubs based on your classroom set-up, your schedule, and the amount of time allotted to complete the activities.
6 Options for Choosing Morning Tub Activities
Option 1: Make multiple copies of each morning tub activity so that each student has their own set to work on. Each table group will work on the same activity, independently.
Although some activities can be shared, such as Dough Creation mats and Roll and Cover Colors mats, it might take awhile to get through all of the activities. Your students' skills might grow before you've used all of the activities.
Option 2: Print one copy of each activity. Store each activity in a mesh zipper pouch, colored tray, or basket and number each activity.
Assign students a number each day. Have them rotate through the activities and complete one activity each morning. By the end of the month, each student will have done each activity.
Option 3: Have students work with a partner on one morning tub activity. Print 2 copies, if needed. As mentioned above, some activities have enough pieces that they can easily be shared.
Number each activity, like in option 2. Assign two students a number each morning. Rotate so that each day, each pair of students gets a new activity.
Option 4: You can also use a variation of options 2 and 3. Print one copy of each activity. For single user activities, have those pouches, trays, or baskets be for individual students.
For activities that have multiple versions, put two students at those tubs. Then, rotate each day.
Some days, students might work independently if the number they get matches an independent activity. Other days, they will work with a partner if the number they receive matches a partner activity.
Option 5: Another option is to have the teacher choose which morning tubs students will do each day and place them on their desk for when they arrive. This may be the easiest option at the beginning of the year.
Option 6: If you would like to give your students more free choice or if you're using these activities at the end of the day or as an early finisher activity, you can allow students to choose freely or pick between 2 activities.
Using a Rotation Chart
Regardless of which option you choose, it would be helpful to create a basic rotation chart so you can keep track of which students have done which morning tub activities throughout the month.
You can create this on a piece of paper to keep at your desk or on a piece of anchor chart paper. Simply write the morning tub activities across the top of the page and students' names down the side.
Each day, place a checkmark in the box to show which student(s) completed which activity that day.
To learn more about how to store and organize kindergarten morning tubs, check out this blog post.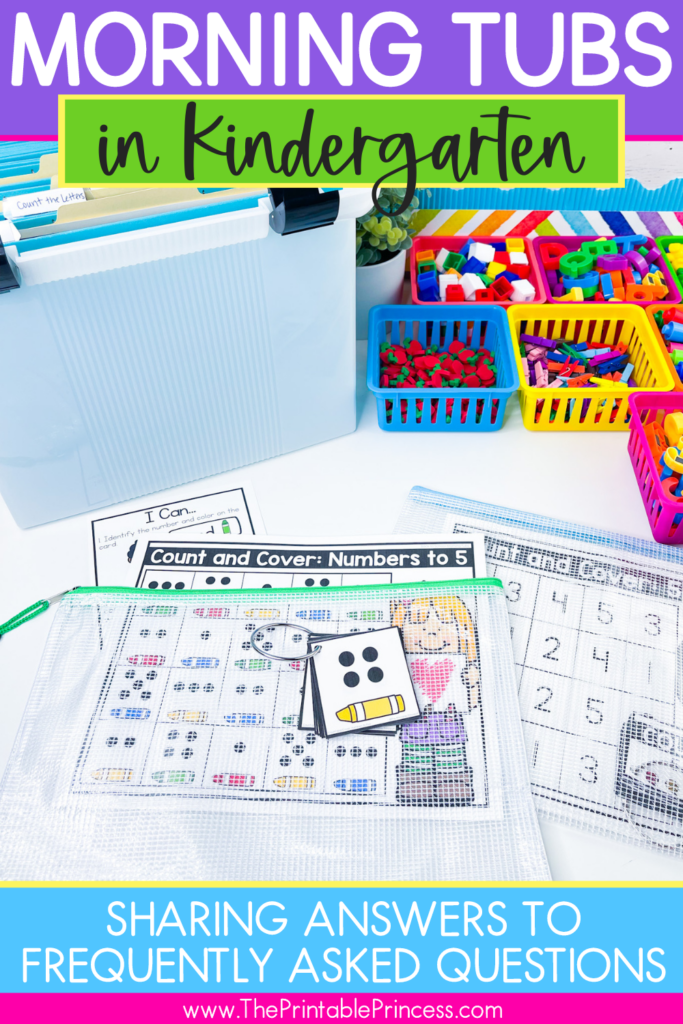 How Do You Introduce Morning Tub Activities?
The best way to introduce morning tub activities is one at a time. This gives students the opportunity to become familiar with and practice each type of activity before trying another.
Similarly, let students explore and play with the manipulatives they'll be using before expecting them to do an activity with them.
At the beginning of the year, start introducing one morning tub activity each day. Have students practice using it in small groups so each student gets a chance to practice while maximizing your time.
After the first month of school, students will be familiar with each type of activity and can begin to complete them independently.
These Kindergarten Morning Tub activities are designed to remain consistent throughout the year. The skills and themes change month-to-month, but the activities stay the same.
As the months go on, you can add in a few different types of activities to account for your students' growing skills.
When a new activity is included, take a day to introduce that activity to all students and let them practice with it before completing it independently.
For more tips on introducing and getting started with morning tubs in kindergarten, check out this blog post.
What Manipulatives Do You Need?
Another great thing about morning tubs is that you can keep it basic with materials you already have on hand in your classroom.
A few of the best manipulatives to have on hand that also work with these morning tub activities are:
Dice
Plastic bears
Plastic cubes
Spinners (or paperclip/pencil)
Play dough
Mini erasers
Mini clothespins
Magnetic letters and numbers
Metal rings for storage
For more must-have manipulatives for kindergarten that are perfect for morning tubs, check out this blog post.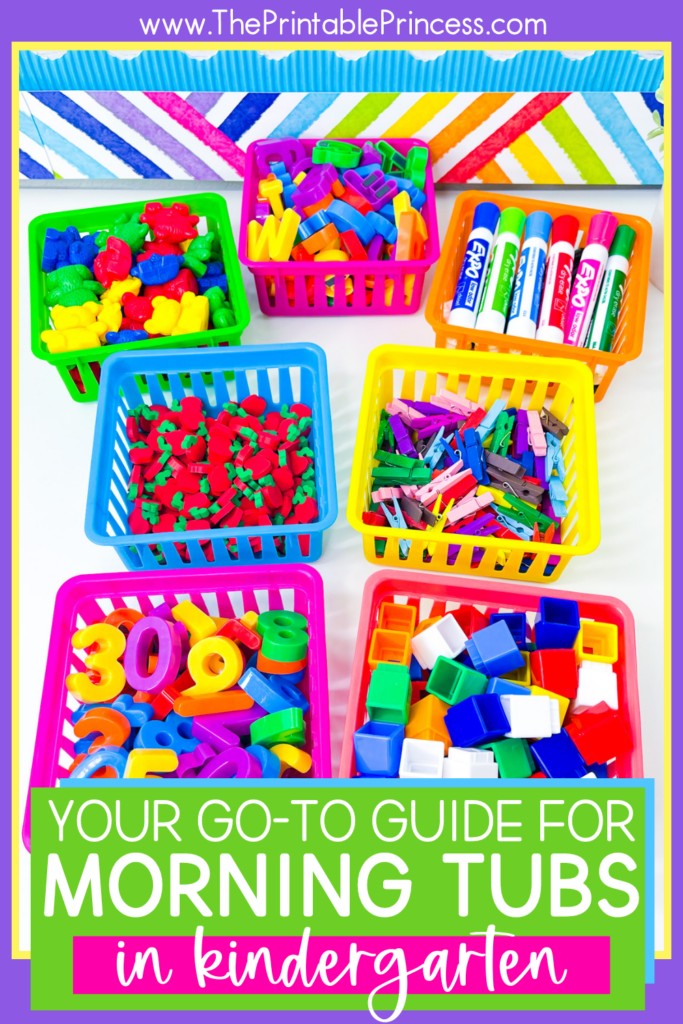 Would you like to start incorporating kindergarten morning tubs into your daily routine, but don't have the time to plan them yourself?
You can get an entire year's worth of themed morning tubs done for you in this complete Kindergarten Morning Tubs Year-Long Bundle.
Each month, you'll get a new set of seasonal, themed morning tub activities that remain consistent month-to-month. Each set includes kindergarten-appropriate skills that grow with your students.
Do you use morning tubs in your classroom? Tell me in the comments how they have helped transform your classroom!