Spring Activities for Kindergarten
There's something so fresh and fun about spring activities for kindergarten. Maybe it's the new season and bright colors. Maybe it's seeing your students' skills come to life as they put nearly a year's worth of learning to practice.
If you're looking for some engaging activities and a bright freebie to use with your students this spring, read on for ideas for math, literacy, writing, and more!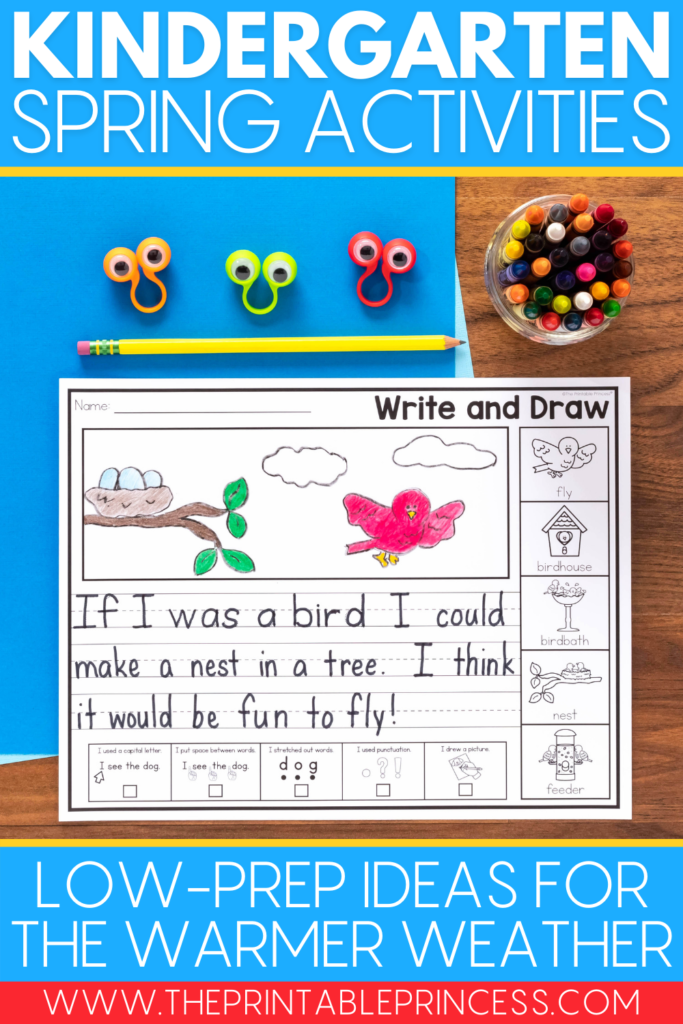 How to Maximize Your Time in the Spring
Spring in the classroom is a super busy time. There's spring break, Easter, end of year activities, assessments, and so much more going on.
Plus, with the weather warming up and students wanting to get outside, it can be harder than ever to keep their focus during the months of March, April, and May.
However, there are a few tips you can implement to maximize your time in the spring. These tips will ensure your students are still learning all of the necessary skills while having fun and staying active.
Tip #1: Use low and no prep activities.
Not only is your daily schedule jam-packed in the spring, but you also have a lot on your plate as a teacher this time of year.
You may be working on after-school projects, planning school events, going over assessment data, or planning ahead for next school year.
In order to make sure your students have the activities they need while maximizing your lesson planning time, it's important to keep your prep time down.
To do that, use a variety of low and no prep activities, like these spring no prep bingo dabber activities for math and literacy!
All you have to do is print, add bingo dabbers, and go. Your students will love them and so will your stress-levels!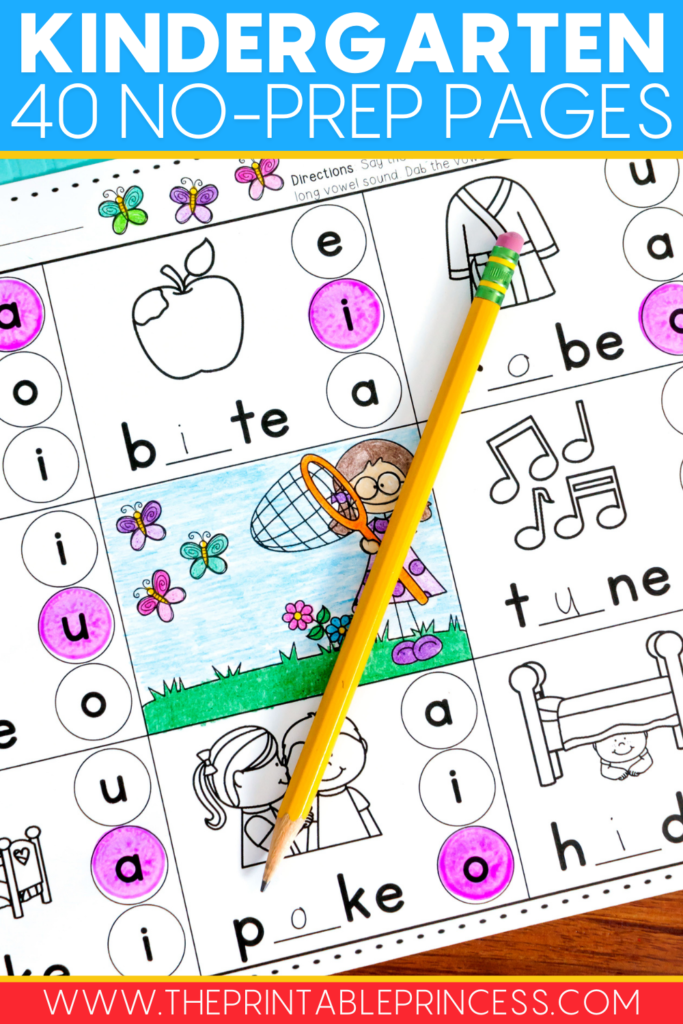 Tip #2: Implement centers to work on a variety of skills.
Another great way to maximize your time in the spring (and all year long) is to incorporate centers into your daily routine.
Centers allow you to work on a variety of skills during your rotations. This allows your students to practice and spiral review multiple skills within one time block.
Plus, they'll be staying active with the various hands-on activities and manipulatives.
Practice key skills like CVC words, onset and rime, ten frames, teen numbers, and number bonds with these spring math and literacy centers.
Follow up each hands-on center with a no-prep page for extra practice (without the prep time).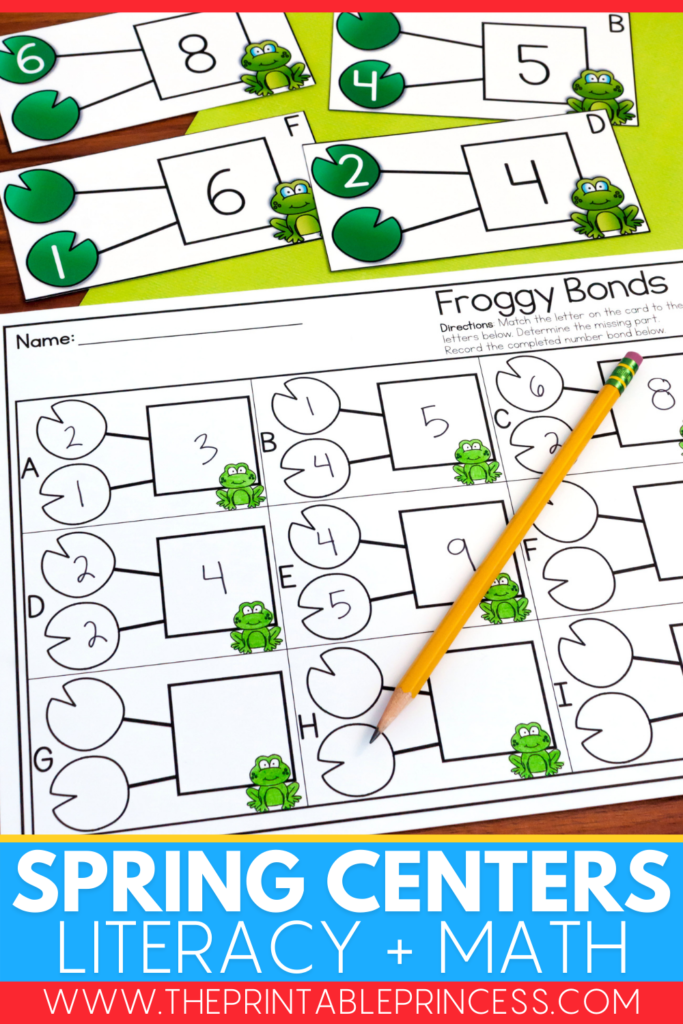 Tip #3: Take advantage of cross-curricular learning opportunities.
Nothing says maximizing your time like teaching multiple subjects and skills at the same time!
As teachers, you are expert multi-taskers, so why not multi-task when it comes to your lesson planning? There are so many ways to incorporate cross-curricular learning opportunities into your day.
Take a look at your kindergarten pacing guide to see which skills and concepts your students need to learn this spring. Then, you can plan lessons and activities that touch on multiple skills.
For example, you can incorporate spring science and social studies topics such as recycling, Earth Day, and weather into your writing lessons with spring-themed writing prompts.
Students can learn more about recycling, Earth Day, and the weather through an educational video, lesson, or read aloud.
Follow it up with a spring writing prompt, such as:
I help the Earth when I…
I can recycle…
My favorite place on Earth is…
April showers…
When the weather gets warmer, …
When it rains, I like to…
This is a fun way to maximize your time while using spring activities for kindergarten.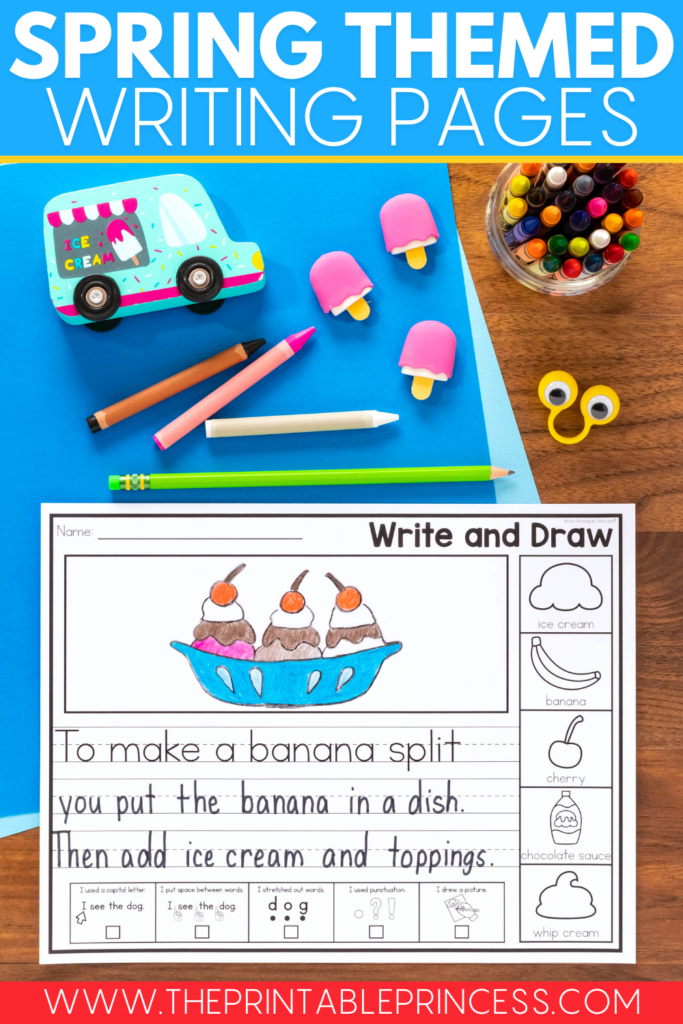 Tip #4: Encourage independent learning.
Doesn't it seem like yesterday that your students were just coming to you on the first day of school? Think back to all of the guidance and direction they needed in the beginning.
Over the months, you've helped mold them into the problem-solvers and independent thinkers they are becoming today!
Celebrate this and maximize your time by giving students the opportunity to work independently more often. This is so helpful when you are busy working with or assessing another student.
It seems like there are so many projects to wrap up in the spring. Build in some time during your day to catch up, finish projects, and work with students while the rest of the class works independently on a spring activity.
If a student finishes an activity or assignment early, allow them to do an educational activity independently. This will keep them on task without creating chaos in your classroom.
Tip #5: Look for learning opportunities in everyday moments.
Your students are craving the outdoors and sunshine. Let's face it, you are too! Don't be afraid to take your class outside and create your own learning opportunities out of everyday moments.
When you're outside at recess, gather your students for a fun outdoor learning game. Take sidewalk chalk outside to practice math and literacy skills.
You can also look for learning opportunities in the everyday moments inside your classroom. During snack time, have your students practice counting, comparing numbers, sorting, and graphing.
During read alouds, have class discussions about the characters, setting, plot, and other text features. Encourage students to write and draw about the story afterwards to work on those writing skills.
Learning is all around us. Help your students find these real-world opportunities to learn something new while also maximizing your time this spring!
Free Rainbow Match Math Activity
If you're looking for a spring activity for kindergarten that is low prep, engaging, and focuses on multiple skills, this Rainbow Match math activity is for you!
Did I mention, it's FREE?!
This activity has all the goodness of spring with bright colors and an adorable rainbow theme. Students will have a blast practicing teen number recognition, counting, and representing numbers with base ten and ten frames.
This activity comes with a hands-on activity mat, rainbow matching cards, and a recording sheet so your students can show what they know. There are 3 different ways to use this activity. Hello differentiation and maximizing your time!
To get this free Rainbow Match activity delivered straight to your inbox, fill out the form below, and it'll be on it's way!
I hope these spring activities for kindergarten have inspired you to try something knew and maximize your time this spring.
Soak up every last moment with your students, because they'll go by fast! If you need more spring activities and ideas, check out my Spring Centers for Kindergarten blog post!