Spring Centers for Kindergarten
Spring may be one of the best times of the school year. The weather warms up, the birds start to chirp, and it's time to break out all of the bright colors and spring centers for kindergarten!
Plus, after being cooped up all winter (and surviving too many indoor recesses), you can get outside, enjoy the fresh air, and take the learning outside too!
Read on for tips on making learning fun in the spring with spring centers for kindergarten. Be on the lookout, because there's a bright and shiny freebie you won't want to miss.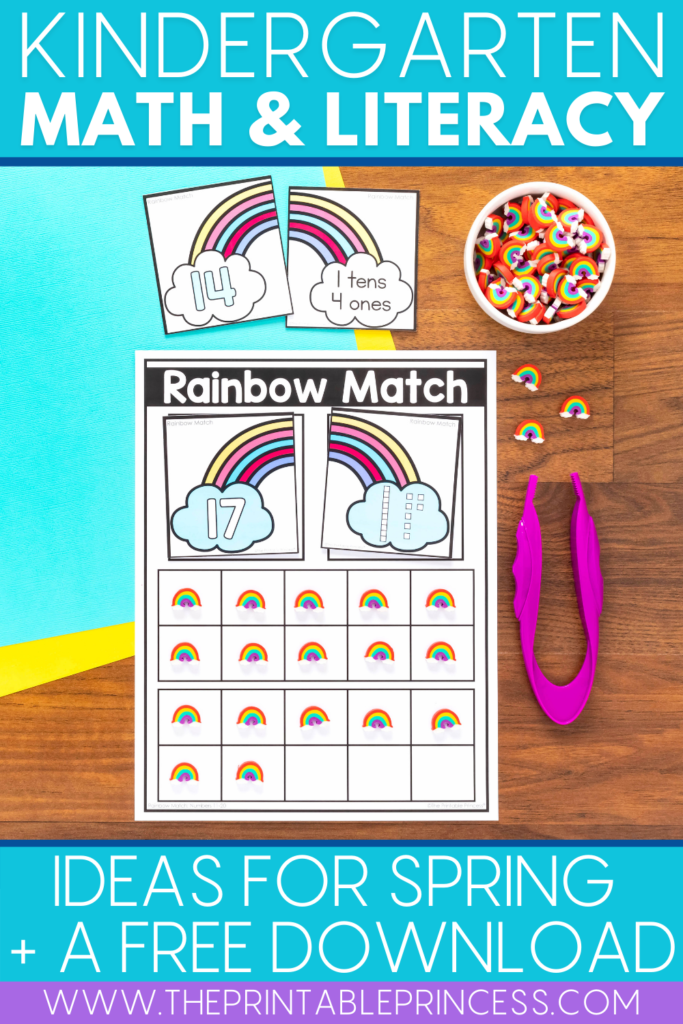 Tips For Making Learning Fun In The Spring
There's no doubt that when the weather warms up, it's pretty hard to compete with the playground and your students' urge to get outside and burn off energy.
However, with a few teacher tips, you can make learning fun in the spring and get the best of both worlds!
Tip #1: Get outside when you can.
Everyone can use a change of scenery after a long winter. When the weather is nice, take advantage of it and get outside.
Sometimes just a change of scenery is all it takes for students to thrive.
There are so many ways you can take the learning outside. Your students can write sight words, CVC words, teen numbers, and addition and subtraction sentences with sidewalk chalk.
Take them on a nature walk and have them write about and illustrate what they see. The opportunities are endless! For more easy outdoor learning ideas, check out this blog post.
Tip #2: Keep your students active.
It's natural for students to want to be active and moving around when spring comes around.
Instead of trying to keep them in their seat, embrace their need to move by keeping them active in their learning.
Spring centers for kindergarten are a great way to keep your students on task and moving around.
By switching activities, using different manipulatives, and practicing a variety of skills, you'll keep your students on their toes while having fun mastering key kindergarten concepts.
Tip #3: Spiral review skills from the year.
The arrival of spring means that the end of the year and summer break is just ahead. It's crazy how fast time flies by!
This makes spring a great time to spiral review skills learned throughout the year. This helps students refresh their brains and brush up on skills.
They also gain independence by working on these skills more independently, such as during centers.
Spiral review is also a great way to assess how your students are doing on certain skills. This allows you to see which skills are mastered and which need a bit more work before moving on to 1st grade.
You can learn even more strategies for end of year spiral review in this blog post.
Tip #4: Use bright and exciting activities.
Say goodbye to the dreary winter and hello to bright and exciting spring colors and activities!
A great way to bring the energy back into the classroom for the rest of the year is by incorporating spring centers for kindergarten.
Read on for a few of my favorite math, literacy, and writing centers for spring!
Spring Math and Literacy Centers for Kindergarten
The spring months are a critical time in kindergarten. Not only are students learning new skills, but they are also reviewing skills taught throughout the year.
As a teacher, it can be difficult to plan time and activities to cover both the new and previously taught skills.
A great way to cover both while increasing student independence is with spring math and literacy centers for kindergarten.
With 27 spring-themed centers included, 14 math and 13 literacy, your students will have a ton of opportunities to show what they know.
Each center includes kid-friendly directions and a no prep recording sheet, perfect for saving you time this spring!
From rhyming words to digraphs to counting and base ten, your students will have a blast with these hands-on spring centers.
Themes include spring, flowers, insects, butterflies, birds, rainbows, farm animals, and frogs.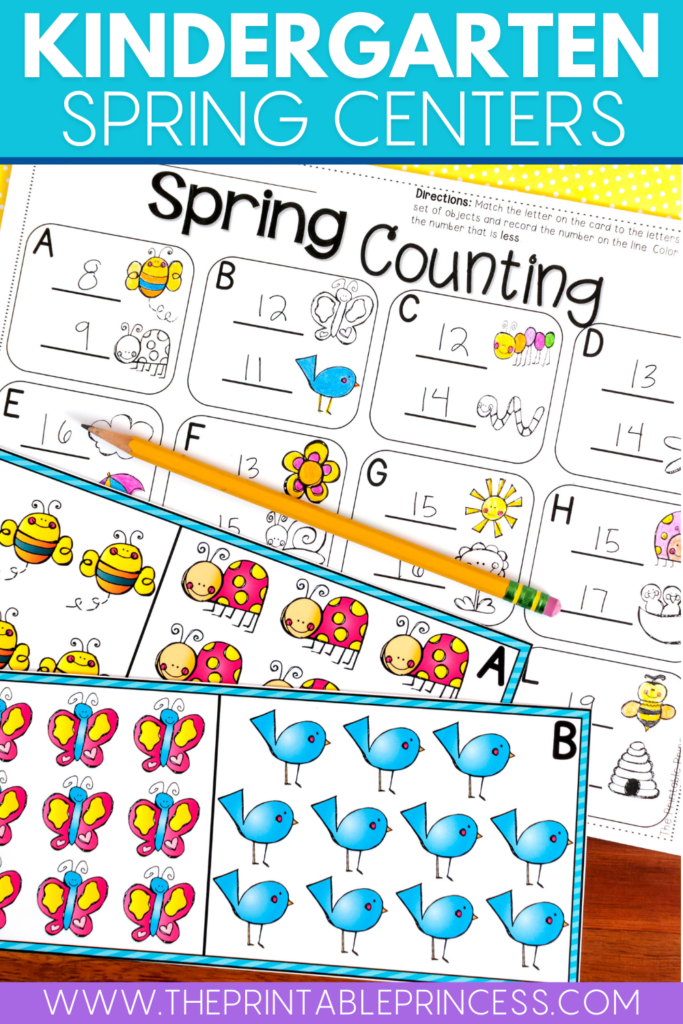 Free Rainbow Match Center Activity
If you love incorporating bright colors into your spring centers for kindergarten, but you're a little short on time, you're going to love this FREE Rainbow Match math center activity!
This activity is great for helping students identify numbers to 20. It also helps students make connections between numbers and their representation on a ten frame and with base ten blocks.
This activity is super easy to prep and only requires basic classroom supplies, such as mini erasers and plastic math cubes.
The best part about this activity (besides the fact that it is free!) is that it can be used in 3 different ways. Hello, differentiation!
Activity 1: Use it as a simple matching activity for teen numbers. You can use this in a pocket chart or have students complete it at a small group table or carpet area.
Activity 2: Students can turn the cards face-down and play a memory matching game with a partner.
Activity 3: Students can work independently to match the rainbow cards to make a pair. They place the pair of rainbow cards on the top of the activity mat. They use manipulatives to show the number on the ten frames.
Want to snag a free copy for your classroom? Just fill out the form below and it'll be sent straight to your inbox!
Spring Writing Centers
It's so fun to see how students' writing skills progress throughout the school year. It can seem like just yesterday they were barely able to hold a pencil to write their name.
Now, in the spring, they are writing sentences, short stories, and editing their writing!
To help support students in their writing skill growth, these spring-themed writing centers for kindergarten are just the ticket!
Students will learn and apply seasonal vocabulary words while sharpening key writing skills that will prepare them for 1st grade and beyond.
With themes such as weather, zoo animals, and Earth Day, you'll also be able to incorporate a ton of cross-curricular discussions and opportunities!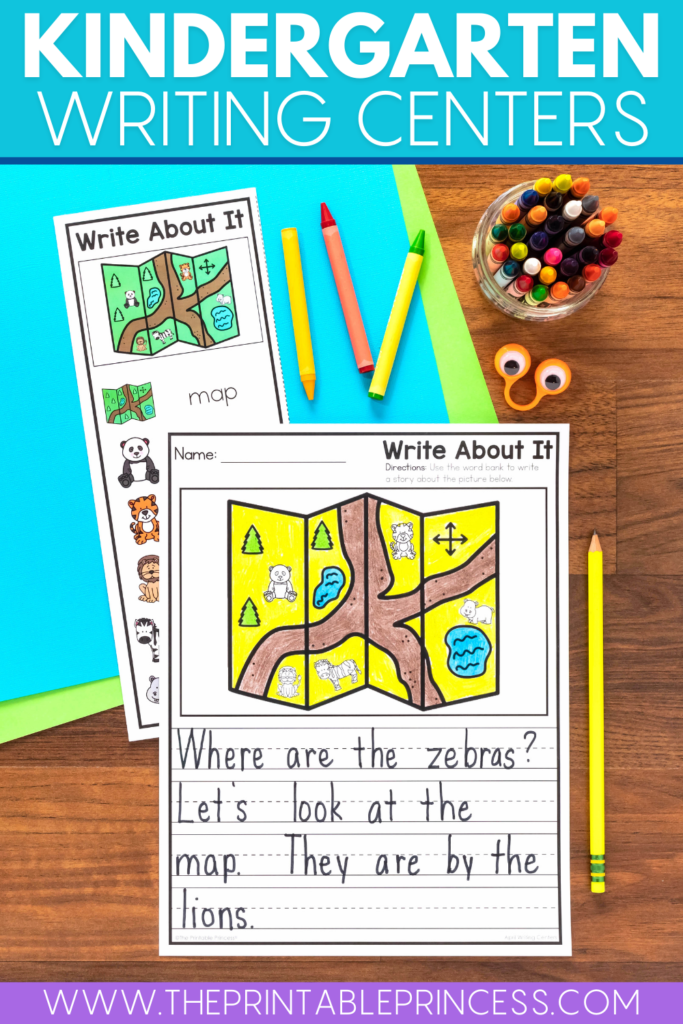 I hope you enjoyed these tips and spring centers for kindergarten! If you need more hands-on and DIY spring activities, check out this blog post.