Packing Your Classroom…Like a Boss!
The ideal situation for teachers at the end of the school year is to be able to get organized, lock up their room and head out for summer break. Unfortunately, many teachers don't have that option. So you may find yourself packing up your classroom. Maybe the room is used for a summer camp, or maybe the building is going to be under construction. Perhaps there is a change in grade levels or even a move to a new school.
It's a tedious process for sure, but over the years I've worked out a system that has made it easier for me. Here are a few of my best tips for packing your classroom efficiently and quickly.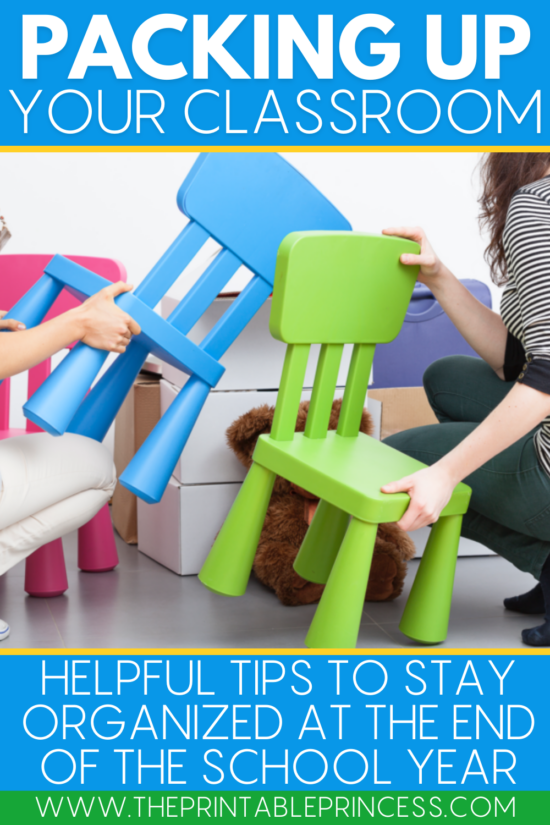 Stock up on boxes ahead of time.
Be proactive about stockpiling boxes for your move. Ask the people in the lunch room and front office if they can save boxes for you. The earlier you start collecting, the more prepared you'll be. Break boxes down to store them flat in an out of the way spot until you need them.
It's a huge bonus if you can get the same size boxes because they are easier to stack. If you have access to large clear plastic bins, those are even better!
Purge as you pack.
Take this time to purge stuff you haven't used in a long time. No need to pack everything! Get rid of anything you don't want to move. Get rid of anything you haven't used in several years. If it's falling apart, toss it out.
Don't overdo it.
It's very tempting to use all of the available space and cram boxes all the way up to the top. That's fine if you're packing lightweight items. But full boxes can be very heavy. Pick boxes up frequently as you're packing to make sure they're not getting too heavy.
Label, label, label everything!
Pack school items and personal items separately. I like to pack school stuff with one color label and the school's initials, and pack my personal things with a different colored label and my last name.
Number your boxes and make a master list of what is in each box!
A great moving system is to number the boxes and take a picture of the contents inside before closing it up. Then take a picture of the outside of the box with the number on the side. That way you have an easy reference guide to remember what's inside each box.
First, pack any supplies you will need to start off next year.
It's a really smart idea to pack supplies you will need to start off next year in one, easily accessible box. Label it clearly "First week of school". Include supplies you know you'll need right away like your pencil sharpener, stapler, staples, tape, pens, markers, labels, zip bags and scissors. Also pack any binders, books or project materials you'll need. If you can, bring these boxes home, so you definitely know where they are.
Wrap those books.
The more organized you are when you pack away your books, the easier it will be to set them up next year. Group books by category, such as leveled books, free choice books, picture books, etc. Pack professional books separately from kids' books. To prevent overpacking, use milk crates- they're sturdier and have handles for easier lifting.
Another idea for packing books is to sort them by seasons, genres, whatever makes sense to you. Instead of boxing them up, use plastic wrap. Wrap them in both directions so that they stay together.
Moving manipulatives.
Most teachers keep their manipulatives in plastic containers throughout the year. The plastic containers are great for storing and organizing manipulatives day in and day out, but they can be bulky to move. To save on space, empty each set of manipulatives into large zip-top bags. Then stack the plastic containers to save space.
Pack your classroom in groups.
Remember- you want to pack things up in a logical way so that you can quickly get organized when you unpack next year. Pack up by subject area- reading, math, art, games, etc. Or pack by activity-math stations, lit centers, maker-space materials, etc. Or pack by location- cabinets, shelves, cubbies, etc. Whatever works for you. Once you come up with a system, you'll be surprised how quickly the work goes.
If you can, move a little bit every day.
Whatever you do, try not to leave the work for the very last minute. Nothing creates chaos like being in a rush. If you can tackle materials you are no longer using a little bit at a time, you can chip away at the process and once school is out all you'll have left is a small, manageable job.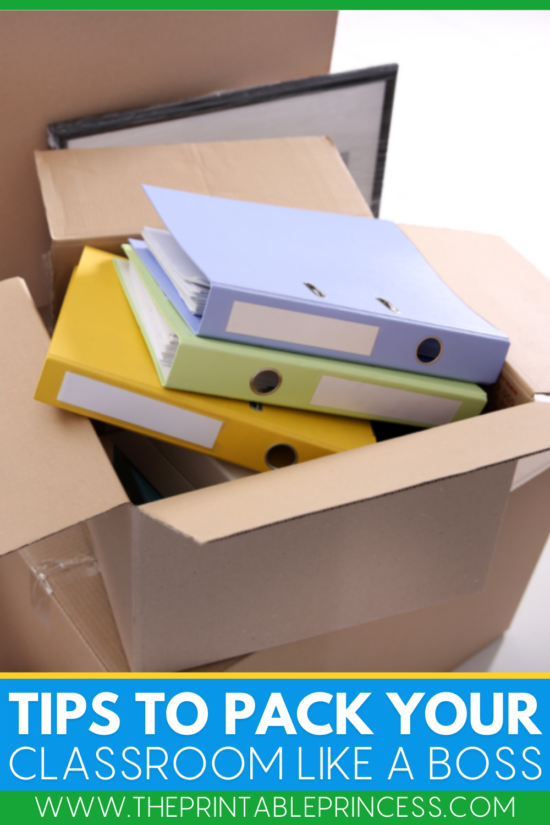 I don't think any teacher looks forward to packing up their classroom. Unfortunately, it is a part of a growing and changing school climate. So think positive and remember that with a little preparation and the right game plan, you might find that packing up your classroom will make you feel more organized, less cluttered, and ready to face the new year!