Thanksgiving Activities for Kindergarten
Thanksgiving in the classroom is one of the most fun times of year! Teaching your kindergarteners all about this special holiday and the concepts of thankfulness and gratitude creates such meaningful conversations and memories. These Thanksgiving activities for kindergarten will help you engage your students in learning activities that will help them grow their skills and their love for this holiday!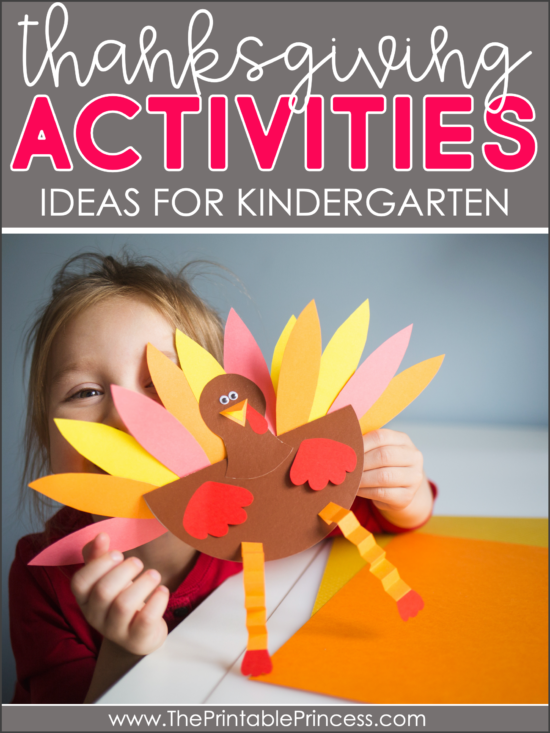 Race to Fill the Pie Pan
This Thanksgiving activity for kindergarten is such a hit with students! The best part…it requires very basic supplies that are commonly found in the classroom.
To play this game, students will play with a partner. Each player needs a pie pan and large cotton balls or pom-poms. The dollar store aluminum pie pans work great for this activity.
Students will take turns rolling a dot cube. They will put the correct number of cotton balls or pom-poms in their pie pan. The first player to fill their pie pan wins.
To incorporate fine motor practice, students can use jumbo tweezers or an ice cream scooper to scoop the cotton balls or pom-poms.
Thankful Chains
Teaching students the meaning of being thankful is a great social-emotional skill at this time of year. This DIY activity is a simple way to incorporate writing into the season.
Simply trace each student's hand on a piece of construction paper. On the hand, write "I am thankful for."
Have students write or trace different things they are thankful for on strips of construction paper and make them into paper chains. Attach the paper chain to the hand for a simple and fun thankful writing craft.
Turkey Sight Words
This DIY Thanksgiving activity for kindergarten is the perfect way to practice sight words. To prep, the turkey, cut out a brown circle to make the body. Draw on eyes and a beak with marker. Write a sight word on the turkey's belly.
Cut out different colors of paper feathers and write one letter on each feather. Students will use the feathers to spell out their sight words. For more Thanksgiving sight word fun, check out this Baking Sight Words freebie!
Making 10 Turkey Freebie
This Making 10 Turkey activity freebie will help your students build number sense skills and practice beginning addition skills. They will need the turkey body and feather cutout templates. Students will roll a dot cube and color in that many dots on the feather.
Then, they will determine how many more dots are needed to make 10. They'll color those in with a different color. They will repeat this with all of their feathers. To extend the learning, there is a recording sheet option as well.
Turkey Feather Mix-Up
Another Thanksgiving activity for kindergarten you can use to strengthen number sense and work on number order is Turkey Feather Mix-Up. Use the same turkey body template as the previous activity.
This time, cut out turkey feathers from construction paper and write numbers 1-10 on the feathers, one number each. Mix the feathers up and have students glue them onto the turkey body in number order.
November Morning Tubs
During the busy holiday season, the last thing you need is a chaotic start to your day. Morning tubs are a great way to create structure and consistency in your morning routine. It also gives students an opportunity to warm-up their brains with hands-on activities that review important skills.
These November morning tubs have 25 turkey-themed math and literacy learning activities. Prep is simple and the supplies are basic. These activities serve as a great informal assessment tool, too!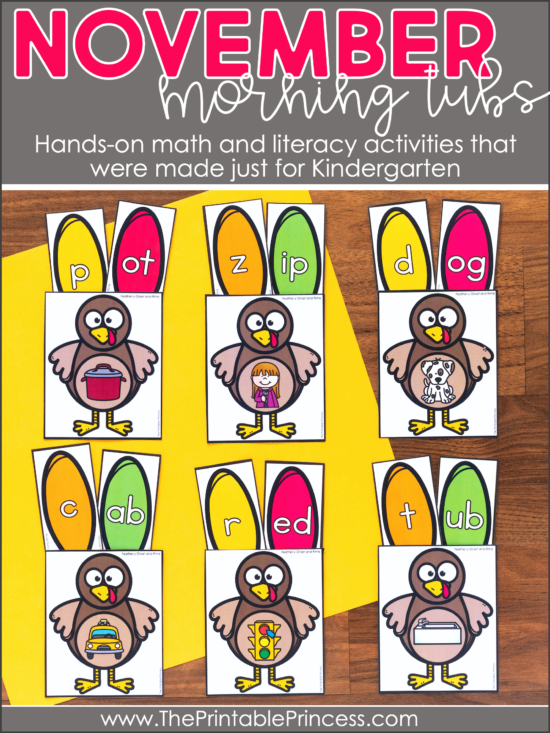 Mosaic Turkey Art
Giving students the freedom to create and work with shapes, colors, and patterns is beneficial to their development. For this activity, make a simple turkey body pattern by cutting out a brown circle and drawing on eyes and a mouth with marker.
Give students patterns blocks and allow them to create their own mosaic turkey feather design. To bring in fine motor skills, you can have them place the blocks with tweezers. Need more turkey art ideas? Check out this DIY, step-by-step turkey craft!
Turkey Sight Word Memory
What kindergartener doesn't love a good game of memory?! To play, cut out 2 sets of feathers. Write one sight word on each set, so there are 2 feathers for each word. Mix up the feathers and turn them over face-down.
Have students take turns drawing 2 feathers and reading the sight words. If they match, they get to go again. If they don't, they put them back and play continues. This is a great whole group or small group game.
Thanksgiving Mini-Readers Freebie
By Thanksgiving, kindergarteners are putting their letter and sound, sight word, and decoding skills together to begin reading! These Thanksgiving mini-readers are the perfect way to practice reading and working on fluency. The best part? There is no cutting, gluing, or stapling! Just print, fold, and read!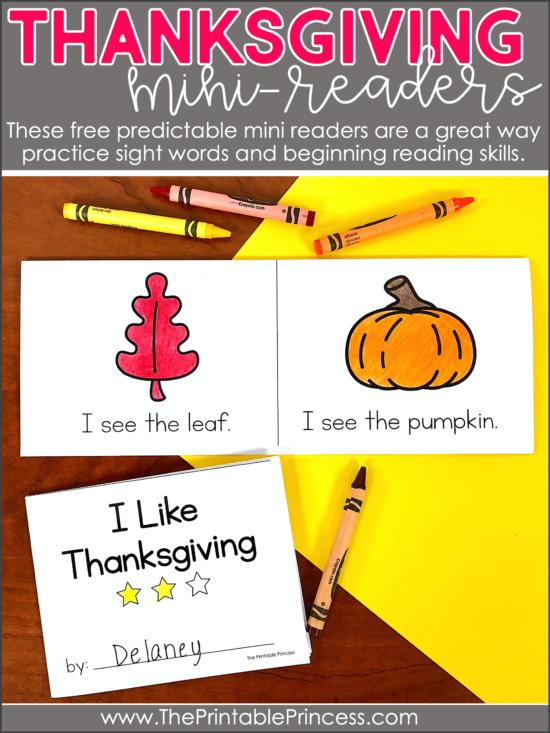 Thanksgiving Books and Placemat
Students absolutely love learning about Thanksgiving and the traditions of the Thanksgiving feast. Incorporating read alouds into your studies is a great way to teach them the history of this holiday.
This blog post has a list of Thanksgiving read alouds as well as a Thanksgiving placemat freebie that you can make with your students to learn about thankfulness. Laminate the placemat so they can use it for years to come.
Pretzel Rod Turkey Snack
Who doesn't love a fun turkey snack around Thanksgiving? This Pretzel Rod Turkey snack is delicious and easy to make, plus your kids will have a blast with it! To make this turkey snack, you'll need 1 chocolate sandwich cookie for each child, 1 pretzel rod, chocolate frosting, eyes, and candy corn.
Carefully twist open the cookie and use the side with frosting. Layer candy corn in a fan shape to create turkey feathers. Then, cover 1/2 of the pretzel rod with frosting. Stick eyes onto the frosting and use the orange section from a piece of candy corn as the beak.
For another tasty Thanksgiving snack, check out this Pumpkin Pie in a Cup.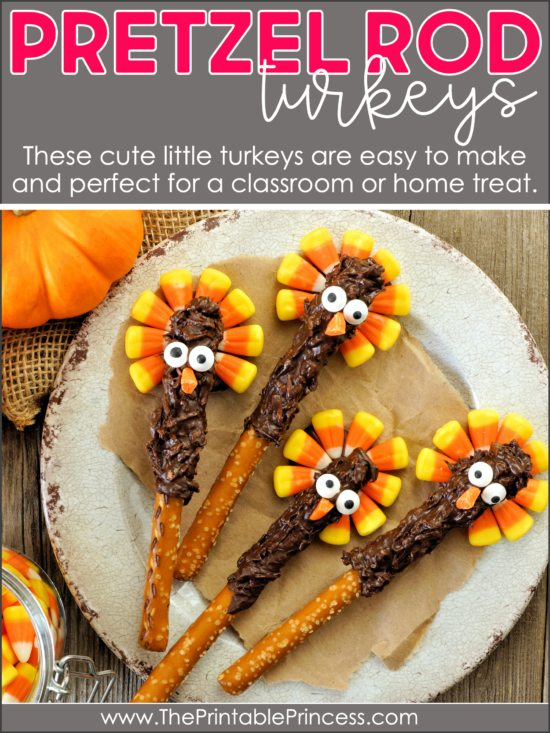 I hope your students have a blast with these Thanksgiving activities for kindergarten. Enjoy this special season with your students and let me know which activities were a hit in your classroom. I am so grateful for all of you and your work as educators. You are changing lives each and every day!