Ways to Make 10 No Prep St. Patrick's Day Craft
This activity has it all: crafts, math, and a fun review! Read along as I share with you this adorable no prep St Patrick's Day craft for Making 10.
---
I know a lot of adults that get excited about St. Patrick's Day, so it's only natural that little people would be excited too. Growing up I thought it was an absolute must to wear green on March 17th – all of my classmates did too.
I remeber kids standing at the classroom door in the morning, performing "green checks" to make sure you were wearing green. We all believed that St. Patrick's Day was an enchanted day filled with magic, good luck, and leprechauns!
Any teacher will tell you, use the excitement of your students to your advantage. If they are excited about something, gather all the thematic ideas you can and incorporate them into learning activities, games, and crafts. They're going to be excited so you might as well go with, right?! Well, I'm here to help!
I've got an adorable no prep St Patrick's Day craft that I want to share with you. This craft reviews a much needed skill and incorporates a little holiday fun at the same time.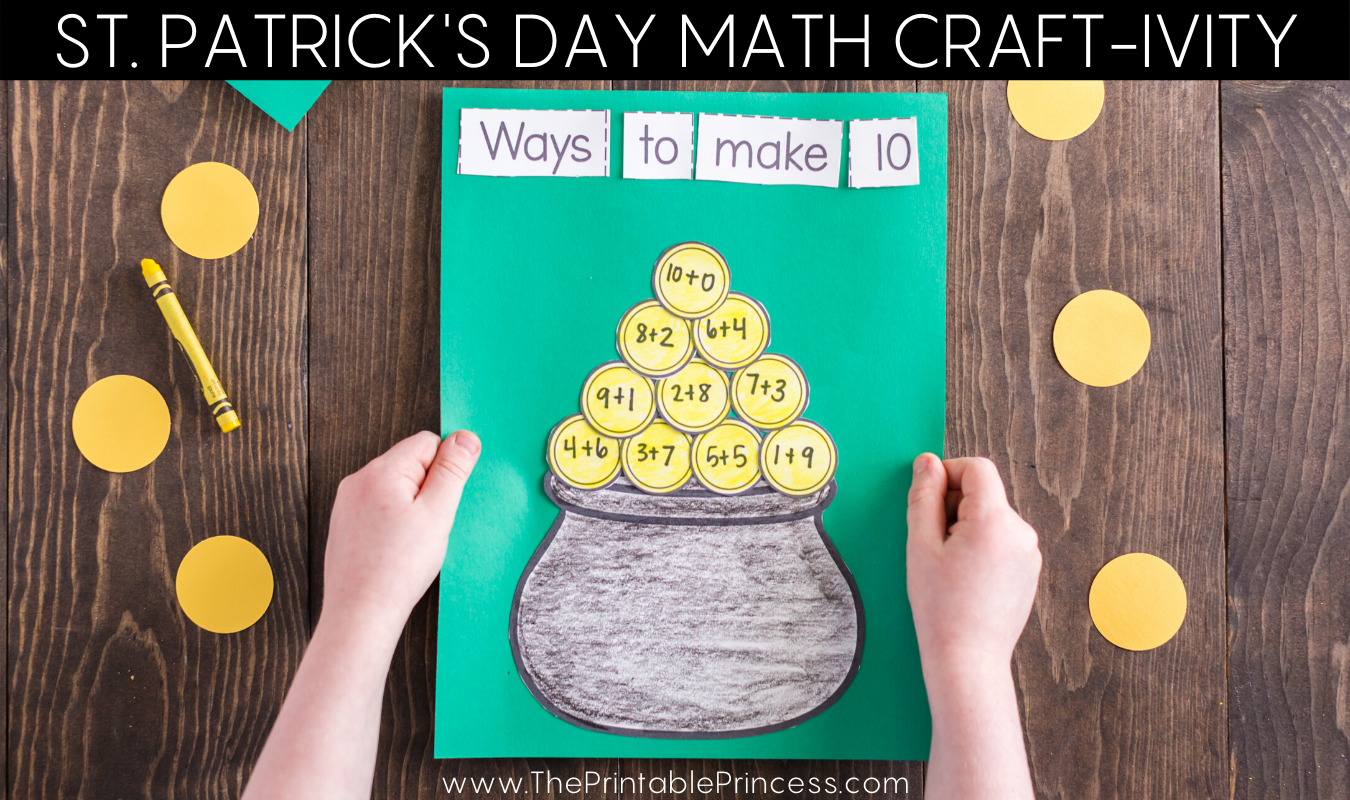 This article, along with many other articles on The Printable Princess, contains Amazon affiliate links. If you purchase through the links I earn a small commission. Clicking these links does not cost you any extra but helps this website to keep great articles and freebies coming your way.
Easy No Prep St. Patrick's Day Craft:
Hopefully by this point in the year your kindergarteners have mastered the art of making ten. This is really an important concept because several math skills to follow rely on students being able to quickly see numbers and make 10. Since this is such an important skill, I like to re-visit it throughout the school year – and this no prep craft is the perfect way.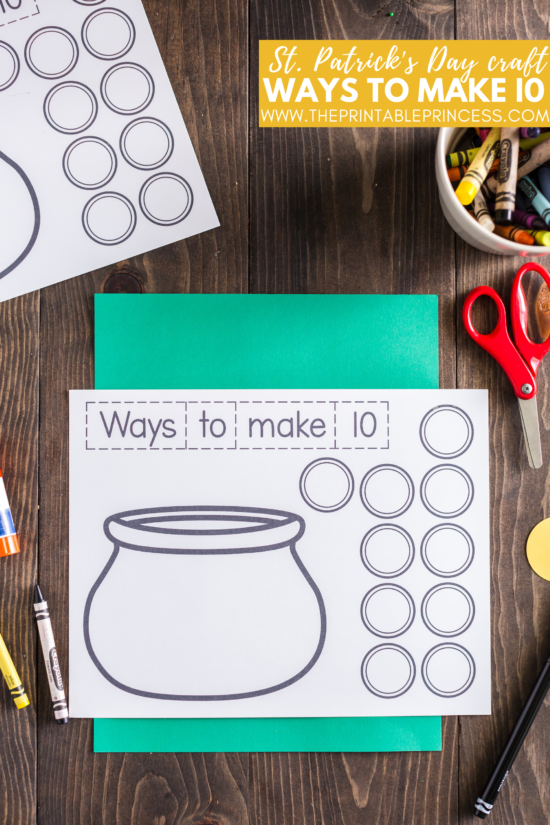 For this no prep St Patrick's Day craft, you'll need
St. Patrick's Day Making 10 Free Printable
Green Construction Paper
Marker or Pencil
Crayons
Scissors
Glue Sticks
There's no prep work for this craft, just print the free printable, grab your supplies – and you're ready to go.
This makes a great activity for math centers, Fun Friday, or even a sub plans.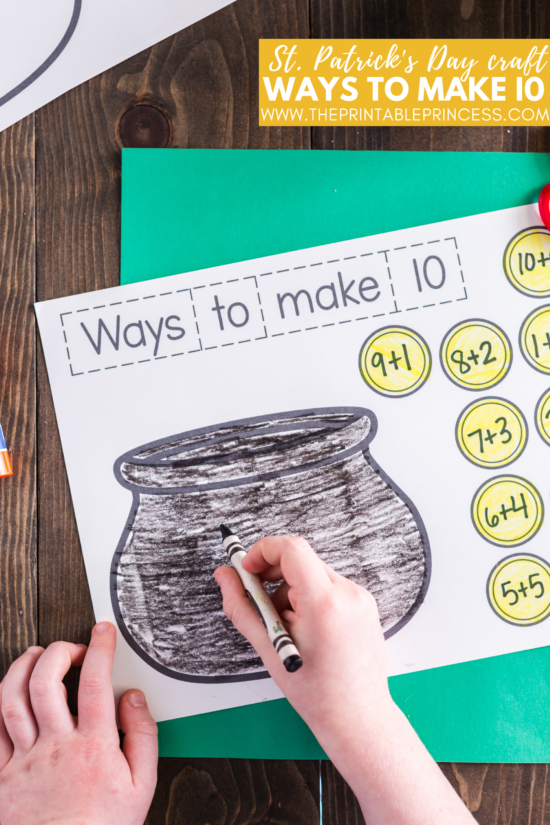 Before students begin coloring, have them write ways to make 10 on the coins. There are ten coins so they can write ten different ways to make ten.
Once students have filled in all of the coins, they can color the coins and the cauldron.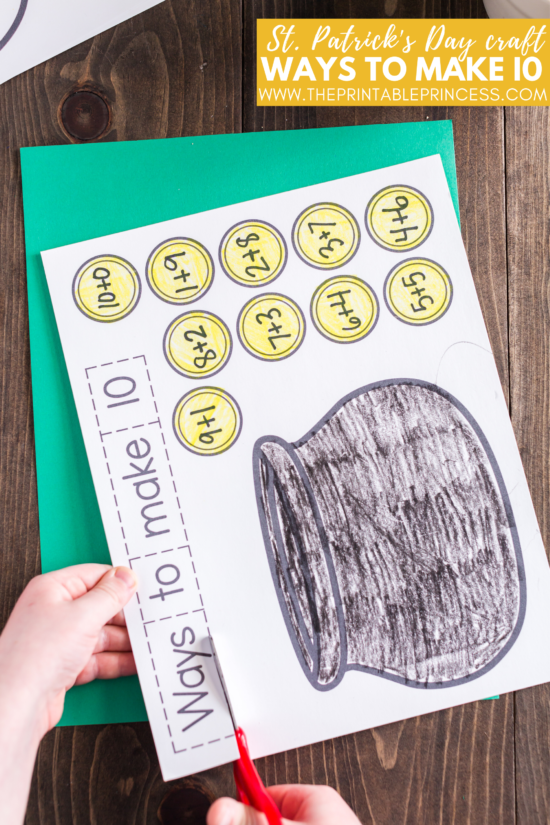 Next students will cut out the title, coins, and cauldron. Students should cut the title apart on the dotted lines.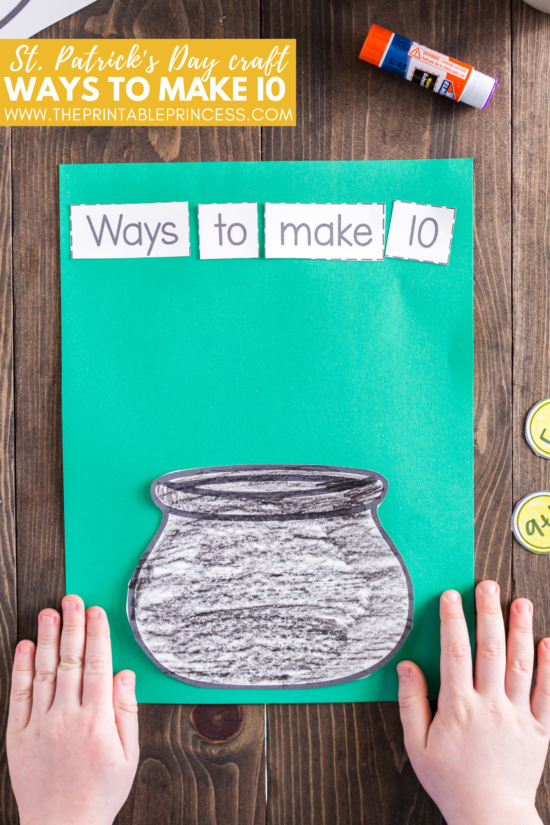 Have your students glue the cauldron at the bottom of the page. They will put the title words in order and glue it at the top of the page.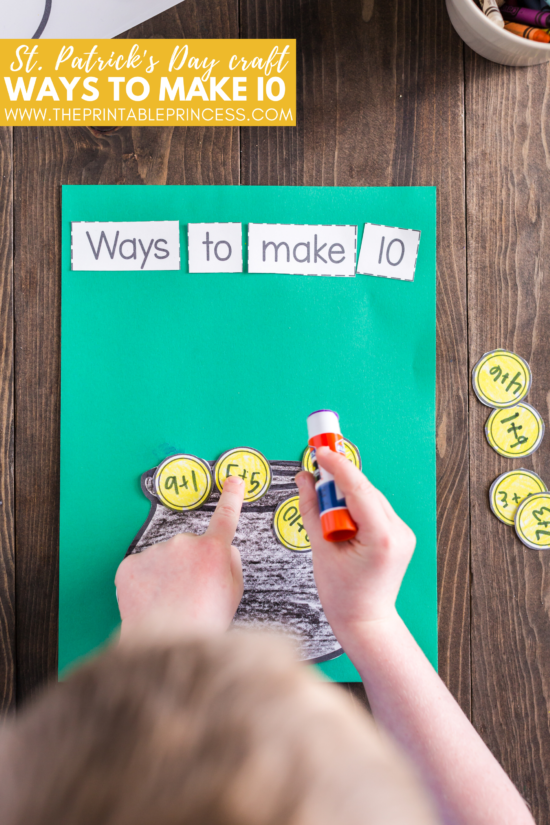 For the final step to complete this no prep St Patrick's Day craft, students will glue on the gold coins. The coins can be glued on in any order. It works best to glue 4 on the bottom row, then 3 on the next row, 2 on the next row and 1 on top.
For step-by-step directions, check out this video:
If you're reading this and St. Patrick's Day has already passed, pin the image below to remind you for next year.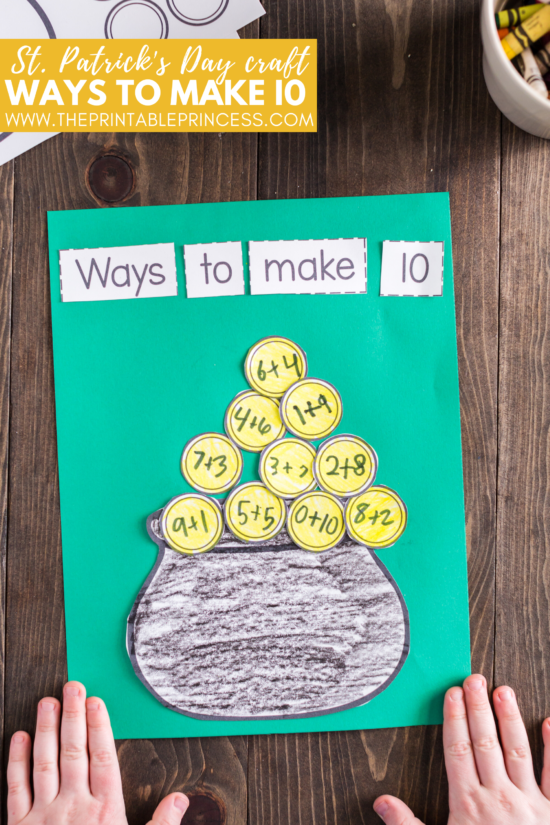 After you've made this no prep St Patrick's Day craft with your kids, be sure to tag me on Instagram (@ThePrintablePrincess) or send me a picture so that I can see!
You can download the No Prep St. Patrick's Day craft printable here.
For a fun and fesitive St Patrick's Day snack, check out this blog post.