Fun Fall Snack Idea for Kids
When falls rolls around, I look forward to two things: cooler temperatures and pumpkin spice – well pumpkin spice coffee. One of our favorite traditions each year is taking a trip to the pumpkin patch. It's such a magical time of year and I try to squeeze a little of the season in whenever possible. Today I wanted to share with you a fun and festive fall snack idea for kids.
Pumpkin Patch in a Cup makes a great treat for home or school. The ingredients are simple and there's no baking required which makes it perfect for classroom parties. This fun fall snack for kids is perfect for PreK, Kindergarten, or First grade. In this post you'll find step-by-step directions and a free no-prep sequencing printable to use as a follow up page.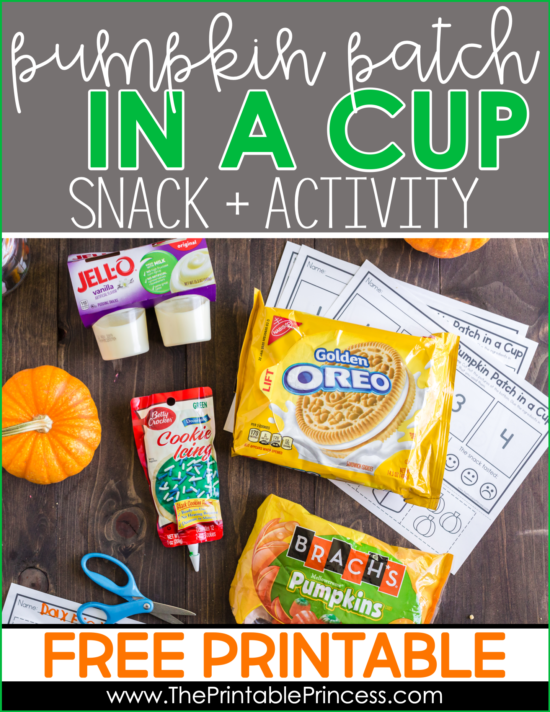 This little snack-tivity is perfect to make after a trip to the pumpkin patch or just because. If you're looking for a great book pairing, I love reading How Big Could Your Pumpkin Grow?. My class on the other hand, every single year without fail, loved The Little Old Lady Who Was Not Afraid of Anything.
Fall Snack Ingredients and Directions:
You'll need four ingredients for our festive fall snack for kids: pudding, Oreos, green icing, and pumpkin candies.
Each student or little baker will need:
2 Oreo cookies in a sandwich size zip-top bag
1 small cup of vanilla pudding
3 pumpkin candies
green frosting in a tube
a spoon!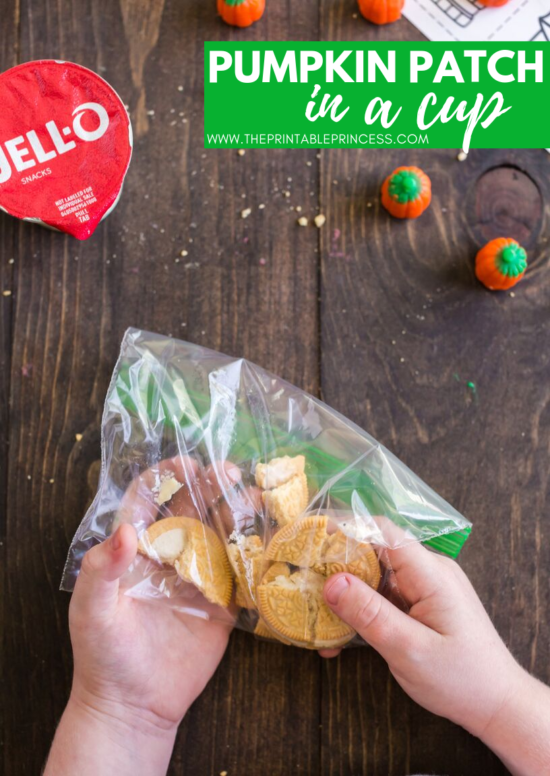 You may want to supply students with a paper plate so that they have a work space to catch the crumbs work on.
Give students a zip-top bag with two Oreo cookies inside. You can use chocolate or vanilla Oreos. Just be sure the bag is zipped tight so the cookies don't fall out.
Little bakers will use their fine motor skills to break the cookie into small pieces.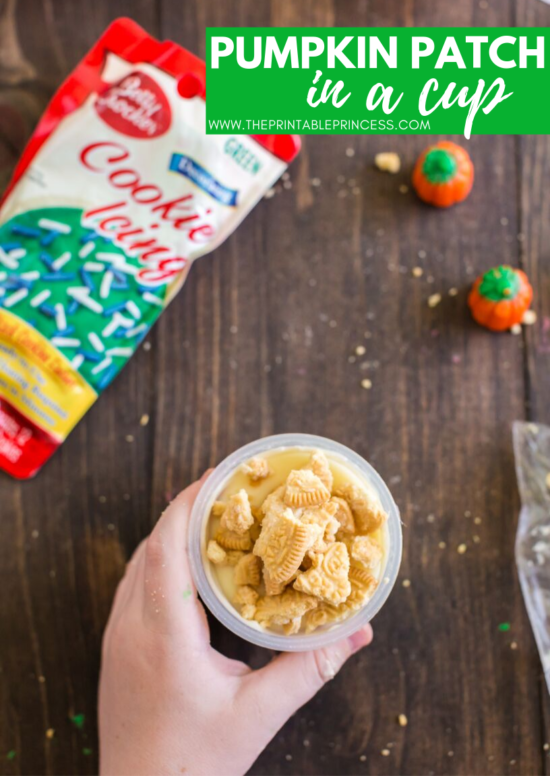 Pour the cookie mixture on top of a pudding cup. You can use vanilla or chocolate pudding for this step. This is where that paper plate comes in handy to catch the crumbs.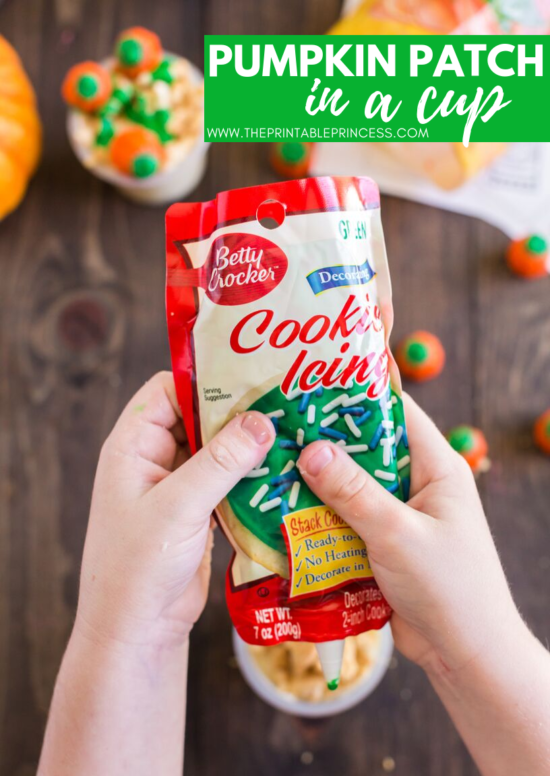 Squeeze a dab of green icing on top of the cookie crumble to resemble vines. I like the Betty Crocker Icing tubes because they are easy enough for small hands to squeeze independently. But not so easy that they can squirt the whole tub out. For a class of 20-25 two tubes of icing will be plenty.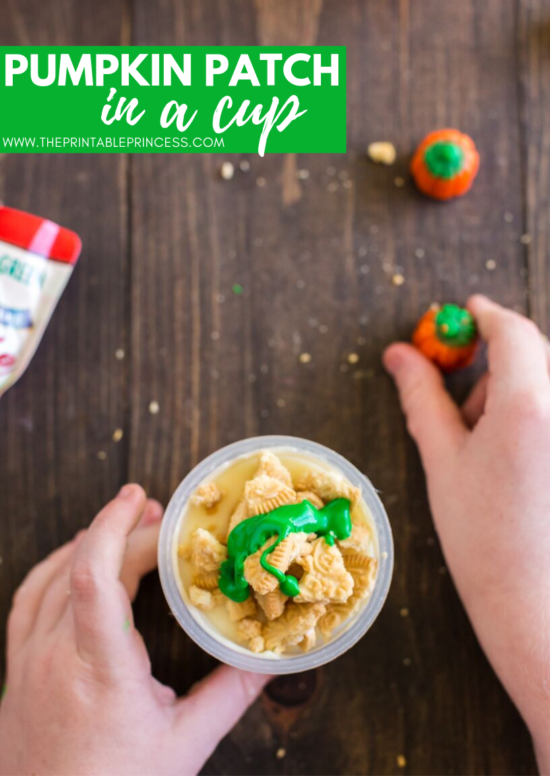 Lastly, students will place candy pumpkins on top of their pumpkin patch.
For step by step directions on how to make the Pumpkin Patch in a Cup, check out this video: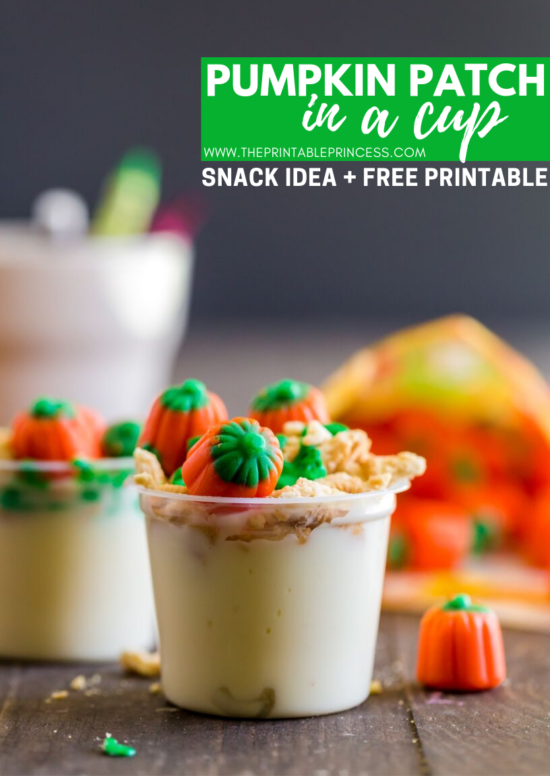 Free Pumpkin Patch Printable:
If you're wanting to turn this activity into a sequencing lesson, I've created a page to help you do that. Of course you can definitely use this activity without the activity page. This follow up piece is no prep, just print!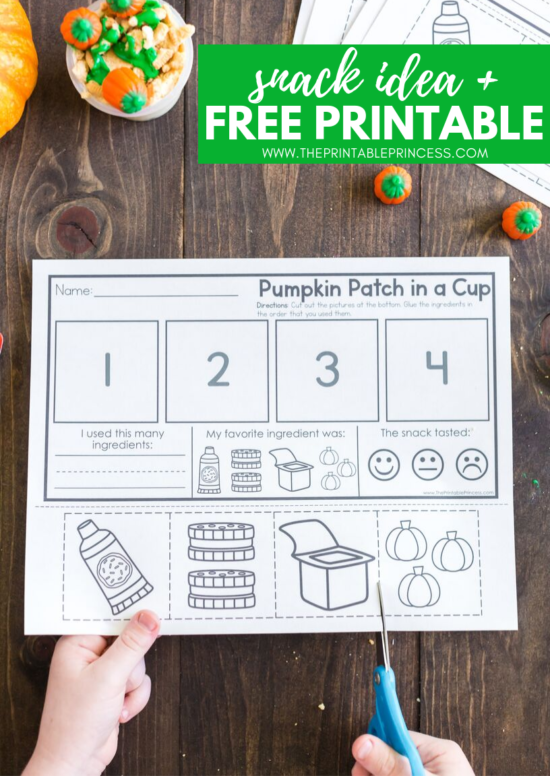 Students will cut out the ingredients at the bottom and put them in sequencing order. They will count the number of ingredients they used and write the number. Next they color their favorite ingredient and their reflection of how the snack tasted.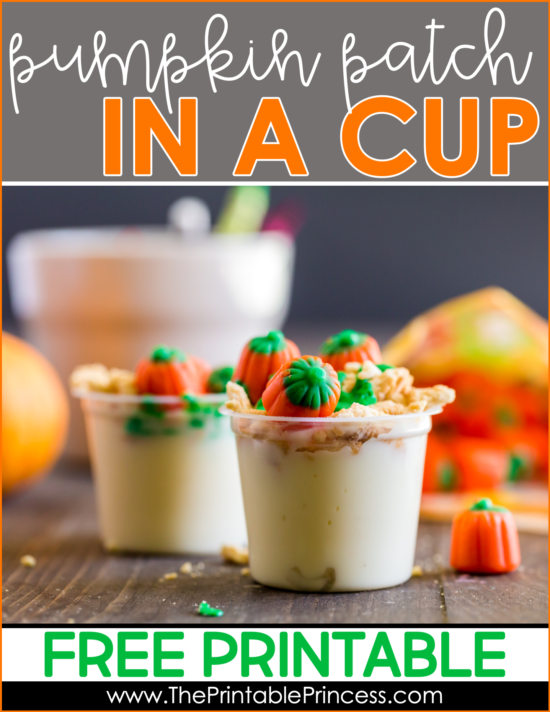 You can download your free Pumpkin Patch in a Cup sequencing page here.
Looking for more kid-friendly snacks? Check out these other fun and festive snack ideas.