Fall Literacy and Math Tubs for Kindergarten + a Freebie!
Mornings in the classroom can be hectic. Students trickle in at different times, some aren't quite wake yet, and then there's attendance and other teaching "housekeeping duties". If you're looking for a way to add some calm to your mornings, you need to try morning tubs! They will change your mornings. These Fall Literacy and Math Tubs for Kindergarten can get you started tomorrow. They are perfect for the month of October.
Your Kindergartners will have fun learning math and literacy concepts with fun fall themes like pumpkins, scarecrows, apples and leaves. There's no recording sheets included, just hands-on, interactive activities.
I also have two FREE printables at the end of the post for you to add to your Fall Tubs! So stay with me.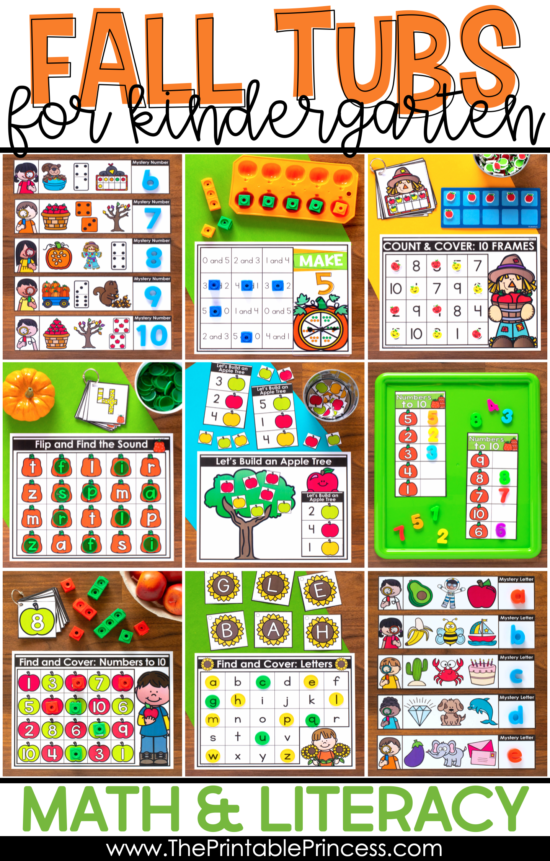 This article, along with many other articles on The Printable Princess, contains Amazon affiliate links. If you purchase through the links I earn a small commission. Clicking these links does not cost you any extra but helps this website to keep great articles and freebies coming your way.
Your Kindergartners will love learning their upper and lower case letters, counting, beginning sounds and much more with these fall tubs. The activities also help your students with fine motor skills and social interaction because some of the games are played with a partner.
You can check out this
Fall Morning Tubs in my TpT shop
. Or for an in-depth look at the Fall Morning Tubs for Kinder, check out this video: