If you are looking for a fun way to start your mornings, these Fall Literacy and Math Tubs for Kindergarten are perfect for the month of October. Your Kindergartners will have fun learning math and literacy concepts with fun fall themes like pumpkins, scarecrows, apples and leaves. I also have two FREE printables at the end of the post for you to add to your Fall Tubs!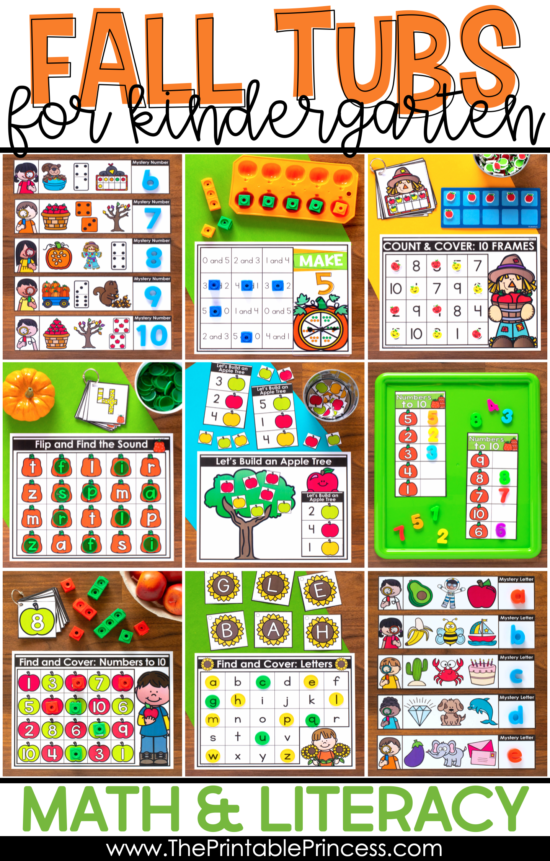 This article, along with many other articles on The Printable Princess, contains Amazon affiliate links. If you purchase through the links I earn a small commission. Clicking these links does not cost you any extra but helps this website to keep great articles and freebies coming your way.
Your Kindergartners will love learning their upper and lower case letters, counting, beginning sounds and much more with this Math and Literacy Tub Bundle. These activities also help your students with fine motor skills and social interaction because some of the games are played with a partner.
Fall Literacy and Math Tubs
This Fall Morning Tubs for Kindergarten kit includes 22 literacy and math activities with a fun fall theme. The skills included in this resource are ones that your Kindergartners are most likely working on during late September and October. It is packed full of games and interactive, hands-on activities to keep students engaged and learning.
The activities are easy to prep – most of them are just print and go. They use basic classroom supplies such as plastic cubes, mini erasers, play dough, dot cubes, and spinners. Most activities include more than one version allowing you to differentiate for your students.
Each of the activities include teacher friendly directions as well as an "I Can" visual directions page to promote independence. They do not include recording sheets which makes them ideal for morning tubs and early finisher activities. But you can certainly use them for math and literacy centers too.
Fall Kindergarten Literacy Tub Printables
Mystery Letter: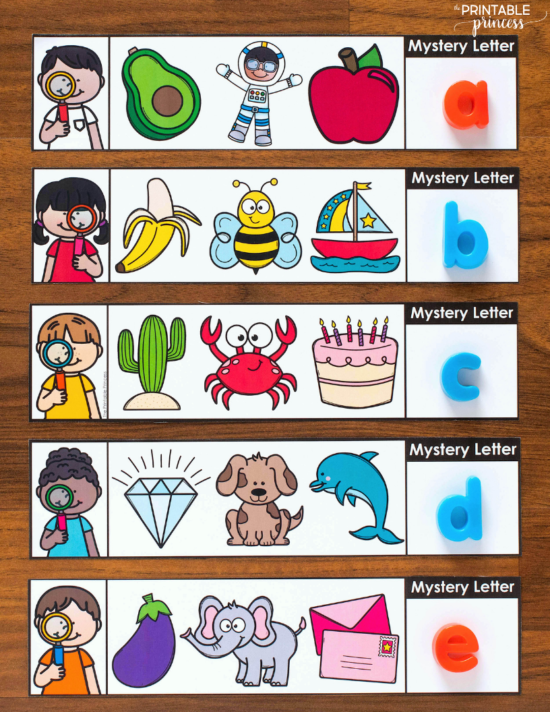 Students select a card and identify the beginning sound of the pictures to determine the mystery letter. They will use magnetic letters or a dry erase marker to show the mystery letter.
Find and Cover Letters: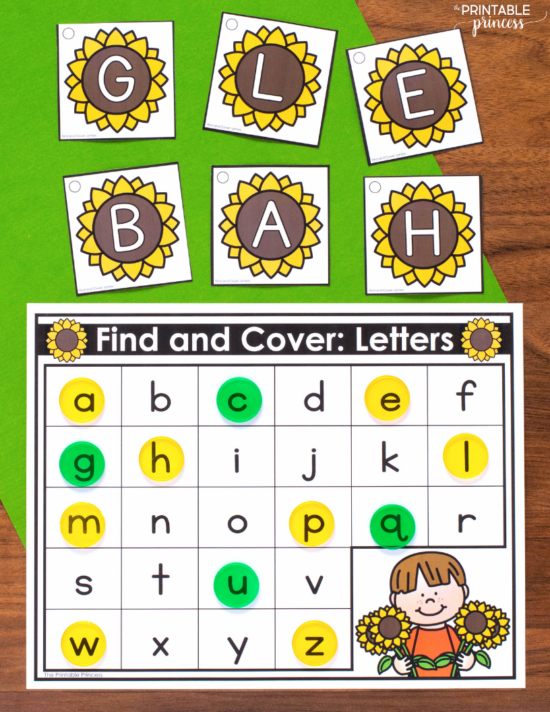 Students select a card and identify the uppercase letter. They will find the matching lowercase letter on the mat and cover it using a cube or mini erasers.
Flip and Find the Sound: Beginning Sounds: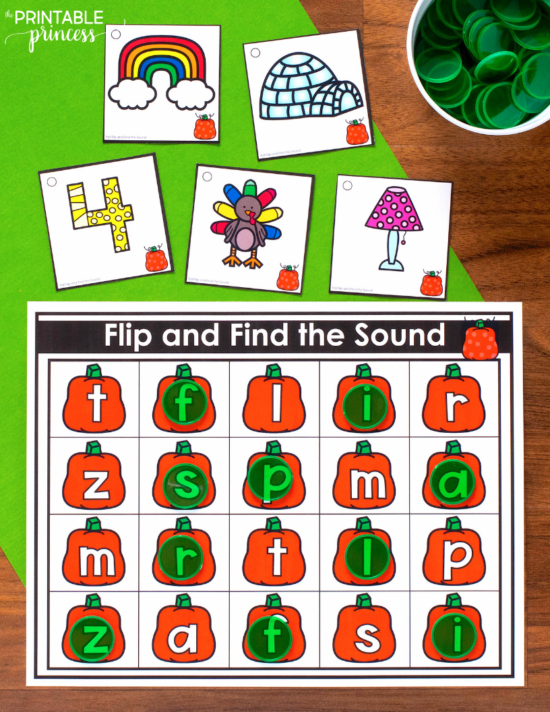 Students select a card and identify the beginning sound. They will find the corresponding letter on the mat and cover it using a cube or mini erasers. There's three Flip and Find Beginning Sound activities included.
Fall Kindergarten Math Tub Printables
Flip and Cover: Numbers to 10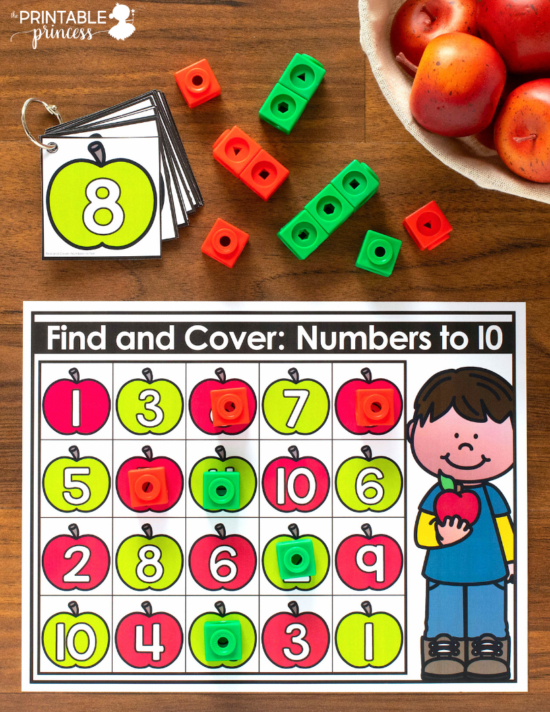 Students select a card and identify the number and apple color. They will find the matching number and apple pair on the mat and cover it with a plastic cube.
Build an Apple Tree: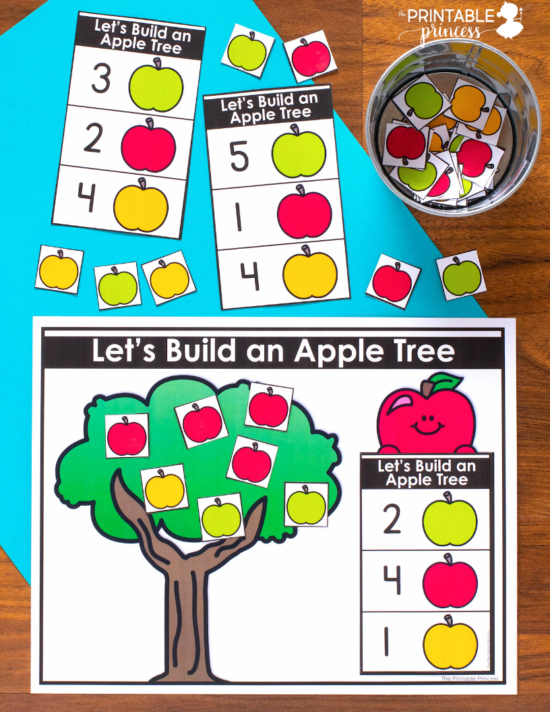 Students select a number "directions" card. They will count out each color of apples and put them on the apple tree.
Make 5: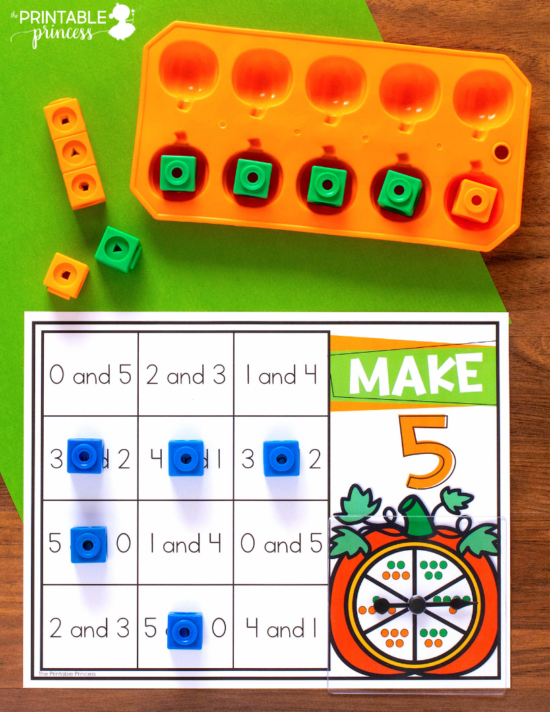 Students will spin the spinner and identify a way to make five. They will find a space on the mat that matches their spin and cover the space on their game mat. They will continue to play until all of the spaces have been covered. There's two versions of this activity included.
Count and Cover 10 Frames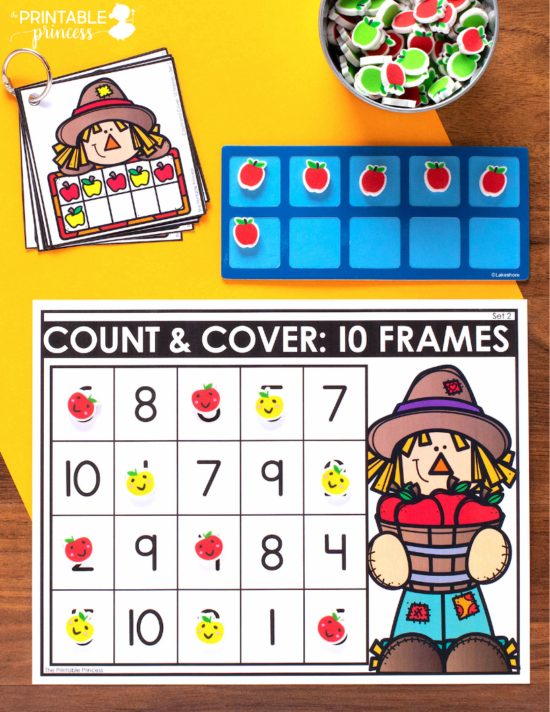 Students will identify the number represented on the ten frame. (There's 2 cards for each number.) They will find the number on the mat and cover it. Two activities included for this skill.
Mystery Numbers to 10: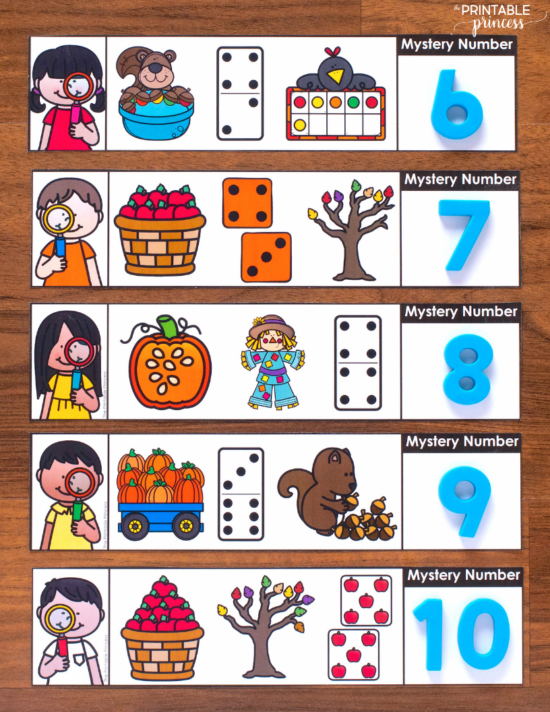 Students select a card and determine the number represented by the series of pictures. They will write the mystery number (or use magnetic numbers) on the card.
Free Fall Bump Kindergarten Tub Printables
Are you wanting to give morning tubs a try? Here's one that will get your Kindergarteners counting and working with a partner. Download these FREE Fall Bump Kindergarten Tub Printables to add to your tubs. This activity will help the kids learn how to play with others. Kids choose a partner and each partner gets 10 of their own color of plastic math cubes. There are two mats to choose from. Numbers to 6 and numbers to 12.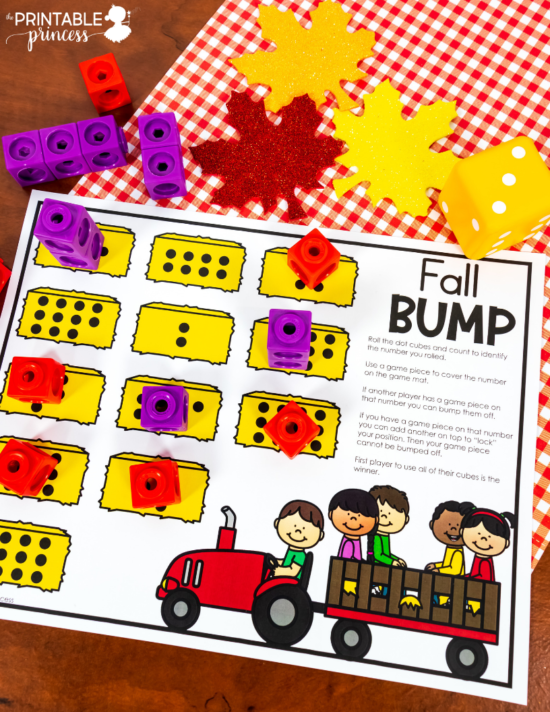 Students use dot cubes to roll a certain number then they use one of their math cubes to cover that number on the mat. The player can bump off an opponents game piece if they land on that number and if they have their own cube on the number, then they stack their cube on top. The first player to use all their cubes is the winner. (Be sure to read the instructions in the download for the complete rules)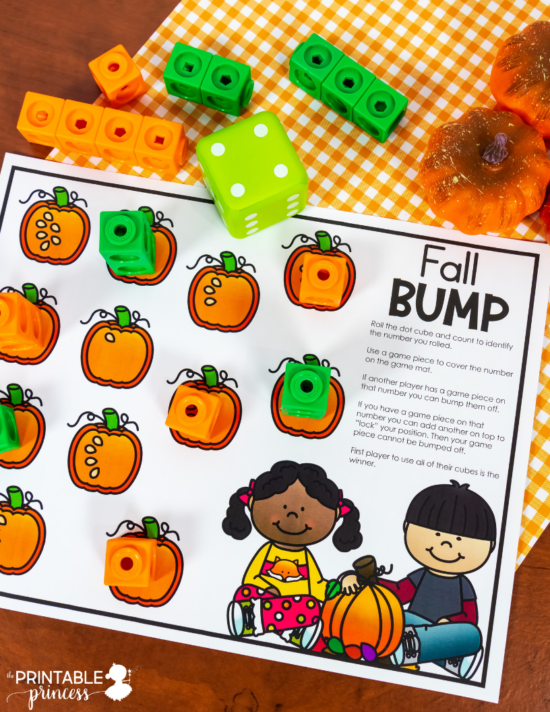 Download your copy of the free Fall Bump Game Mats for Kindergarten Tubs here.