Gingerbread Activities for Kindergarten
Christmas season is drawing near, which means there are many opportunities to make learning fun for your students. Gingerbread is one of my favorite themes to incorporate into the classroom in December. It's one of those themes that every student can participate in. Make learning a treat this holiday season with these gingerbread activities for kindergarten.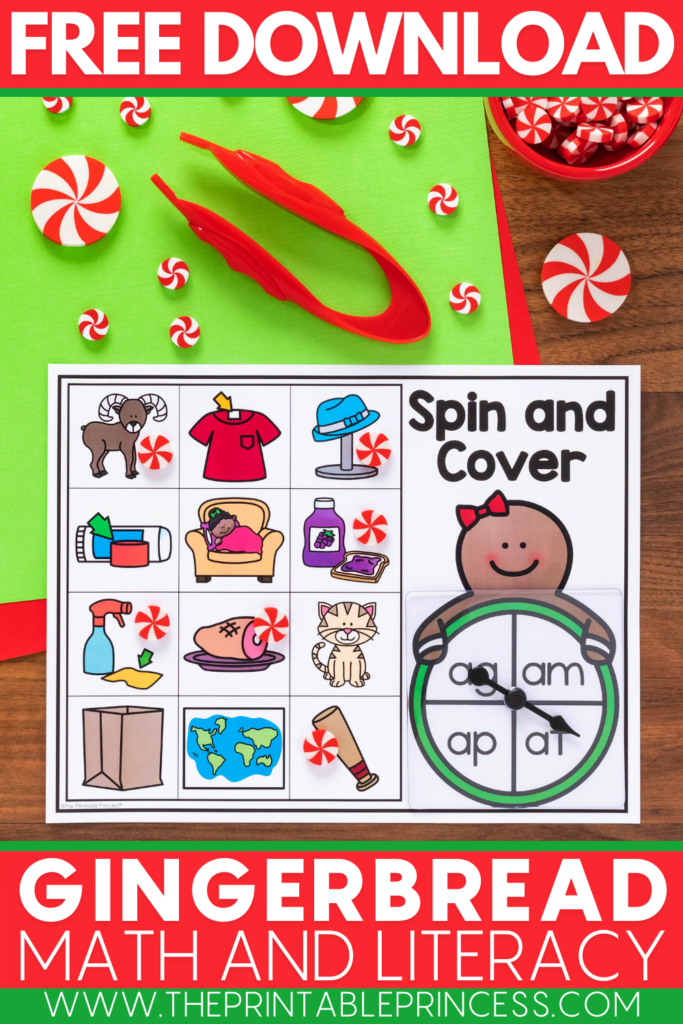 This article, along with many other articles on The Printable Princess, contains Amazon affiliate links. If you purchase through the links I earn a small commission. We only share links to resources and products we love.
Gingerbread Read Alouds
Gingerbread is a perfect theme to incorporate into your read alouds throughout the month of December. There are many different versions of The Gingerbread Man. This is a great time of year to teach comparing, contrasting, and making text-to-text connections.
Here are some of my all-time favorite gingerbread read alouds for kindergarten.
Gingerbread Math and Literacy Centers
A gingerbread theme makes math and literacy activities more fun and engaging for students. Keep your students on track with their learning, on task, and enjoying themselves with these gingerbread math and literacy centers!
With 6 hands-on centers included, 3 for math and 3 for literacy, you'll be set for the month. Each center activity comes with a recording sheet to reinforce skills.
And for those days where you need a quick, no prep activity, there are 6 bonus no prep pages included to make learning even sweeter.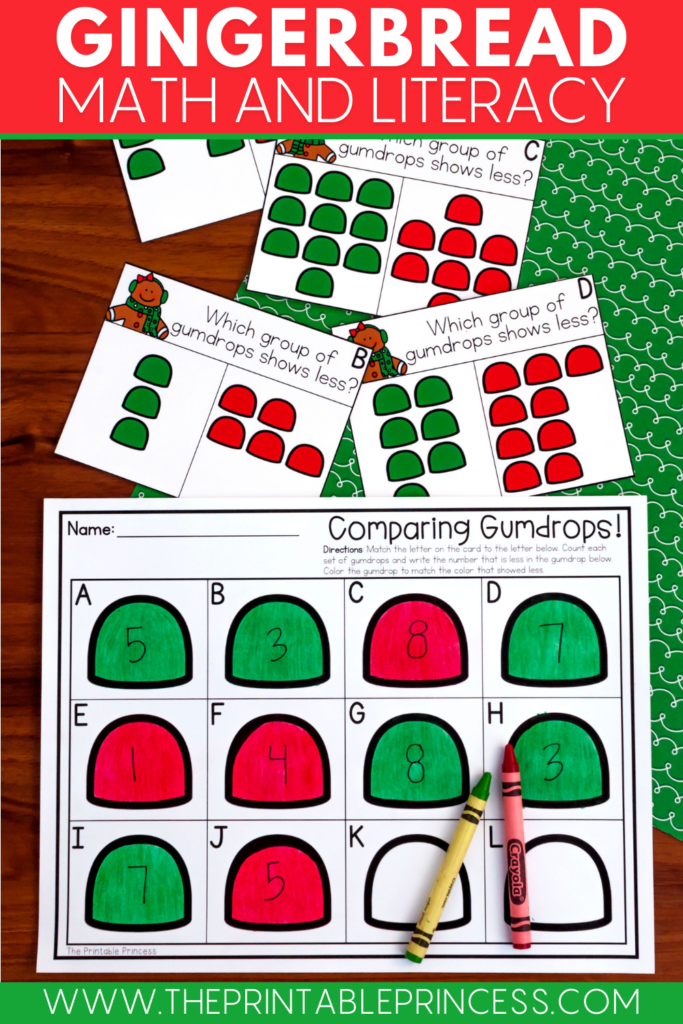 Gingerbread Math and Literacy Freebie
December is a hectic month. It can be tough to plan lessons and find activities for your students that are fun and cover all the right skills.
Which is why I'm including a set of FREE gingerbread activities for kindergarten that will make planning and prep easier.
Included are activities and games for practicing lowercase letter recognition and formation, word families, and counting. All you'll need are your favorite Christmas mini erasers (or plastic cubes), a dot cube, and a spinner (or paperclip and pencil).
To get these gingerbread freebies delivered straight to your inbox, fill out the form below.
Gingerbread House Snack
Building gingerbread houses is a fun holiday tradition, but it's also a lot of work. This year, ditch the complicated gingerbread houses that leave you needing an extra shot of espresso. Instead, try out this easy graham cracker gingerbread house snack!
It's just as delicious and half the work and stress. To see exactly what you need to make these gingerbread houses along with step-by-step instructions and a video tutorial, check out this blog post.
Gingerbread Writing Activities
Gingerbread is such a fun topic to write about around the holidays. With all of the gingerbread read alouds, your students will have a ton of ideas flowing.
To encourage your students to put their writing skills and creativity into practice this month, these December writing prompts for kindergarten are just the ticket.
With these writing prompts, students will work on handwriting, writing conventions, and using seasonal vocabulary words. You'll find a variety of gingerbread and holiday-themed prompts, like:
My gingerbread house
My cookies are shaped like
To make holiday cookies
The best holiday food
In the kitchen I make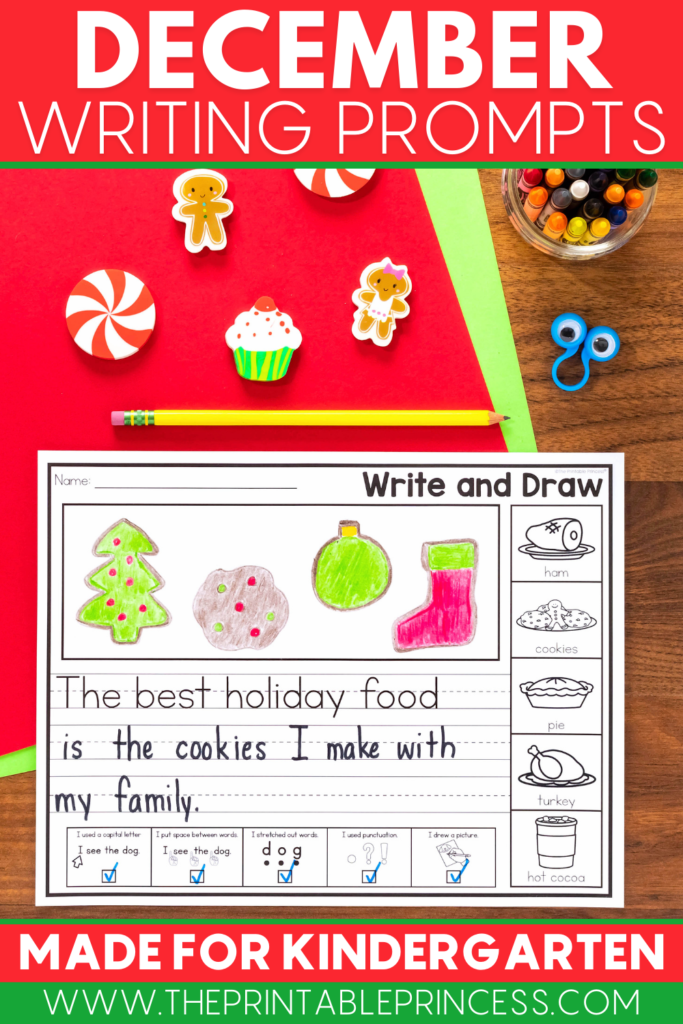 Digital Gingerbread Activities
Hands-on activities are always a great way to practice skills. However, it's nice to switch it up. You can do this with digital gingerbread activities for kindergarten.
This set of 8 gingerbread-themed Boom Cards includes 4 math and 4 literacy activities that your students will love. You'll love them too because they're no prep, have audio directions, and are self-checking!
You can add these to your math and literacy centers, use them as a technology station, or keep them on hand for early finishers or those small chunks of time in between holiday activities and events at school.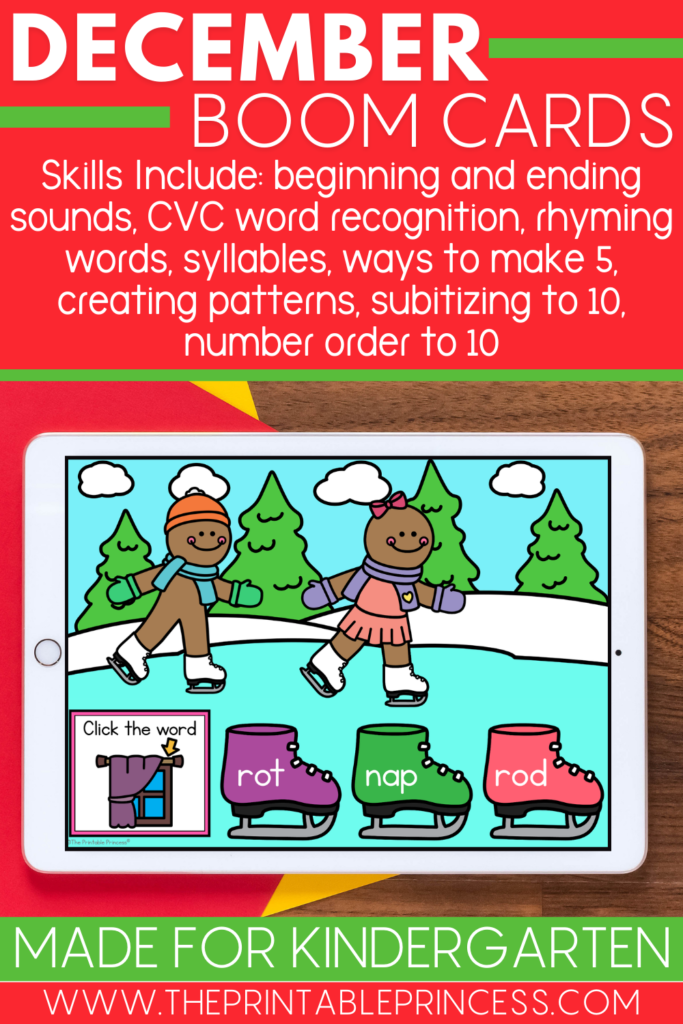 Gingerbread House Craft
Your gingerbread activities for kindergarten wouldn't be complete without an adorable gingerbread house craft. This DIY gingerbread house craft is perfect for kindergarteners and requires simple steps. No tracers or real gumdrops needed!
For supplies, dimensions, and step-by-step directions for making this gingerbread house craft, you can check out this blog post.
I hope you enjoyed these gingerbread read alouds and activities for kindergarten! This is truly a magical time of year and I hope you and your students can make a ton of great memories together.
For more Christmas activities and ideas for kindergarten, check out this blog post.