Valentine's Day Read Alouds and Centers for Kindergarten
February is a month that feels like it's here today and gone tomorrow. There are so many holidays and special events jam-packed into an already short month. Of course, it wouldn't be February without incorporating some exciting read alouds and Valentine's Day activities for kindergarten into your lesson plans!
Read on for a list of some of my favorite Valentine's Day read alouds for kindergarten as well as some exciting and DIY centers that you can add to your plans this month.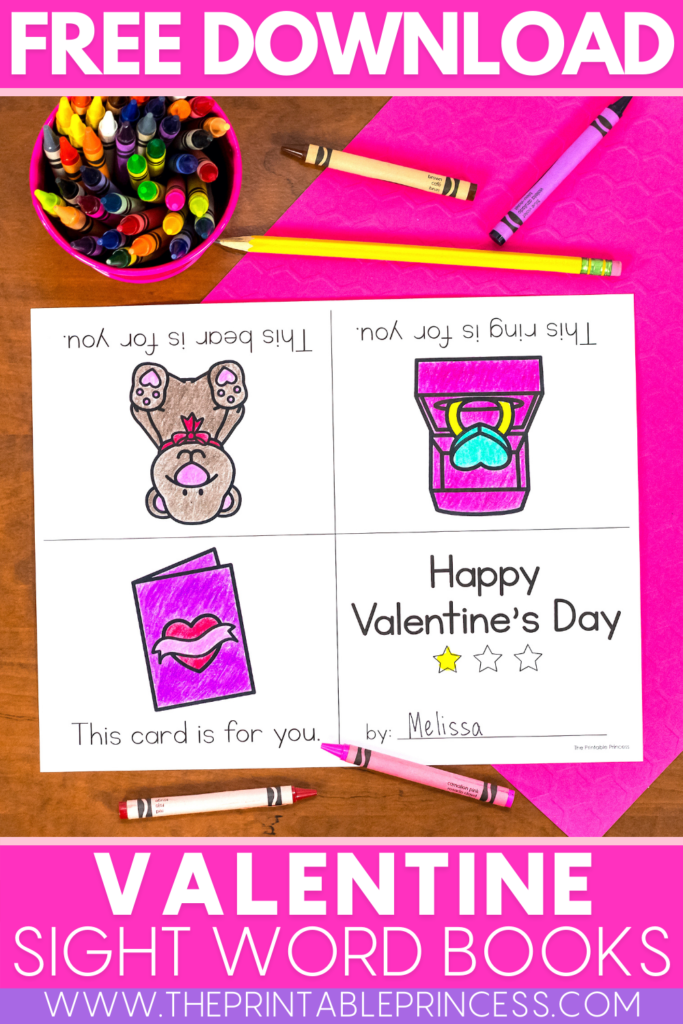 This article, along with many other articles on The Printable Princess, contains Amazon affiliate links. If you purchase through the links, we earn a small commission. We only share links to resources and products we love.
Valentine's Day Read Alouds
This list of kindergarten-friendly Valentine's Day books will surely have you and your students feeling the love!
In addition to sweet stories, several of them are a great way to discuss and encourage kindness, appreciation, and friendship.
Do you have a favorite read aloud for Valentine's Day? Come share it in the Kindergarten Palace! We'd love to hear what you're reading this month.
Valentine's Day Math and Literacy Centers
Incorporating Valentine's Day activities for kindergarten into your math and literacy center rotations is a great way to infuse a little love into the learning.
This 6 pack set of Valentine's Day math and literacy centers for kindergarten is perfect to use during the month of February.
You'll get 3 fresh centers for math and 3 for literacy, complete with a hands-on activity, recording sheet, and 6 bonus no-prep pages.
You can sprinkle these into your lessons in the days leading up to and following Valentine's Day.
There's no better way to burn off all the sweets and sugar than to keep your students moving and actively learning around the big day!
Skills included are: middle sounds, CVC words, digraphs, making 10, addition, and counting.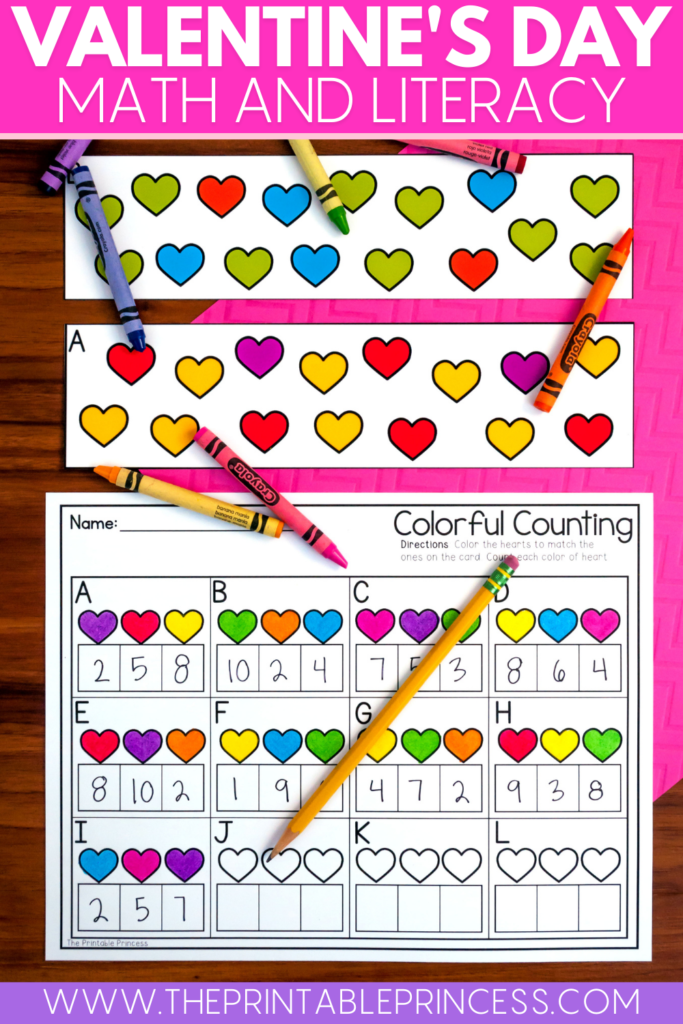 DIY Candy Hearts Centers
Speaking of sweets and sugar, there are a ton of fun Valentine's Day activities for kindergarten that you can do with the ever-popular, candy hearts!
These center ideas are all DIY and only require basic classroom supplies, and candy hearts of course.
Sort and Graph
Draw a large bar graph on the whiteboard. Have students work together in a whole group to sort candy hearts by color.
Once sorted, they will graph how many of each using colored dry-erase markers that match the candy hearts.
Another option is to draw a large graph on chart paper and have students lay the candy hearts on the graph to model how many.
Build a Sight Word
Students will each get 1 box of candy hearts for this activity. The teacher calls out a sight word. The students build the sight word using candy hearts.
You can use this activity to practice spelling CVC words.
Candy Heart Patterns
Students will partner up and get 1 box of candy hearts per pair. The teacher calls out a pattern, such as ABAB or ABCABC.
The students will work together to make the pattern. This activity can be done individually as well.
Sort by Saying
For this literacy center idea, students will each get 1 box of candy hearts. They will look at the saying on each candy heart and sort them into groups based on their saying.
This is a great activity to help students learn Valentine's Day vocabulary words.
Before completing this center activity, you may want to go over some of the different sayings as a class. You can even write them on the whiteboard for student reference.
Candy Heart Measurement
For this activity, students will use candy hearts to practice non-standard measurement. Students will use candy hearts to measure various objects at their desk, such as their pencil, eraser, scissors, glue stick, glue bottle, pencil box, etc.
You can give students a whiteboard to record their measurements. To take it one step further, challenge students to determine which object is the longest, shortest, and what the difference is.
Valentine's Day Sight Word Books Freebie
Don't you love how excited children get about holidays like Valentine's Day? So why not channel their excitement to practice reading in a Valentine's Day themed way?
These free Valentine's Day sight word books are the perfect way to get students reading on their level.
They will practice reading fluently, reading sight words in context, and using one-to-one correspondence with these mini books.
Students will love coloring the pictures and the stars on the front after each time they read through. Plus they're perfect to send home for at-home reading practice.
To get your free download of these Valentine's Day sight word books, fill out the form below and they'll be sent straight to your inbox.
Valentine's Day Writing Centers
Valentine's Day brings many unique writing opportunities into the kindergarten classroom, especially with these Valentine's Day-themed writing centers!
Not only will students gain exposure to holiday vocabulary words, they will also learn about special ways to show love and kindness.
Students will learn about writing letters, addressing envelopes, and sending flowers, just to name a few.
They will also be able to write and share about things they love, such as food, games, and topics to learn about.
This is a perfect month to showcase your students' writing and creativity by hanging up their work around the room or in the hallway for everyone to see. They will be so proud to see their pieces on display and will feel oh so loved!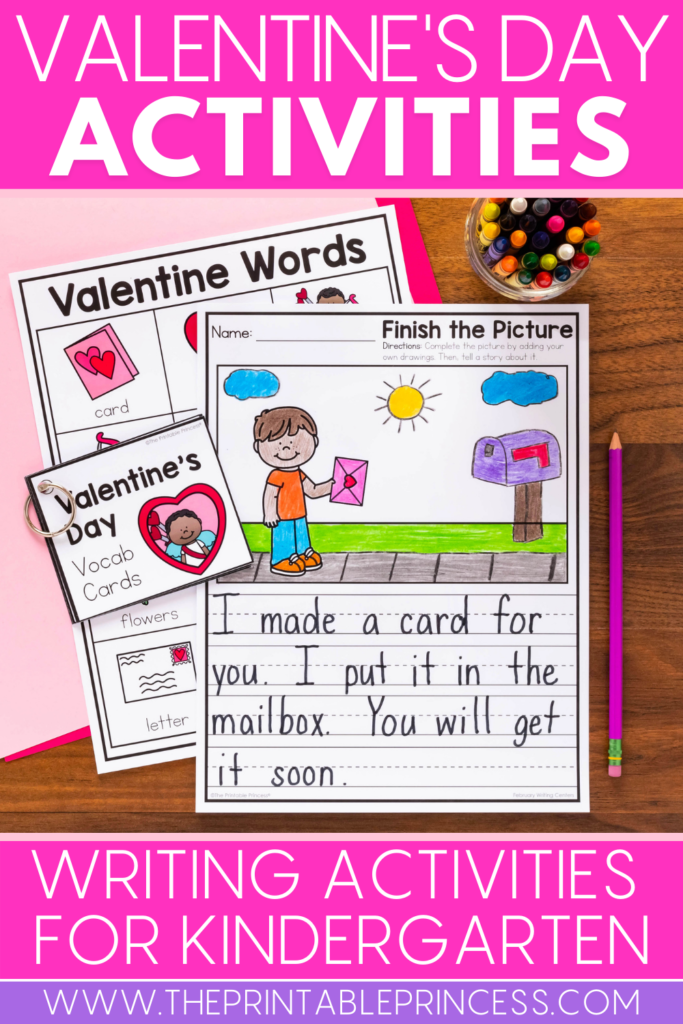 DIY Paper Hearts Centers
While there are several DIY Valentine's Day activities for kindergarten you can do with candy hearts, you can also create engaging centers using basic paper cut-out hearts.
Paper Heart Word Sort
For this activity, cut out several die-cut paper hearts. You can use one color or various colors.
Write CVC words on the hearts. Have students work together in small groups to sort the hearts into word families.
You can also do this activity by writing nonsense and real words on the hearts. Students will then sort the words into categories for real and nonsense words.
To take this center a step further, ask students to record the words on a dry-erase board.
Paper Heart Number Sentence Sort
This activity is similar to the one above, but in a math center version. Start by writing number sentences with sums to 5 and 10 on the paper hearts.
Students will work together to complete the number sentences and determine what the sum is. They will then sort the hearts into categories for sums of 5 and sums of 10.
You can add a dry erase board and marker, candy hearts, mini erasers, or another manipulative to this center to help students complete the number sentences.
I hope you enjoyed these Valentine's Day read alouds, DIY activities, and center ideas for kindergarten.
If you'd like to check out even more Valentine's Day centers, plus a fun love-themed Flip and Find Numbers to 100 freebie, head on over to this blog post!