Dental Health Activities for Kindergarten
February is a great month to talk about keeping our teeth healthy with your students. With these dental health activities for kindergarten, you will be able to have conversations with your students about taking care of their pearly whites while giving them fun activities for math, literacy, and writing.
Educating students early can help set them on the path of good dental hygiene. While they are hopefully being taught and encouraged to care for their teeth at home, it's important that students hear it from more than one source. There's power in numbers, right?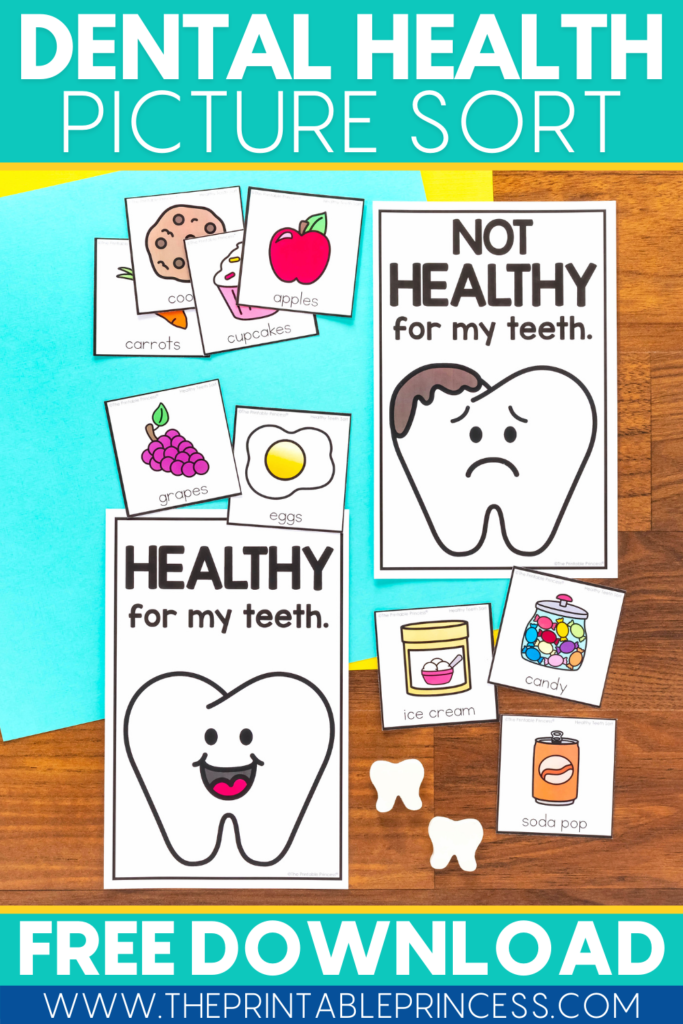 Dental Health Mini Unit
Dental health activities for kindergarten can be incorporated into any subject or time of day. It doesn't have to just be taught during a science unit or after special read alouds.
With this Dental Health Mini Unit, you can infuse the theme of dental health into your day with activities that teach students more about dental hygiene as well as 10 no prep math and literacy pages.
Students will learn more about the sequence of brushing their teeth, important dental hygiene tools, and what kinds of foods are healthy and not healthy for their teeth.
Plus, there are partner games to keep the learning fun and mini readers that are perfect for students to practice reading with at school and at home.
This unit would be perfect to use as a compliment to your whole group and small group math and literacy lessons, science lessons, or even center rotations.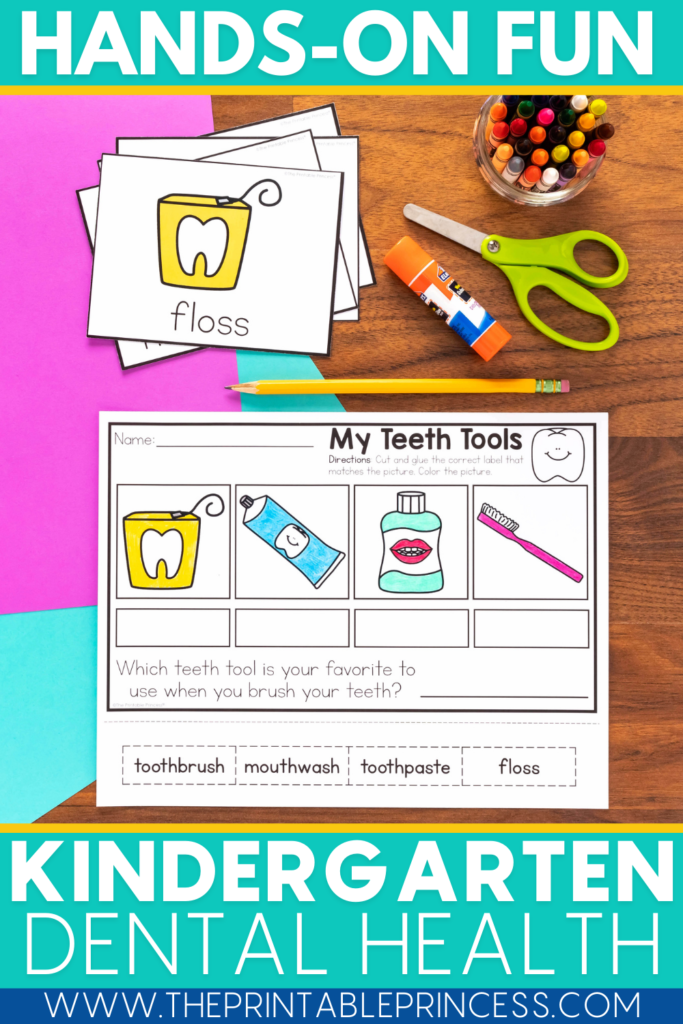 DIY Dental Health Writing Activities
Dental health is also a great topic to add to your writing lessons and activities. To get your students thinking about dental hygiene, you can do this simple DIY writing activity with them.
To begin, write a predictable sentence on the whiteboard. Some ideas include:
I use _______ to brush my teeth.
I floss _______ times per day.
The _______ checks my teeth.
Students will write the dental health-themed writing prompt on a piece of lined writing paper and fill in the blank using their knowledge of dental hygiene. After completing the sentence, students will illustrate to show the dental health habit.
This would be a great follow up activity to the Dental Health Mini Unit mentioned above.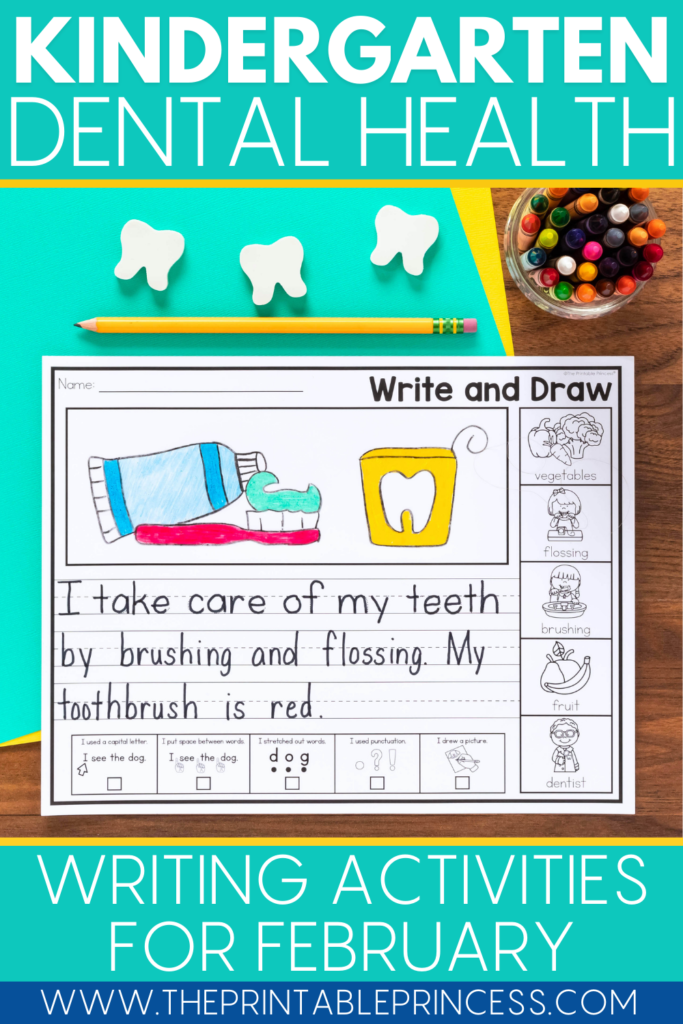 Dental Health Math and Literacy Centers
Since February is such a busy month filled with several holidays and themes to teach, it's nice to have a go-to set of dental health centers that you can use during your math and literacy lessons.
This 6 pack set of dental health-themed math and literacy centers is the perfect way to incorporate this topic into the learning. You can use these centers throughout the entire month or during a week-long dental health study.
Even though February is Dental Health Month, it's never a bad time to talk about dental hygiene, so feel free to use these centers anytime of year.
Students will practice important skills such as addition, subtraction, teen numbers, CVC words, rhyming words, and simple sentences while gaining independence and having fun.
Each center comes with a recording sheet to help students show what they know. And for those busy weeks (more like every week, right?) there are 6 additional no prep math and literacy pages included.
The no prep pages are perfect for morning work, homework, or an independent practice activity.
DIY Healthy vs. Not Healthy Chart Activity
To help your students understand what is healthy vs. not healthy for their teeth, you can use a simple DIY dental health activity for kindergarten in either a whole group setting or in small groups.
To begin, create a basic chart on either the whiteboard or a piece of chart paper. On one side, write "Healthy for My Teeth" and on the other side, write "Not Healthy for My Teeth."
Pass out a sticky note or notecard to each student. The teacher then whispers a healthy or not healthy food in the first student's ear.
The student draws the food on their sticky note and places it on the correct side of the chart to show whether it is healthy or not healthy for their teeth.
You can also have the other students help guess where it goes before the student places it on the board.
For another option, students can call out healthy and not healthy foods to add to the list on the board after all students have gone. This encourages them to think of even more foods to add to the chart.
If you didn't want to use sticky notes and have them draw the pictures out, you could just have students call out the foods and tell whether they belong on the healthy vs. not healthy side of the chart.
Dental Health Magazine Sort
Another option is to have students find pictures of foods in magazines. They can cut out the healthy and not healthy food choices and sort them into the appropriate categories on the chart.
Dental Health Pop Quiz
This dental health activity for kindergarten is an exciting way for students to put their knowledge to the test in a friendly competition. It also helps build classroom community as they work together as a team.
Divide students into teams of 4-5 students. Ask them different dental-health themed questions. A few examples are:
How many times a day should you brush your teeth?
Name a food that is healthy for your teeth?
What is 1 tool you need to take care of your teeth?
After asking the question, the team will work together to come up with an answer. If they get the answer correct, they get a point. If they don't get the answer correct, the other team gets a chance.
It is helpful to discuss with students before beginning that they must agree on one answer as a whole team.
You can encourage them to whisper to discuss the question and when they have a team answer, everyone must raise their hand together to show the teacher they are ready.
To incorporate math skills, you can have each team keep track of their score on the whiteboard using tally marks.
Dental Health Sort Freebie
To continue the dental health and healthy choices discussion, I've created a fun Dental Health Picture Sort Freebie for you!
This activity is designed to help students recognize foods that are healthy and not healthy for their teeth. A sorting mat, picture cards, and a follow up recording sheet are included in this free download.
To prepare this activity, simply print, cut, and laminate the sorting mats and picture cards. Print the recording sheet.
Students will use the sorting mat to sort the foods that are healthy for their teeth and not healthy for their teeth.
Then, they will color the pictures on the recording sheet to show their work. You can use this activity as a whole group discussion tool or as an additional center. This would be a great follow up activity to the DIY chart activity above.
To get your free copy of this dental health picture sort activity, fill out the form below and it'll be delivered straight to your inbox!
I hope you've enjoyed these dental health activities for kindergarten and can apply them in your classroom. If you're looking for dental health read alouds and another fun freebie, be sure to check out this blog post!