7 Ways to Use Writing Prompts for Kindergarteners
Getting kindergarten students into a daily writing routine is a great way to help improve their skills and boost their creativity. But sometimes even little writers run into the dreaded writer's block that can put a halt on learning.
Writing prompts are an amazing way to help break down those walls and help keep the words flowing. Read on to learn what to look for in writing prompts for kindergarteners as well as 7 fun ways to use kindergarten writing prompts in your classroom.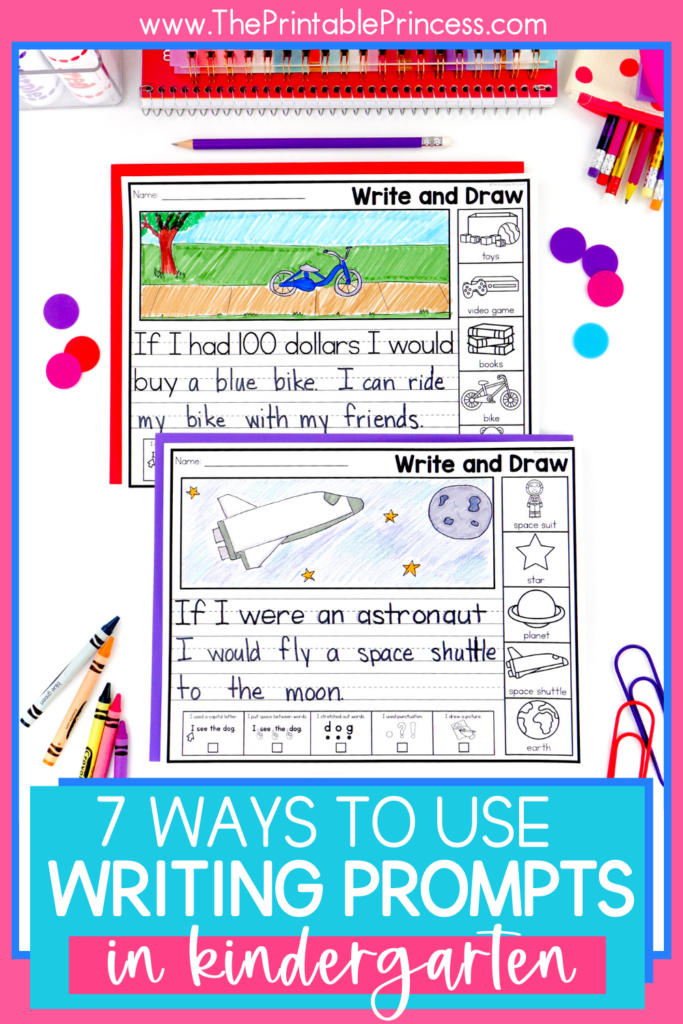 While kindergarteners may come to school barely knowing how to write their name, it's important to give them daily opportunities to express themselves and practice formulating ideas and getting them on paper.
Writing is so much more than physically putting pencil to paper. It's about generating ideas and learning to communicate them through words in a clear manner.
Kindergarteners are probably not going to dive in and start writing multiple sentences and short stories (although some might!), and that's okay.
The key to helping your students grow their skills is to use kindergarten writing prompts that meet them where they're at developmentally.
This will allow them to build on the beginning writing skills they've already learned and apply them to topics that interest and excite them, without being overwhelming.
What to Look for in Writing Prompts for Kindergarteners
When looking for kindergarten writing prompts to use with your students, there a few features you'll want to keep your eye out for.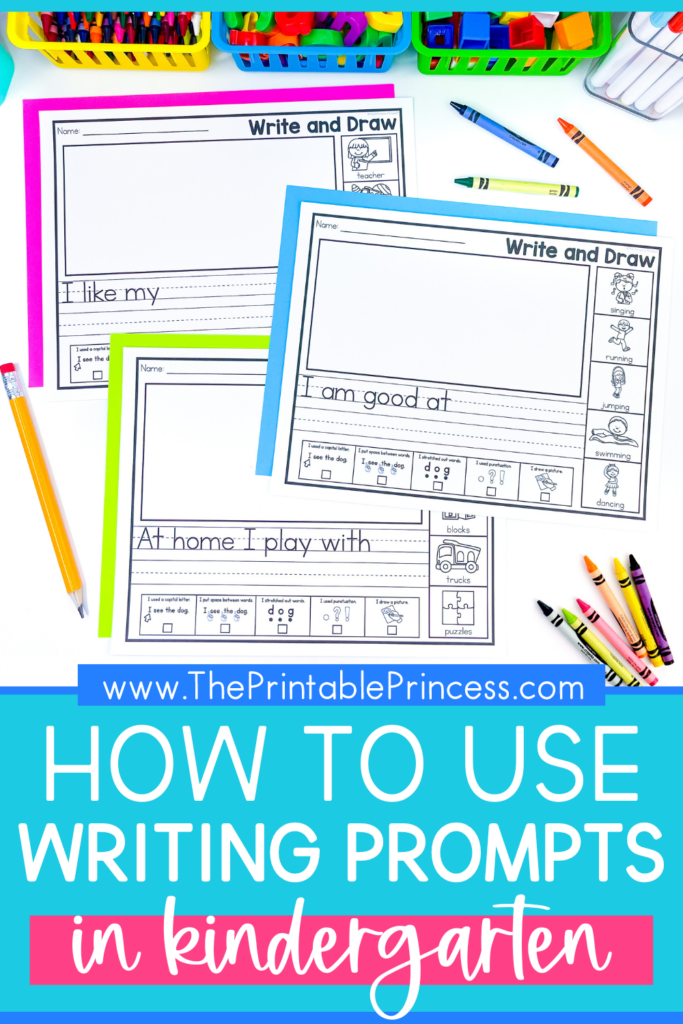 Wide writing lines.
Kindergarten students are still learning to navigate handwriting and moving their pencil on the paper.
Wide writing lines make it easier for them to place letters correctly on the lines. This also prevents frustration from trying to write on small lines.
A space to illustrate.
Pictures and illustrations have a huge impact on a young student's writing process. Therefore, they need to be able to illustrate in order to generate ideas to write about.
The same is true vice versa as they become more advanced and draw pictures to match their writing pieces.
Picture word bank.
A picture word bank helps students come up with ideas and visualize what their sentence may be about.
It also gives them different words they can use along with a picture to help them understand the meaning of the word. This increases their vocabulary skills as well.
Writing convention checklist.
As students learn the mechanics of writing, it's important to give them visual reminders of what to look for and include in their writing.
From punctuation and capitalization to spacing in between words, a writing convention checklist is a powerful tool for students.
7 Ways to Use Writing Prompts With Kindergarteners
Writing time is often limited in kindergarten and teachers sometimes struggle to dedicate time just to writing instruction.
However, it's important that students get meaningful opportunities to practice their writing skills each day. Consistency is key when it comes to writing!
Here are 7 fun and simple ways that you can use writing prompts with your kindergarteners.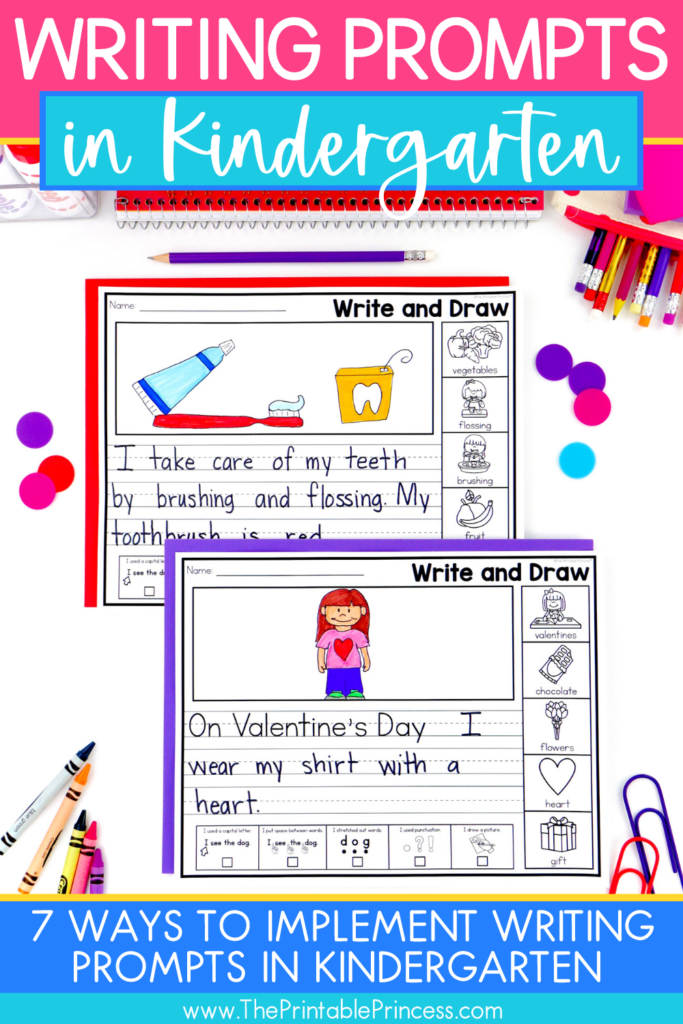 #1: Daily journal.
During your writing time (or during a quiet time after lunch or recess), have your students complete a daily journal activity using a kindergarten writing prompt.
You can keep these writing prompts in their student writing journals each month. During this time, float around the room and observe how your students are doing.
Have them tell you about their writing piece and ask them guiding questions. This can spark meaningful conversations. During this time, you can give support as needed.
#2: During writing center rotations.
While students are rotating between writing centers, you can have an independent writing station where students complete a daily writing prompt.
This is a great option to help students build independence and work daily writing prompts into your designated writing instruction.
#3: Use as part of a student portfolio.
Including kindergarten writing prompts in your student portfolios is a great way to show how a student's writing is progressing throughout the year.
This can also help you plan individualized instruction for students moving forward and help you determine what level of writing prompts and writing centers to use with your class.
You can read more about how to make a student portfolio for kindergarten and what to include in this blog post.
#4: Follow up a read aloud with a writing prompt.
Read alouds are a powerful way to get students' creative juices flowing. This helps them generate ideas and connect their writing to something familiar.
By following up a read aloud with a writing prompt, students also work on key reading skills such as characters, setting, plot, and conflict/resolution. They can then include these story elements in their own writing pieces.
#5: Tie writing prompts into other subjects.
Kindergarten writing prompts can be used for cross-curricular learning opportunities with subjects such as science and social studies.
After conducting a lesson, students can write about the topic and what they've learned. They can even write about their experience with the lesson, such as what kind of science experiment they did.
#6: As a "What Would You Write?" activity.
In a whole group or small group setting, display a writing prompt and discuss the different ideas and ways that students could complete the prompt.
Discuss what the prompt is about and the different possible ways to finish the prompt. Make a list of the various vocabulary words that could be used in the sentence.
Students can share what they would write with the class. This helps students build speaking and listening skills, learn from each other, and brainstorm new ideas.
#7: Share and celebrate.
Celebrating your students' writing pieces and growth will encourage and motivate them to keep working hard.
Each month, have students go back through their writing journal and share the writing prompts they are most proud of with another adult, a partner, or the class.
This gives students a chance to reflect on their writing and gives them a sense of pride in their work.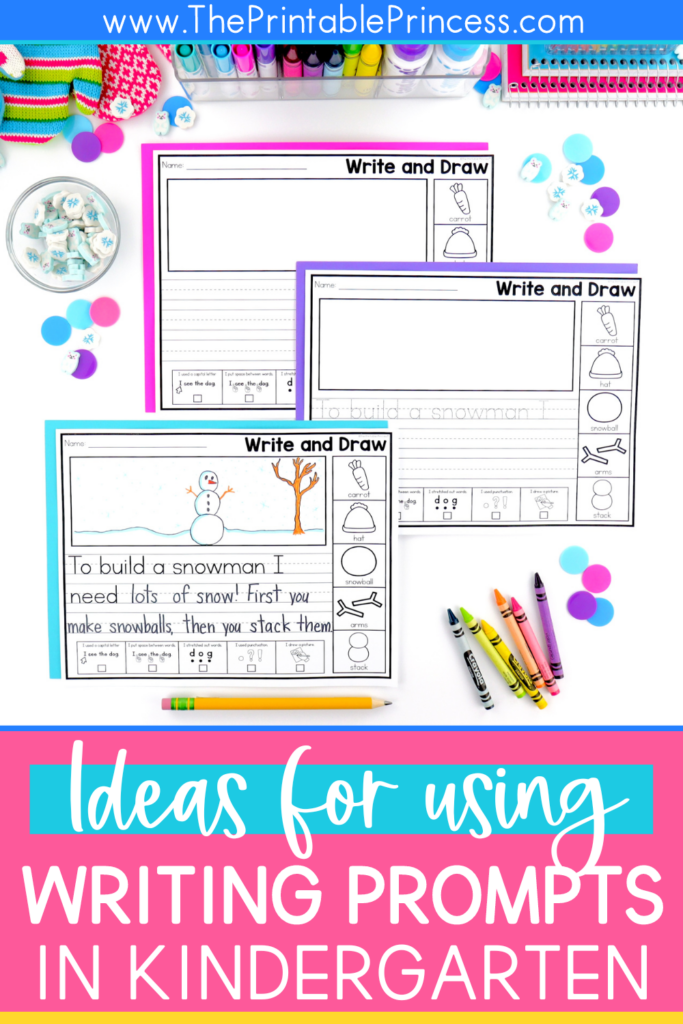 If you'd like to try these 7 ideas out with a set of free kindergarten writing prompts, fill out the form below and they'll be sent straight to your inbox.
Kindergarten Writing Prompts for the Year
Are you ready to make writing prompts a part of your daily routine, without having to think of topics and prompts for each day on your own?
You can get a set of 30 seasonal and anytime writing prompts for every month of the school year inside of the Kindergarten Writing Prompts Bundle.
All you have to do is print and go and you'll be set to make daily writing practice a part of your routine.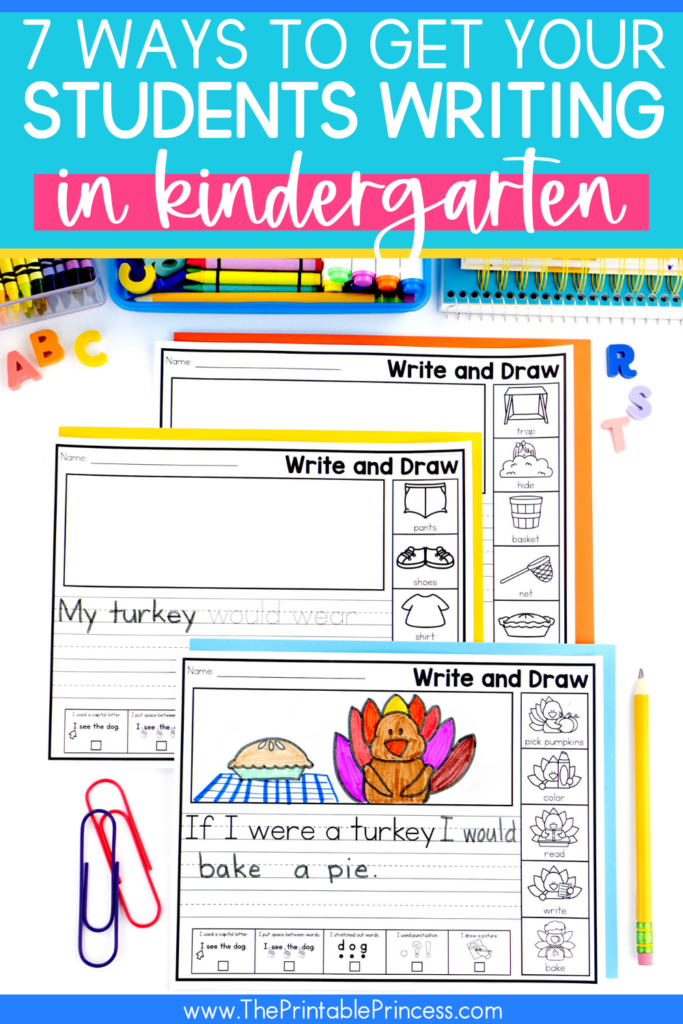 Do you have another way that you love to use kindergarten writing prompts in your classroom? Leave a comment below and let me know!