Easy Prep Thanksgiving Ideas for Kindergarten
Thanksgiving is coming, which means there's a lot of excitement and activities happening at school and at home. There's so much to do in so little time. With these easy prep Thanksgiving ideas for kindergarten, you can be sure that your students will have a blast learning, without all the stress of complicated prep work for you.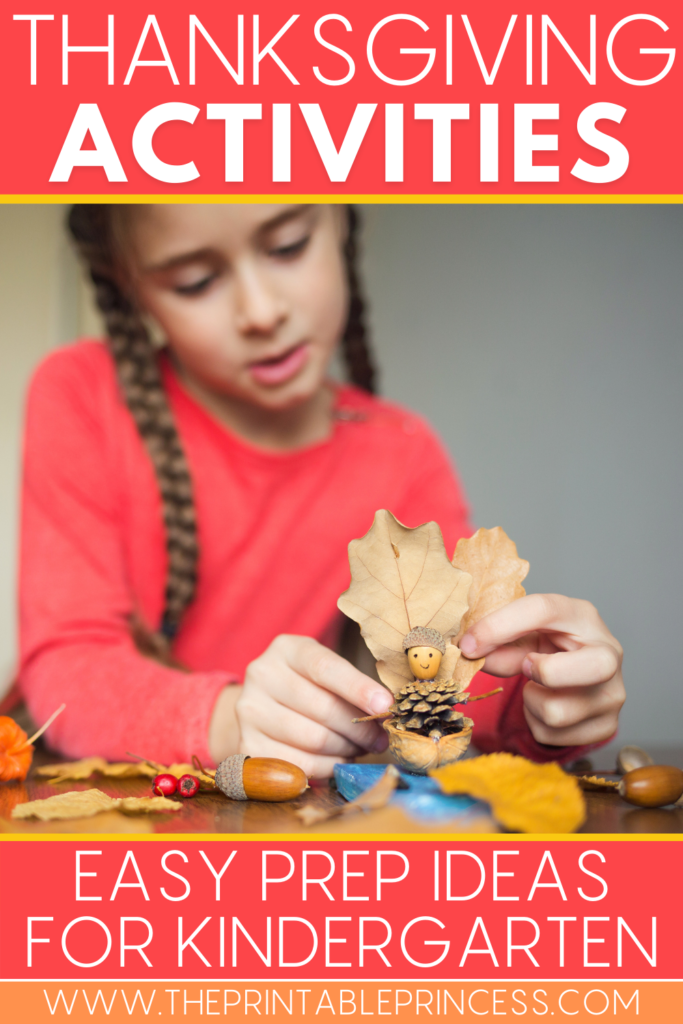 This article, along with many other articles on The Printable Princess, contains Amazon affiliate links. If you purchase through the links I earn a small commission. We only share links to resources and products we love.
Easy Prep Thanksgiving Ideas for Kindergarten
I'm not typically a pie kind of girl, but I make an exception for pumpkin pie! I only have it once a year, so I really look forward to it at Thanksgiving. My favorite way to eat pumpkin pie is to warm it up and put a scoop of vanilla ice cream on it.
Now that all this talk of pumpkin pie has my mouth watering, let me get back on track and tell you about my favorite easy prep Thanksgiving sight word and counting ideas for kindergarten that just so happen to involve a DIY pumpkin pie!
Prepping the DIY Pumpkin Pie
To prep the DIY pumpkin pie you'll need for these activities, you'll need just a few simple items.
Orange and brown construction paper
White pom-poms (or cotton balls)
Scissors
A permanent marker
Paper plates
A bowl
A plastic spoon
To build your pumpkin pie, take 9 X 12 pieces of construction paper and draw large circles on the brown paper and slightly smaller circles on the orange paper. Then cut them out.
The orange circle should be about an inch or so smaller than the brown circle. You can make several of these at a time by stacking the construction paper. Don't worry about perfection, just get them as circular as you can.
Then use the rubber cement to glue the orange circle on top of the brown circle. This should resemble a pumpkin pie.
Easy Prep Sight Word Activity
For this easy prep sight word activity, once the rubber cement is dry, you can cut the pie into quarters or eighths depending on the sight words you'll be practicing. Just make sure the slices are big enough to write letters on.
Write each word on a paper plate and then write the same word on the pie slices, one letter per slice. Students will read the word on the plate, find the letters/pie slices needed to spell the word, and put them in order on the plate.
To differentiate this activity, give students pom-poms (or cotton balls) and have them add "whipped cream" to the pie slices. For extra fine motor practice, have them scoop the whipped cream with a plastic spoon.
This option is not only fun, but it encourages students to count the number of letters in a word. You can use this activity with as many words as you'd like your students to practice. This makes for the perfect easy prep Thanksgiving literacy center.
You can grab a free recording sheet to go along with this activity by filling out the form below. It'll be sent straight to your inbox along with a recording sheet for this next easy prep Thanksgiving activity!
Easy Prep Counting Activity
This easy prep Thanksgiving idea for kindergarten is prepped the same way as the sight word activity, but I recommend leaving the pie sliced into quarters. This allows the students to fit more "whipped cream" on each slice.
Write numbers on each slice of pie. You can practice numbers to 10 or numbers to 20, depending on your students' needs.
Students will pick a pie piece and identify the number. They will use the spoon to add that many "scoops" of whipped cream to the slice, counting aloud as they go.
Be sure to fill out the form above for the free recording sheet for this pumpkin pie counting activity.
Social Studies Mini Unit
November is the perfect time of year to discuss the concept of then and now and how things have changed from long ago to today.
This social studies mini unit is a great way to have meaningful conversations with students about this topic at their developmental level.
You'll find a ton of easy prep activities, games, sorts, and mini readers inside this unit that can be used around Thanksgiving time or anytime of year.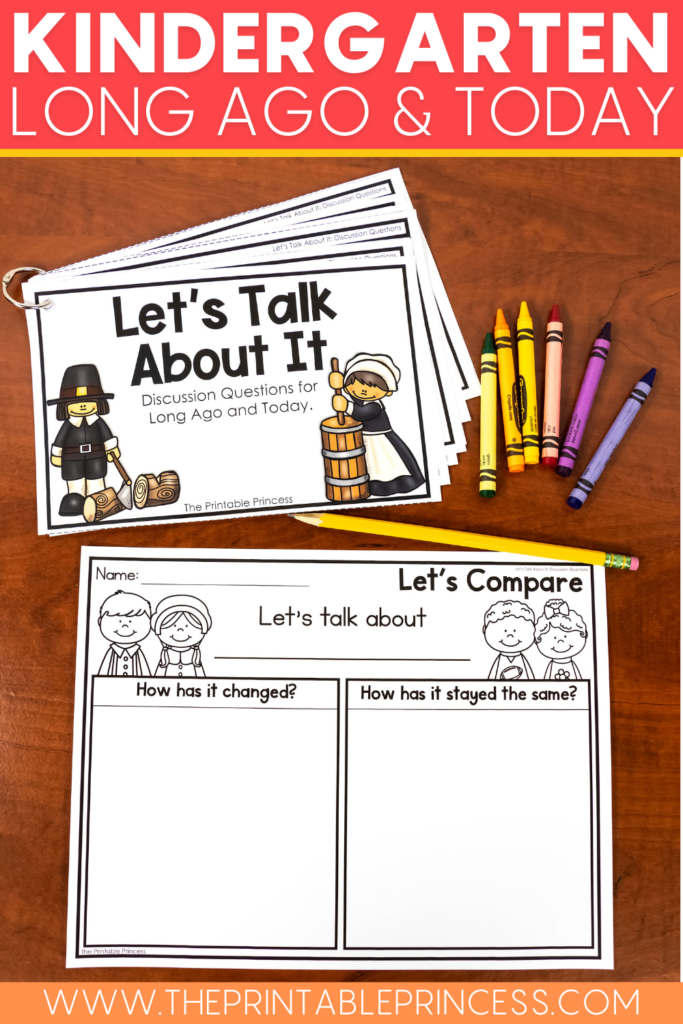 Easy Prep Turkey Craft
The next easy prep Thanksgiving idea for kindergarten is an adorable turkey craft. This turkey craft is perfect for kindergarteners as there are no tracers involved.
Students will simply round corners and make a simple cut to create their own unique turkey masterpiece. For supplies, dimensions, and step-by-step directions for making this turkey craft, you can check out this blog post.
Easy Prep Thanksgiving Writing Activities
Since Thanksgiving brings up topics such as gratitude and friendship, it's the perfect time to help your students stretch their imaginations and beginning writing skills with Thanksgiving-themed writing prompts.
These writing prompts are perfect to incorporate into your writing lessons, your Thanksgiving class discussions, and as a follow up activity to your seasonal read alouds.
Another way you can use these writing prompts is to create a whole class Thanksgiving book. Have students choose or vote on their favorite Thanksgiving-themed writing prompt from the month.
Compile each student's writing prompt and put them together in one large book, stapling the sides. You could even 3 hole punch the side and bind it with colorful ribbon.
You can create a quick book cover out of construction paper to add to the front so you can display the book in your classroom. During read aloud time, you can have students take turns reading their writing piece from the book to the class.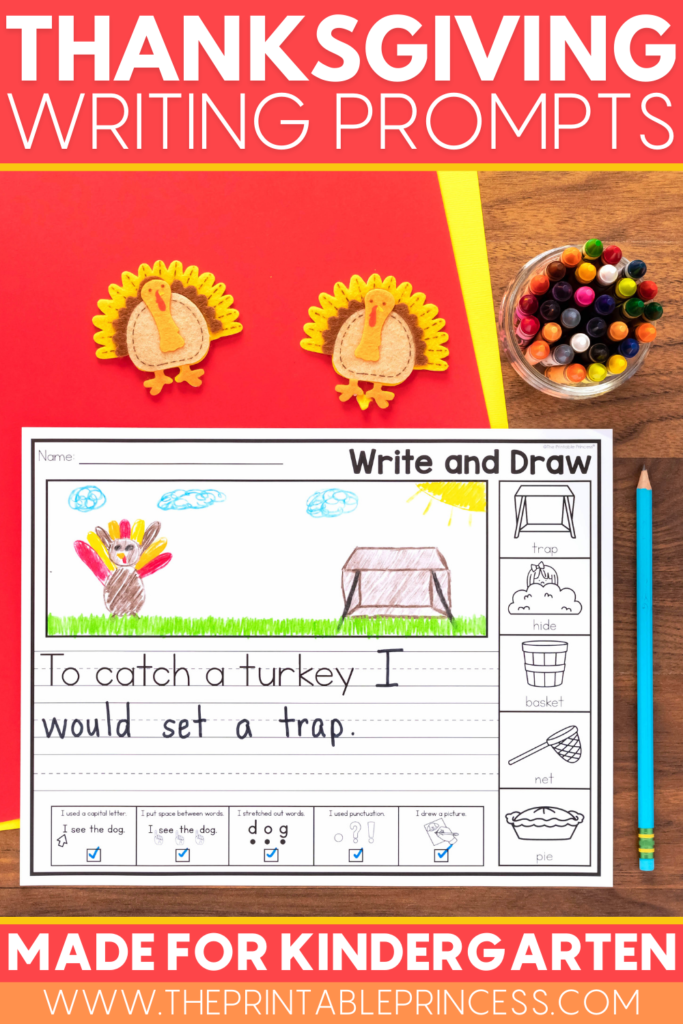 Pumpkin Pie in a Cup Snack
Pumpkin Pie in a Cup is one of my favorite easy prep, no-bake Thanksgiving recipes. All you need are a few simple ingredients to whip up this delicious treat.
If you're looking for an easy snack for your students to keep the pumpkin pie theme going this Thanksgiving season, you can check out this blog post for the recipe and a free sequencing page to go along with it.
Easy Prep Thanksgiving Letter Sound Game
If you're looking for an easy prep, interactive game to play around Thanksgiving to help students master their letters and sounds, this Tom the Turkey Letter Sound Game is it! You can use it as a whole group game, small group activity, or as a quick time filler game.
Display the poem in your classroom or project it on your board. Students recite the chant while one student picks a letter from a container. Students can take turns coming up to the front of the room or sit in a circle and pass the container around.
While the students are reciting the chant, they can help by making a stirring motion or pretend that they are adding a "dash" of letters with their hands.
The student picks a letter, either uppercase or lowercase, and identifies the letter and its sound. Then the whole group makes the sound. This game can continue for as long as time allows or until all students have had a turn. Recording sheets are also included for extra practice.
I hope you enjoyed these easy prep Thanksgiving ideas for kindergarten. Enjoy your Thanksgiving season and all of the pumpkin pie goodness! For even more Thanksgiving activities, read alouds, and freebies, check out this blog post.