How to Spark Creativity in Kindergarten Writing
Kindergarteners can have quite an amazing imagination. Use this to your advantage during your writing lessons to spark creativity in their writing. The more you can infuse creativity and imagination into writing in kindergarten, the more growth you'll see in your young authors.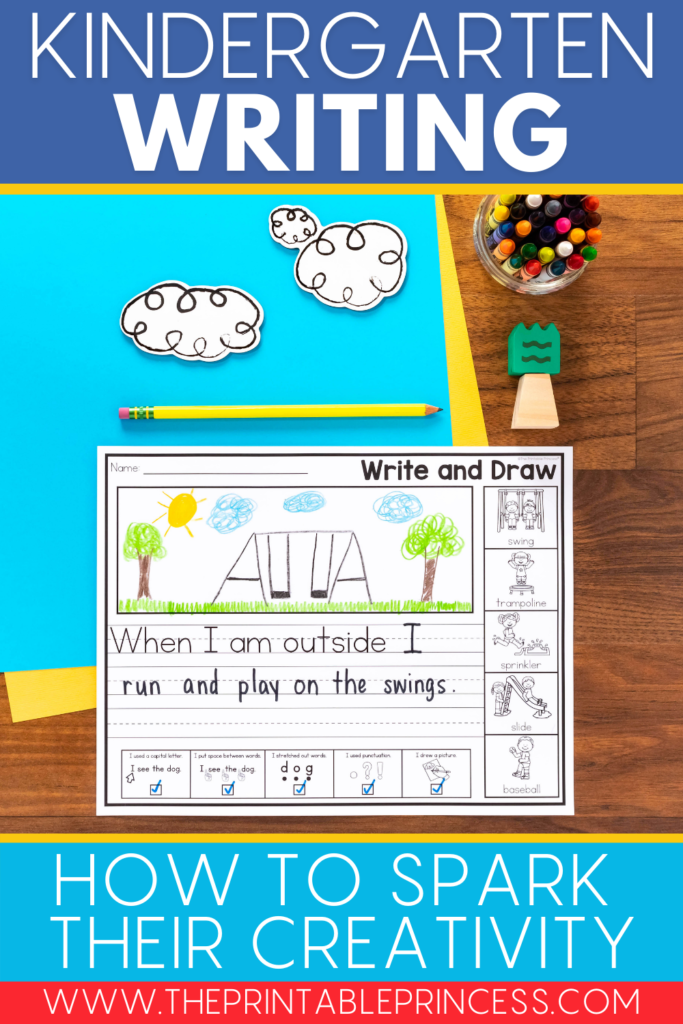 The Importance of Creativity and Imagination In Writing
Have you ever sat down to write about a topic that you had no interest in? Perhaps you are having flashbacks of your high school or college years. If you are uninterested in the topic and it feels downright "blah," it can be super hard to write freely about it.
Oftentimes, this is when writers block sets in. It can be a real struggle to get anything down on paper.
This is the same exact way for our young authors when they are writing in kindergarten. Students must be able to connect to a topic either through real-world experiences or through their imagination and creativity.
Therefore, it's important to spark their creativity and help them tap into their imagination so they can think about and write about topics in different ways.
This also encourages students to think outside of the box and beyond surface level.
For example, if a student was given a writing prompt about what they would do with 100 dollars, a simple journal entry may be, "If I had 100 dollars, I would buy stuff."
There's not much creativity in that answer, is there?
However, a student whose creativity has been encouraged may complete the prompt as shown in the kindergarten writing prompt picture below: "If I had 100 dollars, I would buy a bike. I can ride my bike with my friends."
As you can see, that entry is much more creative and even goes on to explain more about what the student would do with their bike.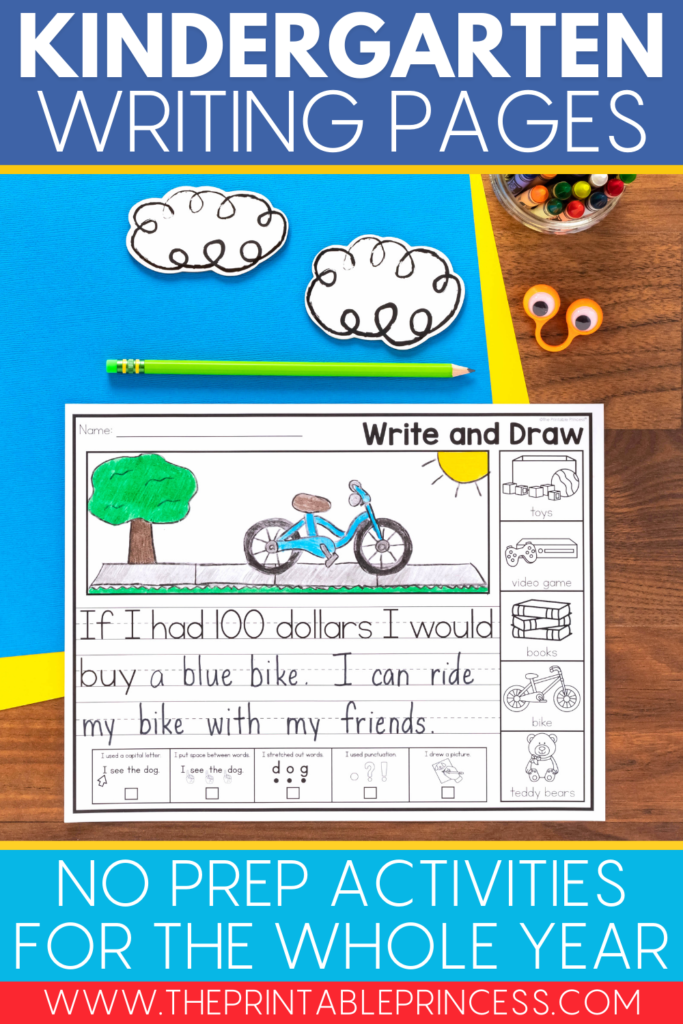 Ways to Encourage Creativity and Imagination In Writing
There are so many ways that you can encourage creativity and the use of imagination in kindergarten writing, such as:
Asking questions that make students think deeply or in new ways.
Having conversations often to open students up to new ideas and ways of thinking.
Allowing students to observe their surroundings. Take students outside, around the school, or even just around the classroom and have them draw and journal about what they observe. Encourage them to add details to their writing and illustrations.
By doing these things, it teaches students to be more observant and to look for details they may have otherwise not noticed.
This is helpful when it comes to writing and adding more detail as they progress in their beginning writing skills.
Read Alouds and Educational Videos
This is a great way to introduce students to new topics, characters, and themes. It will also help you learn more about their interests and what gets their imagination going.
Show and Tell
Show and tell is another great time to encourage creativity when writing in kindergarten. Students can bring something special to school and write about it during your writing time.
During show and tell, they can share the special item and their writing piece with the class.
This is an effective strategy because you already know they are interested in the item they brought. Therefore, they'll be more excited to write about it and add creative detail.
Writing Prompts
Incorporating different types of writing prompts into your kindergarten writing lessons gives students many opportunities to write about different topics and interests.
You can use different seasonal writing prompts, holiday-specific prompts, anytime of year prompts, or even prompts that tie into other subjects, such as science and social studies.
Using writing prompts in kindergarten is also a great way to incorporate social emotional learning.
However, it can be time consuming to come up with creative writing prompts to give your students each day.
Having a bundle of yearlong kindergarten writing prompts that grows with their skills throughout the year is the best way to keep the creativity flowing and the writing skills progressing while saving you time and energy as a teacher!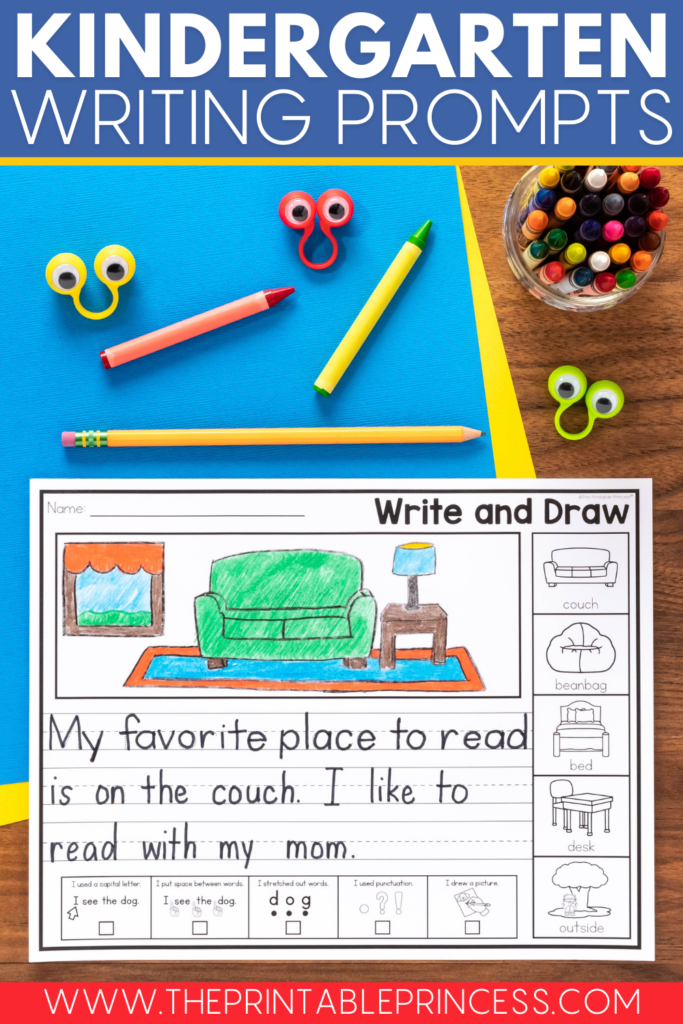 Pictures and Props
Including kid-friendly pictures and props in your writing lessons can also help spark students' imagination and get their thoughts flowing.
This gives them something more concrete to write about with the visual representation.
You can gather props from around your classroom, such as hats, art supplies, games, manipulatives, and books for students to write about.
You can also include pictures in the form of picture cards or a picture word bank as shown in the kindergarten writing prompt above.
This not only gives students an idea of what to write about, but it has the word shown so they know exactly how to spell it.
Free Kindergarten Writing Prompts
Would you like to help spark more creativity in your kindergarten writing lessons? I've created a set of FREE Kindergarten Writing Prompts for you to test out with your students.

Each prompt has a story starter, wide writing lines, a picture word bank, and a writing convention checklist to ensure you are hitting all of those beginning writing skills.
To download your free copy, just fill out the form below and it'll be delivered straight to your inbox!
To learn more about this freebie and to get tips and tricks for how to implement it effectively, check out this blog post.
If you're looking for more writing tips and inspiration, check out our blog post about strategies for supporting beginning writers!