Free Kindergarten Writing Centers
Is starting writing centers with your kindergarten students on your goal board for this year? However, you may not be sure where to start or what to include in your centers. These free kindergarten writing centers are the perfect way to introduce writing centers to your students.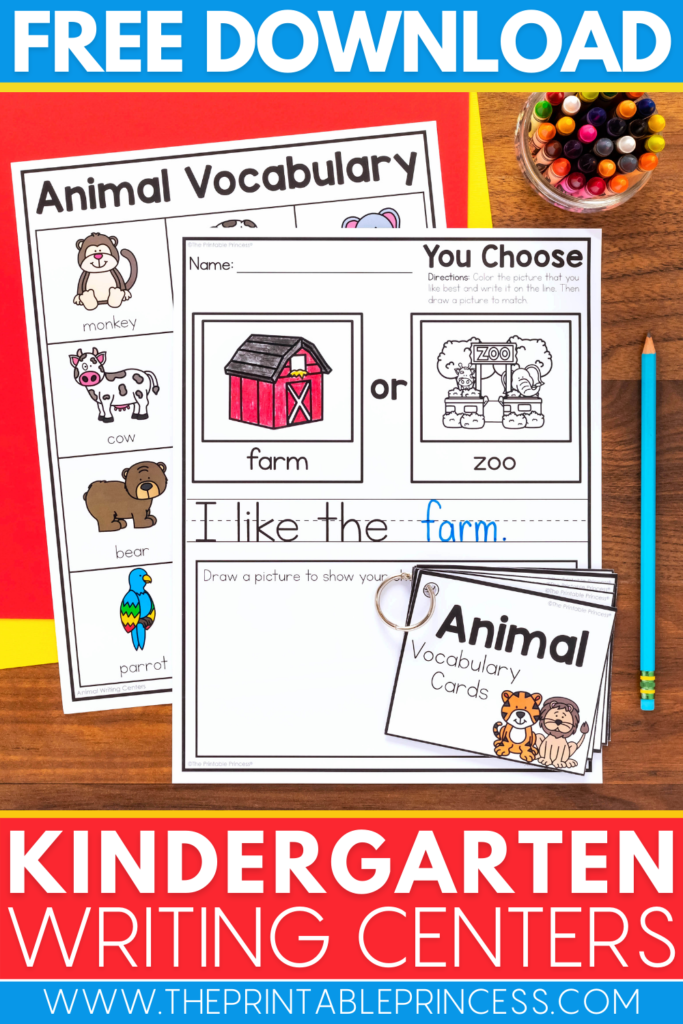 What are the Benefits of Writing Centers in Kindergarten?
There are so many benefits of kindergarten writing centers. As you start implementing them in your classroom, you may discover even more based on your students and how they interact with them.
Practice beginning writing skills.
Using writing centers in kindergarten is an effective way to practice beginning writing skills. For example, you can teach a new writing skill whole group. Then, give students a hands-on opportunity to practice that skill during writing centers.
By allowing students to practice in a smaller setting, you can tailor the instruction to each student's needs. There are many options for differentiation included in these free kindergarten writing centers.
Work on handwriting and writing conventions.
Many teachers struggle to find the time to work on handwriting, writing skills, and writing conventions. Oftentimes, you don't have as much time to teach writing as you do other subjects such as math and literacy.
With kindergarten writing centers, all 3 of these elements of writing are tied together. Therefore, your students can practice beginning writing skills, handwriting, and work on developmentally appropriate writing conventions during writing centers.
This makes writing centers an effective use of time and instruction for your students.
Encourages creativity.
Another benefit of kindergarten writing centers is that it encourages creativity in your young writers. With a vast array of writing center activities, students are encouraged to get creative and write about various topics in different ways.
No more boredom or students dreading writing time because they're not interested in the topic or the activities. These free kindergarten writing centers are in a kid-friendly animal theme and have various activities that will keep your students on their toes.
Fosters independence.
It's every kindergarten teacher's dream to have independent students, right? Writing centers are a great way to help students foster independence in the classroom. The activities included are developmentally appropriate and easy for students to understand.
They also come with picture vocabulary cards, anchor chart posters, and "I Can" student-friendly cards to help students thrive during writing centers independently.
They'll feel so special knowing that when it's writing center time, they can be successful independently.
Builds self-monitoring and problem-solving skills.
Using writing centers in kindergarten also helps young learners build self-monitoring and problem-solving skills.
As they gain independence, they'll be able to monitor their work, take responsibility for their supplies, work on staying on task, solve problems, and find solutions when they're stuck.
These skills are huge for kindergarten development inside and outside the classroom.
Tips and Tricks for Effective Writing Centers
When getting started with writing centers in kindergarten, there are a few key tips and tricks to make writing centers the most effective for both you and your students.
Set up the area for success.
It's important when implementing writing centers that you have a designated area in your classroom for your writing centers.
This area will house all of the supplies, anchor charts, activities, writing journals, and materials your students will need to complete their writing centers with success.
This space should also allow for a group of students to work together, but still have ample space for each child to have their own work space.
It's a great idea to take a tour of the writing center space before getting started. Students will know where to find everything, where to look for visual aides, and where to return supplies and work when they're finished.
Use consistent activities.
While students love having a variety of activities and themes to complete during writing centers, it's also very important to keep the activities consistent.
By changing out vocabulary words or themes, the activities will feel fresh while keeping the structure of the activity consistent as well as the directions. This allows students to practice and master certain skills before moving onto more challenging skills.
Offer visual aides.
Visual aides are important when it comes to learning in kindergarten. With fostering independence as a main goal of writing centers, it's key that students are set up for success.
In your writing center space, hang up your anchor charts, vocabulary posters, and reserve a space for your student-friendly "I Can" cards.
Students will always know where to look if they need a reminder of a word or the instructions for an activity.
Utilize different writing utensils and types of activities.
To keep students engaged and on task, utilize different writing utensils and types of writing activities in your writing centers. Switch it up with cut and paste activities, sequencing, picture card activities, etc.
You can make it even more fun by adding crayons, colored pencils, markers, pointers, magnifying glasses, and other writing utensils and props to your writing centers.
Practice transitions.
When it comes to classroom management during writing centers, transitions are everything. Model appropriate transitions and have your students practice them explicitly.
Using a countdown timer during writing centers gives students a visual of how much longer they have. You can also use a timer to help your students transition quickly and safely.
If you need to stop and transition again, do so. You may feel like a drill sergeant at first. However, it will pay off as your students grasp the right way to transition between activities.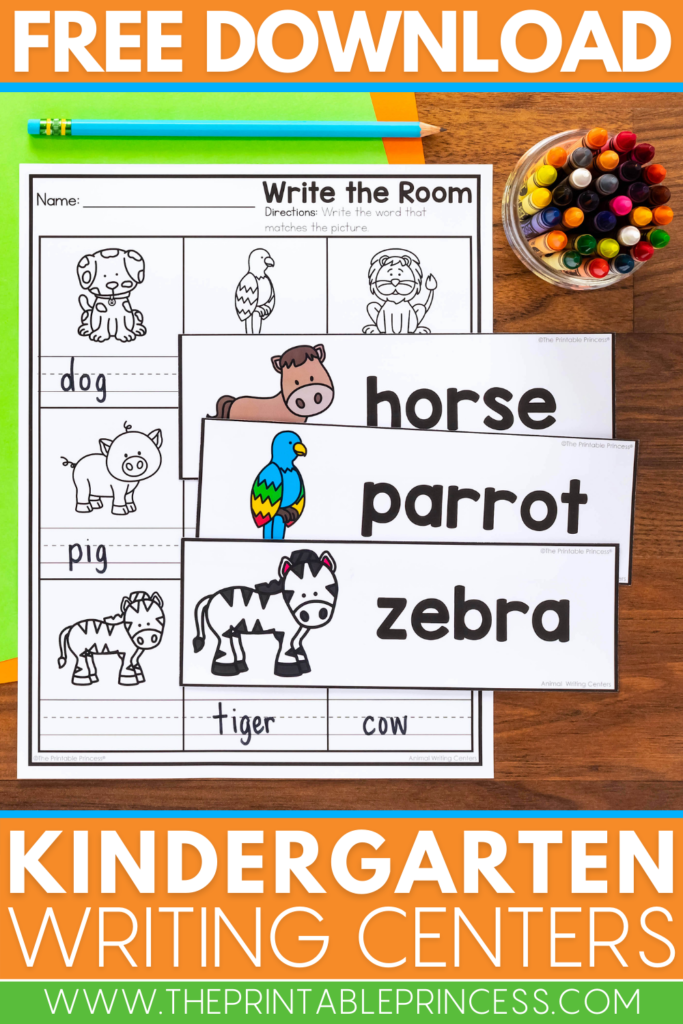 How to Implement Kindergarten Writing Centers
When implementing kindergarten writing centers, it's important to model appropriate behavior, teach activities one at a time, and stop and practice as needed.
Students benefit from explicitly practicing the routines and behavior that is expected of them. You can even do a whole-group mini lesson on how to transition and work during writing centers.
Similarly, you can use mini lessons to help introduce and teach new writing center activities. As students gain confidence and independence with each style of activity, you can introduce more over time.
It's important to not overwhelm students by teaching them every writing center activity all at once.
I hope these tips and tricks have given you the confidence to start implementing writing centers in your classroom.
Want to grab this free set for your class? Fill out the form above to join our email family and have these free animal-themed kindergarten writing centers delivered right to your inbox!