Thanksgiving Read Alouds and Centers for Kindergarten
Ready or not, November is here and the busy holiday season is upon us. There is so much to be done to prepare for Thanksgiving, both at school and at home. Keep your Thanksgiving lessons fun and easy to implement with these Thanksgiving centers for kindergarten, read aloud ideas, a placemat freebie, and more!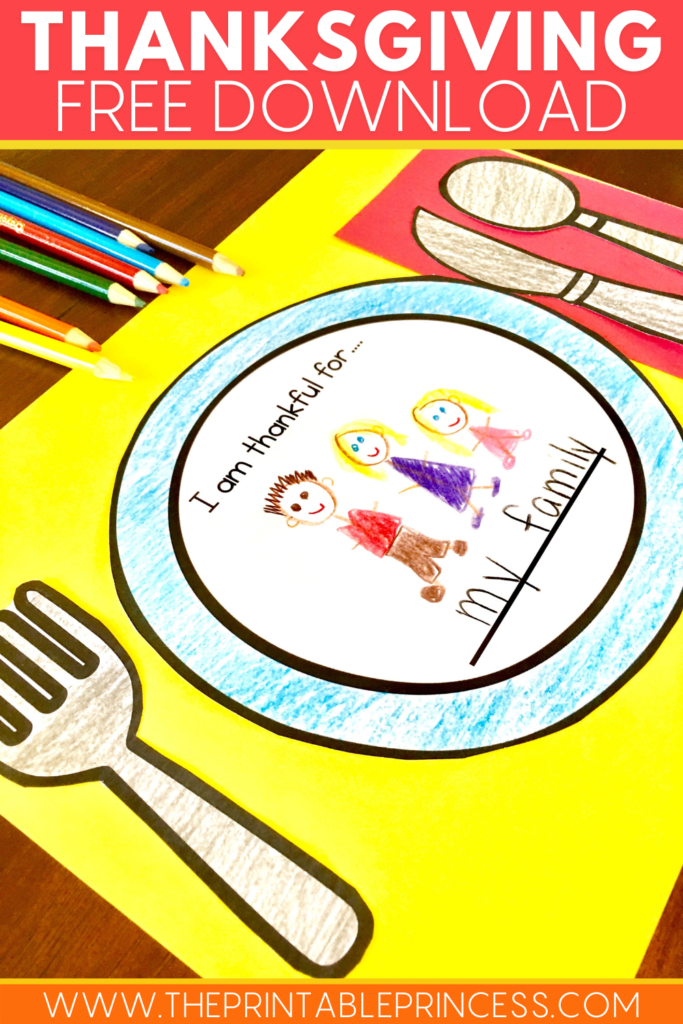 This article, along with many other articles on The Printable Princess, contains Amazon affiliate links. If you purchase through the links I earn a small commission. We only share links to resources and products we love.
Thanksgiving Read Alouds
There's just something about Thanksgiving read alouds that gets everyone in the spirit of celebration and gratitude.
Using Thanksgiving read alouds in your classroom is a great way to help students learn about the history of Thanksgiving while sharing what they're thankful for.
Here are some of my all-time favorite Thanksgiving read alouds that are spot on for kindergarten.
Thanksgiving Writing Centers
Thanksgiving is a great time to work on enhancing your students' beginning writing skills with Thanksgiving writing centers for kindergarten.
Using Thanksgiving-themed vocabulary words and hands-on writing activities during your writing centers will help students learn more about this special time while learning new words in context.
Your students will have a blast writing about their favorite Thanksgiving foods, sharing what they're thankful for, using color words to describe what they see on Thanksgiving, and so much more.
They can even make a class book together to share what they'll eat on Thanksgiving. These Thanksgiving writing center activities are perfect to implement throughout the entire month of November.
DIY Thankfulness Chain
This DIY Thankfulness Chain activity is a great addition to your Thanksgiving centers for kindergarten. It's easy to prep and implement and sparks great conversations with your students.
To prep, cut 2″ X 6″ strips of different colored construction paper. Give students 3 strips each and have them write something they're thankful for on each strip. This is a great time to help students practice sounding out words.
Stand in a circle and have students read their strips and tell what they're thankful for. Connect it to the next person's strip with either tape or a stapler.
Once everyone has read what they're thankful for and connected their strips, you'll have a class Thankfulness Chain. You can hang this in your classroom to add to your Thanksgiving decor.
You can also do this same activity and instead, create a Friendship Chain by having students write something kind about a friend on their strips. This activity can be made easier by giving students only 1 or 2 strips each.
No Prep Thanksgiving Activities
Thanksgiving time is busy, so using no prep Thanksgiving activities for kindergarten is always a hit. It'll save you a ton of time while still providing your students with engaging Thanksgiving activities to help them master their math and literacy skills.
All you have to do is print and go with these no prep activities that are perfect for kindergarteners all November long. They'll practice skills such as beginning sounds, rhyming, word families, comparing numbers, making 5 and 10, ten frames, and more.
These no prep pages are great for morning tubs, math and literacy centers, fast finisher activities, and even sub tubs. Just add bingo dabbers, crayons, or any coloring utensil and you'll be set for tons of great skill practice.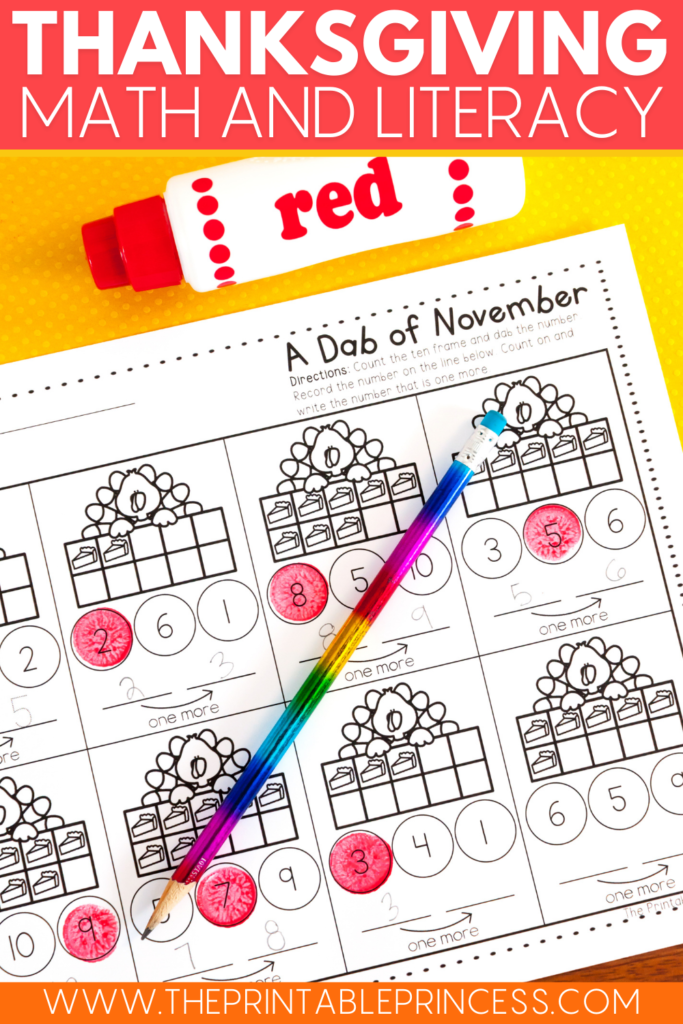 November Morning Tub Activities
Do you find your mornings to be a little chaotic, especially around the holidays? There's schedule changes, school events, fun activities, and more.
One of the best ways to keep your students on track in the mornings is with hands-on, engaging activities that give them a soft start to their day. These turkey-themed morning tub activities are perfect to use all November long with your little learners.
Your students will gain independence as they work on important math, literacy, and fine motor skills with a variety of fun activities that are perfect for the season.
Thanksgiving Placemat Freebie
Want to add an easy holiday craft to your Thanksgiving centers for kindergarten? This Thanksgiving placemat freebie is quick prep and easy to use with your students. Plus it's a single page printable, saving you time and copies.
You can use it in a writing center or as a fun activity before Thanksgiving break. This can even be considered your art project for the week of Thanksgiving!
Students will need a copy of the Thanksgiving placemat page, a 9″ X 12″ piece of construction paper for the placemat, and a 4″ x 7″ish (nothing needs to be exact) piece of construction paper for the napkin.
They will color the placemat pieces and then draw and label a picture of something that they are thankful for. Afterwards they will cut out the pieces and glue them on the large piece of construction paper.
On the top of the placemat, students can write "Happy Thanksgiving" or another message or leave it blank.
You can laminate these to use at your Thanksgiving celebration while you enjoy my pumpkin pie in a cup recipe! After you're done celebrating at school, send them home for a super cute memento and placemat to use at Thanksgiving.
To grab your free copy of this Thanksgiving placemat, fill out the form below to get it delivered straight to your inbox.
I hope these Thanksgiving read alouds and centers for kindergarten make planning just a little bit easier for you this November. For even more Thanksgiving games and center ideas to add to your lesson plans, check out this blog post.