100th Day of School Activities
The 100th day of school is such a magical day in the primary classroom. When you're five and six years old the number 100 just seems like the biggest number ever.
And now that these young mathematicians have a better understanding of that huge number, the 100th day of school is the time to show what they know!
By this stage in the year students have settled into a routine, they are growing by leaps and bounds each day. As a teacher, you've finally found your groove and as a result are hopefully feeling comfortable and enjoying the school year. You've worked out those back-to-school kinks. You've perfected the routines and procedures.
The 100th day is a day for having fun. It's a day where it's okay to break away from the schedules and routines because there's still a lot of learning that can be done through fun!
Today I wanted to share some of my favorite 100th day activities, as well as a freebie for one of my favorite 100th day activities!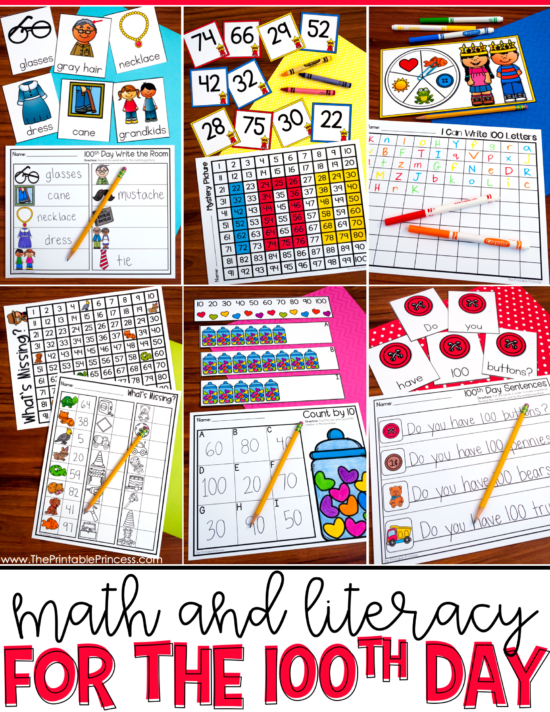 This article, along with many other articles on The Printable Princess, contains Amazon affiliate links. If you purchase through the link I earn a small commission. Clicking these links does not cost you any extra but helps this website to keep great articles and freebies coming your way.
Each theme has three literacy centers and three math centers. This resource also includes 6 no-prep activities that you can use in your 100th day center rotations.
Each center includes teacher-friendly directions which are so helpful if you have a parent or classroom helper leading the center. They also include Kinder-friendly "I Can" visual directions to keep students on task and promote independence.
100th Day Trail Mix:
One of my most favorite 100th day of school activities is the 100th day trail mix. What makes this trail mix 100th day worthy, you ask? It has 100 pieces. Students count out 10 of each of the 10 ingredients to make a 100 day snack.
If you have parent volunteers, this is a great activity for them to help with.
Trail Mix Ingredients:
If you're unsure, you'll want to be sure to check with parents about allergies. I personally avoid nuts or ingredients made with nuts.
Some of my go-to ingredients are usually: Cheerios, Kix cereal, Fruit Loops, Chex cereal, goldfish crackers, Cheez-Its, marshmallows, chocolate chips, pretzels, raisins or dried cranberries, teddy grahams, popcorn, M&Ms, and Skittles.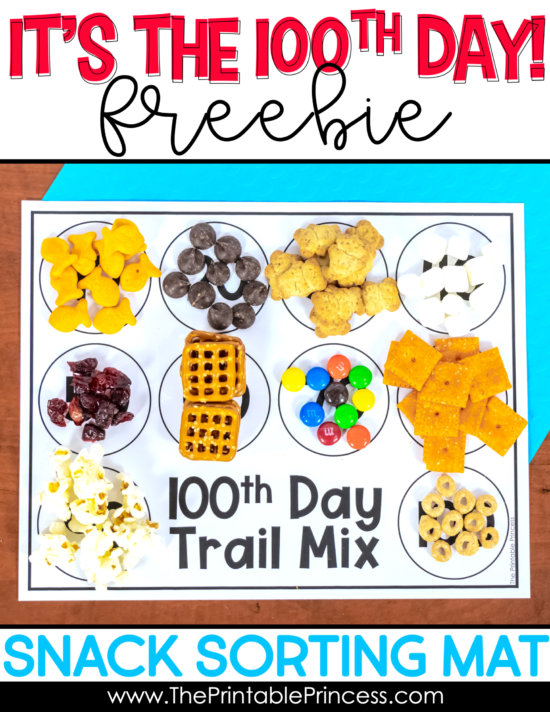 Trail Mix Directions:
I set out 10 bowls, each bowl contains one ingredient. I have about three to five students (depending on class size) at a time at this station. Students wash their hands before coming to this station. They take a seat in front of their sorting mat and wait for the station to begin.
Each student gets a bowl. They count out their ingredients and place it on the mat. As students finish counting we rotate the bowls until each student has had each of the ten bowls.
I only put a little bit of ingredients at one time in the bowl, which means a lot of refilling. This way if it spills, it's not a big deal. And there's less little fingers touching the ingredients.
It's a good idea to use a sorting mat. Some students have a hard time with one-to-one correspondence when it comes to putting the items directly in a bag.
The sorting mat provides students with an organize space to count out their ingredients and sort them in group of ten.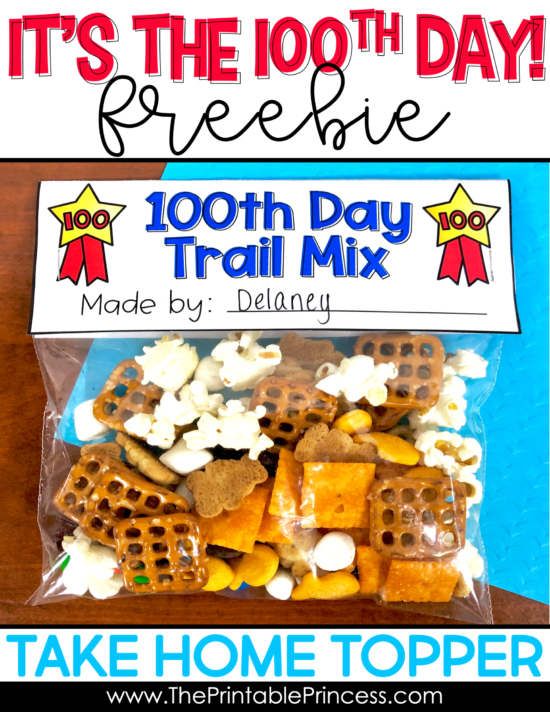 I like to send our 100th day snack home. I think it's a great opportunity to provide a home-school connection so that students can discuss their snack to their family and how they made it.
I've heard several parents tell me that they re-counted and re-sorted the snack at home.
I have the students transfer their snacks from the sorting mat to a sandwich size bag. Just staple the bag topper on top and write the student's name on the front.
You can download the sorting mat and bag topper by clicking here. I've also included a printer-friendly black and white version of the bag topper in the download.
Happy 100th day!
Until next time,