Free Alphabet Sensory Bin
Be sure to grab your free alphabet sensory bin printables in this blog post. Read about several different ways you can use the free alphabet printables.
Sensory development is an essential part of childhood development. Introducing children to letters at an early age is equally important. When you combine these components you can create an activity that is not only fun but will help develop crucial early literacy skills and a positive feeling towards learning. Today I'm sharing with you some alphabet sensory bin ideas and a letter writing idea that you can easily create at home or in the classroom.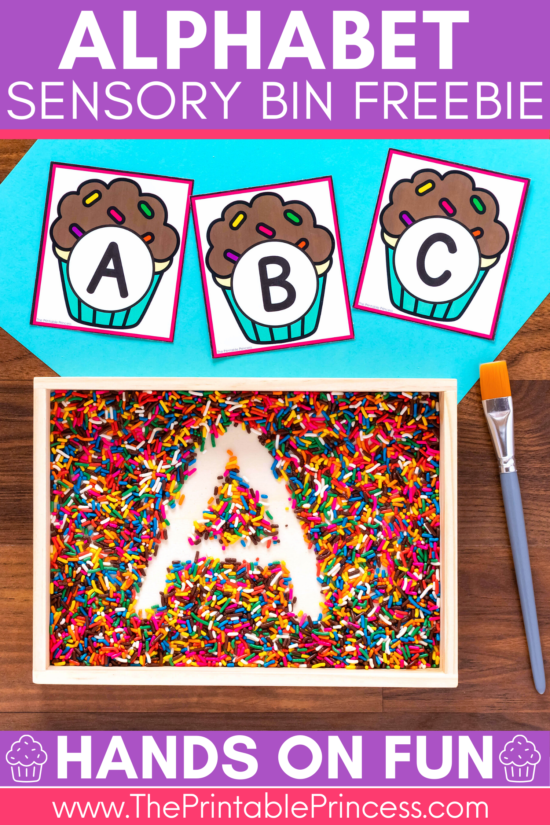 This post may include Amazon Affiliate links. We may earn a small amount when you use the links, at no cost to you and we only share things we love.
Why Use Sensory Bins?
The use of sensory bins is a popular trend in education. If you're not familiar with them you might have wondered what are they, what's the point of them, and why you should use them? Sensory play is any activity that activates the senses. Activities involving sensory play are usually open-ended, which means there isn't a real outcome or sign of completion. This allows students to use their senses and creativity to explore rather than focus on completing a task.
Sensory play is important for children during many stages of their development. These bins allow students to explore, imagine, create, and learn while engaging their senses. Sensory bins are also great for incorporating fine motor skills as they manipulate small objects. They also build language and social skills as children communicate, share, and play with others.
Sensory Bin Tips and Tricks
Yes, sensory bins can be messy. They often include fillings such as rice, sprinkles, beans, noodles, etc. But the benefits far outweigh any negative – messes are easy to clean, and you can encourage clean up to be part of the fun.
Of course, you will want to establish rules, just like you do with everything else in your classroom. Show students how to use the sensory bin, while encouraging them to be creative. Show students how to pour, stack, and create with the filling in the center of the tub, rather than near the edges where it can fall on the floor.
If some of the filling does make its way out of the bin, don't make a big deal of the mess. Even as much as you encourage students to keep the bin area tidy, some pieces are bound to escape the container. I would suggest to use sensory bins on smooth flooring, rather than carpet, because it is much harder to clean up. For large pieces, have students to clean up any messes after they are done playing. You can keep a few small dustpan and brooms near your sensory area. You can also use a plastic table cloth to cover the table.
Storage:
In addition, consider the number of students in relationship to the size of your bin. If too many students are crowded around, it will not be an enjoyable experience. You may want to have multiple bins and have students work in partners. These colorful small bins or rainbow plastic trays work best for one student at a time. Larger, deeper bins help contain the mess and are great for small children. Older children should be able to handle trays.
Get creative with what you put in the tubs, this helps keep the activity fun and fresh. You can use rice, dry pasta noodles, shredded paper, beans, packing peanuts, beads, confetti, or sprinkles – as I did for this example. Just be sure that there are no sharp objects or edges that could poke a child.
About the Free Alphabet Sensory Bin
It is important to use hands-on activities that are fun and interactive when teaching students to recognize alphabet letters. I wanted to share some free resources to help you create an alphabet sensory bin along with a fun way to practice writing letters.
For all of the activities I'm sharing, you'll need the cupcake letter cards, which are available as a free download at the bottom of this blog post. You will want to print, laminate, and cut apart the alphabet cards. This Fiskar Paper Trimmer cuts down prep work time (no pun intended!) and is so easy to use.
Alphabet Letter Writing Trays: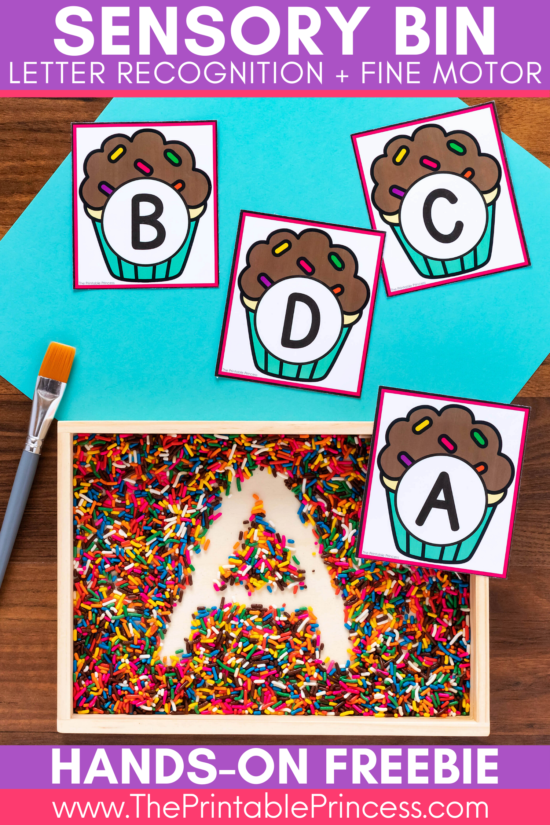 For this mini alphabet sensory bin activity you'll need a large tray and sprinkles. You'll want just enough sprinkles to cover the bottom of the tray. If you use too many, it will be difficult to see the letters as students form them. Students can use their finger to form the letters in the sprinkles or use a dry paintbrush. You can focus on only uppercase letters, lowercase letters, or a combination.
Alphabet Hunt Sensory Bin: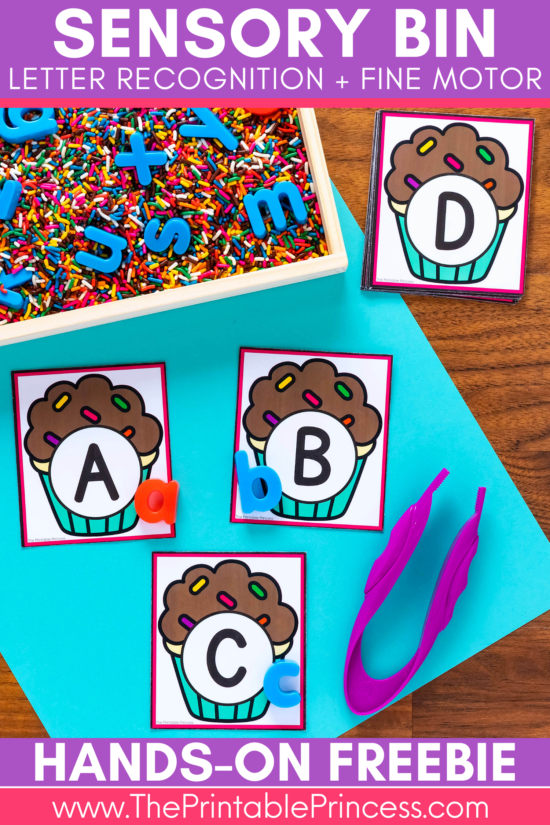 Another fun sensory bin activity is to hide letters in a bin of sprinkles. I used magnetic letters, but you can use blocks or foam letters too. Have students dig through the sprinkles to find the letter. You can have students pick up the letters with their hands, use a pair of chunky tweezers or these squeezy tweezers. You can have students find the letters, name them, and put them back. Another way to use this bin is to put uppercase and lowercase letters in the bin and have students make letter matches. You could also have students find letters to match the cupcake letter cards, as pictured above.
Craft Stick Letters: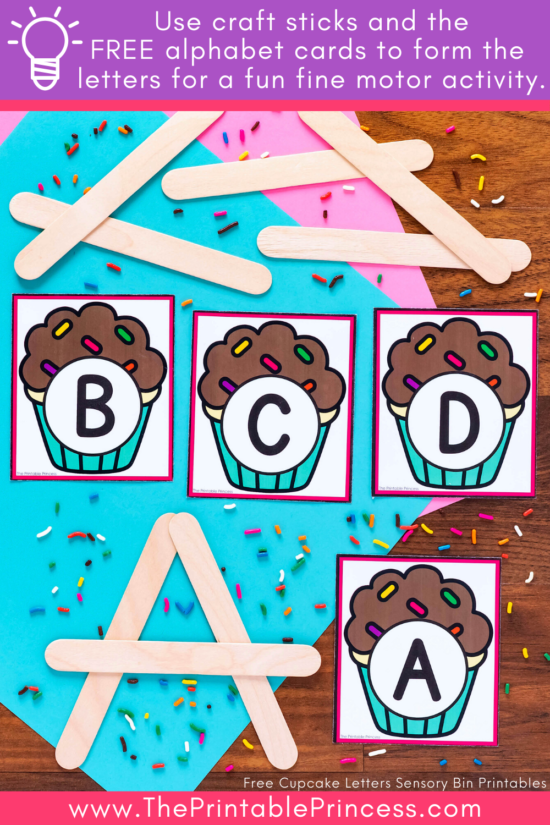 Turn craft sticks into a fun game. Supply students with the cupcake alphabet cards and craft sticks or tongue depressors. They will use the sticks to form the letter on the card. You can incorporate the recording sheet to have students color the letters that they worked on. You can easily turn this into a sensory bin by placing the letter cards and craft sticks in the bin for students to find.
Alphabet Letter Matching Activity: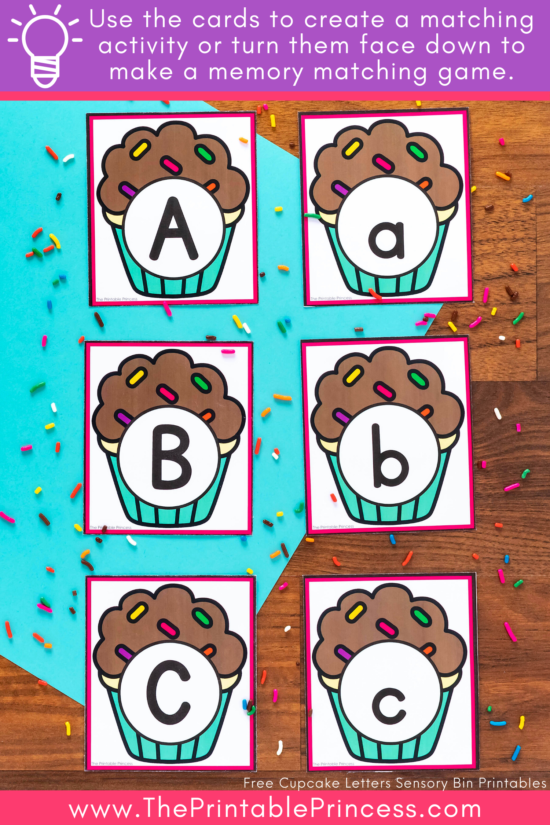 Kindergarteners learn best with familiar resources. Repurpose the alphabet cards by having students match the letters. Students can match uppercase to lowercase cards or you can print two copies to have them match uppercase to uppercase or lowercase to lowercase. Finally, you can turn them face down to make a memory matching game.
Optional Alphabet Recording Sheet for Sensory Bin: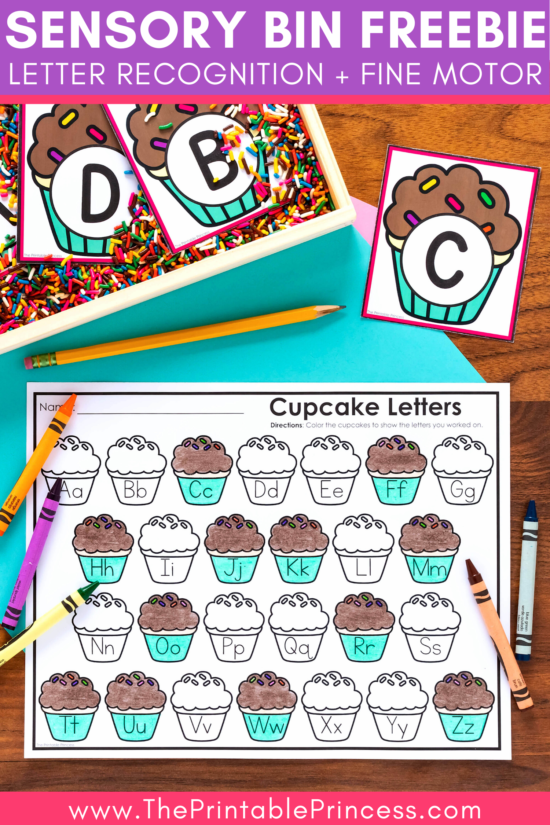 Another idea for using these cards is to turn this into a letter identification center. Hide the cards in a sensory bin and have students sift through to find them. Students select a card and color the matching letter on their recording sheet. To make this extra fun, add the cards to a bin filled with colored rice, noodles, or sprinkles.
If you want to make the cards smaller to better fit in your bin, you can make the adjustment in your printer settings. You can do this by either lowering the number on the custom scale setting or by selecting "multiple" in your printer settings.
I hope you and your students have a sweet time playing and learning with this free cupcake alphabet cards. This fun activity is sure be the icing on the (cup)cake for helping students learn their ABCs.
For another fun alphabet activity that incorporates fine motor, check this Free Bingo Dauber Printables blog post.