End of the Year ABC Countdown Ideas
Looking for a fun way to wrap up the school year and keep kids motivated? Celebrate the last 26 days with these ABC countdown ideas! Create a calendar that includes a special theme or activity for each day. Make sure to share it with parents so they can help their little ones come to school prepared with any special items they may need (socks, hats, books, etc.).
I've included several options for these ABC Countdown ideas, from easy, no prep activities to ideas that take a little bit of planning. The best part about ABC countdown ideas is you can make them as simple or as elaborate as you'd like!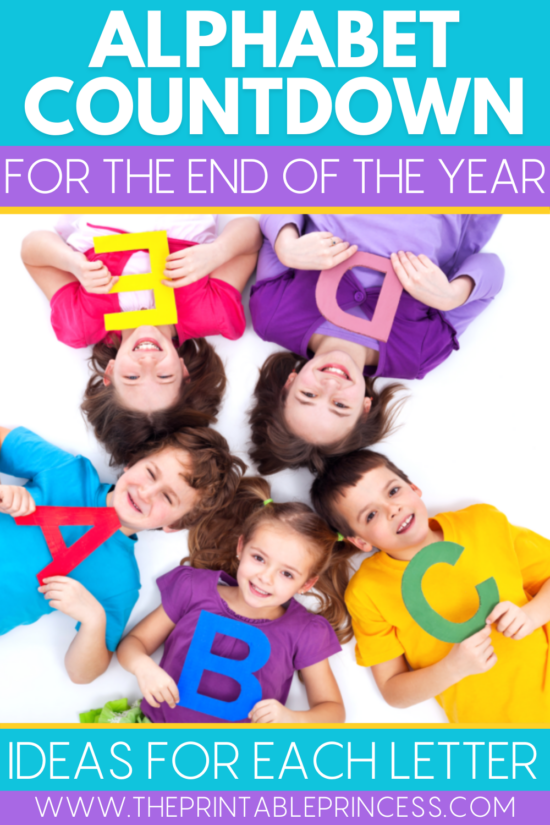 ABC Countdown Ideas:
A:
Art Day – Devote extra time to a special art project or give students extra time with the art supplies and let them create something on their own.
Animals Day – Allow students to bring in their favorite stuffed animal.
Other ideas: autograph day, eat apples or animal crackers, celebrate August birthdays, "Away We Go" (if counting down the alphabet)
B:
Beach Blanket day – Have students bring a beach blanket to lay on the floor and sit on to complete their work.
Book Day – Allow students to bring in a favorite book from home to share.
Other ideas: balloon toss or relays, board games, bubble gum, bubbles, bingo dabber day, beach ball games
C:
Crazy Hair Day – Encourage your students to show up with the wackiest 'do' they can manage.
Chalk Day – Frame out an area of your recess space and let your students tap into their inner Picassos!
Other Ideas: coloring contest, crafts, cookie decorating, construction theme day, compliment day, card games
D:
Dance Day – Plan random dance breaks throughout the day or set up for one big dance party at the end of the day.
Dot Day – Decorate plain white tees with paint dots. 
Other Ideas: donuts, detective theme day, dinosaur theme day, drawing
E:
Eat Together Day – Arrange to eat lunch in the classroom or outside with your students.
Exercise Day -Take breaks throughout the day to exercise. You can randomly call out "Time for 10 jumping jacks!" throughout the day.
Other Ideas: experiment day
F:
Flying Day – Make paper airplanes in class and take them outside to fly.
Flashlight Day – Read with a flashlight while the lights are off.
Other Ideas: make tissue paper flowers, flip flops in the classroom, make a fort day, frisbee day, make paper fans, fancy dress up day
G:
Game Day – Break out the board games and let them play. Another idea is to plan group indoor games or outdoor group games.
Graph Day– Ask questions and have students create class graphs to show their opinions.
Other Ideas: goldfish snack day, glitter craft day, gum day, wear green day
H:
Happy Day – Have students share what makes them happy or do things to make others happy.
Helping Hand Day – Do something kind for others, like make cards for a local nursing home or school staff members.
Other Ideas: hat day, crazy hair day, hopscotch day, hula day
I:
Impress Day – Have students dress to impress!
Interview Day – Pair students up and have them interview each other with a list of questions about their favorite part of this school year, their plans for summer, and how they're feeling about moving up a grade. Have a whole-class share afterward.
Other Ideas: wear your clothes inside-out, play I-Spy, enjoy ice cream or ice pops
J:
Jump Rope Day – Round up a supply of jump ropes and let them play. Be sure to supply a couple of long ropes and teach them how to double jump.
Joke Day – Tickle their funny bones by taking joke breaks throughout the day. If students have any favorites, give them the mic and let them share.
Other Ideas: wear a jersey day, celebrate June and July birthdays, jumping jacks
K:
Kickball Day – Organize a game of kickball and play!
Kindness Day – Take some time to write and read shout-outs to one another.
Other Ideas: kite day, hunt for kisses day (like the 100th day of school activity), kick off your shoes
L:
Lazy Day – Invite kids to bring in a small pillow or blanket and listen to a story or two.
Laughter Day – Read your funniest read-alouds or tell jokes and start a flurry of giggles.
Other Ideas: lollipops, Legos, lunch with the teacher, lights off day, lemonade day, limbo day
M:
Music Day – Round up as many musical instruments as you can and lead the orchestra.
Memory Book Day – Put together a memory book for students to reminisce and share their experience and favorite moments from the school year.
Other Ideas: movie day, Mother's Day gifts, wear mismatched clothes, use markers instead of pencils, musical chairs
N:
New Name Day – Make name tags and have students come up with a new name!
Noodle Day – Make a pool noodle obstacle course for the kids to enjoy.
Other Ideas: make noodle necklaces, no homework, wear neon, nature walk
O:
Oreo Day – Eat an Oreo cookie and make a graph of how students eat their Oreo.
Opposite Day – Do as many things backwards as possible that day, like wearing your shirt backwards or starting the day with a different activity.
Other Ideas: make oobleck, wear orange, outdoor read aloud or lesson, obstacle course
P:
Pen Day – Use pens instead of pencils.
Puppet Day – Make sock puppets or paper bag puppets.
Other Ideas: pajama day, popcorn party, dress like a pirate, play dough, puzzles, popsicles, picnic outside
Q:
Queen and King Day – Make paper crowns and wear them around all day.
Quilt Day – Have everyone decorate a square and put them together into a quilt.
Other Ideas: play 20 questions, Q & U day, quiet day (throughout the day announce quiet and have everyone be still and silent for a set amount of time)
R:
Read-a-thon Day – Set aside an extra long reading time. Have students read half of time by themselves and the other half with a friend or arrange for a buddy reading with an older grade level.
Read and Feed – Read books and eat a snack.
Other Ideas: extra recess, relay race day, wear red, root beer floats, rock collecting, dress like a rainbow (dress in lots of colors or wear your favorite color), rainbow day (make rainbows in sidewalk chalk outside)
S:
Silly Socks Day – Students wear their silliest socks or mismatched socks of their choice.
Scavenger Hunt Day – Go on a class scavenger hunt.
Other Ideas: sunglasses day, school shirt day, stuffed animal day, summer birthdays, sit where you want, shaving cream, sing songs day
T:
Time Capsule Day – Plan a time capsule activity for kids to remember what a memorable year it has been.
Thank You Day – Write thank you notes to staff members and other helpers or parent volunteers to thank them for their efforts or have students write something they are thankful for.
Other Ideas: bring a toy day, dress like a teacher day, talent show, tie dye shirt day, teamwork day
U:
Up, Up and Away Day – See if you can borrow a parachute from the gym teacher and play with it during your recess break.
Unusual Day – Check out a few volumes of Ripley's Believe it or Not books, or similar titles, and let kids learn some weird new facts.
Other Ideas: upside down (switch your schedule), sports uniform day, under the desk day (work under your desk)
V:
Visit Day – Give them a tour of next year's classrooms and meet the teachers.
Voice Day – Hold a singing competition.
Other Ideas: wear violet (purple), dress like a vacationer day, volunteer appreciation day, arrange for a special visitor, vest day (using brown grocery bags)
W:
Walk Day – Walk all kinds of ways: backwards, sideways, like a robot, slow like a turtle, or fast like a road runner. Or go for a walk as a class!
Window Day – Let your students decorate the classroom windows with dry erase marker graffiti.
Other Ideas: western day (dress like a cowboy or cowgirl), snack on watermelon or waffles, make a windsock, water games day
X:
eXtra Recess Day – Extend your recess times or add in an extra at the end of the day.
eXcellence Day – Make up award certificates to recognize your students' special contributions during the year.
Other Ideas: eXercise, eXchange autographs, host a book eXchange (with parent permission)
Y:
You Day – Celebrate each students by having classmates share what they love or admire most about each student.
Year End Cleanup Day – Enlist your students' help and clean out desks, cubbies, etc. Give away used school supplies or overstocked items. Ask students to bring in extra bags to bring stuff home in.
Other Ideas: yo-yo day, everyone wears yellow, watch a YouTube video on yodeling and have students try, year-end party
Z:
Zoo Day – Make paper cup animals with markers, glue sticks and construction paper. Or have students act out their favorite animal and have students guess what it is.
Zoom Day – Allow students to bring in Matchbox cars or other vehicles to play with at recess time.
Other Ideas: dress like a zebra (in black and white), Zero the Hero day, Zip Up and Zoom Out of School – it's the last day!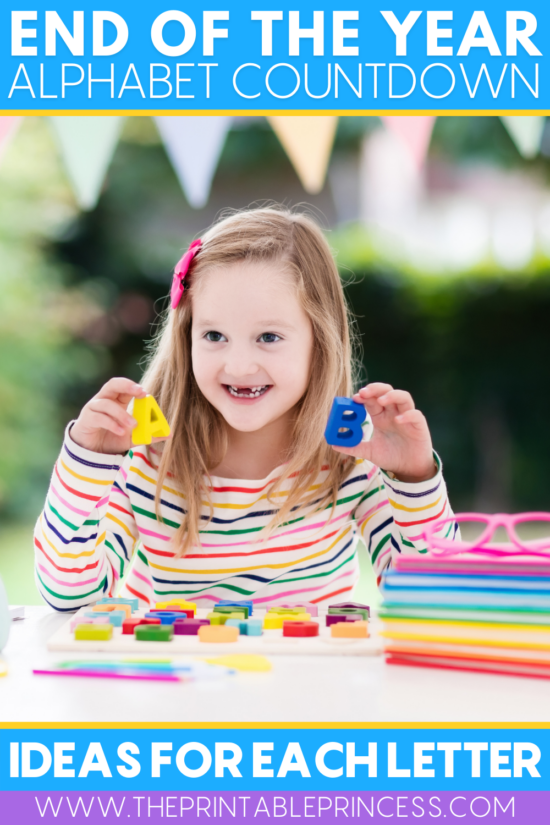 The end of the school year brings so many opportunities to celebrate and cherish your time together with your students. Planning an ABC countdown for them will surely make it a fun and memorable kick-off to summer.