Today it's all about apples. More specifically, it's about apple week activities. Apple Week is probably one of my favorite weeks of the year. If not my favorite, it's definitely in the top three. I wanted to share with you some of my favorite apple week activities: apple crafts, apple centers, and an apple recipe. As I said, it's all about apples today!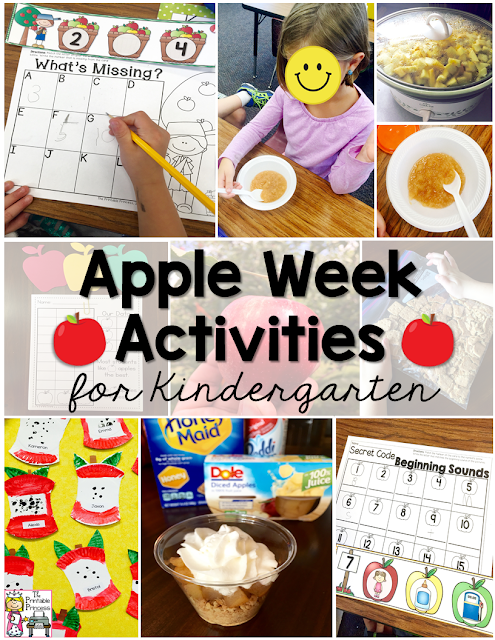 Apple Read Alouds:
For me Apple Week signals that fall is upon us. From the books and crafts to the centers and yummy food…I just love it all. Most everything we do has an apple theme, beginning with our read alouds.
Here's a picture of some of my favorite read alouds for apple week.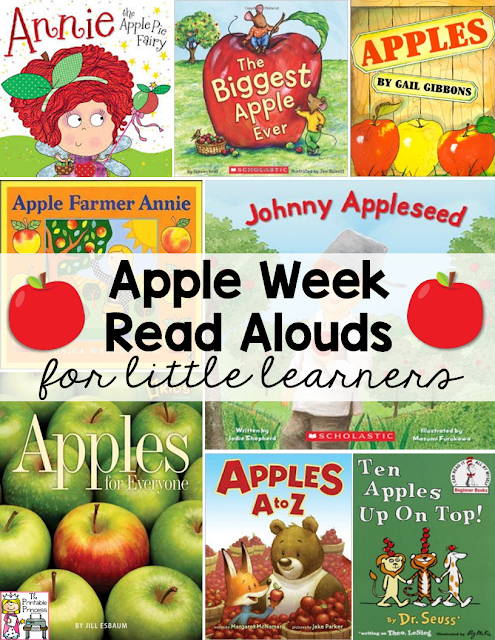 Click on any of the apple week activities book links below to be taken to the book on Amazon. These are affiliate links. Please read my entire disclosure statement here.
Apple Graphing:
During the week we do a taste test of red, green, and yellow apples. Each year I have kids who have never had a yellow and/or green apple. So it is always a great thing when kids have the opportunity to try a new food. After our taste test, we discuss how each one tastes different.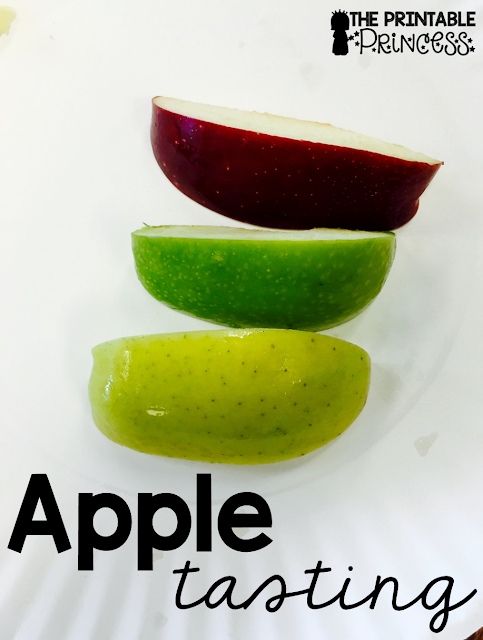 Prior to our apple tasting, I pre-cut red, yellow, and green apples using the die-cut machine. Each student gets a paper apple to match the color that they liked best. Students write their name on their paper apple and then take turns putting their paper apple on our class graph.
As each child is putting their apple on the class graph, students are coloring the data on their individual, take-home graph. Since apple week is only a few weeks into our school year, I keep the graphing and data collecting/analyzing very simple. We count and record how many students liked each color of apple and then color the apple to show which was the class favorite.
Afterwards, we color the other apple to show which one was our personal favorite. Click the picture below to download the
apple graph FREEBIE
.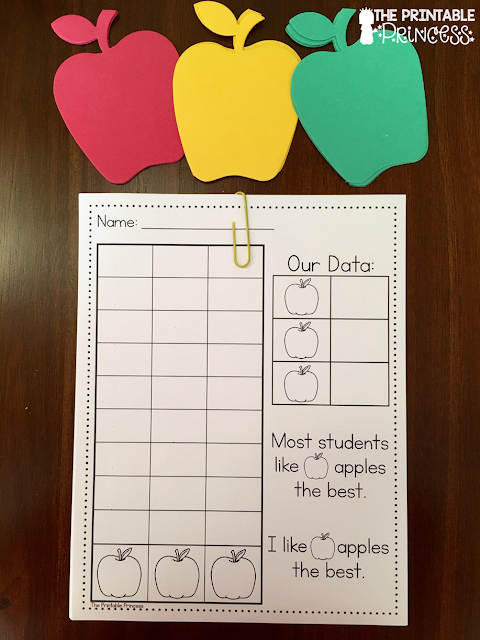 Apple Week Activities Snack Idea:
A lot of teachers make crock pot apple sauce, but my go-to Apple week snack is Apple Pie in a Cup. Now this is a recipe I can handle.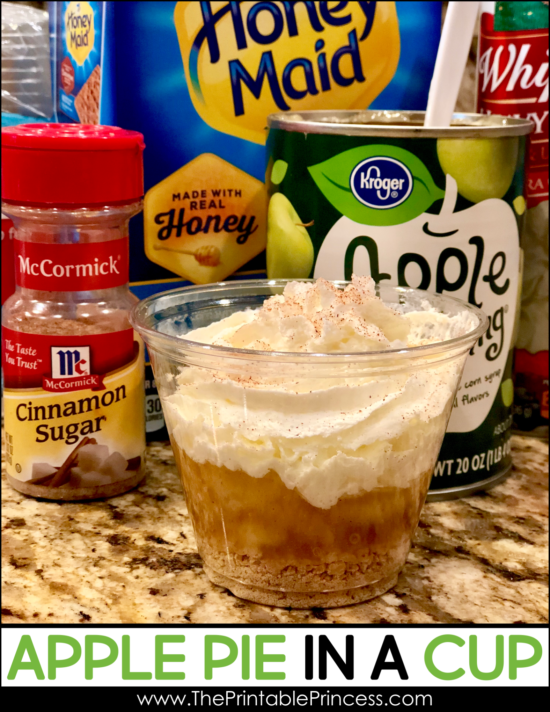 This is such an easy recipe and there is no baking required!The kids LOVE this treat! While they eat their snack we read Amelia Bedelia's First Apple Pie. All you need are: graham crackers, apple pie filling, whipped cream, and cinnamon. For complete directions, a corresponding sequencing freebie, and step-by-step video, check out this blog post.
Apple Week Craft:
I love this apple craft. It's so easy to make and looks adorable hanging up in the classroom!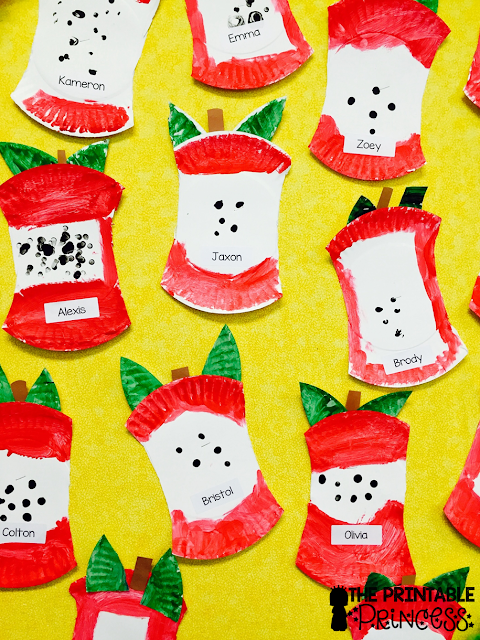 Model for students how to cut the paper plate to form an apple core. (Mini paper plates work great). Save those scraps because they become the leaves! Students paint the apple pieces. Allow the paint to dry, preferably overnight (especially for those that were quite generous with the paint!). Students use their finger tip (or a q-tip) to make the seeds. Then they add a piece of brown paper for the stem. I love how all of the apples look unique!
Kindergarten Literacy and Math Apple Activities:
As much fun as apple week activities are, we do work! Just apple style… Here's a few pictures from some our apple centers.
Beginning Sounds:
We are working on beginning sounds. Students match the number on the card to the number on their paper. They dab the letter to show the beginning sound of the picture. Anything with dabbers makes the work more fun!
Letter Recognition:
A twist on uppercase / lowercase letter recognition. Students decide if the uppercase /lowercase letters on the card are a match. They dab or color the 🙂 if the letter pair is a match, they dab or color the 🙁 if it is not a match.
Secret Code Beginning Sounds:

This is one of my favorite apple week activities for centers. The three pictures have the same beginning sound: wand, wagon, and window. Students have to identify and write the letter to show the "secret" beginning sound. Later in this year, this activity turns into sight words!
Matching Uppercase and Lowercase:
Students fill in or trace the uppercase letters using the color code on the card. There is also a lowercase recording sheet included. For that activity, students would trace the matching lowercase letter to match the uppercase letter.
Counting and One to One Correspondence:

Students count the number of seed sacks and record their answer.
Apple Ten Frames:
I love when we can practice two skills in one. For this activity, students count the ten frame. They record the number in the first apple. They count on to fill in the next two apples.
Number Order:
Students count the apples on the card, find the matching number on their paper and trace it to match the color of the apples on the card.
No Prep Pages:
Each center activity included in the Apple Week Centers for Kindergarten comes with a follow-up no prep practice page to help reinforce the skills. Here's an example of one of those no prep activities.
You can check out all 21 centers included by clicking on any of the pictures above, or
by clicking here to see it on TpT
. Thanks for reading along about all the fun we have during our apple week activities!