Apple Week Activities for Kindergarten
One of the best parts of being a kindergarten teacher is teaching fun, themed units. Fall is the perfect time to study apples with your students and tie in cross-curricular learning. Read on for a ton of exciting apple week activities and ideas sure to make your apple week a major hit!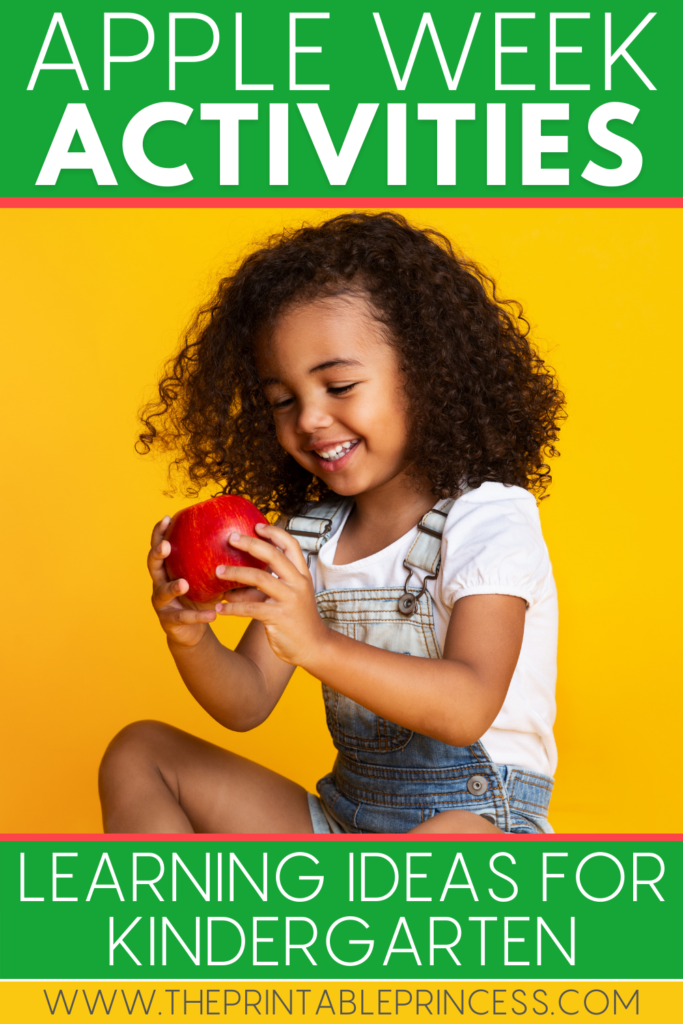 This article, along with many other articles on The Printable Princess, contains Amazon affiliate links. If you purchase through the links I earn a small commission. We only share links to resources and products we love.
Apple Read Alouds
There's no better way to engage your students during apple week than with apple-themed read alouds that grab their attention and get them hooked on learning about apples.
Read alouds are a way to connect with your students and help foster a love for reading. It's a time to come together, relax, listen to a story, and have great discussion about the story. Students will also gain the benefit of hearing from a fluent, expressive reader.
Some of my all-time favorite books to read during your apple week activities are:
Apple Pie in a Cup Snack
You've probably heard of teachers making crockpot applesauce with their students. Feel free to switch it up this year and have some delicious fun with this apple week snack called Apple Pie in a Cup.
This is such an easy recipe and there is no baking required! Now that is MY kind of recipe. Your students will LOVE this treat.
All you need are: graham crackers, apple pie filling, whipped cream, and cinnamon. For the complete recipe, a corresponding sequencing freebie, and step-by-step video, check out this blog post.
While students eat their snack, it's a great time to read the book, Amelia Bedelia's First Apple Pie.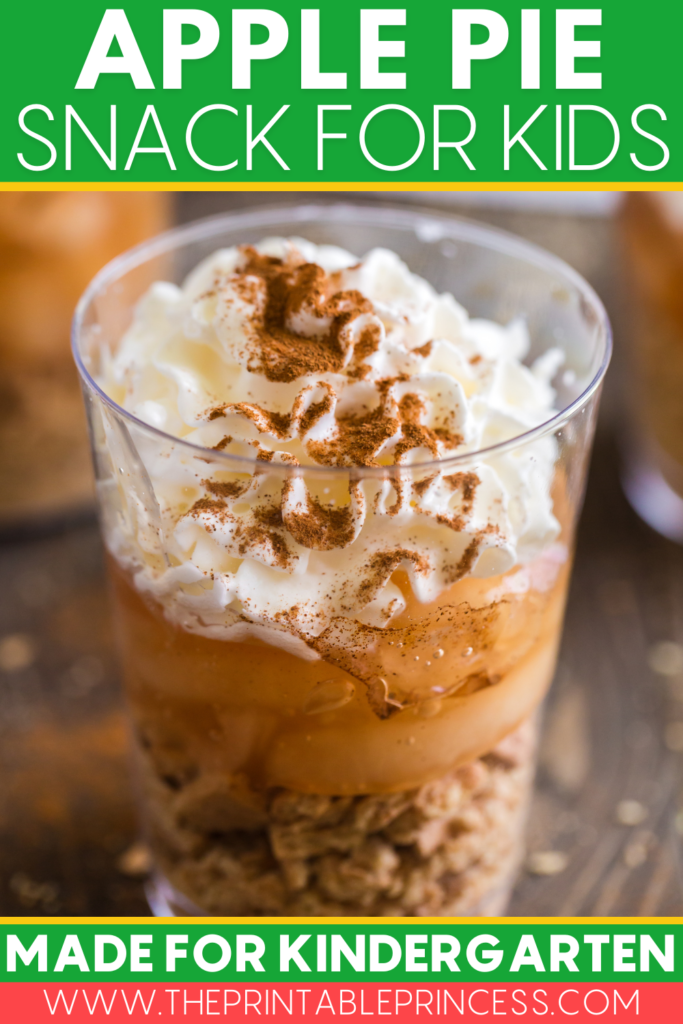 Apple Taste Test Investigation
Your apple week activities wouldn't be complete without an apple taste test investigation. Anytime students can have a snack at school, they're automatically more excited. And lucky for you, it just so happens to be healthy too! #teacherwin
Prepping for the apple taste testing
To prepare for the apple taste testing, you can pre-cut your apples using an apple cutter and store them in sealed containers with a little bit of lemon juice over the top to prevent them from browning.
This saves you from having to cut all of the apples using sharp utensils while your students wait on you to start the lesson.
Write the name of each apple on a sticky note and place it on the outside of the container so you know which is which.
Completing the apple taste testing
To complete your apple taste test investigation, give students a small paper plate with one slice of each apple. Before tasting, have students predict what each apple will taste like and observe the color and texture of the apples.
Have students taste test red, green, and yellow apples and share their thoughts about what each apple tastes like .
Chances are, you'll have students who have never tried a yellow and/or green apple, so it's a great way to give students the opportunity to try something new.
After the taste test, discuss the taste of each apple using descriptive words such as sweet, sour, tart, bitter, etc.
You can record these adjectives on the whiteboard and even create a venn diagram to compare and contrast the different types of apples.
Apple taste test graphing
If you'd like to take the apple taste test investigation a step further, you can create a class graph to show what type of apple each student liked best.
You can draw a large, basic bar graph on the whiteboard and label the bottom of each column with the different types of apples tasted. Students can take turns coming up to the whiteboard and writing their name in a space above their favorite apple.
They can also mark their spot by using die-cut apples in different colors and writing their name on it to show what they choose.
After each child has completed the graph, count how many students chose each color. You can also discuss which apple had the most and least votes.
You can download an apple graph freebie by clicking here so your students can follow along and complete their own individual graph.
Apple Week Craft
Brighten up the halls or your classroom with this apple week craft that is so easy to make and so fun for your students.
To begin, model for students how to cut the paper plate to form an apple core. Mini paper plates work great for this craft. Remind students not to trash their scraps as those are going to become the leaves for the apple.
Students will then paint the apple pieces. They can paint them red, green, or yellow. If you only want to use one paint color, you can just use red. Allow the paint to dry, preferably overnight (especially for those that were quite generous with the paint.)
Students will then use their finger tip (or a Q-tip) to make the seeds by dotting black paint. Then they add a piece of brown paper for the stem.
It is so fun to see how each and every apple looks unique and special, just like your students.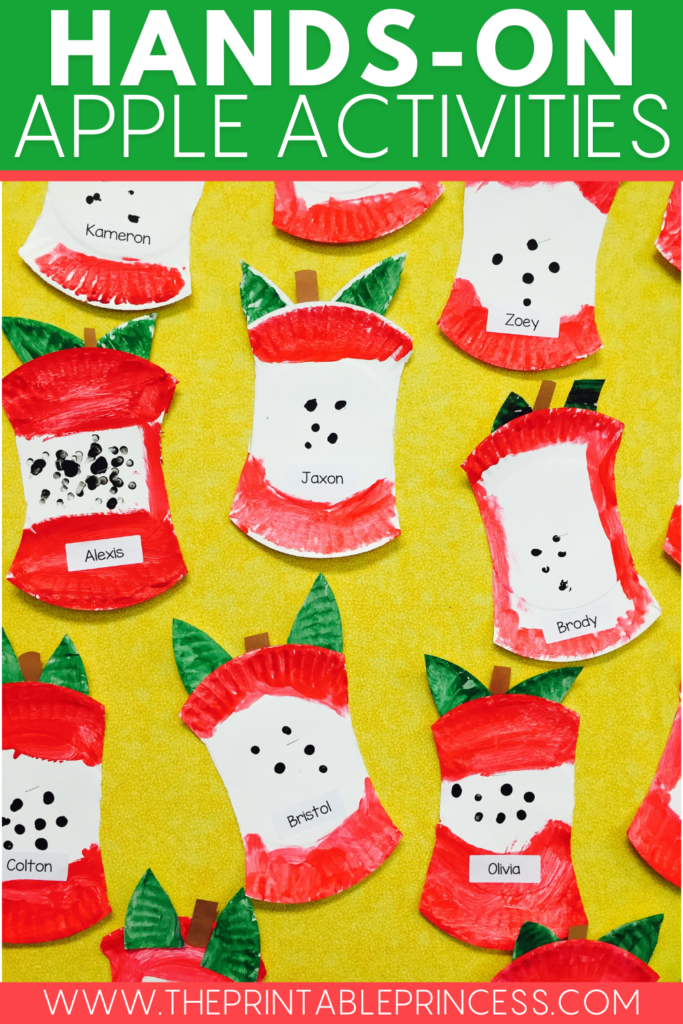 Apple Writing Activities
Incorporating apple week activities into your writing block is a great way to introduce students to new vocabulary words and incorporate the theme of apples into their writing.
Using apple-themed writing centers is a great way to encourage students to write using apple vocabulary words and use descriptive words and illustrations.
These apple writing centers will help students learn about the different parts of an apple, how apples grow, and give students an opportunity to learn about all of the different ways apples can be used and eaten.
Apple Math and Literacy Centers
While apple week may be a ton of fun, there's still work to do and skills to practice. However, with apple math and literacy centers, you can be sure your students will have a blast and not even realize they're learning.
With 21 total centers, your students will be able to practice skills such as letter recognition, beginning sounds, uppercase and lowercase matching, one-to-one correspondence, counting, ten-frames, number order, and more.
Use them during your apple week activities and all throughout the fall for a ton of hands-on, meaningful math and literacy practice. Learning has never been as sweet as with these apple-themed centers for kindergarten.
For a little more apple-themed math practice, grab this apple math game freebie by clicking here.
I hope these apple week activities for kindergarten have inspired you to try something new with your students this year.
By incorporating seasonal, themed units like apple week, you give your students the opportunity to learn about the world around them in a way they may have never done before.
It's truly a magical learning experience for students and I can't wait to hear about your apple week activities. Share what's on your apple week agenda in the comments below.