9 Ways to Build Your Classroom Library
Instilling a love for reading with your students…it's every teacher's dream, right? Building a classroom library full of age appropriate books your students will love is important. Check out these 9 ways to build your classroom library (without totally breaking the bank).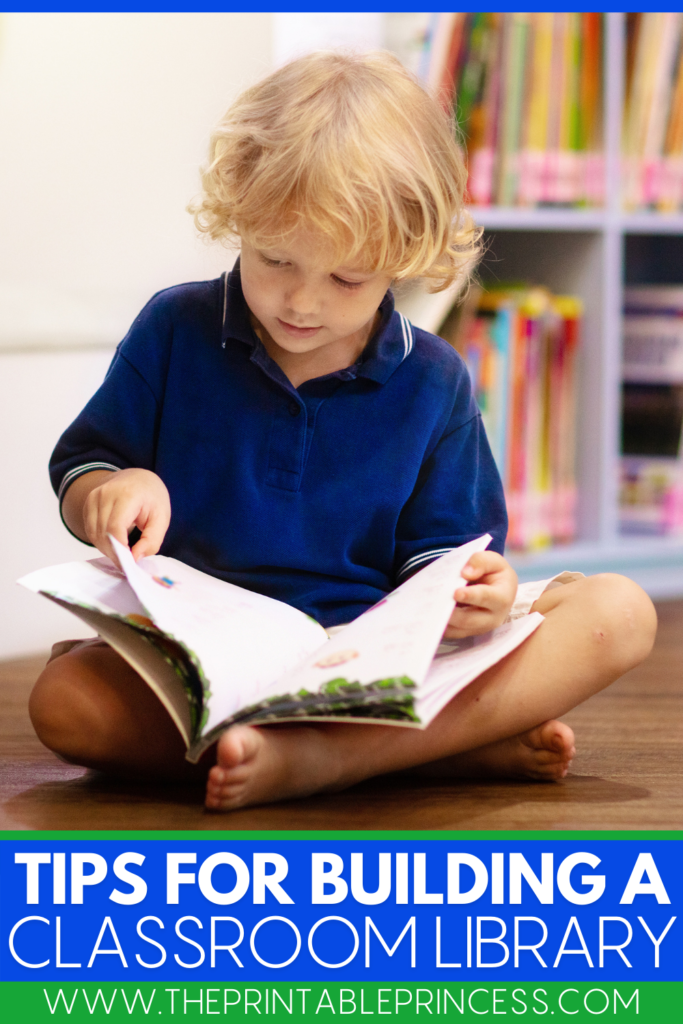 Before I dive into the tips for building your classroom library, let me tell you a little story. I remember my first year as a new teacher, I had grand visions of my classroom.
I envisioned the Pinterest-perfect, cozy reading nook stocked with colorful bins and labeled baskets filled to the brim with engaging, age-appropriate, perfectly organized books for my students.
But then reality hit. Where in the world was I going to find all these books, and more importantly, how much was it going to cost me?
I started researching and reached out to everyone I could think of that might be able to help. With a little creative thinking (and okay, a few bucks) my dream library came together.
These ideas for building the classroom library of your dreams are what helped me get started and I hope they help you too! Feel free to share this blog post with a teacher friend and share your ideas in the comments.
Tips for Building Your Classroom Library
1. Spread the Word
When it comes to building your classroom library, most people are happy to help teachers out, especially new teachers.
Reach out to anyone you know that may have children's books they are willing to let go of. Contact friends, family, neighbors, former teachers, people you used to babysit for, even your network of friends on social media.
2. Tap Into Your School Community
When looking for books, reach out to your co-workers and other teachers at your school. See if any current teachers have any books they are cleaning out from their collection or books they have duplicates of.
Sometimes you'll find teachers who have moved grades and are willing to pass along books they no longer need.
Ask the librarian if there are any books they can spare from the library. If you're lucky you'll hit the jackpot with a retiring teacher or two. They're always more than happy to pass on resources to the next generation of educators.
3. Ask For Parent Donations.
At the beginning of the year, include a blurb in your welcome newsletter asking for book donations from the families of your new students.
Oftentimes, families have titles they're more than happy to donate or they know people or family members like grandparents who do.
You can even send a letter home later on in the year letting them know which types of books your growing readers would love.
4. Seek Out Bargains
One of the best ways to build your classroom library is by bargain shopping. Check out thrift stores like Goodwill or used book stores. Local Facebook groups or marketplace are another great resource for finding used books
You can even check out garage sales, where it's easy to find books for as little as a quarter. You may even find some other great classroom finds while you're at it!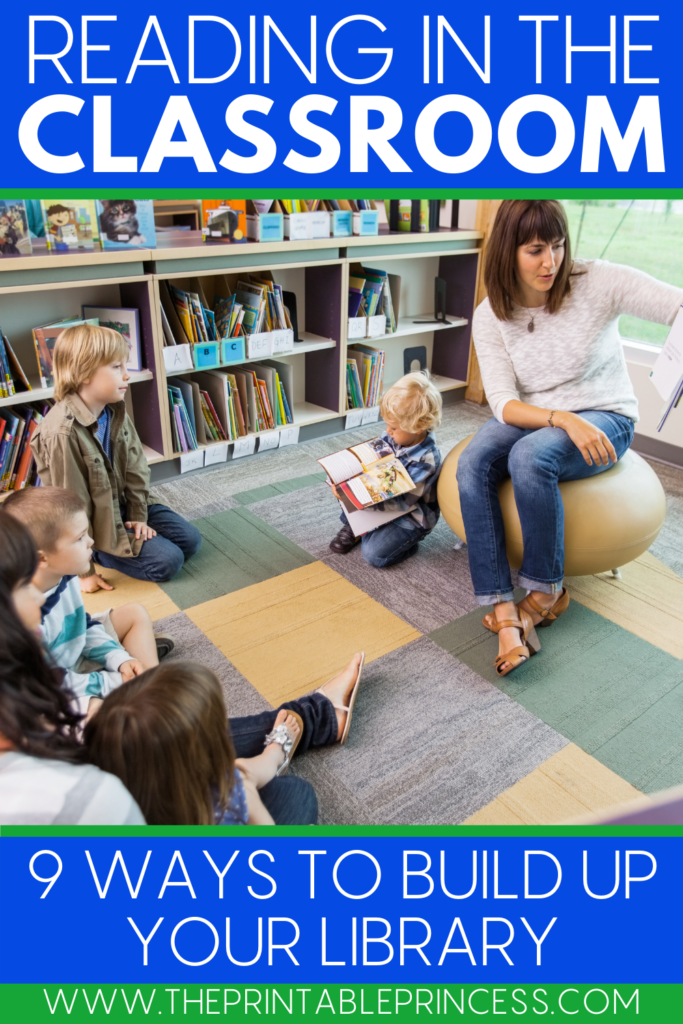 5. Hold a Book Drive
Organize a book drive for your class. Better yet, ask the PTA or parent volunteers to host a book drive for the whole school.
Volunteer your time to set up posters and send out emails and flyers to get the word out. If possible, include specific titles or genres so that people know exactly what you're looking for.
This can benefit the whole school and would be great to have going during parent-teacher conferences when parents are in the school building.
6. Look For Public Library Book Sales
Most public libraries hold book sales at least once a year. It's a great way to find low-cost, quality books to help you build your classroom library. Check out the website BookSaleFinder to find a sale near you.
7. Join the
Scholastic Book
Club
Sponsoring a Scholastic Book Club is a great way to get more books for your classroom library. It's super easy to build up points for free classroom books too.
The way it works is, teachers send home flyers, kids choose their books, and parents submit their orders.
This is sure to be one of your students' favorite days of the month, the day their Scholastic books arrive!
You can use your free book points to help purchase books as a Christmas gift for each of your students as well.
8. Set Up a Donors Choose Project
Setting up a project on Donors Choose is super easy and brings great results. All you do is build a profile and send your project out to your contacts.
Visit the website for easy to follow directions to help you get started. Donors Choose will even match funding on your first project!
9. Shop Online
There are so many inexpensive ways to buy books for your classroom online. Here are a few of my cost-effective favorites.
Building your classroom library doesn't have to be a daunting process. Tap into your resources, keep your eyes open for deals, and search online for sources. Before you know it, that cozy reading nook full of books will be a reality.