Healthy Lunch Ideas for Teachers
Ever had a morning like this? You are one tired teacher, so you slept through your alarm. You forgot to switch the load of laundry with all your "good clothes" from the washer to the dryer last night. Then you realize you left your teacher bag at the gym and the dog just had an accident in the middle of the kitchen. Forget packing a healthy lunch!
On mornings like this, just making it out the door in one piece feels like a monumental task. Remembering to pack healthy, nutritious food to help you make it through the day feels like an impossibility!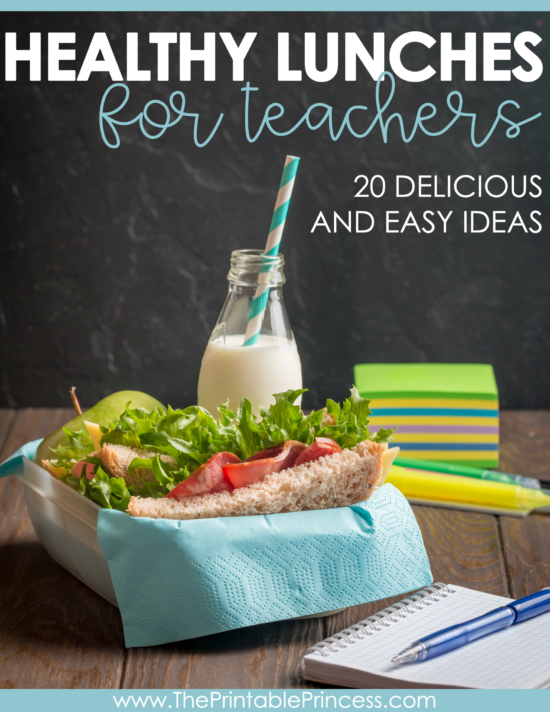 We all know that fueling our bodies with a healthy mix of protein, fruits, vegetables and healthy carbs and fats is essential to our health and wellbeing. So here are a few healthy lunch ideas that you can prepare ahead of time to help you make it through the day.
I like to pick up all the ingredients I'll need on my Saturday morning grocery run. Then I do all my chopping and prepping on Sunday afternoons and store everything in plastic containers so that all I have to do is throw things together quickly each morning or even better- the night before.
Disclaimer: I make absolutely zero claims on being a trained chef, so the ideas listed below are not precise recipes, but general ideas to get you thinking about different ways to up your lunch game. Feel free to make eliminations or substitutions based on dietary restrictions and preferences.
Storing Your Healthy Lunch
Now I may not be a trained chef, but my husband would tell you that I can re-heat food like nobody's business. Around our house I am called "the master microwaver" My secret? These glass storage containers that I found on Amazon. But if you're like me, and you don't like your food to touch, these glass containers have separate compartments. Both of these have made such a difference in our meal prep!
I love the glass containers because they not only heat your food evenly, but they don't warp, stain, or harbor germs like some plastic ones do. Bonus is they are BPA free! And I love how glass containers don't get hot like plastic ones.
My other secret is a wet paper towel. When you're re-heating the food, place a damp paper towel over the food before you put it in the microwave. The moisture from the paper towel keeps the food from drying out.
Healthy Lunch Ideas: Salads
A fresh salad is one of the easiest ways to get all those daily recommended portions of veggies and protein, which makes it .0one of the easiest healthy lunch ideas for teachers. And one of the beautiful things about salads is you can throw practically anything you have in the fridge into them and make a delicious meal. Try one of these salads:
Fiesta chopped salad
Combine torn romaine lettuce, corn kernels, diced tomatoes, black beans, diced avocado, diced red onion and shredded chicken breast. Toss with a cilantro lime ranch dressing.
Mediterranean salad
Layer sliced cucumbers, sliced tomatoes, sliced red onions, sliced red bell peppers, Kalamata olives, torn basil leaves and feta cheese. Toss with your favorite balsamic vinaigrette.
Harvest salad
Combine baby spinach leaves, chopped tomatoes, diced avocados, thinly sliced red onions, dried cranberries and crumbled blue cheese. Toss with a red wine vinaigrette.
Beet salad
A seasonal favorite. Layer baby lettuce leaves, sliced beets, walnut pieces and crumbled goat cheese. Toss with balsamic vinaigrette.
Balela salad
Amazing! Combine garbanzo beans, black beans, fresh mint, fresh parsley, chopped onion, diced grape tomatoes, minced garlic and minced jalapeno pepper. Toss the salad with fresh olive oil, salt and pepper and lemon juice.
Healthy Lunch Ideas: Wraps
Another simple way to stuff lots of nutritional value into a single meal. These make great healthy lunch ideas for teachers because you can make them so many different ways, which keeps lunch from getting boring. I like to use whole wheat flour tortillas, but other options include pita bread, naan, or corn tortillas. Try one of these wraps:
PB Banana wrap
Spread all-natural peanut butter (no added sugar) onto a whole wheat tortilla. Add slices of banana and any of these optional add-ins: honey, shredded coconut and/or granola.
Chicken Caesar wrap
Toss grilled chicken breast strips, romaine lettuce, tomatoes with low-fat creamy Italian dressing, then roll the mixture up in a tortilla.
Crispy veggie wrap
Spread low fat cream cheese on a spinach tortilla. Add layers of sliced cucumbers, tomatoes, carrots, red onions, red peppers and baby spinach leaves.
Hummus and prosciutto wrap
Spread hummus on a whole wheat tortilla. Then layer crispy baked slices of prosciutto with mozzarella cheese, sliced avocado, tomato and lettuce .
Horseradish steak wrap
Layer grilled steak strips with shredded lettuce and thinly sliced tomato. Garnish with horseradish mixed with non-fat mayo.
Healthy Lunch Ideas: Bowls
Another favorite on the list of lunch ideas for teachers! I love rice, so bowls are one of my favorite lunches to throw together. Again, you can pick almost any theme (Mexican, Mediterranean, etc.) and toss together a yummy meal that will get you through the day. Try one of these bowls:
Teriyaki chicken bowl
Toss teriyaki marinated chicken strips with brown rice, sesame seeds and thinly sliced steamed carrots.
Fajita bowl
Start with grilled onions and peppers and thinly sliced steak strips. Then layer in diced avocado, shredded low-fat cheese, lettuce, salsa and rice.
Taco bowl
Combine ground turkey taco meat, black beans, corn, salsa, low-fat cheese, lettuce, nonfat sour cream and rice for a fiesta level lunch.
Salmon bowl
Toss grilled salmon, brown rice, steamed asparagus spears together and garnish with a lemon vinaigrette.
Buddha bowl
Prepare quinoa using chicken broth, throw in roasted diced sweet potatoes and red onion slices, raw baby spinach leaves, diced avocado,  fresh cilantro, toasted sesame seeds and creamy peanut sauce.
Healthy Lunch Ideas: Breakfast for Lunch
My daughter loves whenever we had breakfast for dinner. Why not bring some of that excitement into your teaching day? These lunch ideas for teachers are easy to prep, chock full of good stuff. You can't lose with breakfast for lunch. Try one of these ideas:
Overnight oats
Apparently a craze amongst millennials (who knew?), overnight oats are simple to make the night before. Click on the link above for an easy tutorial. And the best thing about the recipe is you can personalize your oats with your favorite add-ins.
Yogurt parfait
Layer yogurt, with your favorite granola, fresh fruit, and honey.
Quiche
Fill an unthawed frozen pie crust with scrambled egg mixture, cheese and your favorite veggies and protein.
Breakfast burrito
Stuff a whole wheat tortilla with scrambled eggs, turkey bacon, sharp cheddar and scallions.
Smoothies
SO many nutritious, delicious ways to make smoothies. Here are 10 make ahead smoothies from my favorite go-to recipe site, AllRecipes.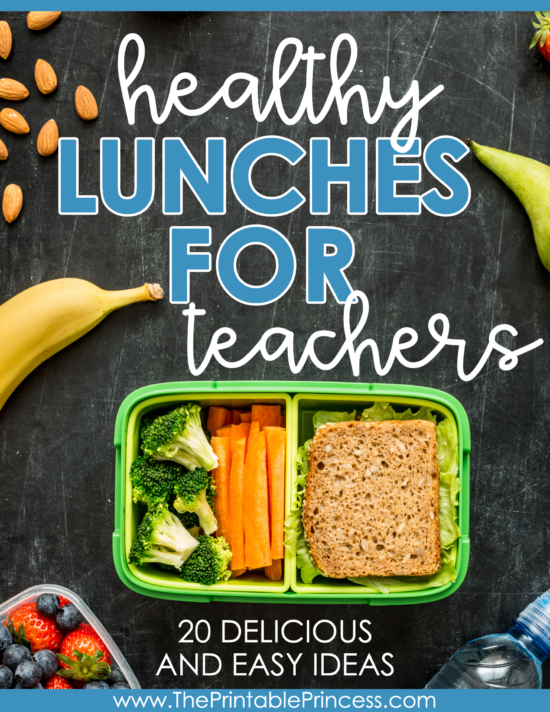 I hope these healthy lunch ideas for teachers have inspired you to get creative when you think about school lunches. They take a little extra effort than just slapping together a PB and J, but your body and mind will thank you for going the extra mile.