Helping Students Cope with Separation Anxiety
Heading off to kindergarten is a big adjustment for little ones, especially if this is their first experience with school. For some it can also make going to school on the first day and all of the unknowns a scary experience. There's a good chance that you'll have students with separation anxiety.
These are the children that cry, cling to their parents' side, and are reluctant to participate in activities.
The good news is that it's totally developmentally appropriate and a positive sign that they are firmly bonded to their parent.
As their first teacher, you definitely want to make a good impression and set them on the road to loving school and learning.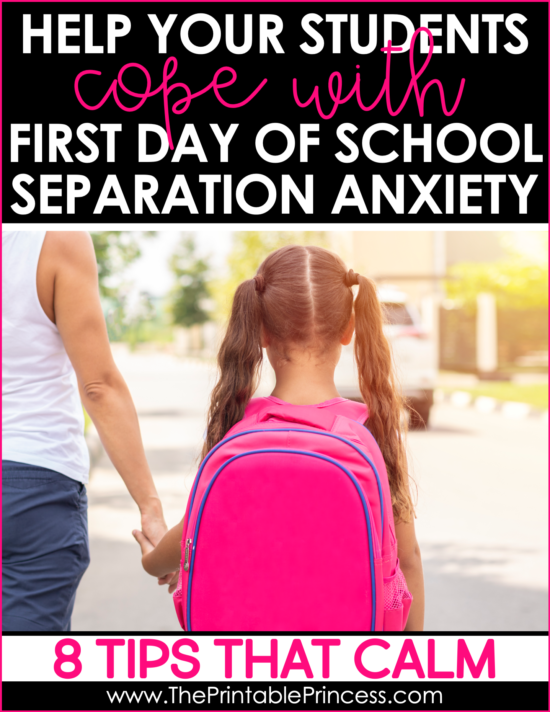 This article, along with many other articles on The Printable Princess, contains Amazon affiliate links. If you purchase through the links I earn a small commission. Clicking these links does not cost you any extra but helps this website to keep great articles and freebies coming your way.
Here are a few tips to help you cope with and comfort students with separation anxiety.
Communicate with parents.
Some schools do home visits or hold an open house before school actually begins. The sooner you get kids into the classroom, the longer they'll have to get used to the idea that school means being away from mom and dad.
Take a photo of them in the classroom to take home with them so when they talk about going to school. They can look at the picture and remember what a fun, welcoming place it is.
If possible, have parents fill out a survey before school starts. This will give you insight into their child's personality, strengths and challenges. If their child has any special needs, or if they suspect they will hard time with the transition, they can offer familiar ways that usually work to comfort the child.
If you don't have an Open House before school starts, get parent's e-mail addresses and send a survey via a Google doc.
Share resources with parents that will help. Here's an article from a mental health website and here's a cute video that offers some good tips.
You might even offer some read aloud suggestions like First Day Jitters by Julie Danneberg or Llama, Llama Misses Mama by Anna Dewdney.
Be completely "on".
Be completely ready when your students walk in the door, not at your desk doing "last minute" preparations.
That moment, first thing in the morning (or afternoon if you have half day classes), will more than likely be the most tense time for kids who are feeling anxious.
Be ready to open the door and greet your students and their parents with a big welcoming smile. Then tell them the first few things you need from them.
For instance, "Good morning kindergarteners! I'm so happy to see you. Please come in, hang your belonging on the hooks right there and have a seat on the red rug."
Look each child in the eye as they pass by you and encourage parents to say a quick goodbye and be on their way.
You might even use a good morning song to greet your students. Everyone can sing together at the door (parents included) before they come in. The song sets the tone for a happy day and is a clear predictable transition.
A simple song like this works great…
(To the tune of Happy Birthday)
Good morning to you.
Good morning to you.
Good morning to everyone.
Good morning to you.

Stick to a predictable routine.
The best thing you can do to acclimate your students to school is to follow the same routine every day (as much as possible).
Knowing what comes next, and being able to rely on a predictable rhythm, helps reassure anxious kids. Those first few days are going to feel really long to some children.
If you can display a schedule that shows them how many activities are going to happen before the end of the day, that will give them a resource to refer to.
It's unlikely that most of them will be able to read a schedule, so use pictures and shapes and colors to block out the day and teach them how to read it.
Get busy right away.
Start each day with an engaging open-ended activities. Have easy activities waiting for your students so they aren't just sitting around.
Kindergarten Morning Tubs are a great for keeping students busy and they are already planned for you. Plus they are simple enough that the activities can be completed even on the first day of school.
Don't dive right into instruction or expect them to know how to sit still or follow directions immediately. It will take some time to teach them routines and expectations.
That's the most important thing about kindergarten, beyond teaching basic skills we are teaching children how to "do" school. And that takes time and patience.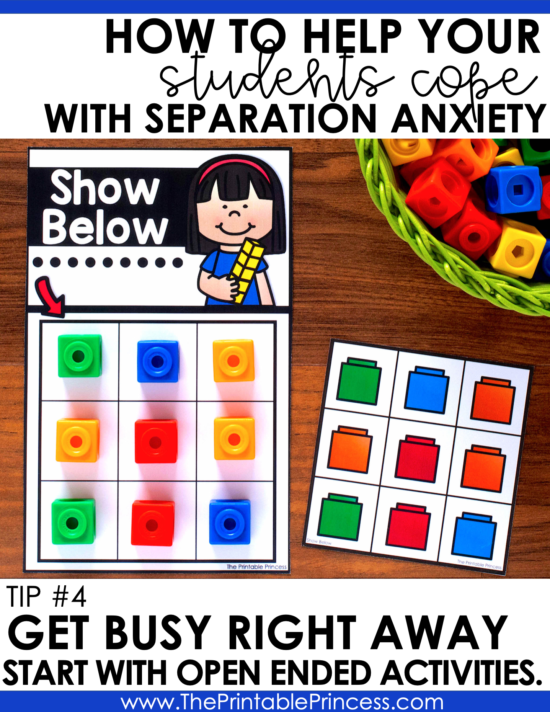 Take it easy the first few weeks.
It will take a while for kindergarteners to build up the stamina to make it through a whole school day. Be sure to build in time for read alouds and rest or quiet activities throughout the day.
Let your work/play balance skew more toward the play side for the first few weeks.
You want school to be a fun, interesting place to be in their minds. Giving them a little extra freedom to choose their activities will help make build positive associations and help them feel more comfortable.
Let them bring in a reminder of home.
Allow children to bring a small comfort item to class the first week of school. This may help ease students with separation anxiety.
Of course, you don't want a child dragging around a huge blankie. But they could bring a tiny stuffed animal, or a special bracelet or note from Mom and Dad.
Ask families not to send in anything so large that it interferes with their child being able to participate in activities. After the days' activities have begun, encourage the student to put the item in their backpack so that they can participate in a really fun activity.
Another idea is to consider asking parents to send in a picture of their family on the first day. Then post the pictures on an easily accessible bulletin board.
Being able to walk over and see their loved ones' faces may help little ones make it through the day more easily.
Play it cool.
Once parents leave, you take center stage. As the only adult in the room (unless you have an aide present), your students will be looking to you to reassure them that everything is going to be okay.
Be a model of calm and confidence. Your warm and welcoming attitude will go a long way in easing their little nerves.
If throughout the day you have a few students who feel shaky, or downright hysterical, be gentle but firm with them.
Acknowledge their feelings. Calmly reassure them that they are in good hands and in no time their parents will be back to collect them. Let them sit a little closer to you or hold your hand. Give them a little extra attention until they feel better.
Sometimes ignoring the crying and starting a fun activity is the best course. You'll have to try different things to see which approach works best.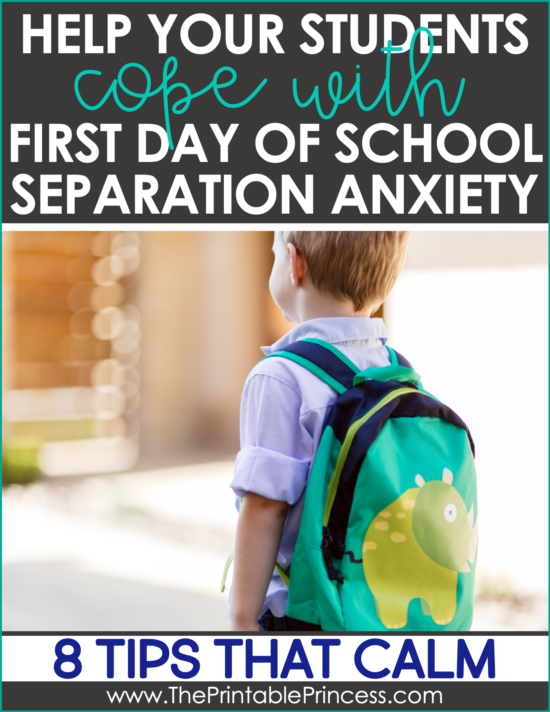 Lastly, hang in there!
Be compassionate, students with separation anxiety need time to adjust. It may take a few weeks (hopefully not much longer) for kids to get into the rhythm of kindergarten.
Be patient and positive as you build a predictable routine. Before you know it they'll be off and learning. You might find that some may even groan with disappointment when the final bell of the day rings.
Helping students through this new experience is a great way to build positive relationships with your students. So be patient, be kind, and know that this too shall pass.