12 Indoor Recess Must-Haves for Kindergarten
Whether you're stuck inside because of the weather or you want to work in a little extra movement and play, indoor recess is bound to happen at some point. Don't worry though, it doesn't have to be mass chaos and stress! We were chatting over in the Kindergarten Palace Facebook group about different indoor recess ideas and I was inspired!
I can't wait to share these 12 indoor recess must-haves with you! They are not only fun for kids, but they are good for the brain, encourage creativity, and use those essential fine motor skills, too. That's a teacher win in my book!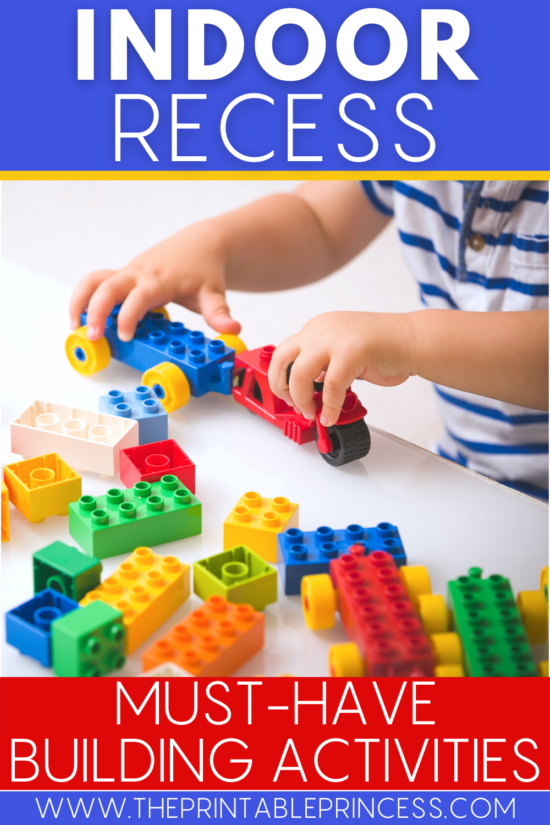 This article, along with many other articles on The Printable Princess website, contains Amazon affiliate links. If you purchase through the links I earn a small commission. We only share links to things that we love.
STEM Sets
The first indoor recess idea is STEM sets! STEM activities are beneficial for students as it allows them to use problem-solving, creativity, and fine motor skills all at the same time. A few of my favorite STEM sets are the straw building set, the electric drill set, and the construction engineering set. Your students will love creating different designs from mazes and landscapes to animals and jet planes!
Math Link Cubes
One of the best indoor recess must-haves are math linking cubes! There are so many different patterns for students to follow and build, which is great for building direction-following skills. Another indoor recess idea is to challenge them to make sticks of 10 cubes in the same color and see how many they can make before time runs out. They love the challenge, work together, and it helps you too! Now the linking cubes are ready to use in your math lessons!
Sight Word Building Mats
For this indoor recess idea, all you need are those snap cubes, dice, and these editable sight word building mats! Your students won't even realize they are working on sight words because they'll be having so much fun. They'll roll the dice, find the matching color of snap cube, and place it on the mat, creating a fun design. There are 30 different editable mats included, so your students can work on the sight words they need to practice most.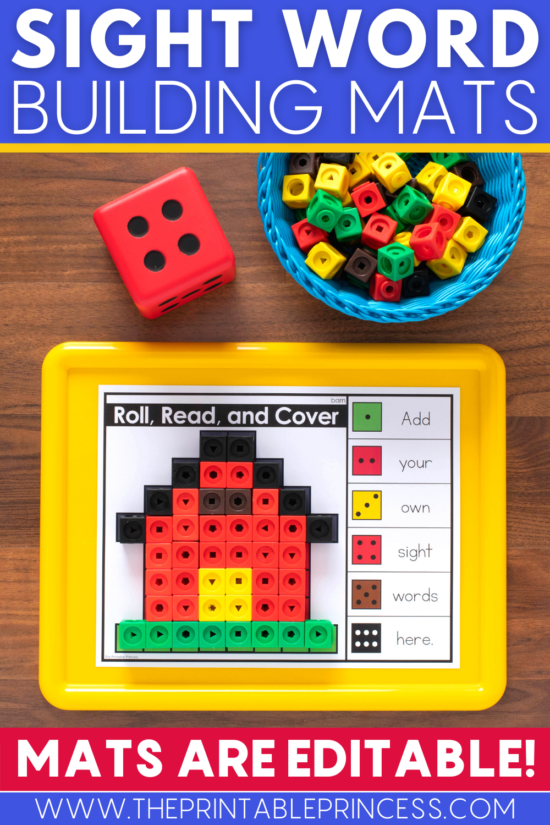 Legos
Legos are a classic, kid-favorite building activity and an indoor recess must-have. They can let their imagination run wild while designing and using those fine motor skills. This Lego suitcase set is great because it comes in a handy suitcase for easy storage and organization. When the timer goes off, your students will be picked up in no time.
Pattern Blocks
The next indoor recess idea also comes straight from the manipulative station in your classroom. Pattern blocks are a blast for kids when it comes to making designs! You can let them create freely or challenge them to make something specific with pattern block activity cards. They will use their visual-spatial skills as they fit the blocks together to make their finished product.
Bristle Building Blocks
Incorporating tactile materials into your indoor recess must-haves is a great way to help students work on fine-motor skills. 3D bristle building blocks are fun for kids to manipulate and build with. They also help students work on hand-eye coordination and problem-solving skills.
Wooden Blocks
Classic wooden blocks make for a great indoor recess idea. Students can create various designs or you can challenge them to work together to build a town, a maze, or something else that grabs their attention. Use the wooden 3D blocks that you have in your classroom and watch the fun unfold. Plus, they'll learn more about shapes and their attributes in a hands-on way!
Lincoln Logs
Another indoor recess must-have is Lincoln Logs! This building set is an engaging way for kids to design various cabins, houses, and landscapes. It comes with 137 pieces and additions such as a door, windows, roof, and figurines. The notches in the logs help students fit the pieces together just right to make their log cabin creations. This requires critical-thinking skills, too!
Play Dough
Play dough is an indoor recess hit! Break out your stash and maybe a few tools if you have them and your students will have a blast their entire indoor recess time! Play dough is a great sensory material for kids and can be made into so many different creations. You can even have them work on letters and numbers with play dough mats.
Brain Flakes
Have you ever heard of Brain Flakes? These little interconnecting discs encourage fine motor skills and allow kids to build creative designs! They are easy to store and don't take up a lot of space, so students can take them anywhere around the room during indoor recess.
Gears
Your students will become little engineers with these learning gears! Students will use reasoning and fine motor muscles to create various moving parts and gear creations. These are so versatile and can be used for simple and more complex designs as your students' skills grow!
Magnetic Blocks
A sure way to keep students engaged is with magnetic blocks! They will be amazed by the power of magnets and what they can make with their imagination and these blocks! These are great for students' development as they problem-solve to connect them in the right places. These are a definite indoor recess must-have.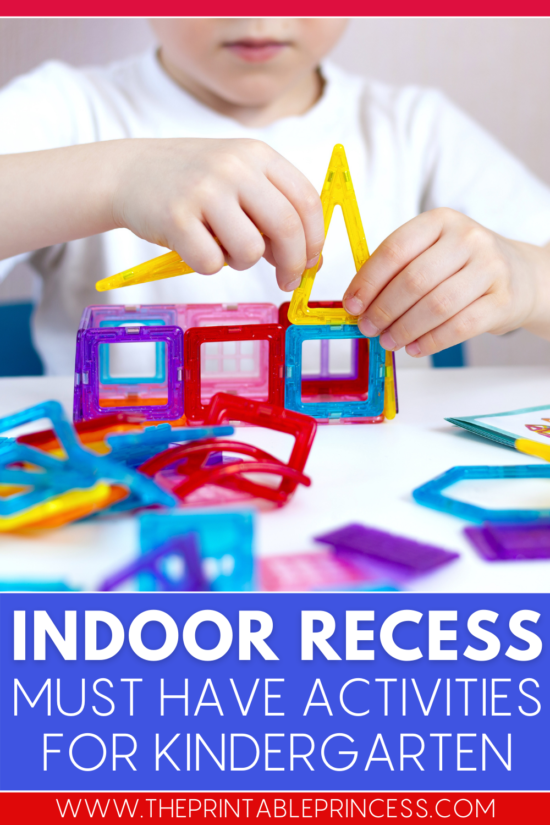 I hope you are feeling more confident about your indoor recess game plans with these ideas! Comment below which must-haves you are going to use first!