Holiday break has come and gone and a new year has arrived! With a new year brings a fresh start and opportunities to bring learning fun into the classroom. The winter months can be long and cold, but with these winter learning ideas for kindergarten, your students will be having a blast and warming up their skills all season long.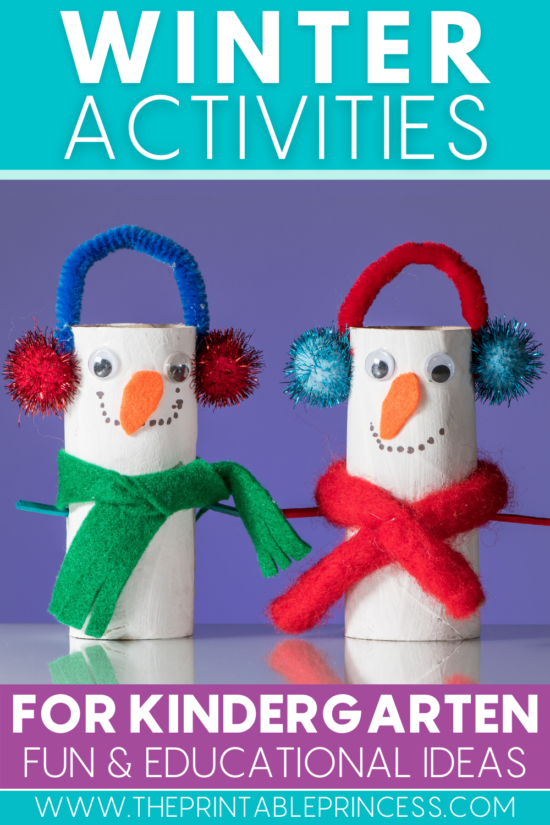 #1. DIY Snowman Craft
First up on the list of winter learning ideas for kindergarten is a fun, DIY snowman craft! All you need to make this craft are toilet paper rolls (or paper towel rolls cut in half), white paint, colored craft sticks, felt pieces, pipe cleaners, fuzzy pom-poms, stick-on eyes, scissors, glue, and a black marker.
Start by painting the toilet paper roll white. If you wanted to make this easier, you could collect toilet paper rolls that still have a bit of paper on them. Use scissors to make a slit on each side of the roll. Push the craft stick through the slits to make arms for the snowman.
Next, attach the stick-on eyes and add an orange felt nose. Complete the snowman's face by drawing on a mouth with the black marker. Create a scarf out of colored felt pieces and tie around the roll. Secure with a dab of glue.
To finish the snowman, cut a piece of pipe cleaner and bend it to form the top of the earmuffs. Glue them to the top of the roll. Add the finishing touch to the snowman's earmuffs by gluing the fuzzy pom-poms to the sides of the roll.
#2. January Boom Cards
Do you want to incorporate technology into your winter learning ideas for kindergarten? The January Boom Card set is an interactive way to engage your learners all winter long! Plus, all of the winter-themed digital task cards are self-checking and include audio directions, so it saves you time and encourages independence in your students.
The skills included in the 8 full-sized decks are: change the sound phoneme substitution, middle vowel sounds, spell the CVC word (beginning and ending sounds), CVC word recognition, addition within 10 using a ten frame, subtraction within 5, before and after teen numbers using a number line, and teen number ten frames.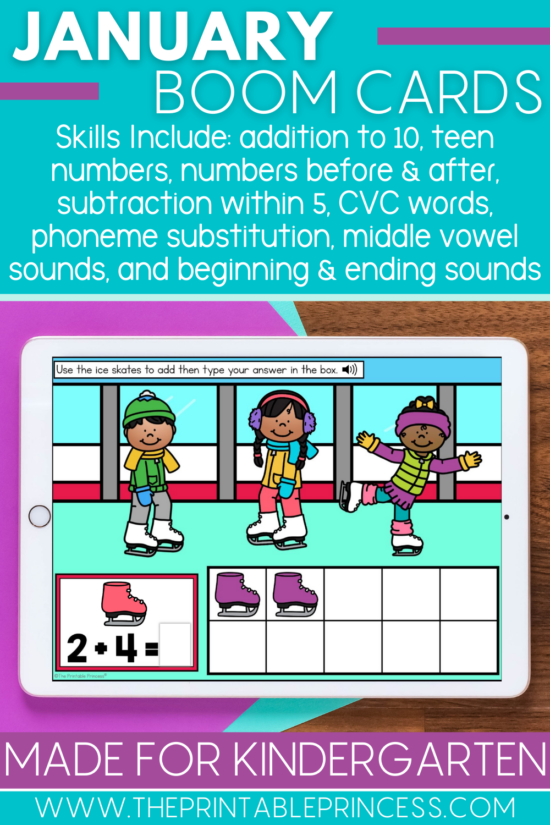 #3. Snowball Fight
Your students are going to have a ball with this winter learning idea for kindergarten. All you need is plain paper. Prep the paper by writing a sight word, CVC word, or number on each piece of paper. Pass one piece out to each student. In a very serious voice, tell them to listen closely.
"This is important, are you ready? What I need you to do next is…crumple your paper up into a snowball!"
There will be a lot of giggles and stunned faces! Gather your students in a large circle. When you say "Snowball Fight" they will throw their snowballs at each other WITHOUT moving their feet. They must stay in place. When you say "STOP" they will pick up the closest snowball to them, open it up, and take turns reading the sight word, CVC word, or number aloud.
#4. January Morning Tubs
If you are craving consistency and routine in the new year, January Morning Tubs are just the ticket! These hands-on, low prep activities are a great way to ease your students back into the school routine and review key math and literacy skills. There are 21 different activities included and various versions to allow for differentiation. All you need are basic classroom supplies.
Students will work on skills such as syllables, sight words, onset and rime, number comparison, teen numbers, addition, and more. With exciting themes like hot cocoa and snowflakes, your students will be in for a lot of learning this winter.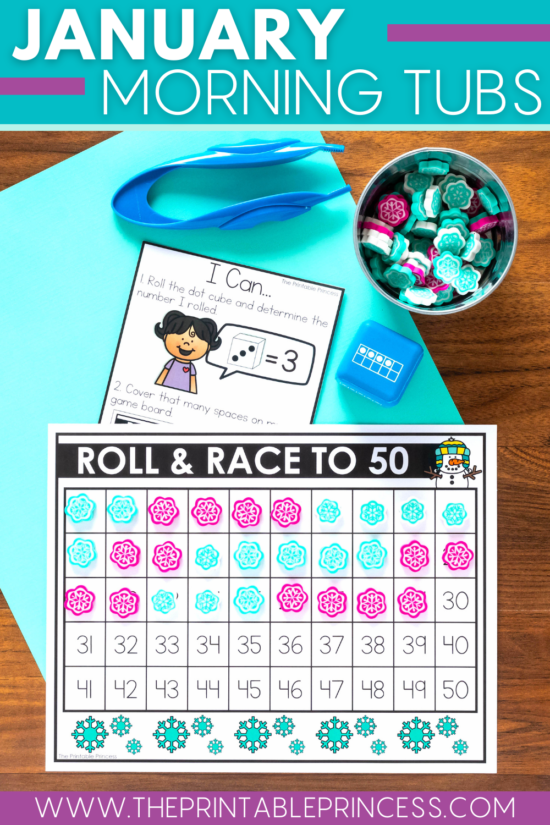 #5. Snowflake Sums
Snowflake Sums is an easy-to-prep, DIY activity that your students and their fine motor muscles will love. Simply write sums on snowflake foam cutouts. You can differentiate by writing sums to 5 or 10 based on your learners' needs. Next, write addition sentences on clothespins.
For this activity, students will lay out the foam snowflakes with sums. They will pick up a clothespin and read the addition sentence. Once they determine the sum, they will clip it onto the snowflake with the matching sum. You can easily prepare this math center by storing the snowflake sums and clothespins to 5, 10, and mixed sums in separate baggies.
You can easily make this a subtraction activity by writing differences on the snowflakes and subtraction sentences on the clothespins.
#6. Penguin Craft Freebie
What kindergartener doesn't love penguins? This penguin craft freebie is an adorable, DIY craft. Each student's penguin will be unique, which is the beauty of this winter learning idea for kindergarten. All you need for this craft is construction paper, scissors, glue sticks, and a white marker. Add this to your penguin unit or winter lesson plans for creative fun!
#7. Snowman CVC Words
Working on CVC words and onset and rime is a key literacy skill this time of year. For this snowman CVC word game, simply use a die-cut machine to cut out several circles for snowballs. Students will decorate one circle to be their snowman's head. Write consonants and word family endings on the circles to make onset and rime snowballs. Separate the snowballs into onset and rime stacks.
To play, students will draw a snowball from the onset stack and a snowball from the rime stack. If the snowballs make a CVC word, the student gets to keep them and add them to their snowman. If they don't make a word, the snowballs go into the discard pile and play continues. The student with the most snowball words at the end of the game is the winner.
#8. Penguin Snack
What's a sure way to motivate students? Survey says…SNACKS! This penguin snack is an adorable winter learning idea for kindergarten. They will enjoy building their penguin snack just as much as they enjoy eating it! This is a perfect way to incorporate winter and arctic animals into your snack time. Plus, they'll work on key listening skills too.
I hope these winter learning ideas for kindergarten have inspired your lesson plans for January. I can't wait to hear which of these 8 activities your students love most. Leave a comment below and let me know!