Ultimate Guide to Boom Cards
Have you entered into the fabulous world of Boom Cards yet? These engaging and interactive digital task cards have swept the teaching world in the past year. They're perfect for learning at home or in the classroom. If you haven't tried them out yet, check out my blog post about how to use Boom Cards. You can also read up on how to assign Boom Cards using Google Slides and Seesaw.
In this blog post, you'll learn the main features of Boom Cards and how they can be used to help grow your students' academic skills. You'll also learn just how easy they are to differentiate and use as assessments with your students.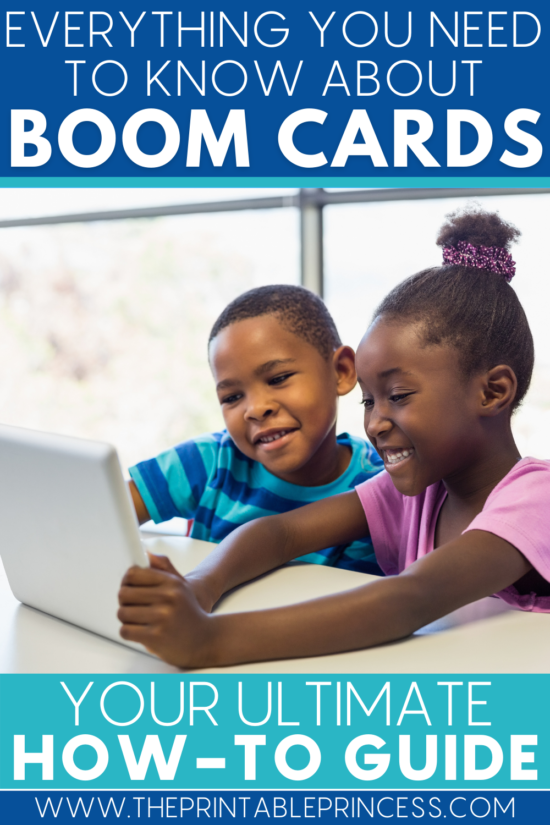 Boom Card Features
Boom Cards are fun, digital task cards. They bring a game-like element to learning, which keeps the engagement high! Students work on one-to-one correspondence as they drag and drop the digital game pieces to play. These task cards are self-checking, so students get immediate feedback on each slide.
All of the Boom Card decks created by The Printable Princess include audio directions and picture names when needed, so students can be successful independently. These digital task cards are easy for parents and students to use. To learn more about assigning Boom Cards and how students will play them, click over to my how to use and assign Boom Cards blog post.
How To Use Boom Cards
There are so many ways to use Boom Cards with your students. They can be used to work on a variety of different skills, from CVC words and letter recognition to sight words, numbers, addition facts, and so much more! There is a vast library of Boom Card decks to choose from, so you can start a collection with all of the key skills you teach in kindergarten.
Review skills.
Another great way to use Boom Cards is to review skills. Students can complete them during morning work, math or literacy centers, or as an early finisher activity. They require no prep and the students simply need a device to play on, so they can be incorporated anytime of day. It would be especially useful to assign skill-specific decks before an assessment to help the students review and practice.
Differentiate instruction.
Boom Cards make differentiation a piece of cake! You can assign students different levels of skills. You can use more basic decks to focus on skills such as beginning sounds and numbers to 10 for students that need to hone in on those skills. For students ready for a challenge, you can assign more challenging decks, such as sight word sentences and comparing numbers to 20.
Small groups and centers.
Boom Cards are perfect to use during small groups and centers. Since they're easy to use and include audio directions, students can complete them independently with success. They'll be highly engaged, allowing the teacher to focus on working with other students during small group or center time.
To use them during math or literacy centers, assign decks that focus on the skill you're working on. To differentiate, you can split your students into leveled small groups and assign decks that meet their learning needs.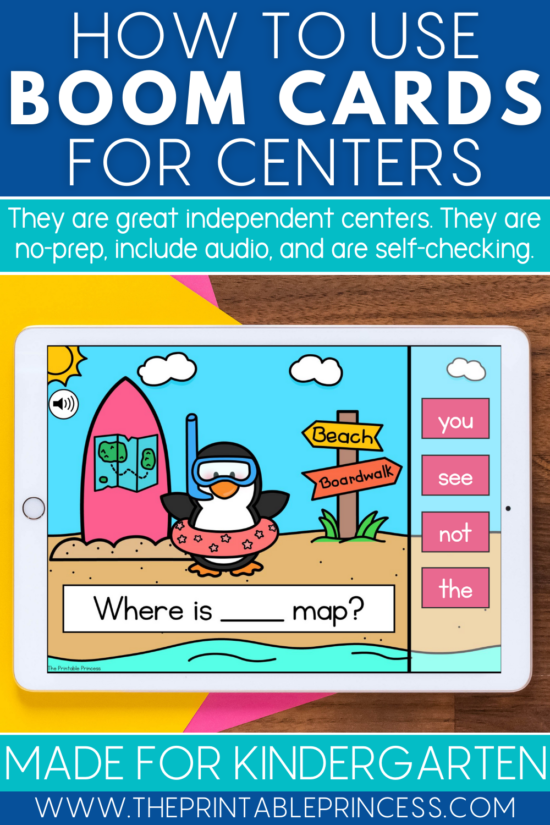 Virtual learning.
Boom Cards are especially effective to use during virtual learning. They can be used as a whole group warm-up, during your virtual small group sessions, or as an independent practice activity.
You can share your screen or have students share their screen via Zoom or other video call platforms, so you can use them to help teach lessons and practice together.
The easiest way to do this is to generate a Fast Pin link and play using that link. You can also create a student account for yourself and assign the decks you want to play with your students. Then use this account when completing decks as a whole group. (This also works in the classroom, too!)
During the lesson, you can call a student to share their screen and complete a problem to show the class. This will give them a sense of pride in their learning!
After a whole group or small group lesson, you can assign a deck as your assignment or exit ticket for the day. One of the greatest benefits is they encourage students to listen carefully and follow directions.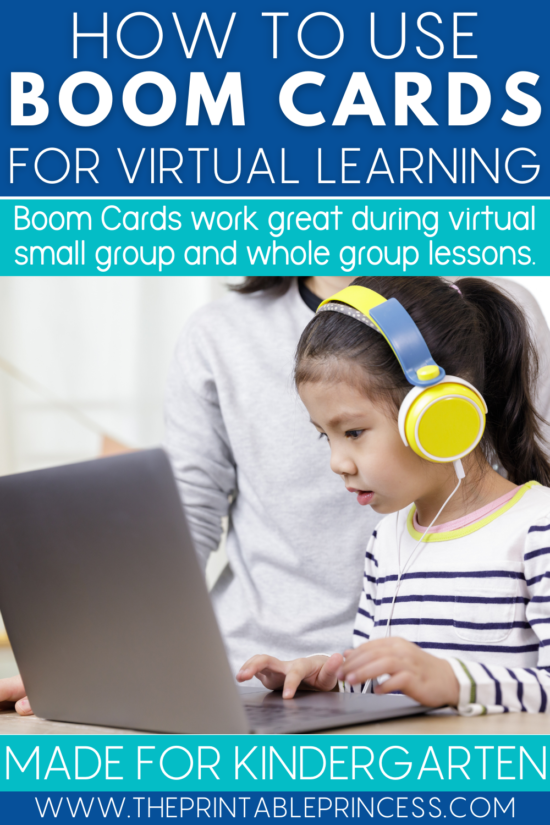 Assessments.
Boom Cards can also be used for assessments. Boom Cards allow you to progress monitor and access reports when using HyperPlay links. Therefore, you can use the same decks to assess your students' mastery all year long to see how they progress on certain skills such as phonemic awareness, letter and sound recognition, and numbers to 10.
Your students will have so much fun they won't even realize you're assessing them, which is the best part! This form of assessment will also take the pressure of a typical testing environment out of the equation, so your students can relax and show what they know, giving a more accurate result.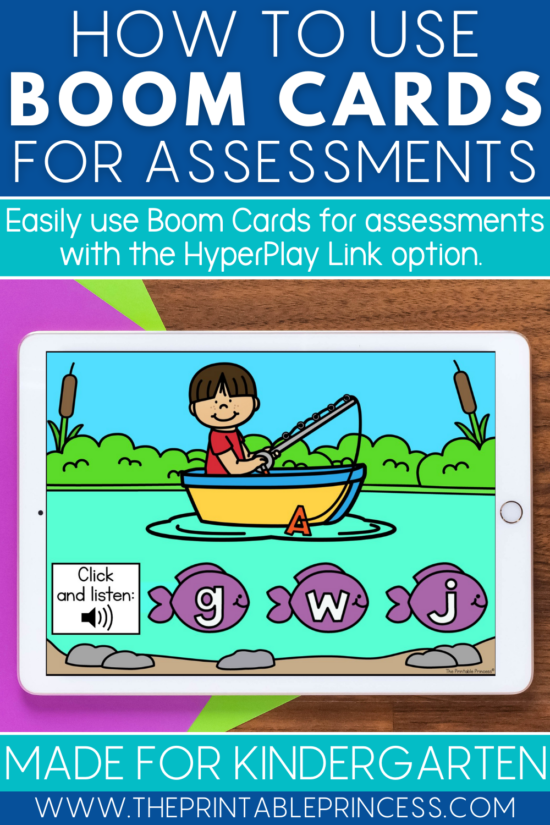 Frequently Asked Questions
Boom Cards are a fun new addition to the digital learning world. As many teachers are learning more about them and incorporating them into their lesson plans, there are a few questions that I get asked often, so I will answer them for you right here.
Do I have to use the Boom Learning website?
Yes, you'll need to use the Boom Learning website. This will allow you to store your decks and get links to assign the decks to your students. Your students will need to use the Boom Learning website to use the decks. However, you can assign Boom Cards using the FastPin or HyperPlay links in other platforms such as Google Classroom, Seesaw, etc. You can read more on that in this blog post.
Do my students need to have a Boom Learning account?
If you are only using FastPins to assign decks to students, they do not need a Boom account. You can assign a FastPin link, they will click on the link, and play the game. If you want to track data on student progress, you will use a HyperPlay link and students will need an account for these links.
Can I print Boom Cards?
Yes, you can print Boom Cards in a few simple steps. Simply navigate to your Boom library and find the deck you want to print. Click the "Action" dropdown arrow and select print.
Do the Boom Cards randomize when students play?
Yes, Boom Cards are randomized when assigned via FastPin or HyperPlay link. Therefore, students can complete the deck more than once and the cards will be reordered each time.
Do the titles of your Boom Card decks say Kindergarten?
No, my Boom Card decks don't say kindergarten. You can use them for various grade levels to meet their learning needs. The only decks that say kindergarten are the bundles, but students will not see that.
I hope this ultimate guide to Boom Cards has been helpful and given you ideas of how to use them with your students. If you want to try them out with your students, check out this Surf Shop Addition to 10 Boom Card FREEBIE to review key addition skills!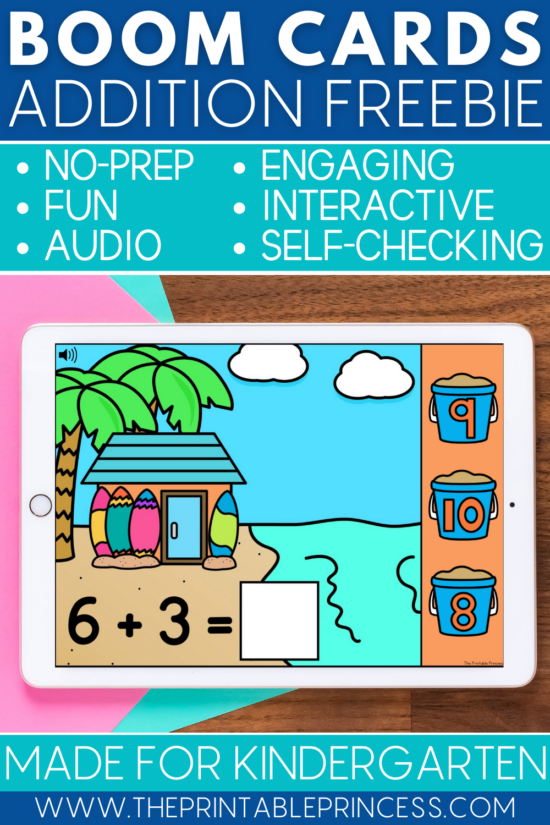 I'd love to hear how your students enjoy them in the comments below!