13 Manipulatives Every Kindergarten Teacher Needs to Teach CVC Words
As a kindergarten teacher, one of most vital literacy skills you'll teach all year is CVC words. CVC words are the building blocks to future reading skills. It's safe to say that working on CVC words often is extremely important for young readers. I'm excited to share my 13 favorite manipulatives for teaching CVC words with you today.
From hands-on and digital activities to manipulatives and games, your students will have a blast working on words. Want to learn more about CVC words and their importance? You can read more in this CVC words blog post.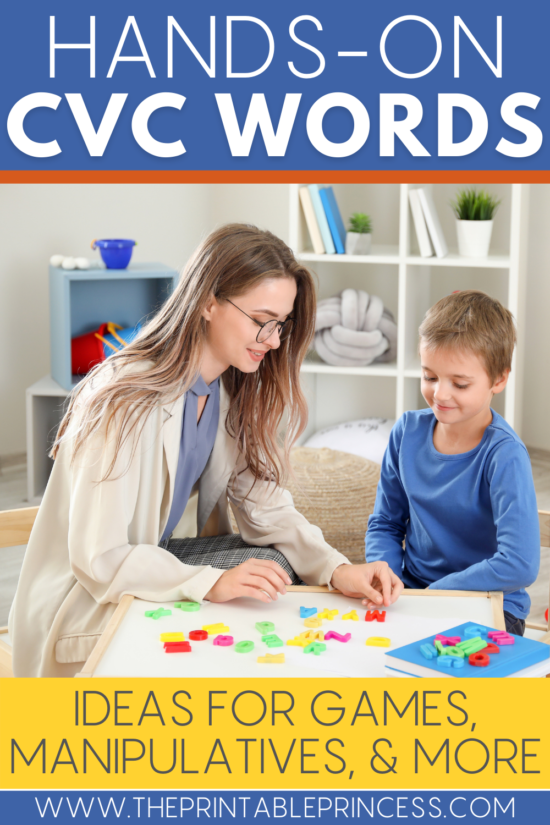 This article, along with many other articles on The Printable Princess website, contains Amazon affiliate links. If you purchase through the links I earn a small commission. We only share links to things that we love.
Word Building Resources
1. Magnetic Letters
Magnetic letters are a versatile manipulative for teaching CVC words. They can be used for a variety of activities, such as CVC Sound Mazes, or on their own to practice building words. The different colors for consonants and vowels helps students distinguish the differences in letters and short vowel sounds.
2. Reading Blocks
Another fun word building resource for kindergarteners is reading blocks. This hands-on CVC word manipulative allows students to practice fluently reading CVC words as they spin the blocks to make new words. They also get extra practice with fine motor skills while they read.
3. Play Dough
Play Dough may be one of my favorite manipulatives to use in the classroom, especially for CVC word work. Adding play dough to any learning activity automatically makes it more engaging for students. They can use their fine motor skills to shape letters and build CVC words out of play dough on CVC word mats.
Letter Manipulatives
4. Letter Tiles
Letter tiles are extremely versatile when it comes to practicing letters and sounds and decoding CVC words. These can be used to help students work on differentiating vowels and consonants as there are different colors for each type of letter. These letter tiles and be used for many different activities and centers.
5. Letter Linking Cubes
Linking cubes aren't just a great manipulative for math. Letter linking cubes are the perfect manipulative for teaching CVC words. These linking cubes are colored red and blue to differentiate vowels and consonants and also include uppercase and lowercase letters. There are picture cubes so students can practice building, spelling, and reading a variety of CVC words.
6. Letter Stamps
A sure way to engage your little learners is by letting them use their creativity. Letter stamps make practicing CVC words exciting. This set includes uppercase and lowercase letter stamps as well as punctuation marks and 4 colors of washable ink. Once students have mastered CVC words, they can move on to building complete sentences!
Fine Motor Activities
7. Foam Lacing Letter Kit
Do your students struggle with lacing their shoes and completing tasks using their tiny hand muscles? Using a foam letter lacing kit is an effective way to help build those motor skills. Plus, you can have students lace together letters to create different CVC words. It's a double win! These letter lacers are great for practicing names, sight words, and other literacy and math skills.
8. Bingo Dabbers
This resource for teaching CVC words ranks right up there with play dough on my list of favorite classroom resources. Bingo dabbers make learning CVC words a blast for kids! They can use them for various CVC bingo dabber activities, such as word family dab, real vs. nonsense word dab, and more.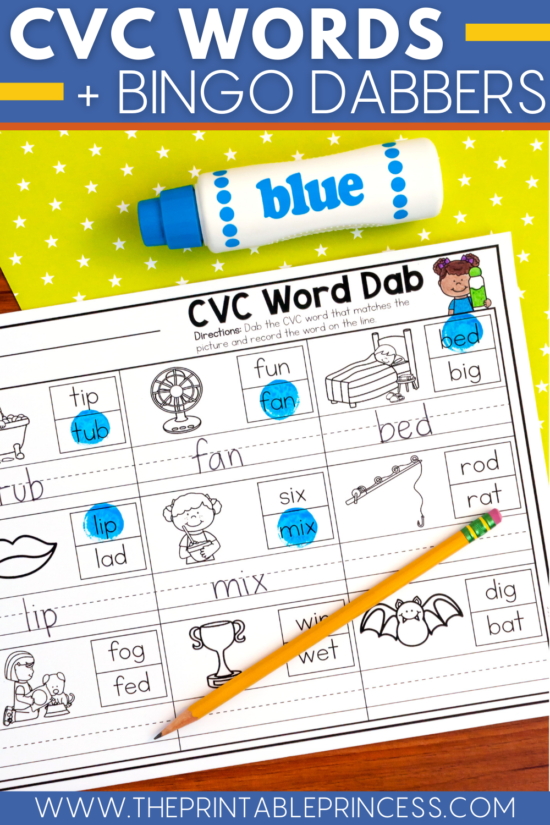 Dice
9. Letter Dice
Instead of building words with blocks or tiles, this time, students are going to roll foam letter dice to create different CVC words. This is such a versatile manipulative for teaching CVC words because students can use the dice on their own or write the words they build on a piece of paper or dry erase board. Plus, the foam dice eliminates a ton of noise in the classroom.
10. Dry Erase Dice
Speaking of dry erase, have you seen these dry erase dice? These can be used for any subject, skill, or game, but are especially useful when working on CVC words. You can write onset on 1 dice and rime on another dice. Have students roll the dice, put them together, and read their CVC word. This is a great activity to practice real vs. nonsense words as well.
Another idea for using these dice is to write a different set of word family words on each dice. The students will choose a dice, roll, and read their word. You can also write consonants on 2 sets of dice and vowels on 1 set of dice. The students will roll all 3 dice and build a CVC word. Again, they can determine if it is real or nonsense.
CVC Games
11. CVC Boom Cards
If there's anything students love, that's digital games they can play on the computer or a tablet. CVC Word Boom Cards are fun, digital task cards that allow students to practice decoding CVC words all while having fun. They are self-checking, so students get immediate feedback on their work. Bonus: It saves the teacher time, too!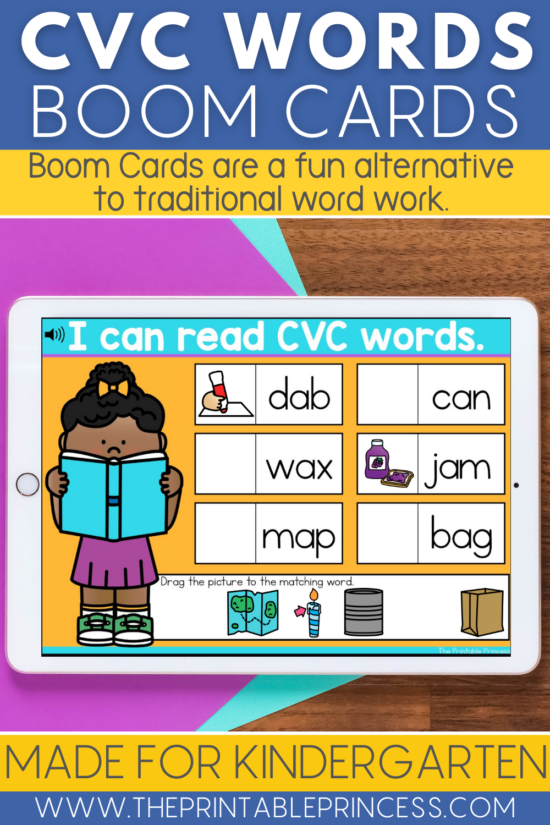 12. Alphabet Cookie Game
Did somebody say cookie? Your students will be on high alert when you tell them the name of this CVC game. This ABC Cookie Game has 4 different games you can play, making differentiation easy and allowing you to use fresh CVC games with your students to prevent boredom. Students will play using the CVC word cards, letter cookies, and spinners.
They'll work on skills from letter and sound recognition to beginning sounds, CVC words, and do all of that while building up their vocabulary.
13. Zingo Word Game
This last game for teaching CVC words is the perfect CHALLENGE for your advanced learners. Zingo is a fun word building game. Students will slide the Zinger, build a word using the letters and their word card, and try to be the first to fill their card up. There are 2 levels of difficulty for this game.
CVC word practice doesn't have to feel like a drag with the same activities over and over. Incorporating these games and manipulatives for teaching CVC words will infuse fresh learning opportunities into your literacy lessons and centers. Which of these are you going to use first? Comment below and let me know!