One of my favorite things about coming back from winter break is the feeling of a fresh start. If a routine or procedure didn't go "right" at the beginning of the year, January is the perfect time to hit the restart button and make adjustments. It's also a great opportunity to try something new. If you're looking for a way to make mornings easier this new year, it's a great month to try January Morning Tubs for Kindergarten!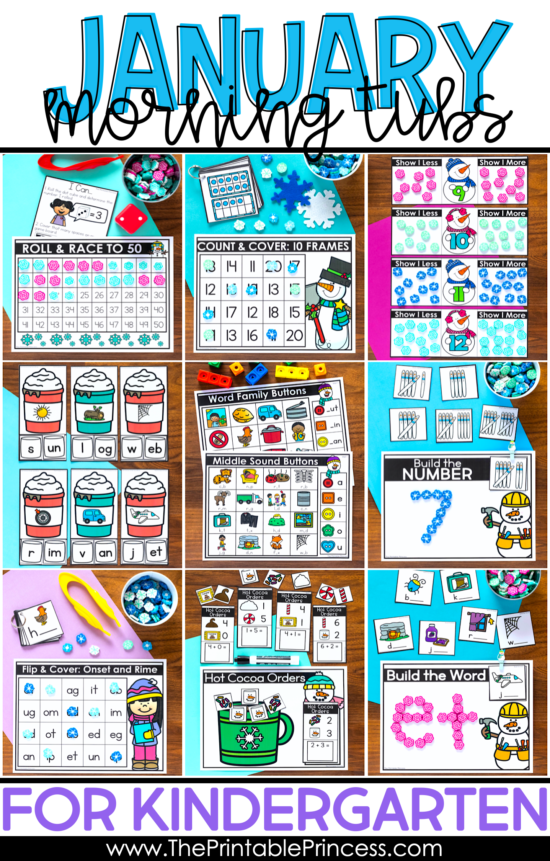 This article, along with many other articles on The Printable Princess, contains Amazon affiliate links. If you purchase through the links I earn a small commission. Clicking these links does not cost you any extra but helps this website to keep great articles and freebies coming your way.
JANUARY LITERACY AND MATH TUBS
These January Morning Tubs for Kindergarten are a great way to start a day full of learning. But they aren't just for mornings – they perfect throughout the day. They don't necessarily have to be used in the morning. They are great for keeping students engaged as everyone arrives, or they work well as math or literacy stations too. You can even use them as fun filler activities – these activity tubs are a perfect fit for a variety of uses.
The January Morning Tubs for Kindergarten includes literacy and math activities with a fun winter theme. The skills included are ones that your kindergartners are most likely working on during the winter months.
Each activity comes with an "I Can" card to promote independence. In addition, each piece or card is labeled to help you stay organized and pair up missing pieces if something gets lost.
These activities use basic classroom supplies like magnetic letters, dry erase markers, plastic math cubes, play dough, and more.