January Morning Tubs for Kindergarten
Returning to school after winter break brings a fresh new start and outlook on the rest of the school year. If a routine or procedure didn't go "just right" at the beginning of the year, this is the perfect time to hit the restart button and make adjustments. It's also a great opportunity to try something new, like January morning tubs for kindergarten!
If you're looking for a way to make mornings easier and more consistent in the new year, read on for a sneak peek of these hands-on, winter-themed morning tubs.
If this is the first time you're implementing morning tubs in your kindergarten classroom, check out this blog post for more tips on getting started with them in your classroom.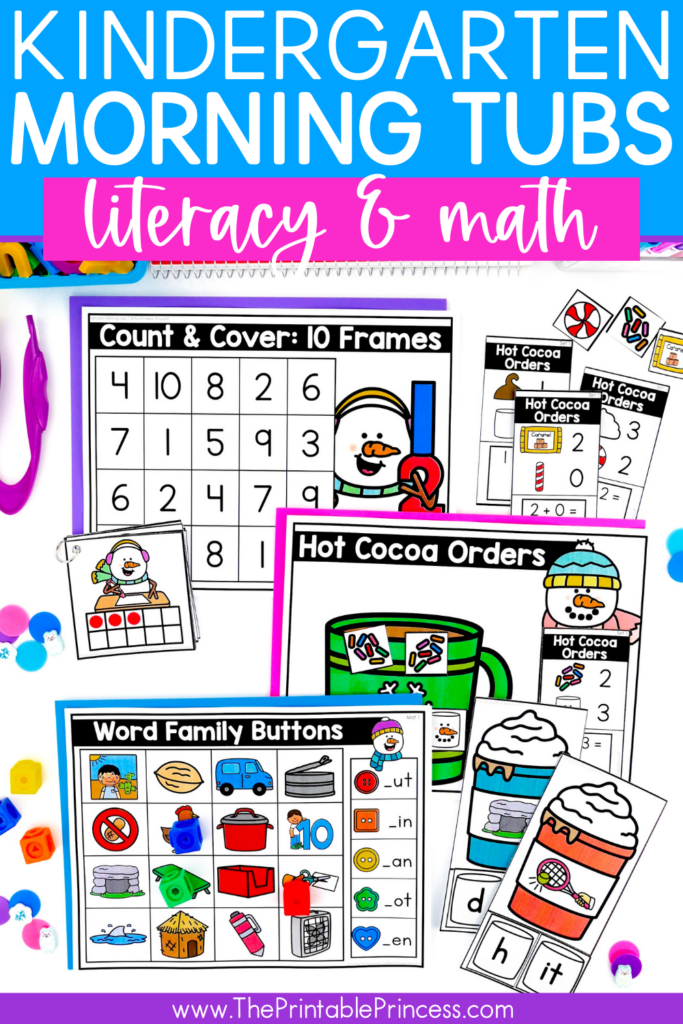 This article, along with many other articles on The Printable Princess, contains Amazon affiliate links. If you purchase through the links I earn a small commission.  Clicking these links does not cost you any extra but helps this website to keep great articles and freebies coming your way. 
Benefits of Kindergarten Morning Tubs
Incorporating kindergarten morning tubs into your daily routine has a ton of benefits for students. January is a great month to implement this strategy into your day so you can experience the benefits for the rest of the year.
Open-ended learning.
Morning tubs provide open-ended learning for students. There is no stress to get a certain amount of problems done. Students can simply learn and play at their own pace with their hands-on morning tub activities.
Stress-free start to the day.
Instead of coming into the classroom and jumping right into paper and pencil work, students can warm up their brains in a hands-on, engaging way. This sets them up for a productive day of learning. Morning tub activities are less rigorous and feel like play.
Predictable, consistent routine.
Kids crave consistency and predictability, just like adults. Knowing what is coming each morning when they arrive at school makes students feel more in control and confident. Morning tubs provide this structure right away.
Meaningful skill practice.
Even though morning tubs feel like play, students are exploring various concepts and enhancing many math, literacy, and fine motor skills.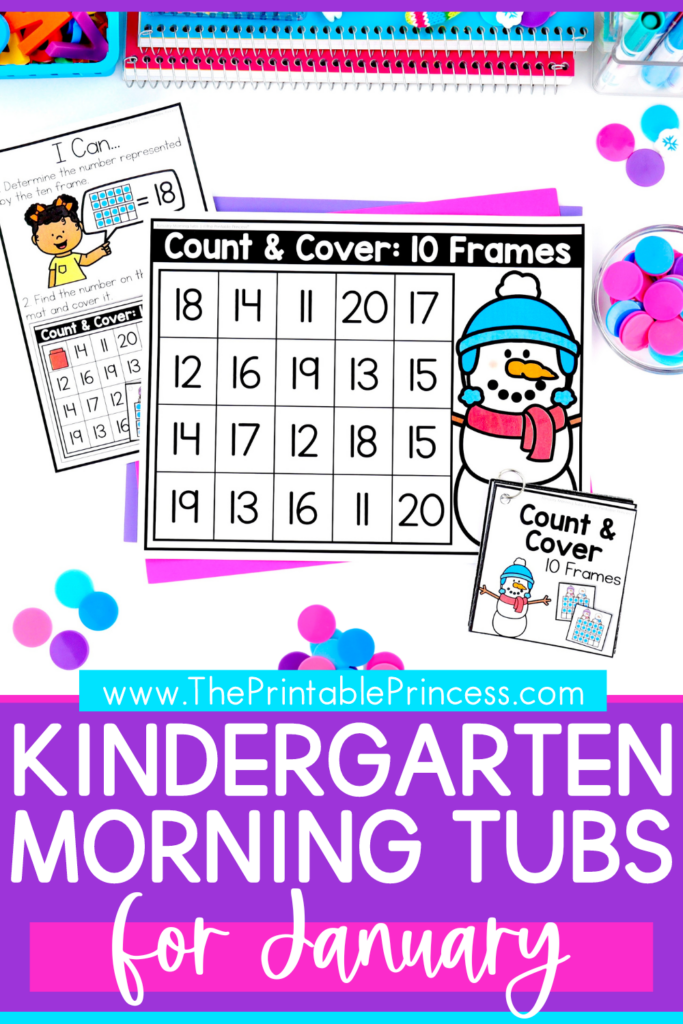 Manipulatives for January Morning Tubs
The great thing about January morning tubs is that they're hands-on, but still use basic classroom manipulatives.
Some of the manipulatives used in these winter-themed morning tub activities are magnetic letters, dry erase markers, plastic math cubes, play dough, and more.
You can also customize the manipulatives you use by seeing what you have on hand in your classroom.
You can also make it more fun by using winter-themed mini erasers, pom-poms, etc.
For more tips on how to store and organize kindergarten morning tubs and manipulatives, check out this blog post.
January Morning Tubs for Kindergarten
These January morning tubs for kindergarten are a great way to start a day full of learning. However, they aren't just for mornings. You can use them anytime throughout the day.
They are great for keeping students engaged as everyone arrives in the morning, but they also work well as math and literacy stations, early finishers, or filler activities.
The January Morning Tubs for Kindergarten resource includes kindergarten appropriate literacy and math activities with a fun winter theme. The skills included are ones that your students are most likely working on during the winter months.
Each activity comes with an "I Can" card to promote independence. In addition, each piece or card is labeled to help you stay organized.
There are no recording sheets included, which means no grading on your part as the teacher, which is a total time-saver.
Literacy January Morning Tubs
There are so many important literacy skills for students to practice in the winter months. This is the time of year that they are really diving into reading skills.
Check out this sneak peek of a few of the literacy activities included in the January Morning Tubs for Kindergarten.
Hot Cocoa Onset and Rime
Hot Cocoa Onset and Rime is a kid-favorite January morning tub activity! Students say the name of the CVC picture on the hot cocoa cup. Then, they match the marshmallows to spell the word.
To set students up for success as they complete this activity independently, go over the picture names as a class before they get started.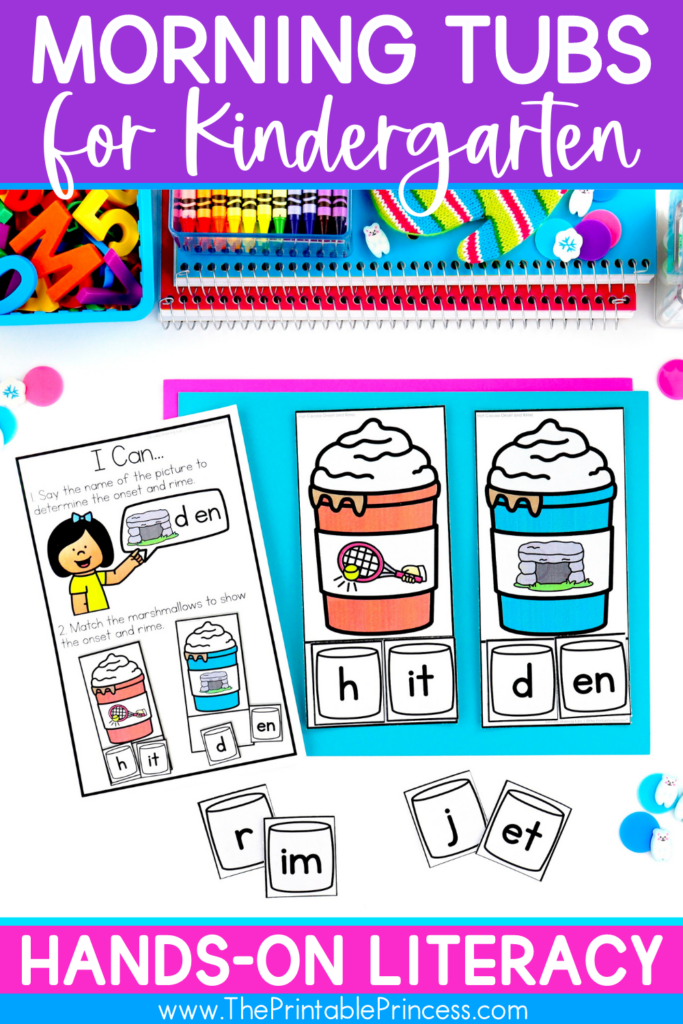 Sound Buttons
This Sound Buttons activity is a great way to practice decoding and sounding out CVC words. Students say the name of each picture and identify the middle vowel sound or the word family.
Then, they use the snowman button color code to cover the corresponding pictures. This activity includes middle vowel sounds and CVC word families for a total of 4 activities in all.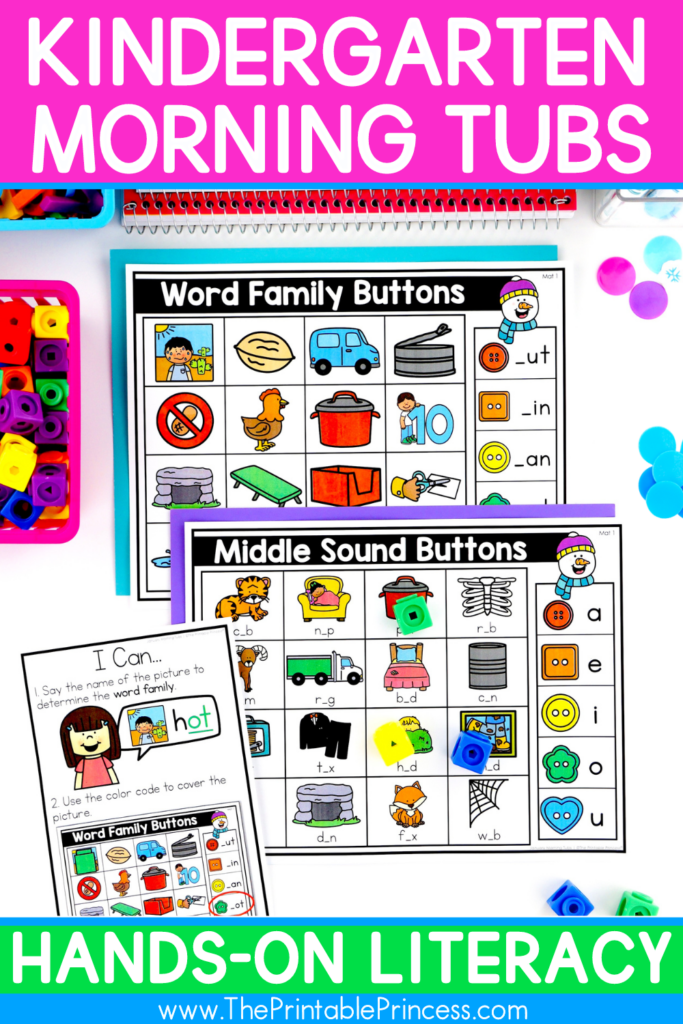 Flip and Cover Onset and Rime
Flip and Cover Onset and Rime is an interactive way for students to practice sounding out CVC words.
First, students say the name of the CVC picture on the card. Then, they identify the onset on the card and find the matching rime on the mat and cover it.
After they make the word, they can read it aloud to practice decoding the word.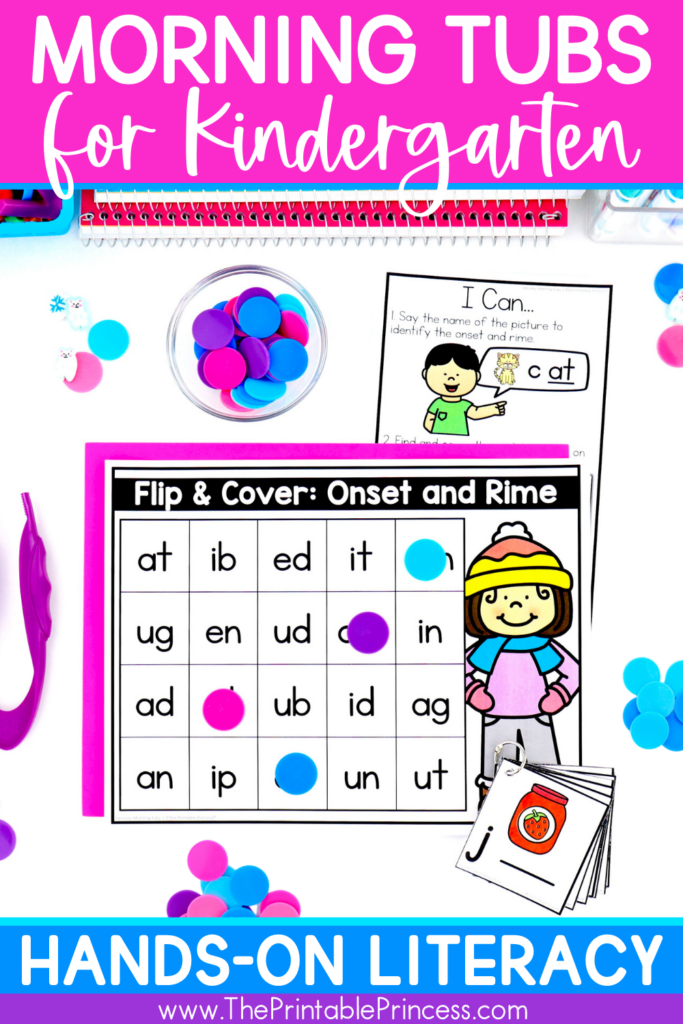 Math January Morning Tubs
After the first of the year, kindergarteners work hard on several key math concepts, including number sense, teen numbers, and one more, one less.
The hands-on math activities included in the January Morning Tubs for Kindergarten are a great way to help students master these skills.
Roll and Race
Roll and Race is the perfect math game for students of all levels to use to practice counting numbers to 20, 30, and 50.
Students roll the dot cube and count to determine the number they rolled. (These Ten Frame Dot Cubes work great for this activity). Then, they cover that many spaces on their game mat.
The first player to cover all of the numbers wins. In order for a player to win, they must roll the exact number needed. If they have one space left, they must roll a one to win.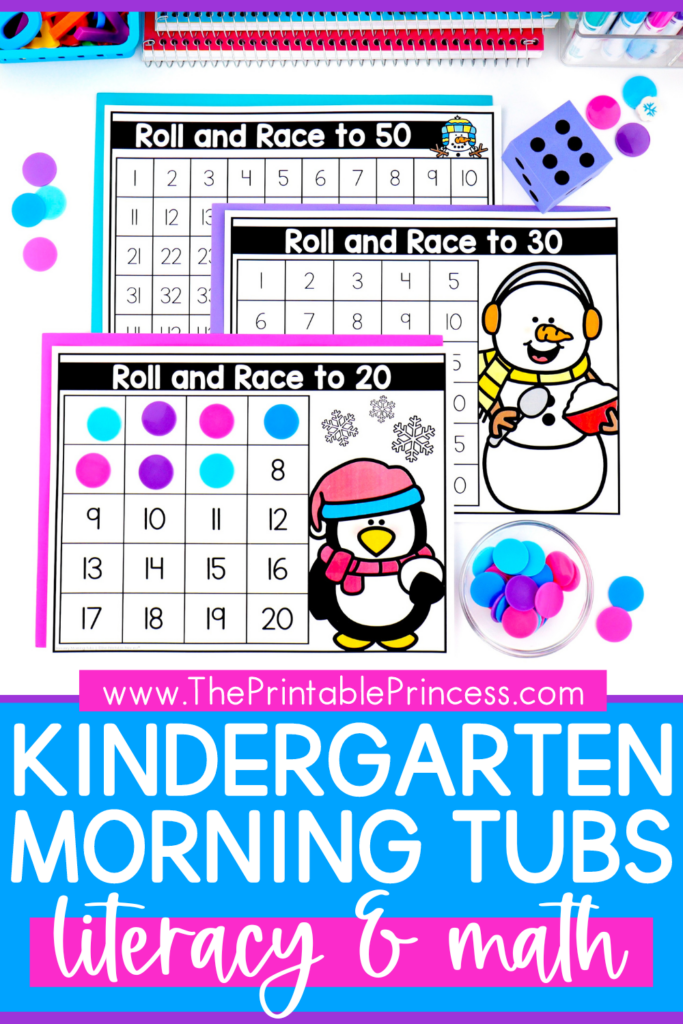 Snowman Show
If you're working hard on the concepts of one less, one more in kindergarten, this Snowman Show morning tub activity will help you do just that.
First, students identify the number on the snowman. Using small manipulatives, they count and show one less and one more.
There are cards for numbers 1-20 included, which makes this activity easy to differentiate.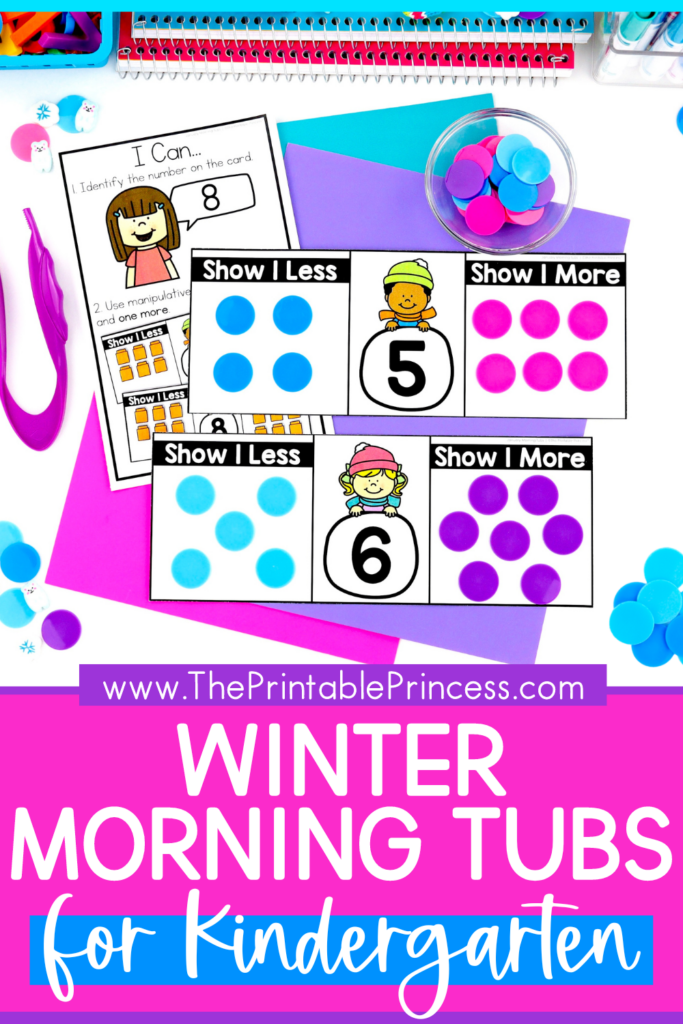 Hot Cocoa Orders
Hot Cocoa Orders is a fun way for students to work on addition skills with sums to 5 and 10.
Students begin by selecting an "order card". Then, they count out the pieces to fill the order. They add the pieces together to determine how many toppings were added to the hot cocoa in all.
You can have students use a dry erase marker or magnetic number to show the sum.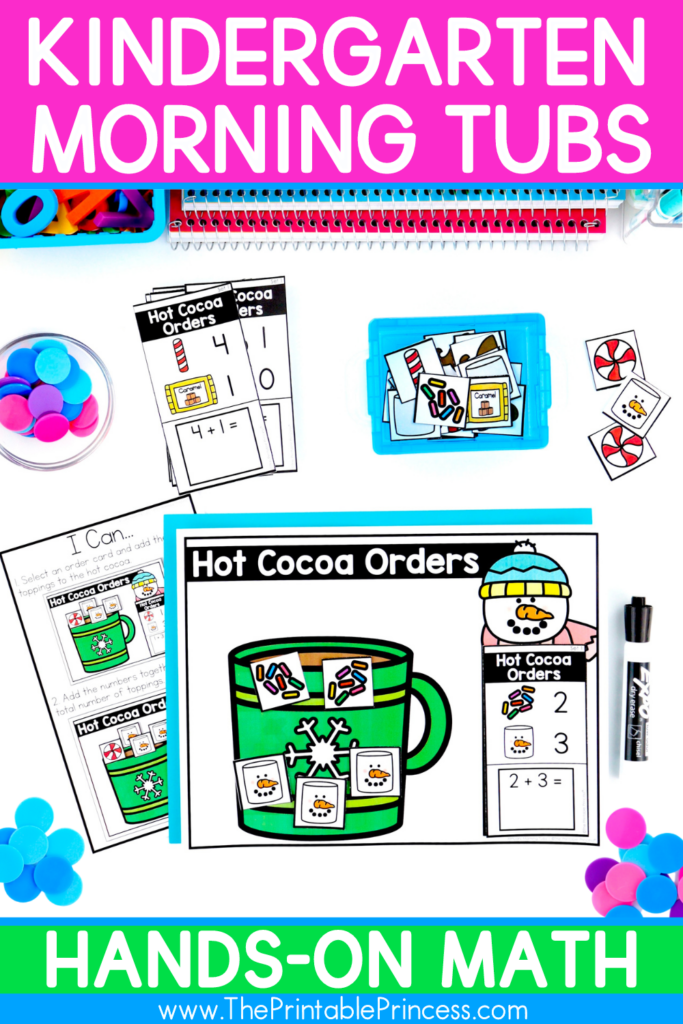 I hope this sneak peek has inspired you to try out this powerful strategy in your own classroom!
If you have any questions about morning tubs and using them in your classroom, check out this Kindergarten Morning Tubs FAQ blog post.
You can grab all of these activities and more in the January Morning Tubs for Kindergarten resource!
These winter-themed activities will make coming back to school in the new year more fun and less chaotic for everyone.
I'd love to know which morning tub activity you'd be most excited to see your students complete. Tell me in the comments below!