Spring Break Tips for Teachers
Spring Break is just around the corner. That means snow will be a distant memory and warmer weather will soon be in its place. It also means you'll be getting some time away from the classroom to rest and refresh.
I thought I should share some ideas to help you decompress and refresh over Spring Break. Read on to find my top seven Spring Break tips for teachers!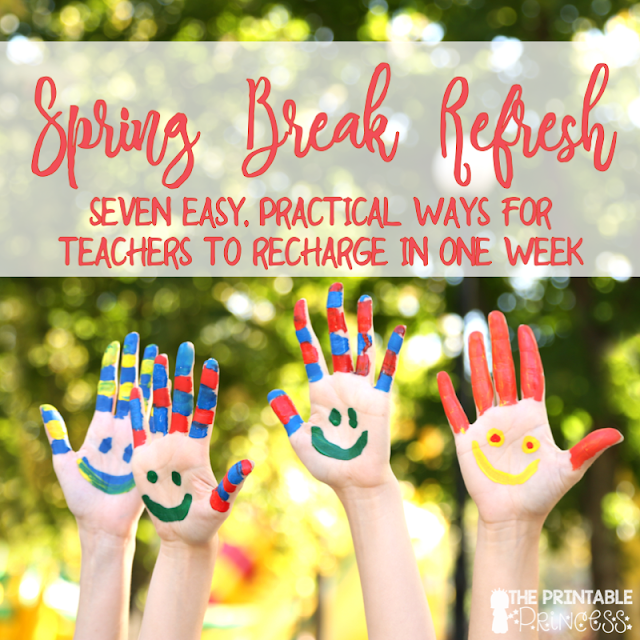 Start  it off right
Resting and rejuvenating during Spring Break starts before you even leave school. While I know you want to rush out the door as soon as the kids leave, take the time to write your lesson plans, gather your materials for the week you return, make copies, respond to e-mails, and tidy up your work area.
Go through your desk and make a list of supplies that you need to stock up on. Also consider doing some quick spring cleaning to minimize germs while you're out.
Spray some disinfectant and wipe down the frequently touched surfaces before you hit the lights on your way out. I promise, you will not only feel better returning after a long break, but you will rest easier knowing the plans and prep work are done.
As a bonus, you won't be stressing over it while you're spending time with your own kids, binging on Netflix, or relaxing by the pool.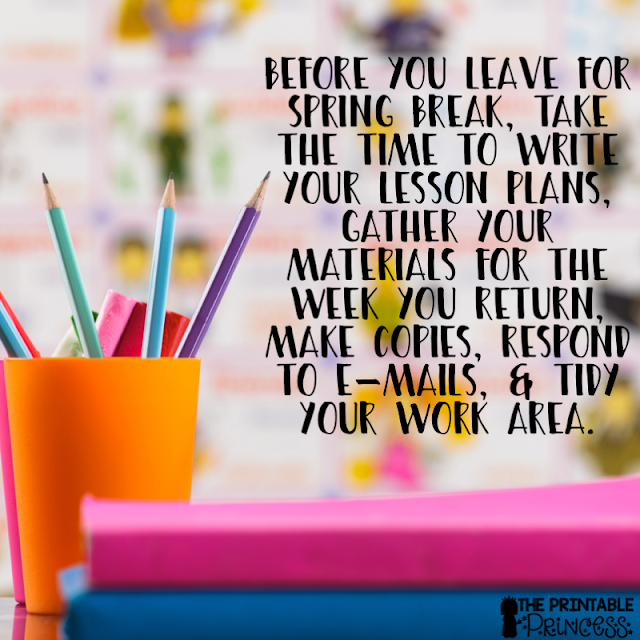 Self-care
It's always a nice idea to start Spring Break off with a special self-care treat. Sometimes a pedicure to treat tired feet or a special sweet from your local coffee shop can be the just the pick-me-up to start the week off.
If the weather is nice you can spend some time outside soaking in the warm, spring sun. After just a few minutes and some mindful breathing, you'll feel a little more rejuvenated and relaxed.
Remember, self-care isn't self-care isn't selfish. Take time to enjoy the things that bring you joy.
Communicate
Has planning taken up all your time recently? This week, spend some special time with your significant other and kids. Sometimes an afternoon of fun activities like bowling, hiking, or a trip to the park is just what's needed to bring you all together.
Or, maybe take some time to meet up with a friend. Grab a cup of coffee or lunch and spend the afternoon catching up. It's always refreshing to see a familiar face and have some adult conversation.
Productive Laziness
You want to make the most of your week, but sometimes life gets in the way. That's okay, we all want a day to do nothing! It's actually one of my Spring Break tips for teachers! Having a day or two of what I call "productive laziness" is a great way to get things done on your to-do list that are perpetually pushed to the back corner.
On these productive laziness days, you can finish that book that's been on your bedside table for weeks, make a new recipe you've been meaning to try, or try out a new exercise class that looks like fun.
Even though there may not be a lot to show for it, you can still feel accomplished at the end of your "productively lazy" days.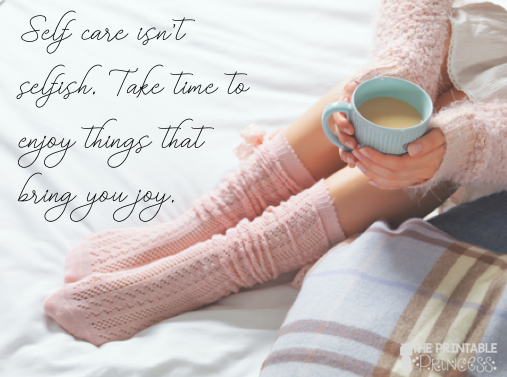 Staycation
A teachers' budget is tight and I know that elaborate travel plans aren't in the cards for everyone. I really like the idea of a staycation. Exploring your town, going on a day trip, or maybe an overnight stay is a great way to unwind. Maybe you could find a cozy new diner, or a quiet park to take a walk.
Use free apps like Yelp and Groupon to help you find new places and get deals on adventures near you.
Be a student
But I'm not talking the kind of classes that's likely to be found in a kindergarten classroom. Show your creative side by signing up for a painting class (where you can bring wine!), a photography course, or a cooking class.
You could also find a creative buddy and swap lessons- if a friend is great at painting, and you're good at cooking, take some time to teach each other a new skill. Check your local library, craft store or home improvement store to see if they offer free classes.
This is a perfect opportunity to learn a new skill, and it's even better if it's one you can pass along after you go back to school.
Slow down
Take the week to wind down and enjoy the time you have off. Eat a hot meal with your family around the dinner table, instead of gobbling down a granola bar over the copy machine.
Make some memories with your family, even it's something as simple as family movie night with pizza and popcorn. Catch up on some sleep, drink plenty of water, go for a walk.
Try not to stress too much during Spring Break. Its the beginning of a fresh, new season, so let there be a fresh, new you that comes back to school!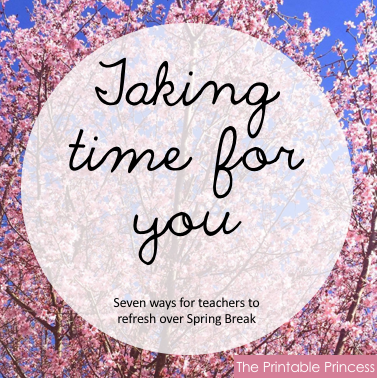 These Spring Break tips for teachers are sure to leave you feeling refreshed and ready to finish out the school year! If you're looking for tips for winding down the school year check out these End of the Year tips for teachers.