Easy Prep March Activities for Kindergarten
When March arrives, you can breathe a sigh of relief (and fresh air) that you've made it to spring! However, let's face it, March can also be a bustling month. There's Spring Break, conferences, and quarterly assessments to name a few items on your to do list. However, with a few easy prep activities for March up your sleeve, you'll be prepared all month long!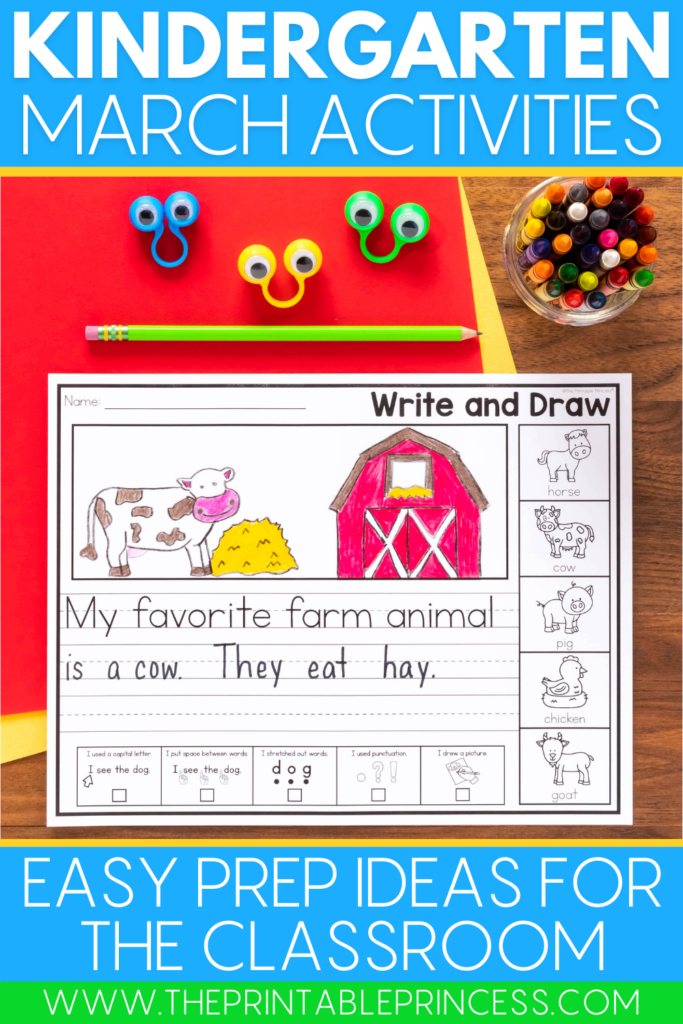 This article, along with many other articles on The Printable Princess, contains Amazon affiliate links. If you purchase through the links we earn a small commission. We only share links to resources and products we love.
Whether you have 5-10 minutes before the next transition, your schedule changes, or you have a few minutes at the end of the day, it's always nice to have a back-up plan of activities that you can pull out at anytime.
Even though a few minutes may not sound like much, if you're a kindergarten teacher, you know how long those few minutes can be if you aren't prepared.
Plus, it's always nice to have a few easy- or no-prep activities that you can use if you need to fill some time, head out to an unexpected meeting or appointment, or need to wrap up working with a student.
Read on for some of my favorite easy prep activities that are perfect for the month of March.
March Read Alouds
This may be the easiest activity, but also one of the most impactful. Read alouds are pure gold for filling time and calming students. Kids love to be read to and it's so important that they are!
Whenever a new month or season rolls around, it's always fun to switch out the books and get your students excited for a new batch of read alouds!
Here are some of my favorite read alouds for March:
Easy Prep March Writing Activities
With a new season brings a ton of new topics to write about in kindergarten. March is a great month to discuss and write about farm animals, spring, St. Patrick's Day, rainbows, and more.
You can find writing prompts for all of these topics and more in the March Writing Prompts resource, made just for kindergarten!
These print-and-go writing prompts are easy to add to your writing lessons or journal time.
Plus, they are the perfect way to show growth in your students' writing skills when it comes time for parent-teacher conferences or quarterly report cards.
DIY Leprechaun Writing Activity
If you need a quick and easy DIY writing activity for the month of March, you can try out this leprechaun writing activity.
Have students think about what would happen if a leprechaun came to school. Encourage students to turn and talk to a neighbor and brainstorm all of the different things that could happen.
As a class, make a list on the whiteboard of what the leprechaun could do or what could happen.
Write the prompt "If a leprechaun came to school ________" on the whiteboard. Have students pick their favorite scenario and complete the sentence starter and illustrate it on lined writing paper.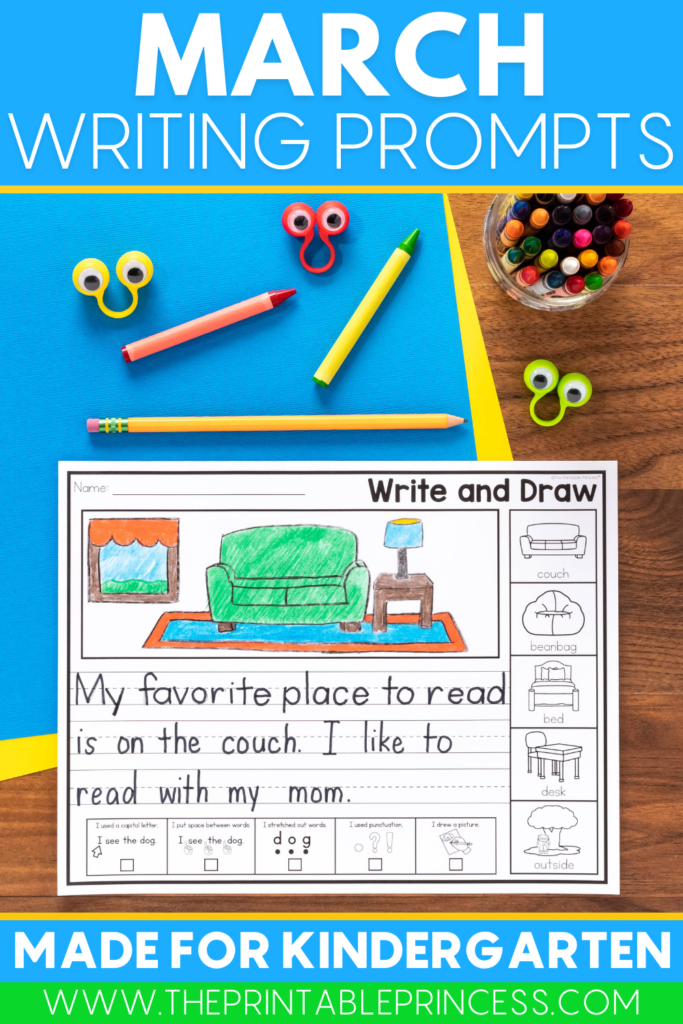 No Prep Activities for March
For those days when you need a no prep activity to add to your morning work, math or literacy centers, or anytime of day, stay prepared with these March No Prep Activities!
These come in handy during times when you are working individually with a student or giving assessments.
They are also great for those busy weeks leading up to Spring Break or parent-teacher conferences.
Just add your favorite bingo dabbers and you're set! Plus, the bingo dabbers are great for fine motor practice and add a little something special to this no prep activity.
If you don't have bingo dabbers, you can use any coloring utensil you have.
They're easy to prep, fun for students to complete, and give students a ton of opportunities to practice key math and literacy skills. It's a triple win!
DIY Mini Eraser Activities
Sometimes, all it takes to turn an easy prep activity into a total classroom hit is to add some fun manipulatives!
Using spring-themed mini erasers is a great way to make basic activities fun for your students.
Gather your favorite mini erasers and try out these simple activities for March.
Build words using mini erasers. (CVC, CVCe, sight words, color words, number words, etc.)
Practice beginning blends and digraphs by using mini erasers to build them.
Model number sentences with mini erasers and solve for the answer.
Compare numbers by modeling with sets of mini erasers.
You can grab a FREE Juggling Jelly Beans comparing numbers game by clicking here. This freebie uses two of my favorite manipulatives: bingo dabbers and mini erasers!
No Prep Ways to Make 10 Craft Freebie
You can't beat a no-prep craft that also ties in key math skills. Practice making 10 in different ways during the month of March with this St. Patrick's Day No Prep Ways to Make 10 Craft!
This is a super easy craft to put together and doesn't require a ton of supplies or any prep time.
You can check out the supply list and directions, a video tutorial, and grab the FREE making 10 printable template in this blog post.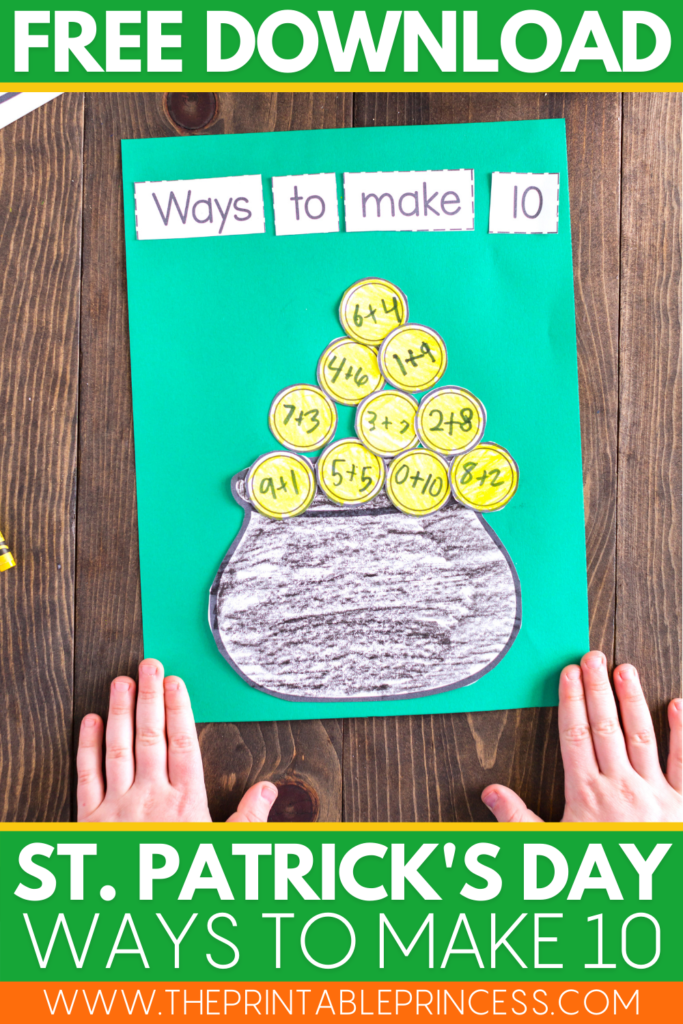 March Boom Cards
When it comes to easy prep activities, sometimes it pays to think outside of the printable activity box.
Using digital activities like these self-checking, no-prep March Boom Cards is a great way to incorporate no prep learning into your lesson plans.
Students will love the interactive style of these game-like learning activities. Plus, with audio directions and picture names, they will gain independence and confidence as learners.
The March set has eight St. Patrick's Day-themed activities for math and literacy. Your students will have a blast practicing skills such as:
Beginning L Blends
Beginning Digraphs
CVC Sentences
Build the CVC Word
2D and 3D Shapes
Addition to 10
Subtraction within 10
Numbers 11-19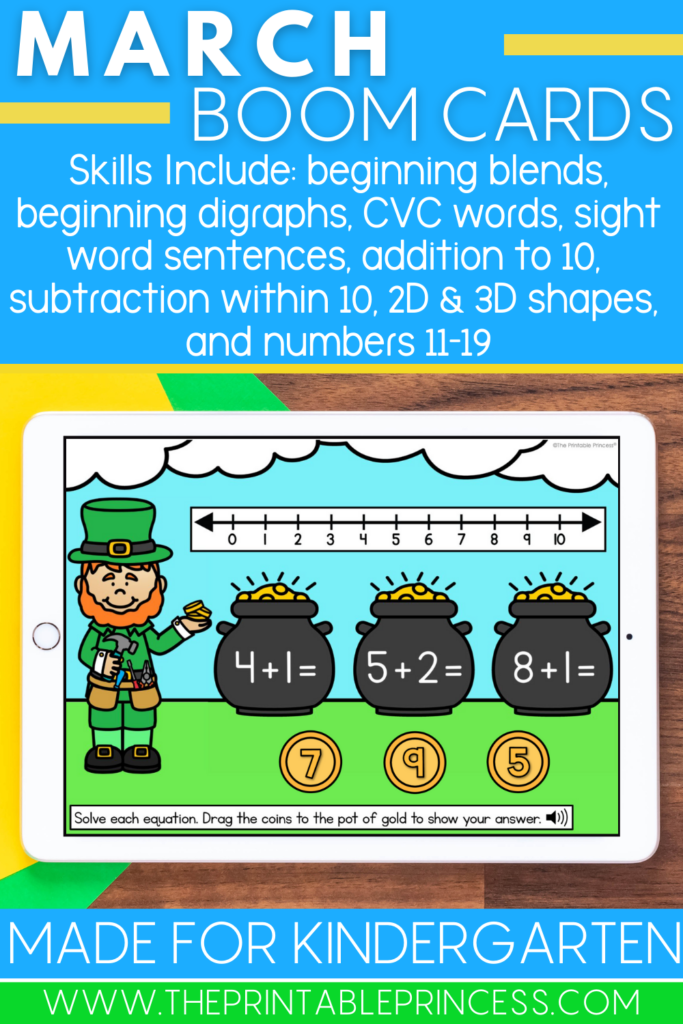 I hope you've enjoyed these easy prep activities for March! I wish you all the lesson planning and prepping simplicity this month!
If you're looking for additional activities for St. Patrick's Day, be sure to check out this blog post!