Valentine's Day Centers for Kindergarten
With Valentine's Day just around the corner, I thought I would pop in and share some ideas to help you plan your Valentine's Day centers for Kindergarten. Be sure to stick around until the end because I'm sharing a super fun freebie.
As primary teachers we have the awesome advantage of using the holidays and seasons to get our kids extra excited about learning. Plus, I think it's super fun to switch out our class activities for each holiday. It's an easy way to keep things new and fresh in class.
So if you're needing some Valentine's Day centers, I've got an easy way to help you bring the fun and festivities in to your classroom. These activities are a fantastic way to work on CVC words, middle vowel sounds, CVC words, addition, counting, and making 10.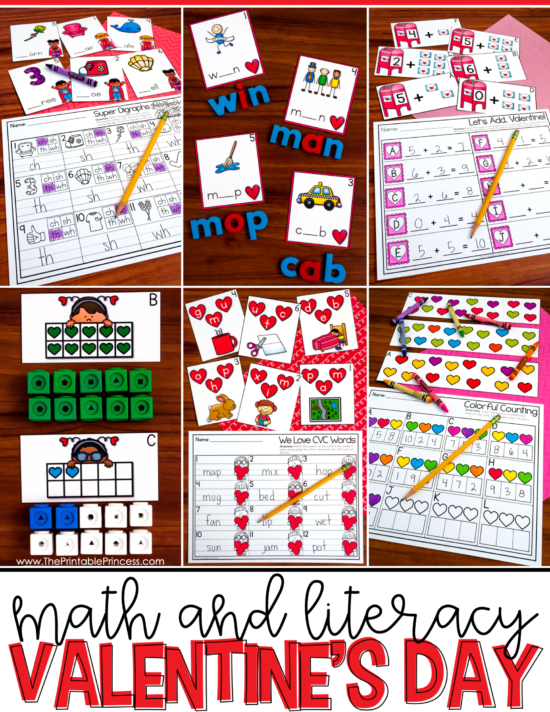 This article, along with many other articles on The Printable Princess, contains Amazon affiliate links. If you purchase through the link I earn a small commission. Clicking these links does not cost you any extra but helps this website to keep great articles and freebies coming your way.
The activities I'm sharing today come from the 6 Pack Center: Valentine's edition which is part of the 6 Pack Centers Year-Long Bundle. These are the perfect little "something extra" to add a holiday flare to your centers.
Each individual theme includes three literacy centers and three math centers. Each center includes teacher-friendly directions which are so helpful if you have a parent or classroom helper leading the center.
They also include Kinder-friendly "I Can" visual directions to keep students on task and promote independence. All recording sheets are in black and white, which makes them printer-friendly!
The activities included were designed with Kindergarten skills in mind. The skills included are most likely things your students are working on during the month of February.
Each center also includes a follow-up no prep page that you can use for early finishers, homework, an assessment, or as an extra center. Scroll down to see what I'm talking about!
Valentine's Day Centers for Kindergarten
This freebie is a fun and festive way to get students familiar with numbers to 100. Just like the activities in my February Literacy and Math Tubs resource, this also works great for a morning tub, early finisher, or math center.
To prepare this activity print and laminate the Flip and Find activity mat. Print, cut-apart, and laminate the number cards.
There is a small hole in the upper left corner of each card. You can punch a hole and put the cards on a metal ring for organization and easy storage.
If you're putting the cards on a metal ring, you'll want to mix them up first. That way students are not finding the numbers in order.
Students need plastic math cubes or mini erasers for this activity.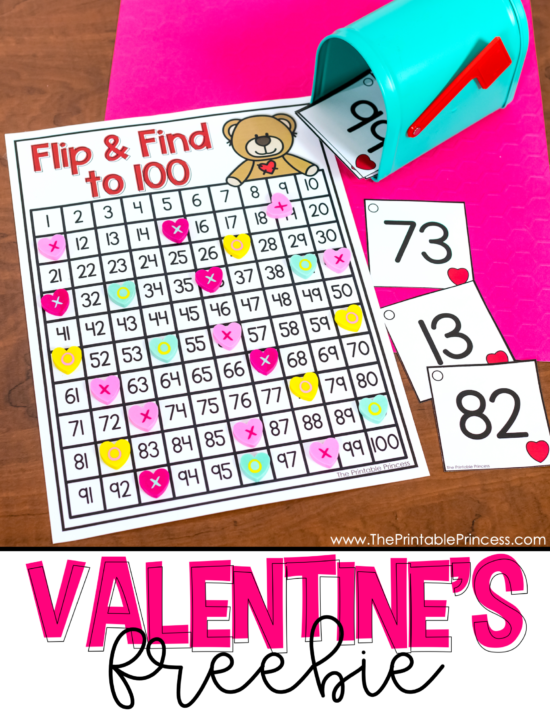 You don't have to put the cards on a ring. You can put them in a mailbox or a container for students to grab from.
Students identify the number. They will find and cover the corresponding number on the hundreds chart. Students will continue playing until all of the numbers have been covered.
You can download your copy of the Flip and Find Valentine's Day center freebie by clicking here.
I hope your students love these Valentine's Day centers for Kindergarten!