Fall Learning Activities for Kindergarten
One of the best parts of teaching kindergarten is doing fun, seasonal activities with your students. Think about it, they have a blast and get to work on key skills (without even knowing they are learning). 🙂 It's a win-win situation!
As teachers, you don't have all the time in the world to prep complicated activities, especially during the busy fall season. Good news! All of the activities I am sharing today are DIY-style, low prep activities that your students will love!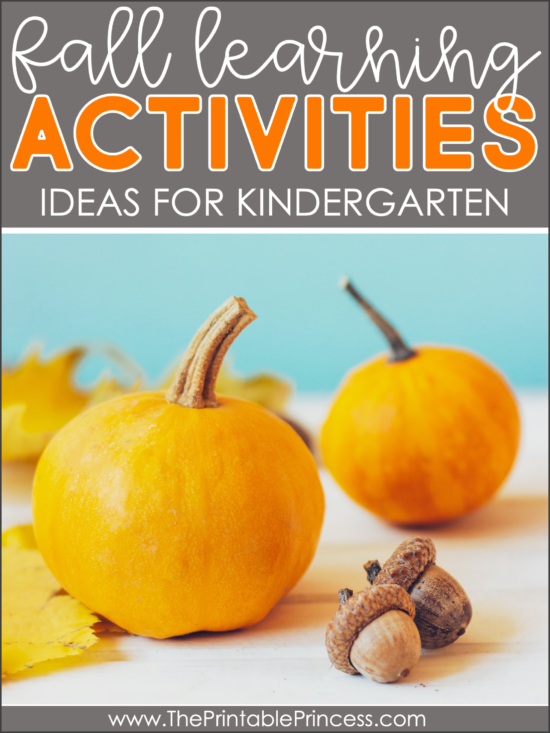 DIY Pumpkin Cutout Activities
Some of my favorite fall learning activities for kindergarten use simple pumpkin cutouts! You can find these foam pumpkin cutouts at the craft store, or you can simply use your school's die cut machine to make your own.
One fall activity you can do with these cutouts is to simply write uppercase letters on one set of pumpkins and lowercase letters on another set. Mix them up and have students match the uppercase and lowercase letters.
You can do a similar activity with numbers and dots. Write a number on one set of pumpkins and the corresponding number of dots on another set. Students will find the matches and put them together, working on key number sense skills! You could even use tally marks instead of dots to practice that skill.
Pumpkin Sight Words
Use those same pumpkin cutouts to play a game of sight word memory! Kids love this game and it requires them to focus and use critical thinking skills to remember where each word is.
Write each sight word on 2 pumpkins, mix them up, and lay them face down. Students will take turns turning over 2 pumpkins, reading the sight words, and determining if they match. If they are a match, they get to take another turn. If they don't match, they put them back in place and the next player draws.
Another idea is to write your sight words on pumpkin shapes. Have students use playdough or magnetic letters to spell the word. Or for an extra festive touch, add pumpkin seeds to spell the word. Simply adding the pumpkin cutouts makes traditional sight word practice extra fun.
Fall Bump Activity
This FREE Fall Bump learning activity for kindergarten just so happens to require no prep! This is a fun math game for students as they practice number recognition and counting, thus building a strong number sense. All you need is the game board, a dot cube, and game pieces for each player. The object of the game is to be the first player to use all of your game pieces.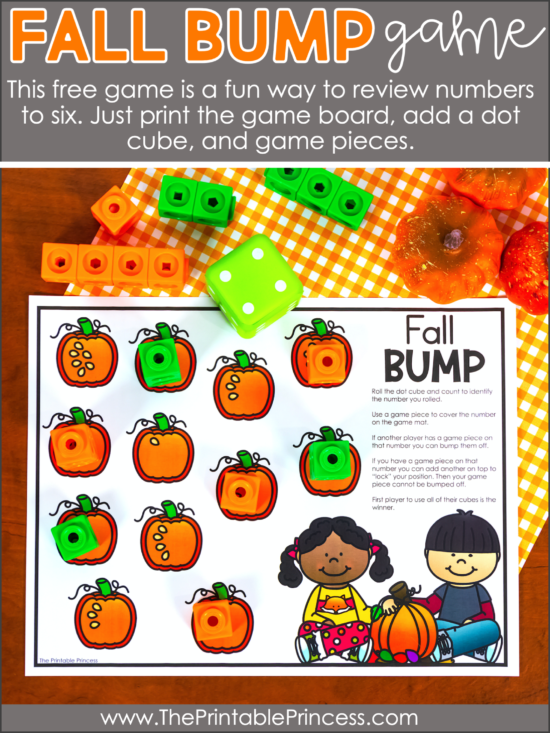 Bingo Dabber Activities
The next no-prep activity that students love in the fall are these bingo dabber activity pages! There are 37 math and literacy activities included. All you need are the pages and bingo dabbers! Using bingo dabbers makes the learning exciting and gives your students extra fine motor practice as well as they learn to squeeze and dab.
DIY Mini Eraser Activities
Mini erasers can be used for several fall learning activities for kindergarten. They can also be used to practice key fine motor skills. You can find these at your local Target or dollar store.
To practice fine motor skills, your students can use jumbo tweezers to pick up the mini erasers. Students can use the mini-erasers to form letters, numbers, write their names, make patterns, and sort by color/pattern.
You can also play a game to see which student can create the tallest stack without falling over. Have them count and compare their numbers to incorporate important math skills.
In addition, these mini erasers are fun to use as game markers for your favorite games, such as bingo or other board games you play in the classroom. They can also be used as counters during your math block to put a fun, fall twist on the learning.
Fall Boom Cards for Kindergarten
Boom Cards are a great way to practice important skills while incorporating technology. You can use these as a whole group on your interactive whiteboard, assign them as homework, or use them as technology centers in the classroom. The October Boom Cards set includes 8 full size decks to practice skills like numbers to 10, shapes, letter sounds, syllables, and more.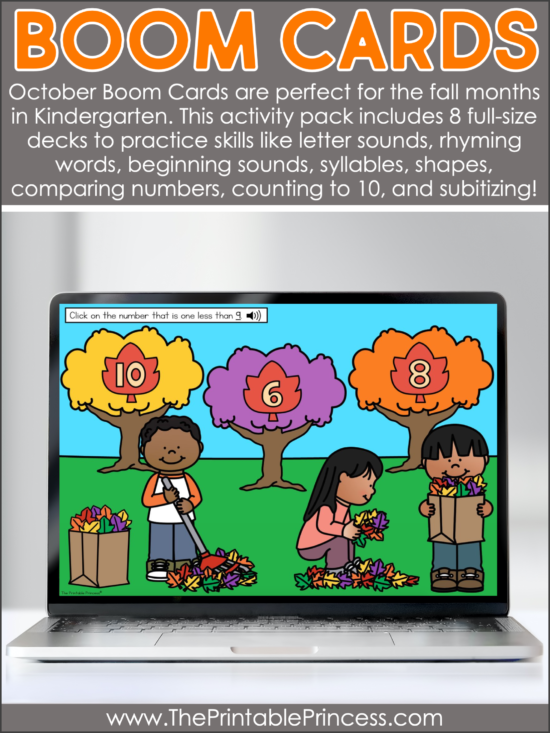 Fall Morning Tubs
Using morning tubs with your kindergarteners is a great way to structure your mornings, offer a soft start to the day, and review key skills. These fall-themed October morning tubs are filled with 22 different activities for both math and literacy. All you need to do is print the pages and gather a few basic supplies from your classroom, such as plastic cubes, magnetic letters, mini erasers, dot cubes, etc.
Pumpkin Paper Plates
For this activity you'll need white paper plates, construction paper (orange, green, and brown), and glue or glue sticks. Give each student a paper plate (be sure to write the name on the back first). Students will tear the orange construction paper into small squares (hello fine motor practice!) and glue it on the paper plate to cover it. Supply each student with a small brown rectangle for the stem. Finally, on the green paper, students will trace their hand, cut it out, and glue it on top to create the leaf.
If you're looking for more pumpkin crafts, check out this adorable DIY Pumpkin Patch craft.
Candy Corn Parfait
After all of that hard work, it is fun to incorporate a fall snack activity with your students! This candy corn parfait is such a fun way to celebrate the season. You can even have your students make their own, which will help with direction following skills, too. Your students can enjoy this treat alongside a fall-themed read aloud or during a fall party!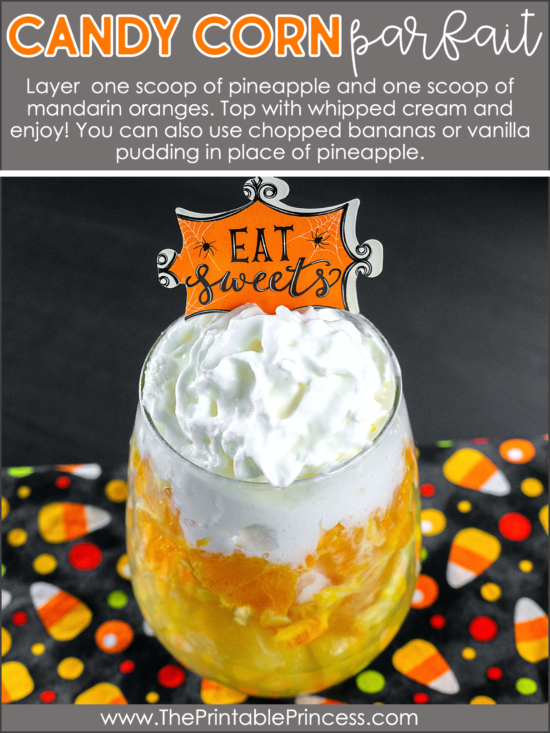 I can't wait to hear which of these fall learning activities you try first with your students. Here's to a lot of fall-themed learning fun this season!