Organizational Tips For Teachers
Have you ever felt like your job as a teacher is actually more like several jobs? Not only are you a teacher, but you do the work of a caregiver, nurse, counselor, entertainer, and the list goes on on any given day. Teaching is a multi-faceted job! With so many responsibilities and things to think about, staying organized is key!
Organization can be overwhelming for some, but it doesn't have to be! Find what works for you, your students, and your space. Read on for both practical and creative organizational tips for teachers.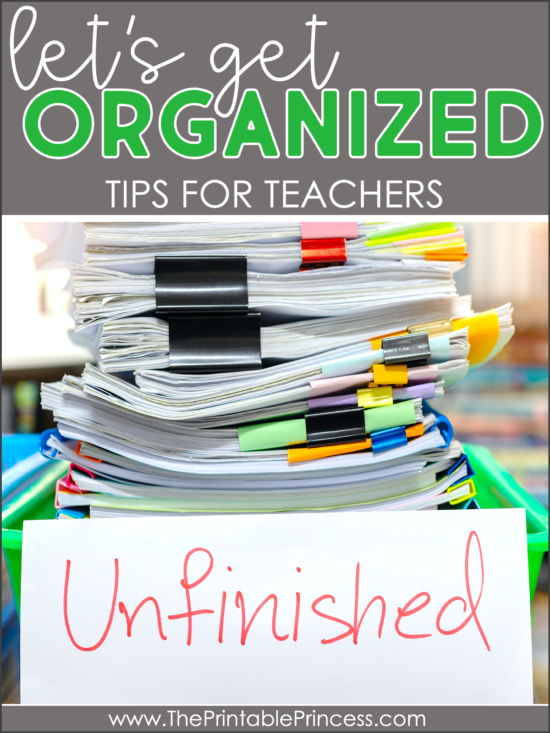 Tips For Organizational Success
Before you dive into the tactical organizational tips for teachers, consider a few ideas and get into the right headspace. It can be stressful walking into a classroom and not knowing where to start. Keep these things in mind before making a plan of action!
Keep the space functional.
Think about your high-traffic areas and how students will move around the room.
Determine which materials you will access daily and which you will only need sparingly.
Make use of small spaces.
Think of items or storage containers you already have that you could repurpose or use to organize.
Designate places for storing items you want hidden or kept out of student reach.
Give everything a home.
Organizing Your Teacher Space.
Keeping your teacher space organized is one of the most important steps in the organizational process. Plus, it makes you feel good when your area is neat and tidy. To organize items inside your desk, designate drawers for specific items and use plastic trays from the dollar store to keep items separate, that way you aren't just throwing things in the drawers. You may have a drawer for personal items, a drawer for extra supplies such as tape and staples, a drawer for grading materials and stickers, etc.
When it comes to the top of your desk, you can find super cute and affordable containers to hold all of your colorful pens, pencils, markers, etc. Line up your stapler, tape dispenser, scissors, and other often-used items in a cute tray that can easily be carried to another work station around the room.
To organize lesson materials, important documents, I Can posters, etc., a rolling cart is a great option. I love the 10 drawer rolling carts because you can have a drawer for each day of the week to put your lesson materials in. You can also have a drawer each for papers to copy, papers to grade, items to send home, items to file, and important documents.
Lastly, add some of your own personal touches with picture frames and decor that makes you happy. Be sure to leave a space for those sweet pictures that students will bring you! 🙂
Organizing Supplies and Manipulatives.
Keeping classroom supplies and manipulatives organized will not only make your life easier, but also the lives of your students and anyone else working in your classroom, such as teacher's aides, parent volunteers, or substitute teachers. My top organizational tip for teachers when it comes to supplies and manipulatives is to store everything in labeled totes or bins (preferably with lids).
This keeps everything together neatly and also keeps the dust out! Whenever you need a certain supply, just grab that tote and you're ready to go. Even if you are storing items in a closed cabinet, it is a good idea to keep them in labeled totes so that your cabinets stay organized, too! Teach your students where these totes go so they can help you get supplies out and they know exactly where to put them away.
It's also a good idea to have an "art station" with all of your art supplies. The tall multi-drawer organizers with clear drawers are perfect for this! Label each drawer so you know what is inside. This prevents random pom-poms, pipe cleaners, and paint-brushes from being tossed in a cabinet to never be found again!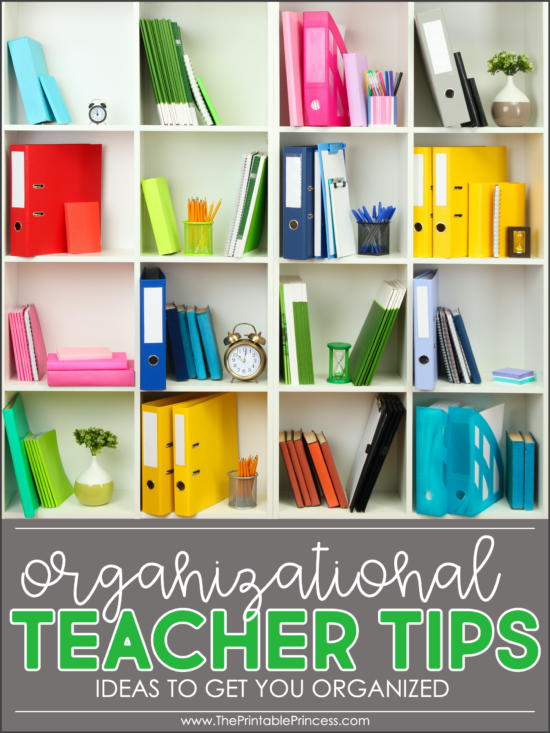 Organizing Curriculum and Resources.
Keeping your curriculum and resources organized is key. If you follow a curriculum map or system, this makes it super easy to put your curriculum materials in order by the way you will be teaching it.
Put the second semester curriculum materials towards the back of the cabinet at the beginning of the year, as you won't be needing that for awhile and it doesn't need to clutter your space. If there are extra books and resources that you may use throughout the year, but not on a daily basis, put those in a designated space as well.
To go along with your curriculum, you'll want to organize your extra resources that you've found from your favorite teacher authors and websites over the years. My top organizational tip for teachers when it comes to these resources is to separate them by skill and season and store them in labeled file folders in your filing cabinet or in baskets.
You can separate resources by letter of the alphabet, number, sight word, math skill, etc. Additionally, if it is a seasonal resource, separate those into file folders labeled by month.
Organizing Student Materials.
The best way that I have found to keep student materials organized is to have them keep their own personal items in their desk or cubby space and supplies in their pencil box. This keeps all students' materials separate, which helps with hygiene and sanitization.
To keep their papers and work organized, get into the routine of grading, filing, and adding to mailboxes or folders daily. Designate a space for complete work as well as incomplete work or projects. This will prevent papers from cluttering the students' desks, your space, or the floor.
To organize technology items, such as headphones and styluses, store them in labeled zipper baggies to put in their desk or to store in individual slots in an over-the-door shoe organizer. This works great!
Organizing Special Areas.
There are a few other areas in the classroom to consider when organizing. You may want a special cabinet in which you store snacks, tissues, wet wipes, band-aids, sanitizer, etc. It is also a good idea to have a special place for lunch bags and water bottles.
At your carpet area, store all of your calendar and morning meeting supplies in a tote so it is easily accessible. This is helpful for substitute teachers, too! If you have reading nooks or a safe/relaxation space, ensure that these spaces stay clear and organized, too. These are not spaces to bring art supplies or manipulatives.
Get Everyone On Board
One of my favorite organizational tips for teachers is to get everyone on board the organization train! Yes, even your sweet little students! You don't have to do it all. Your students can learn to clean up and organize independently with success.
Teach them where everything belongs and how they can access and put away materials. Everything has a home! Explicitly teach and practice cleaning up and getting organized.
Before transitioning to another activity or place in the room, cue them to tidy up their area. This teaches them responsibility and to take pride in their space and their school. Challenge them to impress the custodian by having the neatest classroom!
Lastly, set aside 10-15 minutes at the end of the day to clean up and prepare for the next day. This saves you so much time and you can leave school feeling refreshed and ready for another day!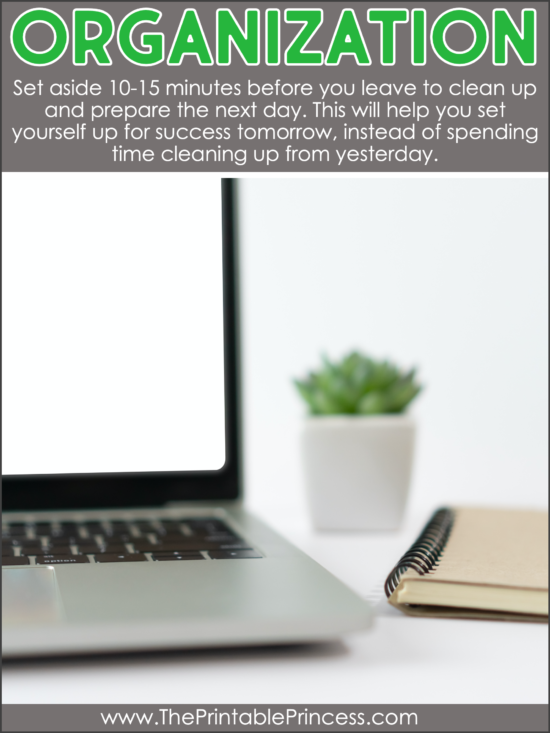 I hope these organizational tips have given you new ideas and ways to make your classroom neat and functional! Do you have any brilliant organization hacks? Leave a comment below and share them!