Making New Students Feel Welcome
Getting a new student after the beginning of the school year can happen for a number of reasons. Maybe a family has made a move because of work. Or perhaps things didn't work out at a different school. Possibly your new student is a foster child who has recently been placed with a new family. It could even be a military family that has recently been relocated. Regardless of the reason, making new students feel welcome is so important.
The more information you can gather about where your new student is coming from, the better understanding you'll have of their feelings and needs. If they've landed in your class for happy reasons, chances are they'll make a smoother transition. If the move has been sudden or unexpected, they may have a harder time adjusting.
But regardless of the reason, the most important thing you can do for a new student is to welcome them into your classroom community with open arms! Greet them with smiles, hugs, and encouragement. And coach your current students to welcome their new community member by being kind and helpful.
Getting a new student in your class doesn't have to be stressful. It can actually be a fun and exciting time for everyone. Here are 10 tips for making new students feel welcome.
This article, along with many other articles on The Printable Princess, contains Amazon affiliate links. If you purchase through the link I earn a small commission.  Clicking these links does not cost you any extra but helps this website to keep great articles and freebies coming your way.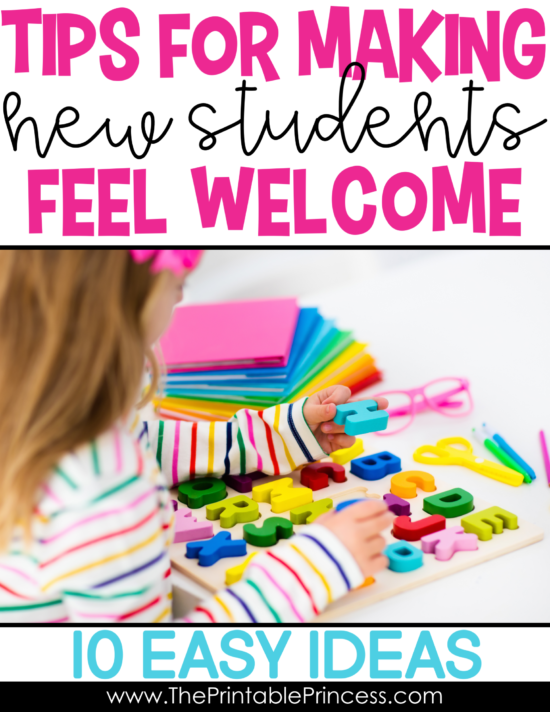 Making New Students Feel Welcome
1. Be prepared.
At the beginning of the year when you are preparing your back to school welcome packets, make a few extra for new friends who may join your class throughout the year. That way it will be easy to just pull out your pre-prepared packet and your new student will have everything they need, including important information for them to take home to their parents like calendars, schedules and classroom policies.
2. Have a place ready and waiting for them.
Ask the custodian to bring in an extra desk and/or chair for your new student, then figure out the best place to fit them in. Label their new spot with a nameplate. Make sure to choose a friendly, calm place where they will be able to ease into your classroom community.   Which leads to our next point…
3. Assign your new student a buddy.
Another idea for making new students feel welcome is to assign them a buddy. Choose a student helper who has a firm grasp on the classroom rules and procedures who is friendly and willing to help. Tell them that you are trusting them with the very important job of welcoming the new student into your classroom community by being their buddy and showing them the ropes.
4. Ready the supplies.
Have important items they will need ready for them- for example textbooks, workbooks, school supplies, library card, lunch ticket, etc. Show them where extra supplies are located and how your classroom is organized.
5. Make space for them.
Part of making new students feel welcome is being prepared for them. Have their cubby labeled with their name, ready and waiting for them, and also show them their place in the coat room. Add their name to your mailbox to show them where they'll pick up important papers. Knowing that you have prepared a place for them will help them feel welcome right off the bat.
6. Give them a personal tour.
If your new student can come in for a visit before their actual first day, or even a few minutes early on their first day, walk them through the halls and familiarize them with their new surroundings. Point out important locations like bathrooms, the front office, nurse's office, cafeteria, etc. Undoubtedly it will be overwhelming at first, but with your help and the help of their classmates, it won't be long before they're comfortable in their new school.
7. Make sure to introduce your new student around.
When you drop off your class for specials, make a point of personally introducing your new student to the art or music or P.E. teacher. This will cue them to take special care of your new student for the first few days until they become acclimated.
8. Send them home with a small memento.
Send students home with a small memento. It might be an award for completing their first day or a special pencil. These little bookmarks from Amazon are also perfect. They can use it at home as they read and it serves as a friendly reminder of the fun they had at school. Whatever it is, it is a nice way to make a home-school connection.
9. Reach out to their parents.
While making new students feel welcome is important, it's also important to make their families feel welcome. Make a call home within the first couple of days just to welcome the family to the school. Let them know how excited you are to have their child in your class. Ask if they have any questions about the welcome packet you sent home on the first day. Let them know the best way to communicate with you as well as any links to websites, calendars or other communication tools you may use. Invite them in to read a story to the class or bring a show and tell item from their previous location.
10. Check in frequently.
Keep in mind that being the new kid can be unsettling, so keep a close eye on your new student for signs of stress or confusion. Give them friendly reassuring signals when you catch their eye- maybe a wink or a thumbs up. Stay close and let them know that it's okay to have questions. If they're feeling particularly homesick for their old school, see if you can FaceTime or Skype their old class. This way they can see their old friends and teacher and introduce their new friends and teacher.
Making a student feel wanted and welcome is a crucial step for their individual success and the overall classroom environment. Students will work harder for you if they know they are liked and wanted by their teacher. For more ideas on how to build relationships with your students, you can check out this post.
Here's an image so you can pin it and refer to these tips later.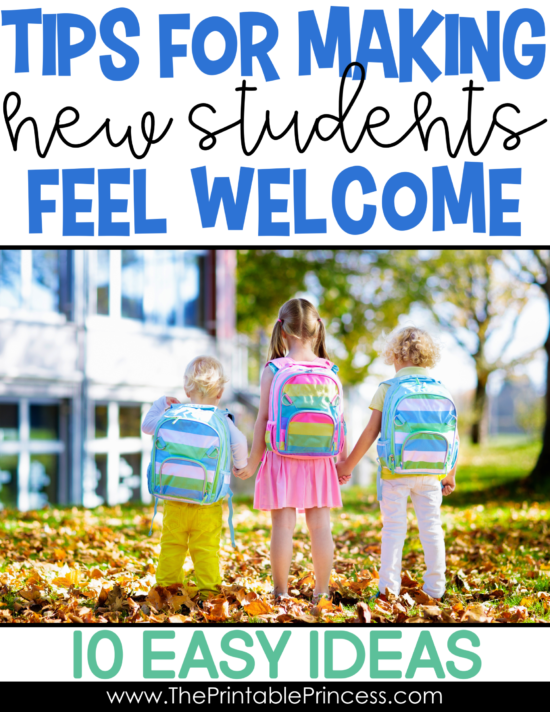 Until next time,