5 Clever Ways to Reward Your Students Without Stuff
Rewarding good behavior and effort in the classroom is an important part of teaching our little ones how to be successful students. Student rewards are also important for establishing and maintaining good classroom management.
Everyone likes to be recognized every now and then. But research shows that rewards like toys and candy actually do more harm than good by making your students dependent on extrinsic motivation rather than building their capacity for intrinsic motivation.
Here are a few ways to shower your students with positive attention without resorting to junky prizes or sweet treats.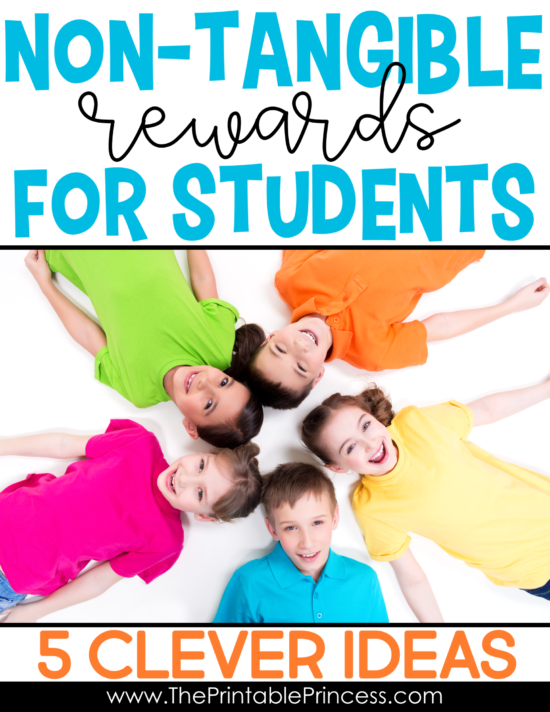 This article, along with many other articles on The Printable Princess, contains Amazon affiliate links. If you purchase through the link I earn a small commission. Clicking these links does not cost you any extra but helps this website to keep great articles and freebies coming your way.
5 Ideas for Student Rewards
1. Teacher time
One of the best things about teaching little ones is that your students adore you and actually want to spend time with you. Take advantage of their 'teacher worship' by offering special time with you as a student reward. Arrange a special lunch date, either in your classroom or in the lunchroom with them.
Take a selfie with your student and embellish it with filters, captions or frames and either email it home or print out a copy for them.
Let them sit in your special teacher chair during a lesson or during read-aloud. Join them at recess for a five minute activity of their choice (tetherball, jumping rope, kicking the soccer ball, etc).
2. Choice time
Days are busy in the Kindergarten classroom and there are so many tasks that need to be completed. Reserve five or ten minutes a day for special activities that can be used as a student rewards for good behavior and effort.
Set a large display timer and give them five or ten extra minutes of technology time as their student reward. Let students earn time with special sets of building materials such as LEGO blocks, magnet tiles, or a fun pop bead set. (All which are GREAT for fine motor!)
You could allow the student choose an extra activity like a GoNoodle video or brain break. Another idea is to let them choose a picture book for read aloud or bring a special story book from home.
3. Special Privilege
Learning to follow the rules is an important task for young learners. But sometimes, every once in a while, it's so fun to earn an exception to a rule! Ditch the pencils only rules and reserve a fancy pen or marker that students can only use as a special privilege.
Let them go without shoes for a portion of the day, maybe during work time or story time. Let them sit or work with a buddy while the other students work independently. Allow them to have the class mascot (a special stuffie) on their desk or in their lap for the day.
Let them color a beautiful picture on the teacher white board and leave it on display for the rest of the day.
4. Special recognition
Make a big deal out of good behavior and effort by shining a bright spotlight on students who earn it. Send home a special note to their family.
When you are in circle time, call them to stand and let them use the microphone to tell the class their good news. Have a special hat or necklace that students can wear that tells everyone in school (in the lunchroom, out at recess, in the library, etc) that they did a super job.
As an extra special treat, let your student call home to report their great news to their mom or dad.
5. Group project
Create some "in-progress" projects that students can contribute to as a reward. Start a paper chain and when a student earns a reward, let them write their name on a colored strip of paper and add their link to the chain.
Create a Class Book of Good Deeds. When a student earns a reward let them add an original picture with their name on it to the book. Help them write out what they did to earn the reward.
Another idea for student rewards to have students add a jewel to the class jewel jar. When the jar is full, have the class vote on a privilege like a pajama party or bring your stuffie to school day. This activity is a great visual reinforcer for the concept that everybody's behavior and effort contributes to the success of the class as a whole.
Enlarge and print out a beautiful page from a coloring book to create a black and white poster. Whenever a student earns a reward, allow them to color in one of the pieces.
Student rewards don't have to cost a lot of money or time, making the student feel special and good about their accomplishment is the key. What are your favorite ways to encourage or reward good behavior?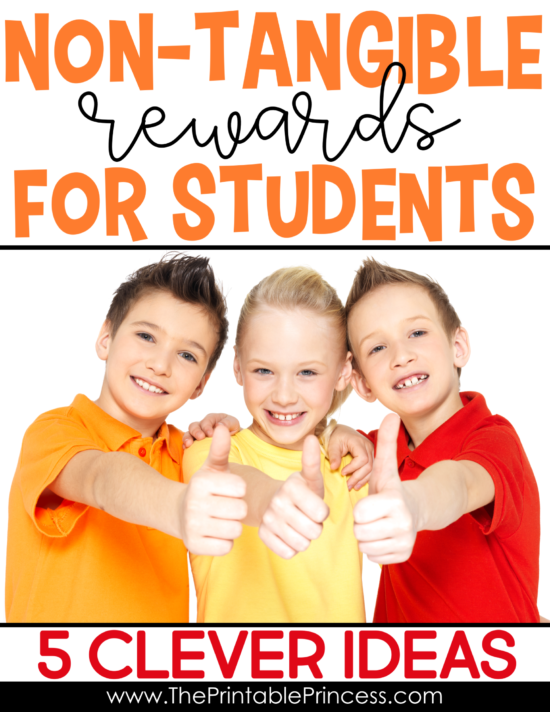 Until next time,