Christmas in the classroom is a magical time of year! Creating traditions with your students and learning about the concepts of giving and kindness is so special. These Christmas activities for kindergarten are sure to get your students excited about learning and help them grow their skills along the way.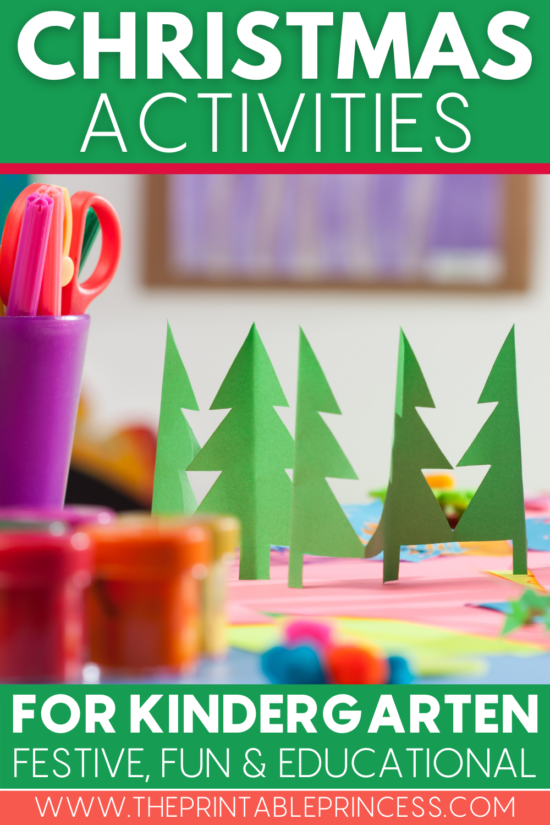 Race to Fill – Christmas Edition
This Christmas activity for kindergarten is a fun challenge for kids that requires basic classroom supplies, making prep super simple! For this activity, you'll need dot cubes, colorful pom-poms, and a Christmas-themed container for each student. You can use a Christmas tree cake mold, a Christmas cup, or a small gift bag. Add in a pair of jumbo tweezers for fine motor practice.
Students will play with a partner, taking turns rolling the dot cube. They will count the dots and use the tweezers to fill their container with that many pom-poms. The first player to fill their container wins! This is a great activity to use to practice number recognition and counting.
To work on larger numbers, simply add more dot cubes and pom-poms and use a slightly larger container. Students can roll multiple dot cubes and count the total number of dots to practice larger numbers.
December Boom Cards
Incorporating technology into learning is a great way to keep students engaged while working on key math and literacy skills. The December Boom Cards are the perfect addition to your Christmas activities for kindergarten. With a fun gingerbread theme, you can use these during the entire month of December. These digital task cards are interactive, self-checking, and include clear audio directions on each card for your students.
These Boom Cards are great for whole group instruction, small groups, mini-lessons, digital literacy centers, early finisher activities, at-home learning, or even as an activity during those times in between holiday events at school.
The December Boom Cards set includes 8 complete decks with a gingerbread theme to practice these skills: one less/one more, making 10, number recognition to 20, addition to 5, ending sounds, CVC word recognition, rhyming words, and beginning/ending sounds.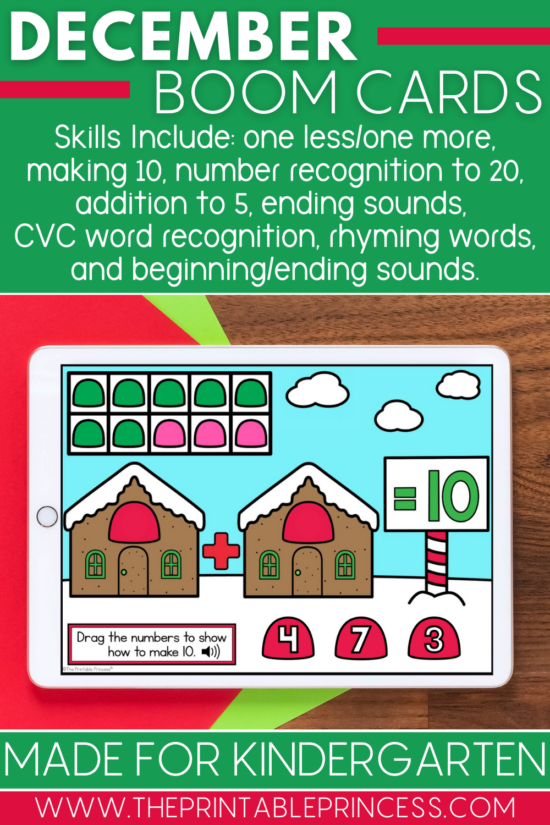 Candy Cane Writing
The Christmas activity for kindergarten is a great way to practice critical writing and fine motor skills. First, pour colorful Christmas sprinkles onto a tray. Have a stack of index cards with letters, numbers, sight words, CVC words, addition sentences, etc. You can make your own cards or use these free alphabet cards!
Give students a full-sized candy cane to write with. They will draw a card and use the tip of the candy cane to write in the sprinkles. This candy cane writing activity is very versatile as you can practice so many skills with it!
December Morning Tubs
The weeks leading up to Christmas break are nothing short of exciting and busy! Creating a consistent routine for your students is the key to keeping them on task and ensuring that your classroom is running smoothly. Morning tubs provide a consistent soft-start to your morning routine while allowing your students to practice key skills.
The December morning tubs are full of 21 gingerbread-themed, hands-on math and literacy activities. Most of the activities have two versions, making differentiation a breeze! Just print, add in basic classroom supplies, and your prep is done!
These activities work well as morning tubs, early finisher activities, as part of your center rotations, or even alongside your gingerbread unit of study. Your students will be having fun working on their skills, giving you an opportunity to see how they are progressing in each area!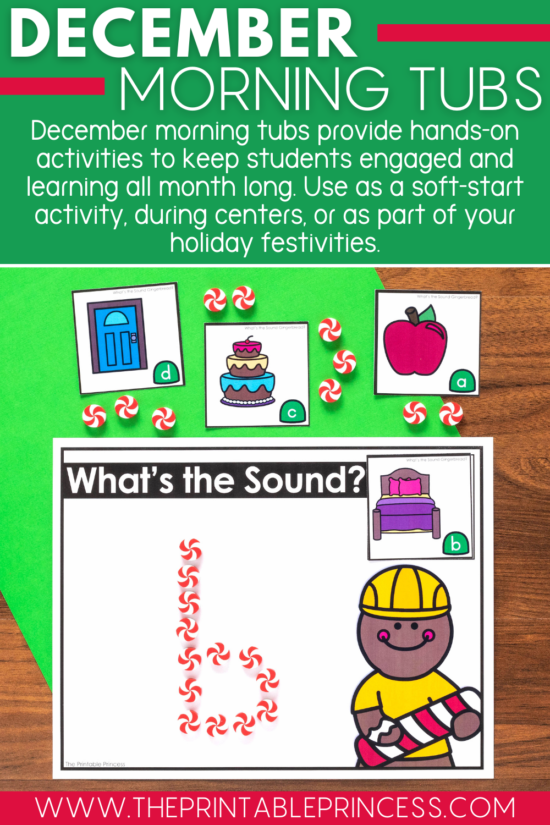 DIY Gingerbread Activities
Using gingerbread-themed Christmas activities for kindergarten students is a delicious and festive treat for learning and fun. There are a variety of DIY activities plus a snack that you can do to work on key skills and encourage creativity.
Gingerbread math and literacy.
The next idea is to make gingerbread paper cutouts out of brown construction paper or cardstock. Simply make a gingerbread cutout guide and trace around it on the paper, cutting out as many as you'd like. You can also use pre-made foam cut-outs or f your school has a gingerbread die-cut form, even better!
You can write uppercase and lowercase letters, numbers to 20, and even simple addition sentences with sums up to 10 on the gingerbread cutouts.
Your students can use these for hands-on activities to practice matching uppercase and lowercase letters, building sight words and CVC words with the gingerbread letter cutouts, ordering numbers to 20, and matching addition sentences to their sums. The possibilities with these DIY gingerbread cutouts are endless!
Gingerbread house craft.
To make your students' creativity come alive, try this fun and easy-to-make DIY gingerbread house craft! All you need is different colors of construction paper, scissors, glue sticks, and red markers. Your students will use fine motor skills and visual-spatial skills as they cut and glue the pieces to assemble their gingerbread house. Plus, this is a great opportunity to practice shapes and colors.
Graham cracker gingerbread house snack.
What's Christmas without a tasty gingerbread treat? Making traditional gingerbread houses out of milk cartons can be time-consuming and complicated for little learners. Instead of doing away with this tradition, let's do it an easier way! These graham cracker gingerbread houses are much simpler to make and are perfect for kindergarteners!
Each student will need graham crackers, pretzel snaps, large marshmallows, and white frosting. The Betty Crocker brands tends to set the fastest! Optional ingredients to use for decorating include M&Ms (regular or mini size), miniature candy canes, gumdrops, mini marshmallows, Tic-Tacs, red or green frosting, and red and white mints. Of course, you can get creative here!
Students will decorate 1 pre-cut graham cracker with white frosting to make the roof, a pretzel snap window, and a graham cracker door. They may use the optional ingredients to decorate further. You can stop at this point or create a gingerbread house stand out of a half-sheet of graham cracker, frosting, and a large marshmallow.
Christmas Tree Sticker Art
This Christmas activity for students is a fun way to use fine motor skills and encourage creativity. You will need a simple Christmas tree cutout made out of green paper, a star cutout made out of yellow paper, a white piece of paper, and mini-stickers. Trace and cut one Christmas tree and one star to use as a guide or use a die-cut machine if your school has one.
Have students glue the tree on a white piece of paper and glue the star on the top of the tree. Then, they will use various mini-stickers to decorate their tree with ornaments. This art project is simple but will add a ton of holiday cheer to your classroom!
Class Christmas Mural
This Christmas activity for kindergarten will encourage cooperative learning and is sure to spark amazing conversations amongst your students. Prepare a long sheet of paper (the kind you find on the large rolls at your school). Tape the sheet of paper to your whiteboard or a clear wall in your classroom. Write "Merry Christmas" or "Happy Holidays" in the middle of the paper.
Give students markers and allow them all to decorate their own space on the paper, creating a whole-class Christmas mural! This is the perfect addition to your hallway to bring joy to your entire school!
Christmas Kiss CVC Words
Break into your chocolate stash for this fun literacy activity! This activity uses chocolate kisses and dot stickers (the kind you may use for garage sales) and works great in a small group teacher-led station. To prep, write letters on the dot stickers and place the stickers on the bottom of the kisses. Make the red kisses vowels and the green kisses consonants.
Students will draw 2 green consonant kisses and 1 red vowel kiss to make CVC words. This is a great way to practice sounding out CVC words and working with real and nonsense words. To make this activity easier, set the students up with a word family by giving them a vowel and consonant kiss. Then have them simply draw a green consonant kiss to make word family words. This is a great game to play in a small, teacher-led group.
Christmas Cards
Making Christmas cards is a fun holiday tradition and helps students learn about the concept of kindness and giving. Make these Christmas cards for other school staff members, community helpers, or send them to local nursing home residents. They will brighten anyone's day in a heartbeat!
This activity can be as simple as you'd like depending on the art supplies you choose to use. Ideas for decorating are stickers, markers, holiday cutouts, glitter, etc. Each student will need a colorful piece of construction paper. Model the different ways in which they can fold their card and help them write "Merry Christmas" on their cards.
You can also discuss other messages that they can write in each card or help students individually and ask them what special message they'd like to write. From there, let your students' creativity shine as they decorate the cards and write messages with their personality and style.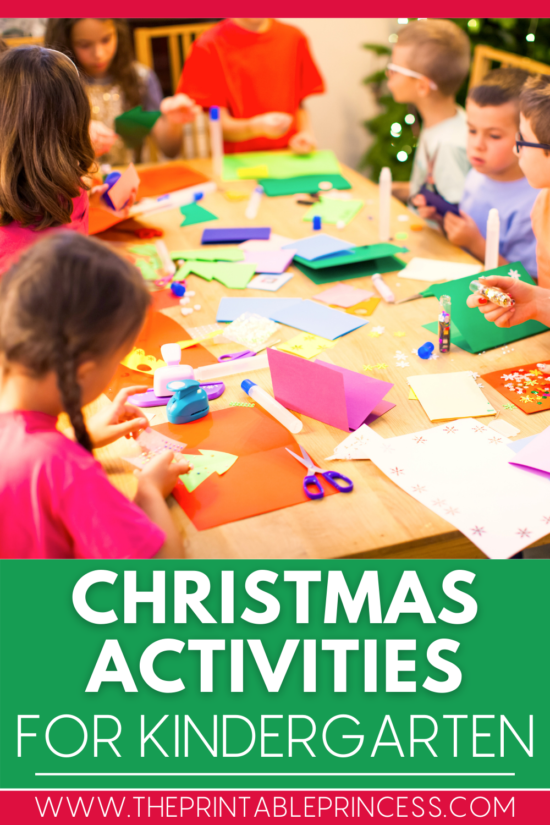 I hope you and your students have a ton of holiday fun with these Christmas activities for kindergarten. Go on and spread joy and cheer this holiday season and have fun making memories with your students that will last a lifetime!