Teacher Emergency Kit Essentials
Spilled milk, broken nails, coffee breath, pounding headaches, bad hair days, and germs galore. If you're a teacher, these situations and more are bound to happen. You know what they say, there's never a dull moment in the life of a teacher. Be prepared for anything teacher life throws at you with your own teacher emergency kit, packed with essentials to get you through.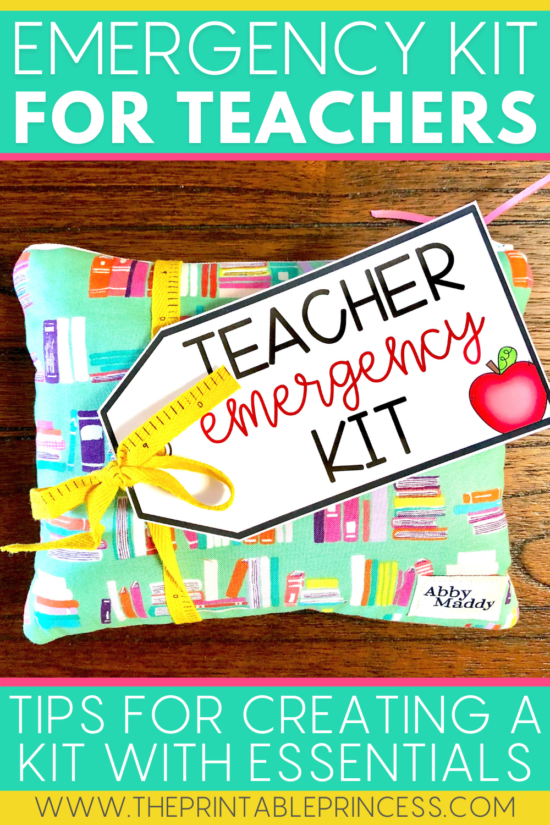 How to Prep Your Teacher Emergency Kit
The first step in prepping your teacher emergency kit is to find something to store all of your essentials in. This way, your desk doesn't become cluttered with loose items everywhere.
Storing all of your teacher essentials in one handy bag also helps keep your personal items separate from your school items. No more rummaging through lotion and chapstick while trying to find scissors.
I recommend finding a cute makeup bag or travel size bag to store everything in. Then, just store the bag in a locked drawer or cabinet in your classroom, especially if you have medicine in your emergency kit.
If you're anything like me, you probably have free makeup bags laying around that you snagged during a sale at your favorite store. These work perfectly for a teacher emergency kit.
The next step is to gather all of your items and prep your emergency kit before the start of the school year. Starting each school year fresh with a fully stocked kit of essentials will make you feel good knowing you're prepared for anything.
While you're prepping your own teacher emergency kit, you can even make a kit to gift to your teacher friends, teammates, student teacher, or new teachers at your school at the beginning of the year.
This gift is a thoughtful way to show them you're thankful for them and excited to work together. Plus, it will mean a lot to them!
A good rule of thumb is to replenish items in your emergency kit after Christmas break to ensure you're set for the last half of the school year.
If you run out of items before then, just write them down on a sticky note and pick up what you need the next time you run errands. You can even ask your teacher friends if they need anything replenished in their kit while you're out.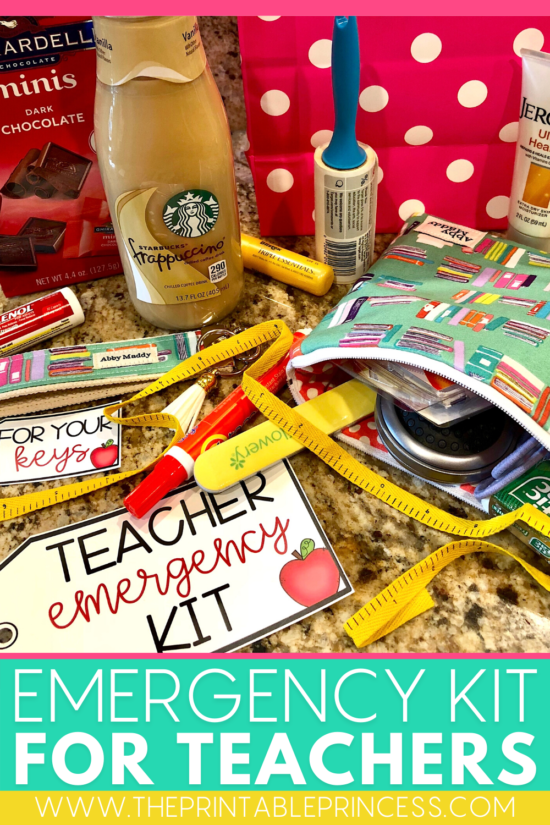 What to Include in Your Teacher Emergency Kit
Once you have chosen your bag to hold all of your teacher emergency kit items, it's time to fill it up with essentials. As you fill your emergency kit, you may have specific items that you want to include based on your needs, likes, and lifestyle.
I've put together a list of teacher emergency kit essentials that I recommend having on hand.
Remember to think through every situation that could possibly happen at school, because chances are, at some point, it probably will happen and you'll want to be prepared. If you're a new teacher, ask your coworkers what they like to keep on hand and use this list to help you prepare your kit.
Teacher Emergency Kit Essentials
Gum/mints
Lint roller
Lotion
Body spray
Hand sanitizer
Lip balm
Nail kit
Hair ties/bobby pins
Hair brush
Hairspray
Stain remover pen or stain remover wipes
Baby wipes
Lanyard/keychain
Sunglasses
Medicine kit: allergy medicine, acetaminophen, cough drops, etc. (be sure to keep this away from students in a safe place)
Personal care items (toothbrush/toothpaste, dental floss, deodorant, feminine products, etc.)
Chocolate/snacks
Coffee/tea
Water bottle
Mug
Dollar bills/coins (for small fees that come up, a trip to the soda machine, or for ordering lunch out)
Phone charger
A change of clothes (you never know when chocolate milk or ketchup might come flying at you)
Hat, gloves, scarf (for those cold winter months)
Hair straightener or curling iron
Extra makeup
Teacher Emergency Kit Tips
The last 2 items you may want to keep on hand, especially during parent teacher conferences or for days when you have meetings or special events happening.
Some of these items may last longer than others. Be sure to replenish as you go. Don't forget to restock your teacher emergency kit at Christmas time so you're always prepared.
You can use this list of teacher emergency kit essentials to make your shopping list to take to the store as you prep your kit for this school year. If you think of something else as you prep or during the year to include, add it to the list. I'd also love if you commented below so we can see your ideas too.
I hope this teacher emergency kit essentials list and tips for prepping help you feel prepared and confident to take on any situation that comes your way this year!