Tips For Creating a Teacher Team Environment
You've probably heard the saying, "there's no friend like a teacher friend." In the world of education, it's so important to build relationships with your coworkers and teacher team. These teacher team building ideas will help you get to know each other and set the tone for a positive and collaborative team environment.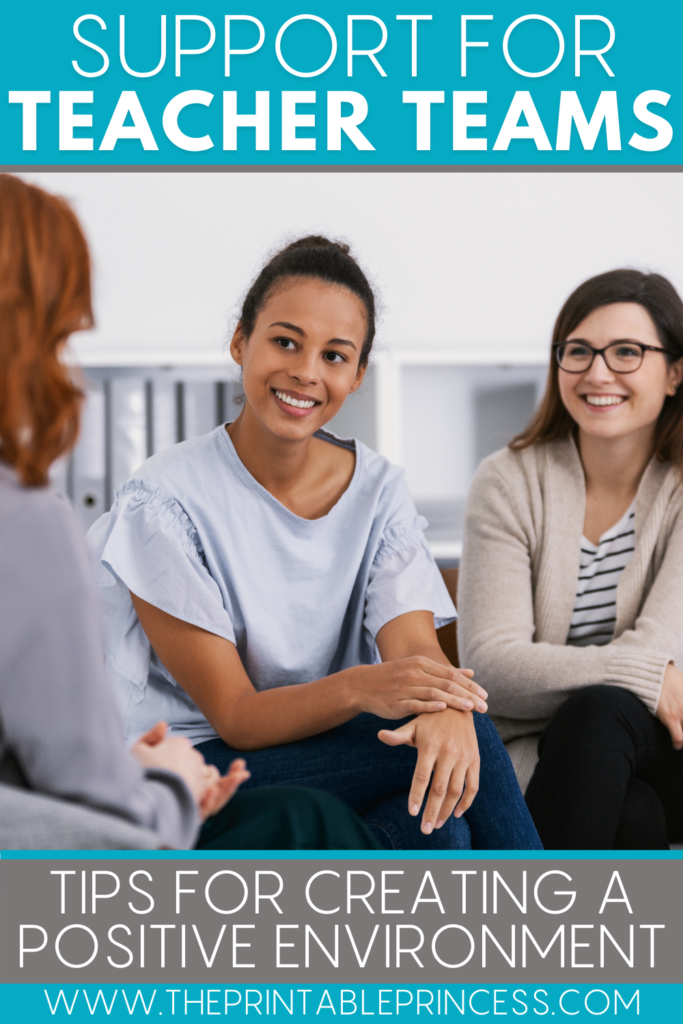 The Importance of Creating a Teacher Team Environment
Being a teacher is one of the most important and rewarding jobs. However, it comes with its fair share of challenges and situations that most people just don't understand…unless they're a teacher too!
It's so important to create a positive and collaborative teacher team environment because those positive relationships between teachers make for a positive learning environment for students.
If a school is full of teachers who communicate, work well together, and have fun, the students will pick up on that energy. The school morale will automatically be more uplifting and encouraging, not only for teachers, but for the students.
By having positive relationships with your coworkers, you're setting a good example for your students. You become a positive role model for your students on how to work together and treat others kindly.
Getting along with your coworkers isn't only important for creating a positive school environment, it also just makes teacher life more fun! Being able to bounce ideas off of your teacher team, ask for advice, or simply share a funny story is important. As a teacher, you need that outlet, those people to talk to that understand what you're going through.
When you can have fun with your teacher team, it makes going to school more enjoyable. It also eases the stress and lessens the work load knowing that you're not alone and you have a teacher team beside you. You can plan lessons together, prep materials, share supplies, and help each other out.
Teacher friends are truly special and make teaching and impacting the lives of students more fun. This in turn, makes coming to school and learning more fun for the students. They feel welcome, safe, and happy knowing they're in a place where they're loved by teachers who treat others with kindness and respect.
Ways to Build Your Teacher Team Culture
There are so many ways to build community and team culture with your coworkers. It doesn't always have to be an organized ice breaker or team building activity like you may experience during your beginning of the year professional development meetings.
These teacher team building ideas are simple, easy to do, and can be implemented all year long. Building a team culture doesn't just happen overnight and is something that you have to consistently work on throughout the year so that you and your teacher team stays connected and grows together.
Teacher Team Building Ideas
Grab coffee or lunch with your teacher team before the year starts and get to know each other.
Share pictures of your classroom theme over the summer and ask for ideas.
Let your team know when you see good teacher deals…like new mini erasers at the Dollar Store!
Meet up at school, play some music, and decorate your bulletin boards together.
Treat your teacher team to an afternoon iced coffee break during back to school prep.
Ask for feedback on classroom organization and layout before school starts.
Sit together during your beginning of the year professional development meetings.
Get matching team t-shirts to wear on Fridays.
Plan your first week of school lesson plans together.

Share supplies and materials and return them back in good condition.

Share ideas and brainstorm solutions together.

Ask for advice and give advice kindly when asked.
Solve problems collectively and celebrate successes together.
Brainstorm and plan art projects or special activities together.
Share read aloud books, puzzles, and games.
Dress up together for special holidays, pajama days, and costume days.
Have lunch as a team once a week.
Help each other out when something comes up. Watch a teammate's class if they need a quick bathroom break, take a teammate's recess duty if they're not feeling well, etc.
Grab each other's mail and copies.
Sit down together for a quick dinner before a late night at school, such as Meet the Teacher Night or parent teacher conferences.
Tips For Building Teacher Team Culture
These teacher team building ideas can be used to build team culture during back to school time and throughout the entire year.
As you head into the school year with your teacher team, keep in mind that everyone is different. You may have one teammate who is super outgoing and loves to chat. However, another teammate may be more reserved and likes their quiet time. When thinking about the teacher team building ideas you want to implement, be mindful of each person's personality and teaching style.
Do your best to be there for your teammates and let them know you are there to support them and work collaboratively if they ever need something.
I hope these teacher team building ideas help you and your team start the year off strong. Here's to creating a positive, uplifting team environment this school year!