Morning Tub Ideas for Kindergarten
Ready to take your morning routine from chaos to consistency? These morning tub ideas for kindergarten will transform your mornings and get your students actively engaged from the first bell of the day. With just a few basic classroom supplies, you'll be set up for a ton of hands-on morning tub activities to help your students start their day on a positive note.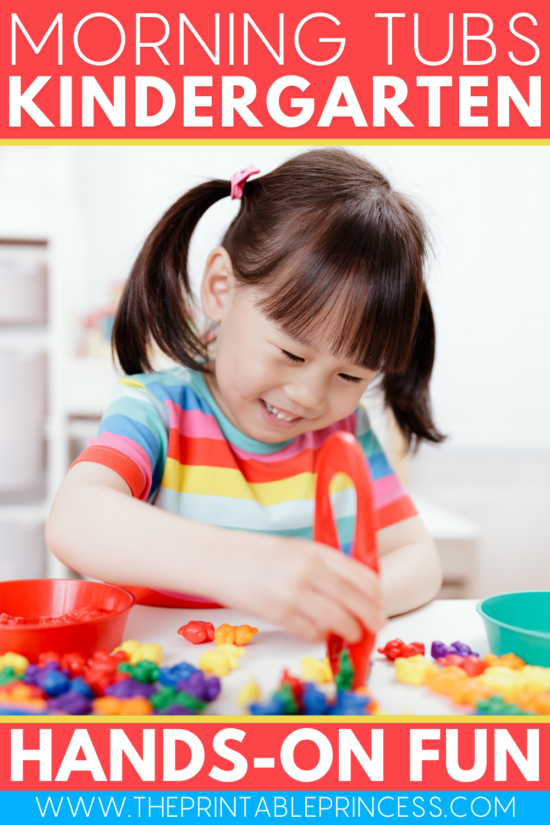 This article, along with many other articles on The Printable Princess, contains Amazon affiliate links. If you purchase through the links I earn a small commission.  We only share links to resources and products we love.
What Are The Benefits of Morning Tubs?
If you're new to morning tubs, you may be wondering what exactly the benefits are. I'm going to share 4 of the top benefits of morning tubs, but if you'd like to dive into the benefits even further, be sure to check out my kindergarten morning tubs blog post.
Consistency.
Remember when I said morning tubs can transform your classroom from chaos to consistency? It's true! Morning tubs offer your students a consistent start to their day. When your students walk in the door, they know exactly what to do…grab their morning tub and get started on their activity for the day.
Morning tub activities are consistent and have straightforward directions, allowing students to complete them independently with success.
Organization.
Have you ever experienced mornings where your students come in and there are worksheets, school supplies, and scraps of paper everywhere? Talk about a stressful start to the day. Morning tubs provide organization by using minimal supplies and keeping everything your students need to complete the activity in one place, no messes allowed.
Soft start.
Just like adults, students need a little time in the morning to get their brains going and to get ready for the day. While adults may grab a cup of coffee, students can use morning tubs to warm up their brain and prepare their bodies for a day of learning. Morning tubs allow students to work in a hands-on way and have fun while they learn and use their fine motor skills.
Practice key skills.
Morning tubs also provide students with an opportunity to practice important math and literacy skills. They help students work more independently and gain confidence in the skills they're practicing. Plus, if you find yourself searching for ways to incorporate spiral review, morning tubs are a great way to do it.
What Supplies Do You Need For Morning Tubs?
When it comes to morning tub ideas for kindergarten, the name of the game is hands-on and easy to prep/organize. The best part about morning tubs is that you can use basic classroom supplies.
Additionally, you can do several different activities throughout the year with the same supplies. Use the supplies in a different way to keep the activities fresh or use them in the same way with a different skill. The options are truly endless.
Some of my favorite classroom supplies to use with morning tubs are: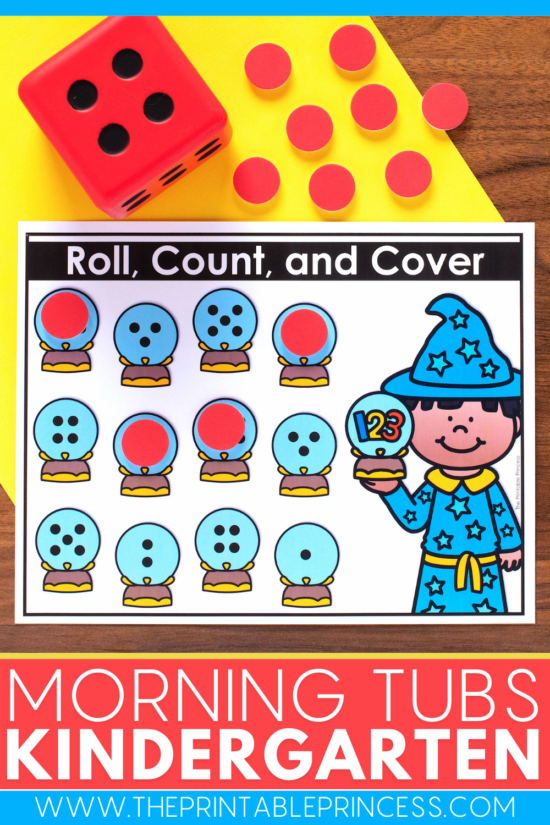 What Are Some Morning Tub Ideas for Kindergarten?
Now that you know the benefits of using morning tubs and what supplies are great to keep on hand for morning tub activities, let's dive into some easy to prep, easy to differentiate morning tub ideas for kindergarten. Remember, you can differentiate these activities by making the skill easier or more challenging or by swapping out the skill being practiced.
Play dough activities.
Play dough isn't just for making snakes and pretend baking…play dough is perfect for helping students practice letters, numbers, shapes, counting, and more.
Students can use play dough independently to form uppercase and lowercase letters, numbers, or shapes on play dough mats. They can even do this on cookie sheets or plastic placemats that you can find at the dollar store. This is especially effective at the beginning of the year.
Students can even work with a partner to practice matching uppercase and lowercase letters. One partner can form the uppercase letter and one partner can form the lowercase letter to match. Similarly, one partner can form a number while the other forms that many play dough balls to match.
You can also use play dough as a creative activity by giving students various play dough tools or cookie cutters to make different shapes.
Domino activities.
Dominoes are perfect for morning tubs as they help students practice counting, matching, and one-to-one correspondence. Students can line dominoes up, counting and matching the numbers on each end to make a domino maze.
They can also count the dots on each domino, say the number, and then count out that many objects to match. They can use objects such as mini erasers, color links, or counting bears. This is great practice for one-to-one correspondence.
Counting bears and plastic math cubes activities.
Counting bears and plastic math cubes are super versatile when it comes to morning tub ideas for kindergarten. They can be used to sort by color, count groups, make groups to show a number, or even to show equal groups.
Students can grab a handful of counting bears, count how many, and then model an equal group with plastic math cubes. They can also use these manipulatives to solve problems and model number pairs to 5 or 10 by using 2 colors to show the number pairs.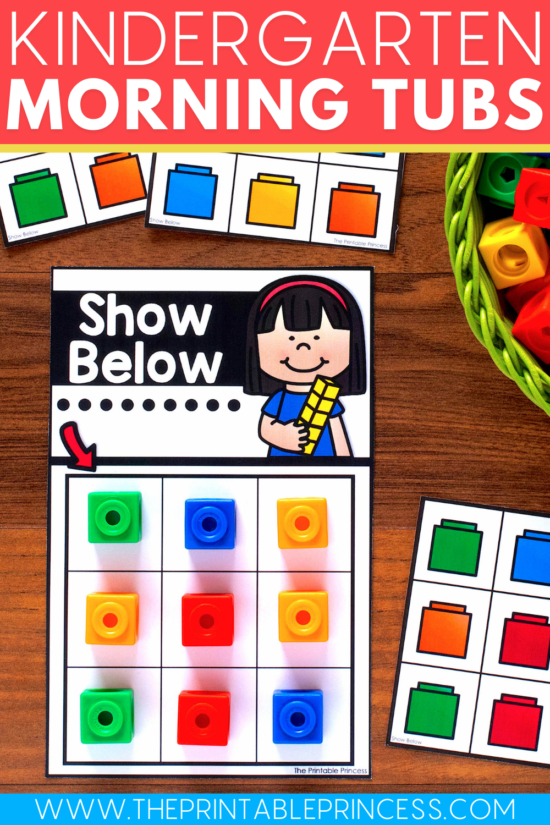 Pattern block activities.
Pattern blocks are perfect for sorting by size, shape, and color. These are great for practicing visual discrimination skills. Students can also use patterns blocks to practice making basic graphs and working with data.
For example, students can grab a handful of pattern blocks and make a simple graph to show the number of each pattern block they have. Then, they can tell how many of each pattern block and compare to see which shape has the most and the least.
Pattern blocks are great for free play, building, and creating. Sometimes letting students create freely at the beginning of the day is the best way to warm up their brains.
Dot cube activities.
Dot cubes are also very versatile and make differentiating morning tub activities a breeze. Students can roll a dot cube and write the number on a whiteboard with a dry-erase marker. To make it more challenging, they can roll 2 dot cubes, count how many in all, and then write the number.
To practice counting and one-to-one correspondence, students can roll a dot cube and count out that many objects, such as mini erasers or colorful links. Again, to make it more challenging, they can roll 2 dot cubes to model a larger number.
To practice counting, number recognition, and one more, one less, you can use an activity such as Roll, Count, and Cover. Students will roll the dot cube(s), count the number, and cover the number that matches or is one more or one less, depending on the skill you're practicing.
Color links activities.
Color links are fun for students and allow them to work their fine motor muscles as they connect and take apart the links. Students can use the links as a way to sort by color. They can even be used to practice non-standard measurement. Students can choose a basic object, such as a glue bottle or pair of scissors and connect color links to see how many links long it is.
This Count and Link freebie is a fun activity for students to use to practice number identification, counting, one-to-one correspondence, and basic addition skills. Want to snag this freebie for your classroom? Fill out the form below to join our email community and I'll send it straight to your inbox.
Letter tiles and letter cards activities.
There are so many morning tub ideas for kindergarten that you can do with letter tiles and letter cards. You can mix up a set of uppercase letter tiles or cards and a set of lowercase letter tiles or cards and have students match them.
They can also use a stack of either uppercase, lowercase, or mixed letter tiles or cards to practice letter sounds. They will simply flip over the first letter tile or card, say the sound, and flip the next card. This can be done in partners, taking turns.
You can also incorporate letter tiles or letter cards into your play dough activities by having students flip a card and build that letter. If you have number cards or number tiles, the same can be done with building numbers with play dough.
Magnetic letters and letter stamps activities.
Magnetic letters and letter stamps are perfect for practicing building names, sight words, and CVC words later on in the year.
Students can practice building their name with magnetic letters or letter stamps. To practice sight words, you can include a simple list of sight words in the morning tub and have students build the words. The same can be done later on with CVC words.
You can also work on letter sound fluency by having students stamp a letter or draw a magnetic letter and say the sound each time. To make it extra fun, students can flatten out play dough and push their letter stamps into the play dough to leave an impression of the letters. As they stamp, they can say the letter name and sound.
Picture card activities.
Picture cards provide a great visual for students and can be used with several morning tub activities. Students can choose a picture card and draw a picture and write a sentence about it. At the beginning of the year, you can differentiate by having students simply draw a picture and label it.
As students learn more about rhyming words, they can choose a picture card and say a word that rhymes. To practice blending sounds in CVC words later in the year, students can draw a picture card, sound out the CVC word, and write the word on a whiteboard.
I hope you feel more equipped than ever to start implementing morning tubs in your classroom. They really are so doable and effective with the right supples and activities. With these morning tub ideas for kindergarten, you'll be set with a ton of activities to use throughout the year.
Did you love these morning tub ideas and want more…even for the entire school year? You can check out my Kindergarten Morning Tubs Bundle, complete with 9 month's worth of seasonal morning tub activities to use all year long!
To learn more about storing and organizing your morning tubs, check out this blog post.