Easy St. Patrick's Day Snack That Your Kids Will Love
In this blog post you'll discover a fun and festive St Patrick's Day snack for kids. Follow along as I share step-by-step directions, pictures and a few helpful tips.
---
A few years ago I had a class that was really into St. Patrick's Day. Sure kids love holidays, but this class in particular was fascinated by these little magical green guys. As part of our festivities, we made leprechauns out of construction paper and I hung them around the classroom for a display. Every time we went to lunch, specials or left the classroom for any reason, my students swore that the leprechauns came alive. 
As most teachers do, I would drop my kids off at specials and come back to the classroom to do a little work. This usually involved erasing the white board, setting up an activity, or cleaning up something we were working on earlier. No joke – my kids thought the leprechauns were responsible for ANY changes that were made while they were gone. And if you know five year olds, they notice EVERYTHING. 
Because my students were so into the holiday, we incorporated a lot St. Patrick's day themed activities into our learning that week. To wrap up our fun-filled week of crafts, read alouds, and St. Patrick's Day centers we made a little snack. This St. Patrick's Day snack for kids is one of my favorites. I just love the colors and how cheerful it is. It's perfect for a quick afternoon treat in the classroom or at home.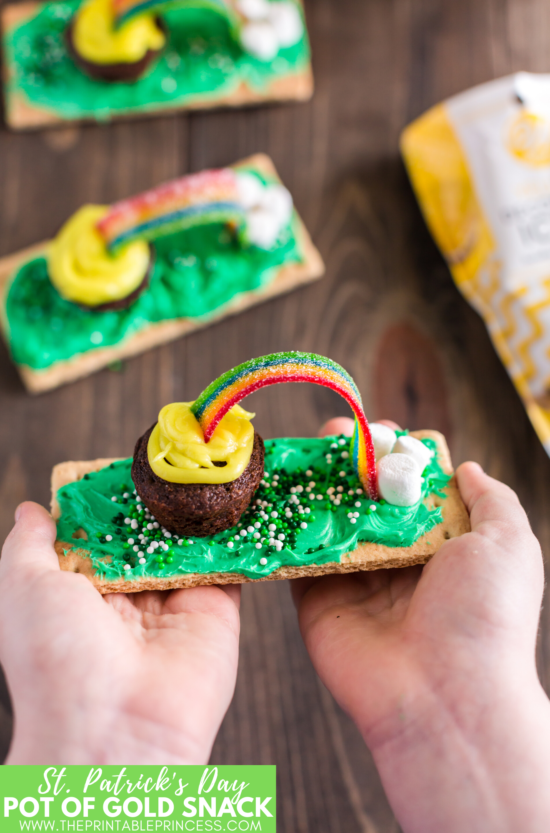 This article, along with many other articles on The Printable Princess, contains Amazon affiliate links. If you purchase through the links I earn a small commission. Clicking these links does not cost you any extra but helps this website to keep great articles and freebies coming your way.
Ingredients You'll Need for the St. Patrick's Day Snack: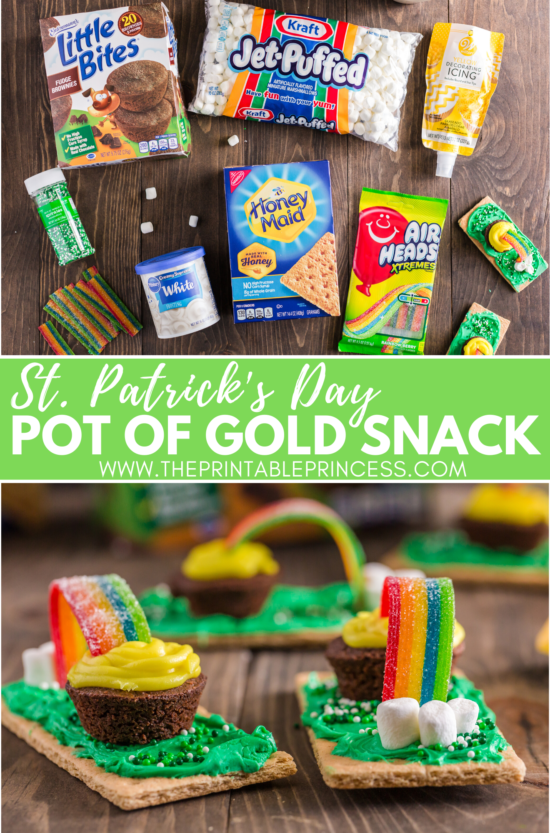 For this St Patrick's Day snack for kids, you'll need:
Graham Crackers
Tub of White Frosting
Green Food Coloring
Sprinkles
Entenmann's Little Bites: Fudge Brownie
Mini Marshmallows
Yellow Squeezeable Icing
Air Heads Extremes
Each student will need one brownie. There's 20 brownies in a box. Depending on the size of your class, you'll need one or two boxes.
How to Make the St. Patrick's Day Snack:
As I mentioned that this was one of my favorite activities for St. Patrick's Day. Besides being festive and colorful, I love that it is super kid-friendly and your little leprechauns will be able to make it all by themselves – and that makes for some confident kiddos!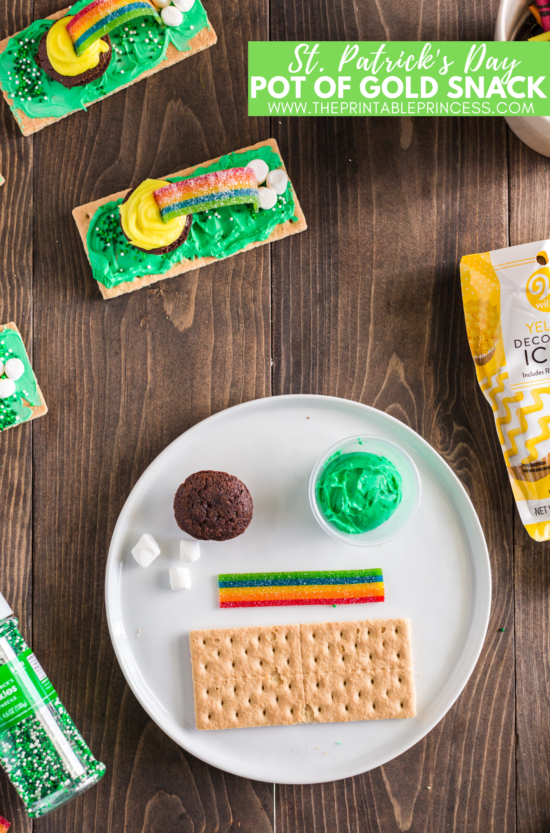 I like to supply each student with a paper plate and all of the ingredients they will need. On each paper plate you'll want to have:
1 graham cracker
A small dollop of green frosting
1 brownie bite
3 mini marhsmallows
1 – Airhead Extreme strip cut to 3.5″
I used about 8-10 drops of food coloring for the frosting. I always suggest to start with less and add more.  As the frosting sits, the color will start to saturate.  I highly recommend mixing it the night before the activity!  I give kids about 2 tablespoons of frosting to decorate.
How to Create the Pot of Gold: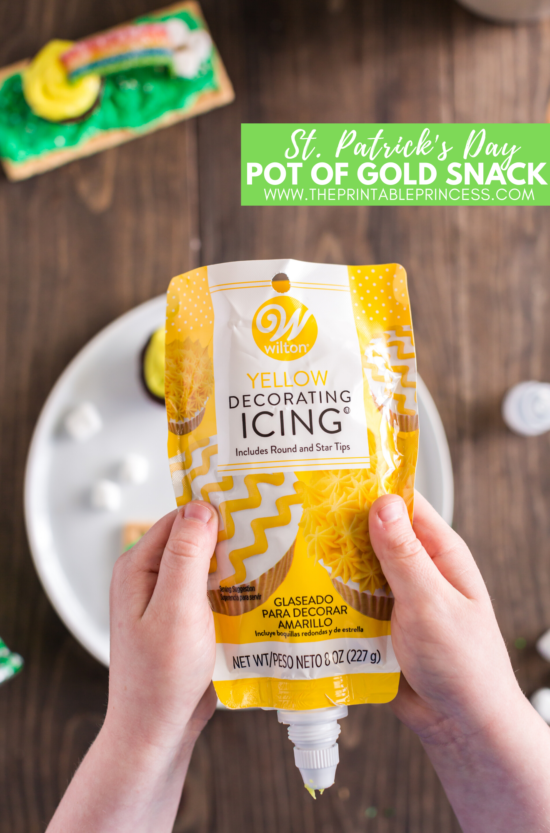 I used the Wilton brand yellow icing from Wal-Mart.
If you can't find this icing, you can buy a tub of yellow frosting and have students spread a thick coat of frosting on the brownie. Another idea is to use white frosting and yellow sprinkles (or jimmies).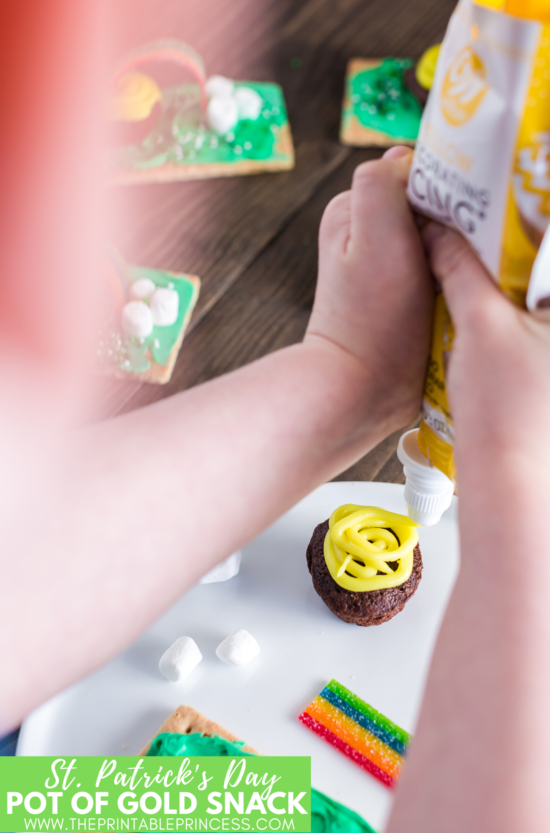 Squeeze the yellow icing on top of the brownie to create the gold pot.
Again, go a little heavier on the yellow icing to help the rainbow stick.
Assembling the Base for the Snack:
After the pot of gold has been made, the next step in this St Patrick's Day snack for kids is to make the base.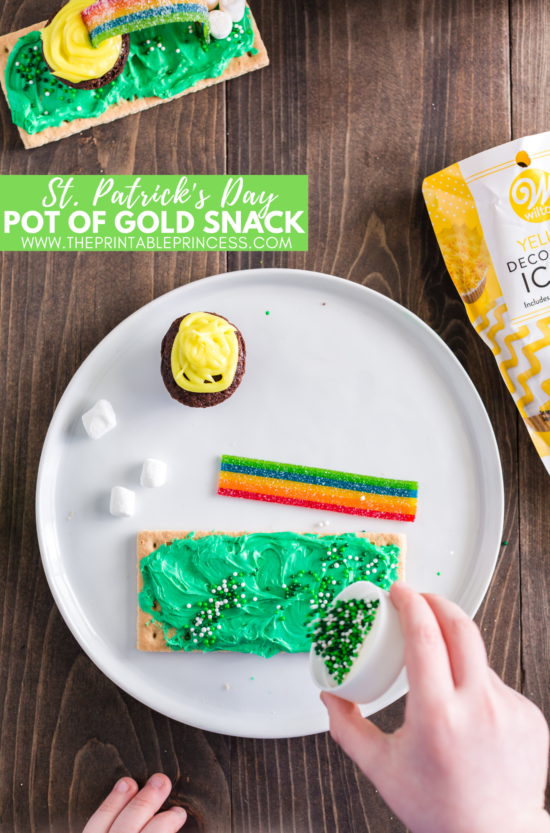 Spread the green frosting on top of the graham cracker. Encourage your little bakers to put a thick coat of frosting on the graham cracker. The frosting acts as the glue and gives the rainbow something substantial to stick to. If the frosting layer is too thin, the rainbow won't stand.
I add the sprinkles before adding the brownie because I don't want sprinkles all over the yellow frosting too. 
You can certainly add the sprinkles at a different time, though I don't suggest adding it at the end, which is typically when we want to add sprinkles.  Once the snack is put together, it's much harder to spread the sprinkles around it all.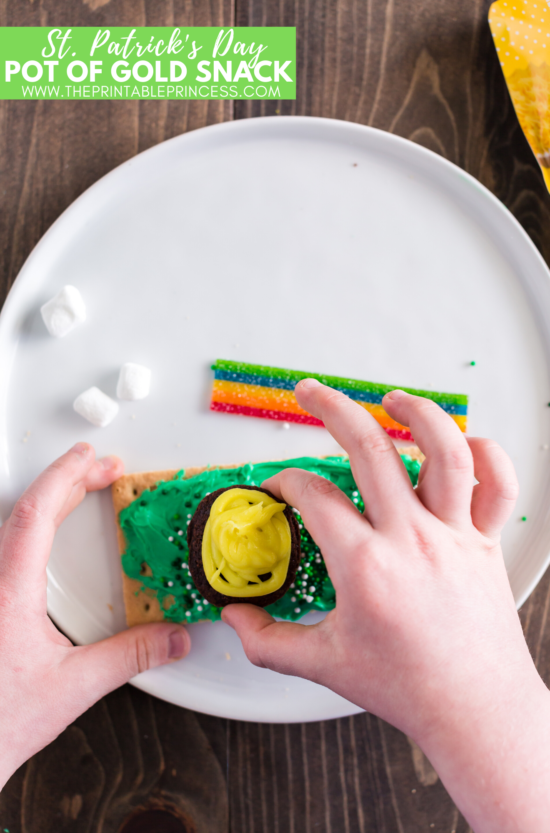 Add the brownie to the left side of the graham cracker. Be sure to leave room for the rainbow!
How to Make the Rainbow: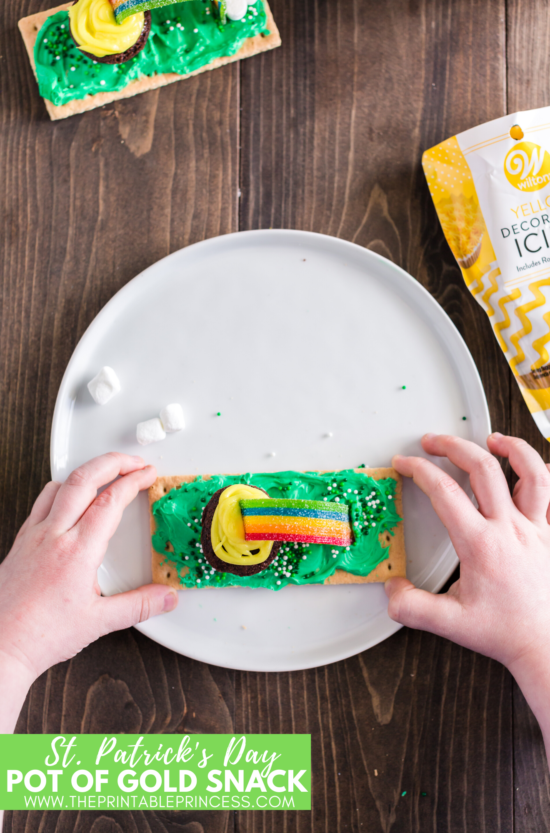 The final step in this St Patrick's Day Snack for Kids is making the rainbow. This just might be my favorite part!
The Airheads Extreme package comes with 15 pieces.  You will need 2 packages for a class.  The Airhead strips are about 5 inches long, I cut them down to 3 ½ inches. 
If the strip too long, the rainbow will flop and won't stand up. I tested a few lengths and 3 ½ inches seemed to be the magic number.
You'll want to attach one end of the rainbow in the pot of gold and the other end in the green frosting. This is why it's important to be a little generous with the frosting, that way the rainbow has something to help stand it up.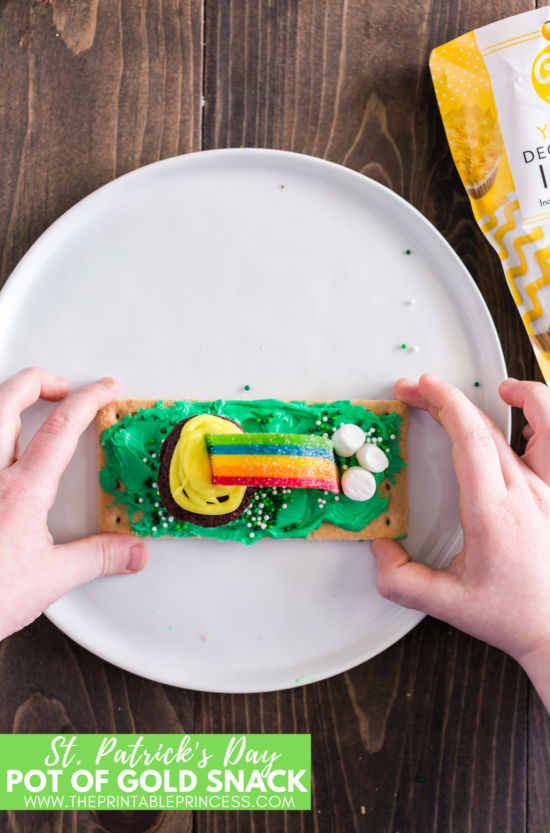 For the final step, add three marshmallows to the other side of the rainbow – then eat and enjoy this delicious St Patrick's Day snack for kids!
For step-by-step directions, check out this video:
If you're reading this and St. Patrick's Day has already passed, pin the image below to remind you for next year.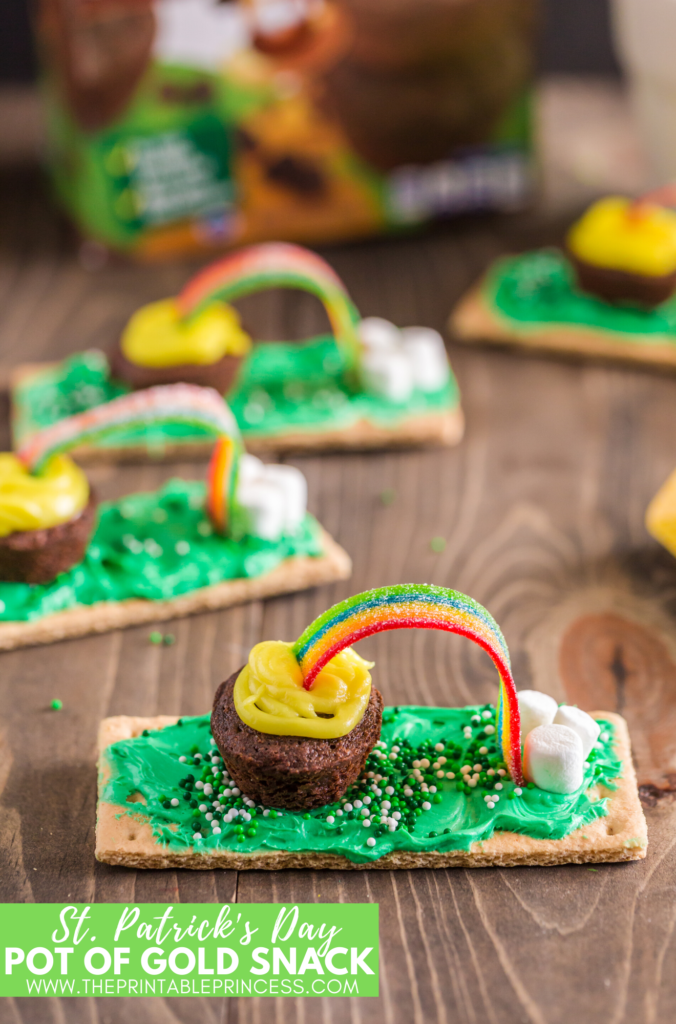 I hope you love and the sweet little leprechauns in your life love this St Patrick's Day snack for kids
After you've made this St. Patrick's Day snack with your kids, be sure to tag me on Instagram (@ThePrintablePrincess) or send me a picture so that I can see!
For more St. Patrick's Day ideas for kids, click here to check out this blog post.