March is upon us. To some that might mean warmer temperatures and that spring is upon us. To teachers March means lots of St. Patrick's Day activities and those mischievous little leprechauns.
A few years ago I had a Kindergarten class that was convinced these little green guys had taken over the classroom. Every time we would leave and come back somebody would "find" something that had moved or was out of place in the classroom. It might have been a pencil box or a chair…it didn't matter what it was. They were convinced the leprechauns did it. As a teacher you know that when one gets started, there is about 15 – 20 that will follow.
I have never been the type of teacher to cause a mess in the classroom for the sake of leprechauns, but I do enjoy mixing the theme in with St. Patrick's Day activities.
So in case you're like me and also enjoy mixing in the leprechaun theme, I thought I would pop in and share some pictures of the activities in my new St. Patrick's Day tubs for Kindergarten along with a fun freebie. I promise with these St. Patrick's Day activities there are no tricks, they are not messy, and there's little clean up involved – but kids love them just the same. And let's be real, that's what matters the most.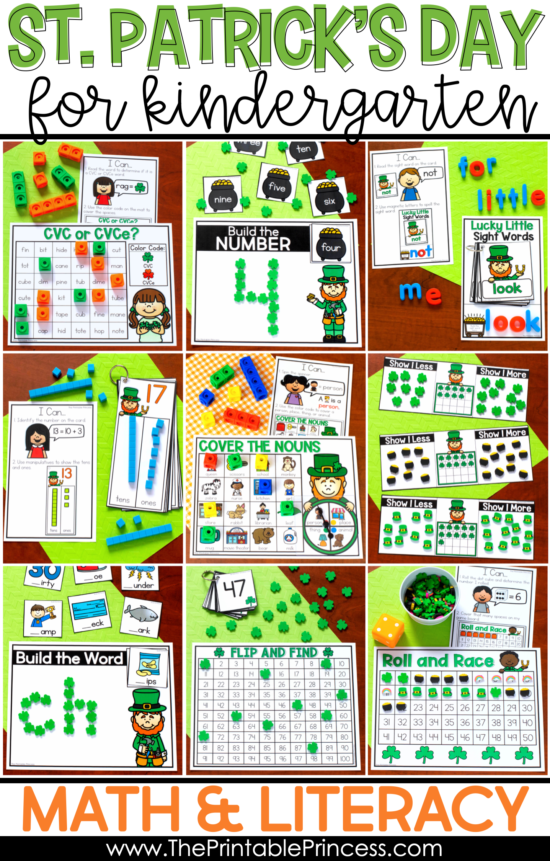 This article, along with many other articles on The Printable Princess, contains Amazon affiliate links. If you purchase through the links I earn a small commission.  Clicking these links does not cost you any extra but helps this website to keep great articles and freebies coming your way. 
☘️ The St. Patrick's Day mini erasers used in the activities below were purchased on Amazon. ☘️
St. Patrick's Day Activities: Hands-On Tubs
This St. Patrick's Day Literacy and Math pack includes 19 literacy and math activities with an adorable St. Patick's Day theme. The skills included in this resource are ones that your Kindergarteners are probably working on during the month of March. It is packed full of games and interactive, hands-on activities to keep students engaged and learning all month long.
They are easy to prep – most are just print and go. They use basic classroom supplies such as plastic cubes, mini erasers, play dough, dot cubes, and spinners. Most activities include more than one version allowing you to differentiate for your students.
Each activity includes teacher friendly directions as well as an "I Can" visual directions page to promote independence. They do not include recording sheets which makes them ideal for morning tubs and early finisher activities. But you can certainly use them for math and literacy centers too.
Show the Tens and Ones

Students identify the number on the mat. They use manipulatives to show the tens and ones in the corresponding columns. Students can practice numbers 1 – 20 with this activity. Each of the activities comes with a student-friendly "I Can" page to help hold students accountable and keep them on task.
Build the Number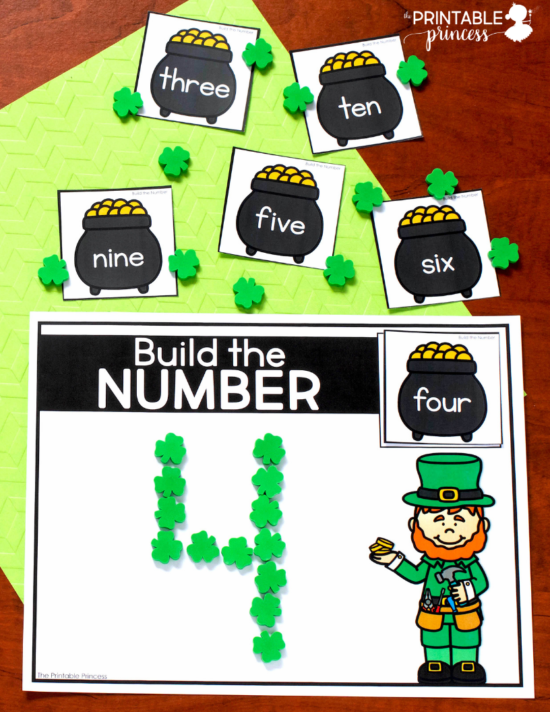 Students select a picture card and determine the number represented. They use mini erasers or other small manipulatives to form the number on the mat. There are four sets of cards included that cover the skills: ten frames, number words, tens and ones, and making 10.
Flip and Find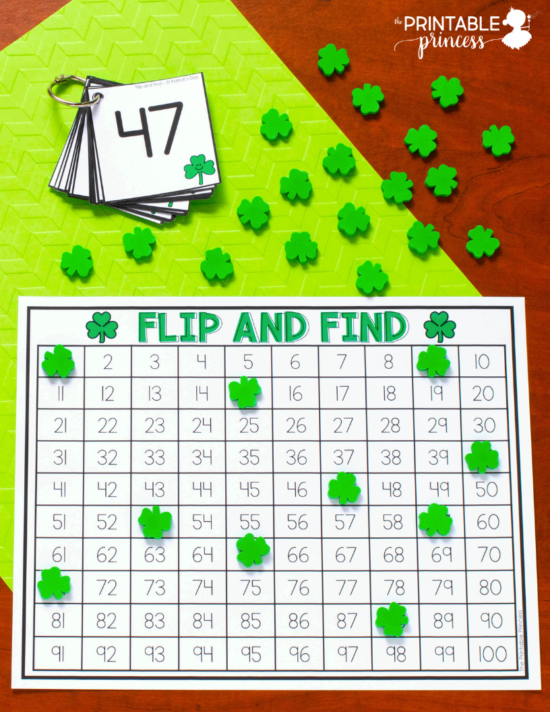 Students flip a card and identify the number. They find and cover the corresponding number on the hundreds chart. Students continue playing until all of the numbers have been covered.
Roll and Race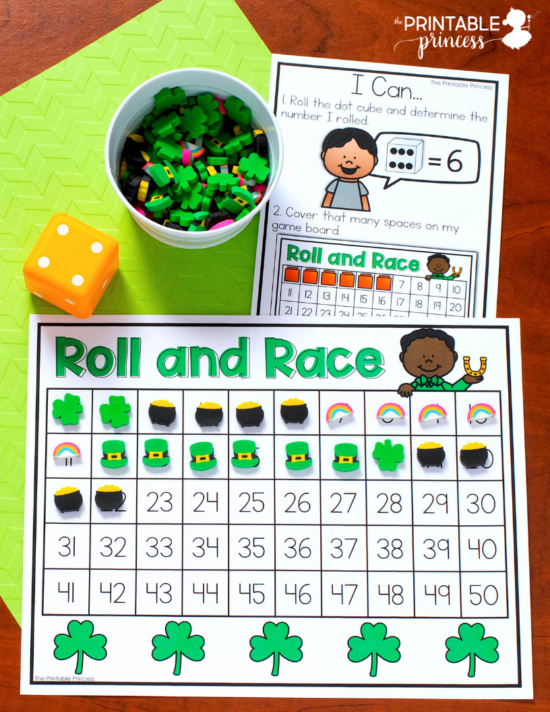 Students will love this set of St. Patrick's Day activities! They roll the dot cube and count to determine the number they rolled. They cover that make spaces on their game mat. The first player to cover all of the numbers wins. In order for a player to win, they must roll the exact number needed – if they have one space left, they must roll a one to win. There are four games included – numbers to 20, 30, 50, and 100.
Build the Word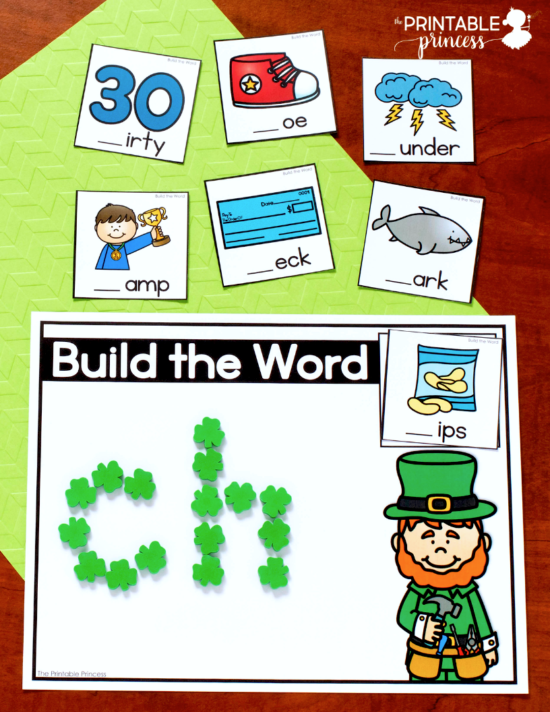 Students select a picture card and place it on the mat. They say the picture name to determine the beginning digraph sound. They use mini erasers or other small manipulatives to form the digraph on the mat.
Color Code Words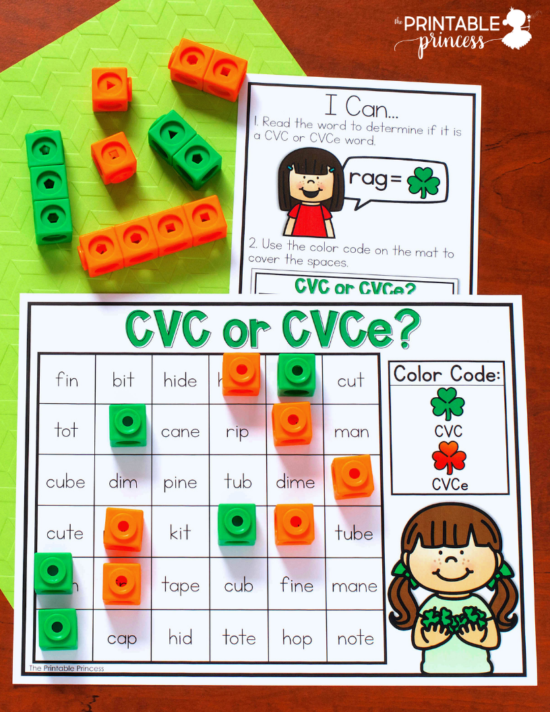 Students read each word and cover it using the color code on the side of the mat. A version to practice real and nonsense words is also included.
Cover the Nouns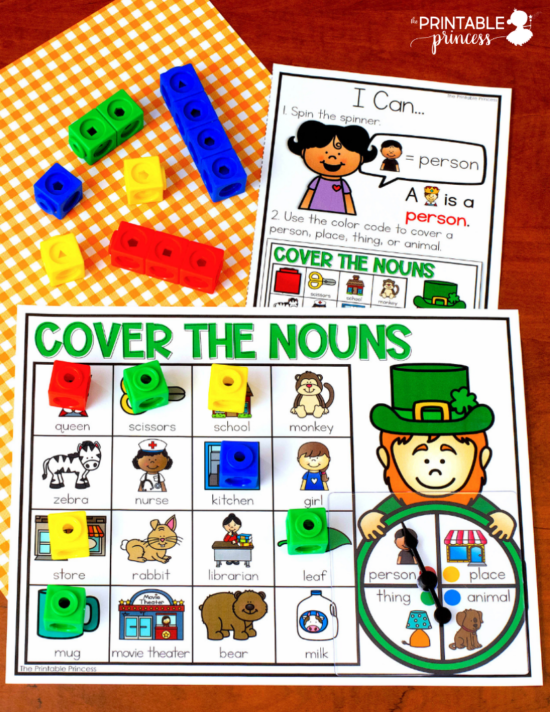 Students spin the spinner. They use the color code to cover a person, place, thing, or animal. They continue playing until all the spaces have been covered.
For a closer look at some of the activities include in the March Morning Tubs, check out this video:


St. Patrick's Day Activities: Number Trail
This little game is perfect for base ten practice. The leprechaun theme makes it perfect for the month of March. So be sure to add it to your list of St. Patrick's Day activities! Plus it's hands-on and fun – just like the activities in the St. Patrick's Day Math and Literacy tubs.
To prepare these St. Patrick's Day activities print and laminate the game mats so you can use it over and over. Students will need a game piece such as a mini eraser or plastic cube for this activity. They will also need a plastic spinner (my favorite kind!) or a paperclip and pencil to make a spinner. Students can play this game independently or with a partner.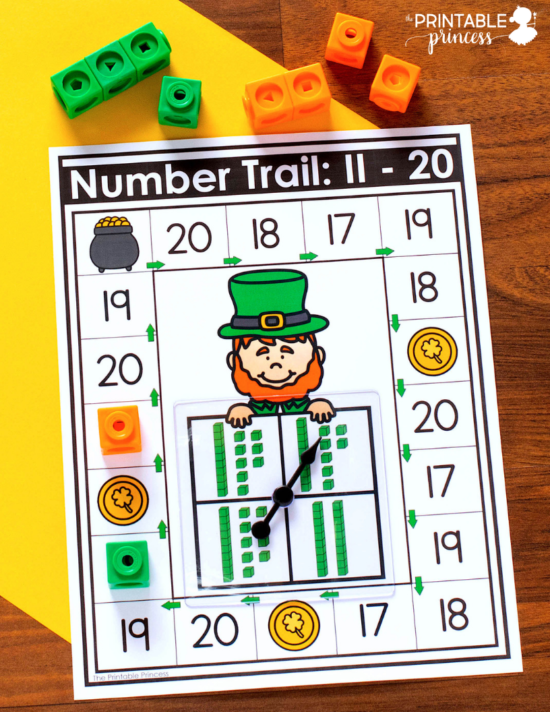 Students start on the pot of gold. They spin the spinner and identify the number. They move their game piece to the nearest space with the matching number. The gold coins are free spaces. The first player to make it back to the pot of gold is the winner. To win the game, the player must spin the exact number needed to reach the pot of gold.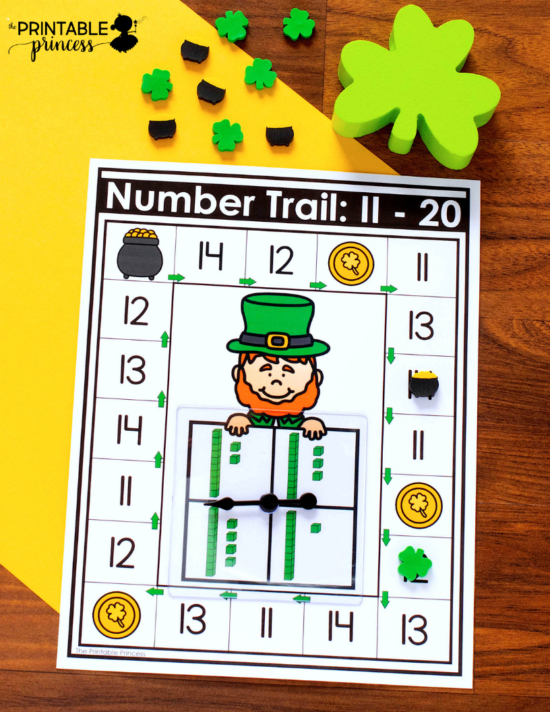 Teacher tip: If students playing with a partner, to decide who goes first, have each student spin the spinner. I always say the player who spins the larger number goes first; however you could also use the smaller number.
You can download your copy of the Number Trail by clicking here. In addition, if you're looking for more St. Patrick's Day activities and freebies click here.