December Morning Tubs for Kindergarten
December is one of the most exciting, magical months of the year. There are so many fun themes, read-alouds, and activities to do. If you're a fan of all things holiday-themed and hands-on, you're going to love these gingerbread-themed December morning tubs for kindergarten.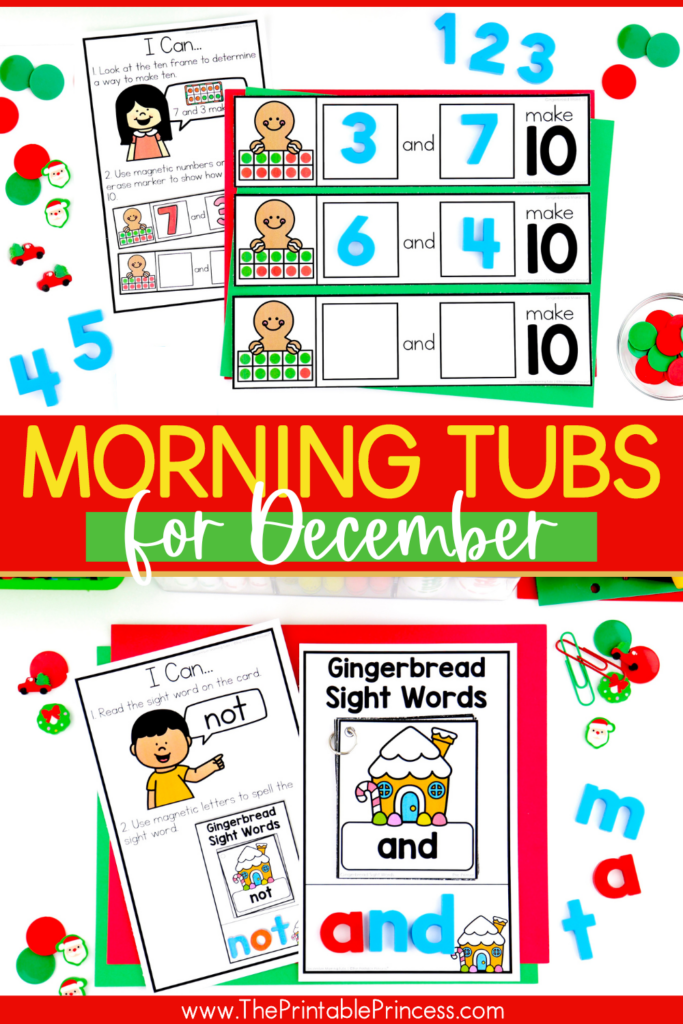 This article, along with many other articles on The Printable Princess, contains Amazon affiliate links. If you purchase through the links I earn a small commission.  Clicking these links does not cost you any extra but helps this website to keep great articles and freebies coming your way. 
December Morning Tubs for Kindergarten
Teachers know that December is one of the busiest months of the year. It's also the shortest as far as "school days," which can make it feel extra busy.
During this holiday season, it's important to maintain a consistent routine as much as you can for your students. This is especially true for your morning routine.
You also want to plan activities that are hands-on, engaging, and fun for your overly excited students. Plus, you want to make sure they're as easy to manage as possible for your sake. Enter… December Morning Tubs for Kindergarten!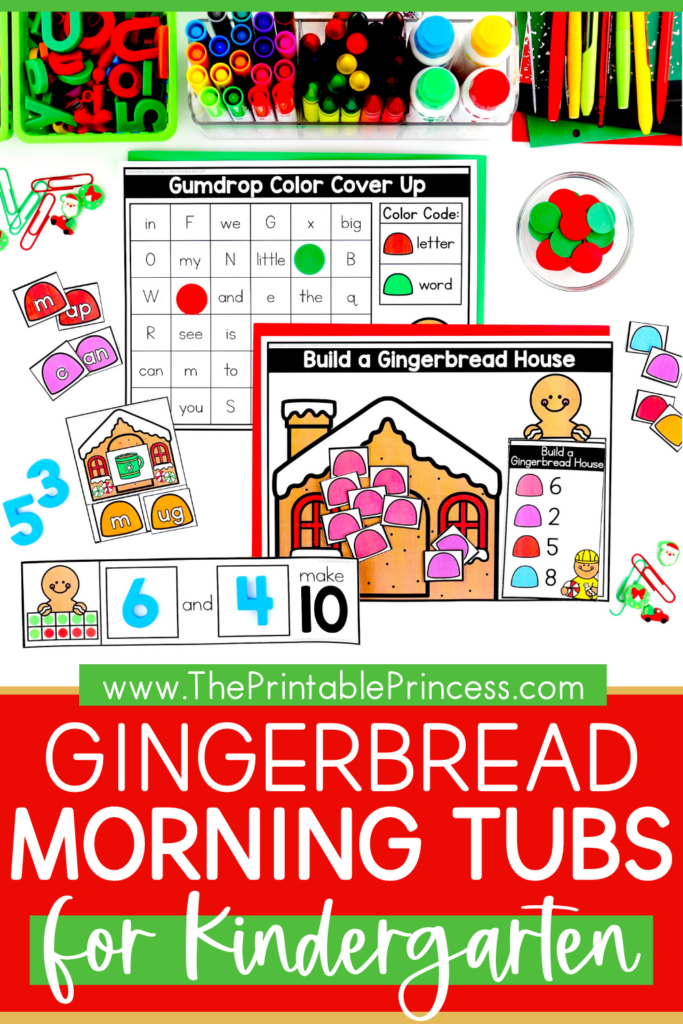 Benefits of December Morning Tubs for Kindergarten
There are so many benefits to using morning tubs in kindergarten, especially during the month of December.
Consistent Morning Routine
Using December Morning Tubs with your kindergarten students allows you to maintain a consistent morning routine. No matter how packed the day's schedule is, you can rest assured that your students can start the day on track.
This will help your students thrive during this busy season, as they crave consistency and predictability, too.
Save Time as a Teacher
One of the most enticing benefits of morning tubs for teachers, especially during the busy holiday season, is that they require ZERO grading!
There are no recording sheets, which cuts down on prep time, grading time, and paper chaos.
Versatile Activities
The activities included in this gingerbread-themed morning tubs set are super versatile. They can be used not only for morning tubs, but as center activities, partner practice, or early finisher activities.
Cross-Curricular Learning Opportunities
With the gingerbread themes included, you can easily tie these activities into your other studies, such as gingerbread read alouds, reading concepts, and writing concepts.
You can even tie this into science and art if you make edible gingerbread houses or a gingerbread house craft as a class.
Engaging and Meaningful Skill Practice
December Morning Tubs for Kindergarten gives students an opportunity to work independently and practice key math and literacy skills that they're learning before winter break.
They will work on fostering independence while staying highly engaged in their learning. Each activity comes with an "I Can" card to promote independence.
These morning tub activities are a stress-free way for students to work on important skills as well. Plus, the activities will feel like a game to your students!
Basic Classroom Supplies
These gingerbread-themed morning tubs only use basic classroom supplies, which saves time, money, and mess.
All students will need are plastic cubes, mini erasers, play dough, dot cubes, and spinners. I love these gingerbread-themed mini erasers, as they go perfectly with these activities and are so adorable!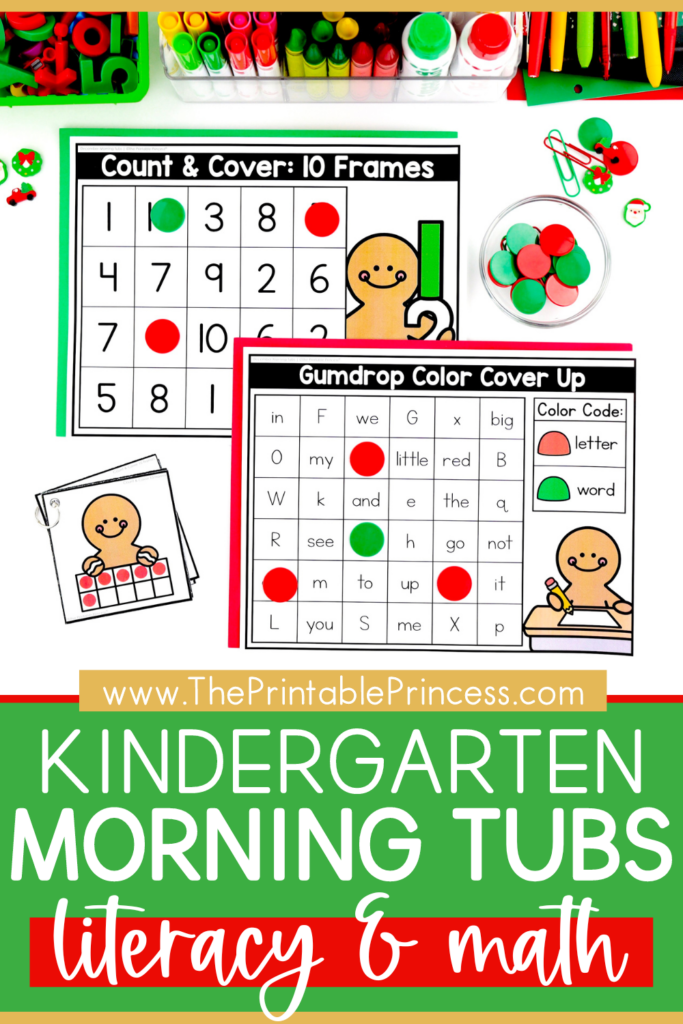 December Morning Tub Literacy Activities
These December morning tubs for kindergarten cover a ton of kindergarten literacy skills with a variety of hands-on gingerbread activities.
These activities give your students the practice they need to help master important skills and grow as readers. Read on for a sneak peek at some of the literacy activities included.
Gumdrop Onset and Rime
This Gumdrop Onset and Rime morning tub activity is a great way to practice sounding out and saying CVC words.
Students will say the name of the CVC picture on the gingerbread house. Then, they will match the gumdrops to show the onset and rime and place them on the gingerbread house mat.
To ensure students are successful, go over the picture names with your students before they complete this activity independently.
Sound Gumdrops
If you're ready to challenge your students who have mastered beginning sounds, these Sound Gumdrops activity mats are the perfect next step!
To complete this activity, students say the name of each picture and identify the missing sound. Then, they use the gumdrop color code to cover the pictures with a matching colored manipulative.
There are gingerbread mats included to practice ending sounds, CVC middle sounds, and word families.
Gumdrop Cover Up
Gumdrop Cover Up is a gingerbread-themed activity that all of your students can be successful with because there is something for everyone!
Students will use the color code on the right side of the mat to cover the spaces for that particular mat. There are 3 types of mats included to practice various skills: uppercase and lowercase letter sort, letter and word sort, and real and nonsense word sort.
This morning tub activity makes it easy to differentiate according to your students' skill level.
Gingerbread Sight Words
You can never have too many engaging sight word activities in kindergarten. As students learn to read, their knowledge of sight words grows even more important.
Gingerbread Sight Words is a fun activity for students to use to practice identifying and building sight words.
This morning tub activity is easy to differentiate because it is editable, making it easy to customize the sight word list according to the words your class is working on. You can also make leveled lists to differentiate for your learners.
Students will choose a sight word card and place it on the gingerbread mat. Then, they will build the word using a dry erase marker or magnetic letters.
December Morning Tub Math Activities
Literacy isn't the only subject getting all of the gingerbread learning fun this month! These December Morning Tubs for Kindergarten also include a ton of engaging and interactive math activities.
These morning tubs are perfect for the skills your students are working on this time of year. Here's a sneak peek at a few of the math morning tubs included.
Count and Cover Ten Frames
Whether your students are working on numbers to 10 or numbers to 20, this gingerbread Count and Cover Ten Frames activity will be a hit!
Students will choose a ten frame card and identify the number. Then, they'll find a space on the mat with the matching number and cover it with a manipulative.
To make differentiation easy, there are two versions included, numbers to 10 and numbers to 20.
Gingerbread Make 10
By December, kindergarten students are working hard on the skill of making 10. This Gingerbread Make 10 activity allows students to identify various ways to make 10.
Once they identify which way to make 10 the activity card is showing, they will use magnetic numbers or dry erase markers to represent the number pair.
Peppermint Number Order
Peppermint Number Order is a fun activity to help students build strong number sense and counting skills.
Students will look at the peppermint cards and count the peppermints in the jars. They will then fill in the missing numbers by counting backwards, counting on, or counting to determine which numbers are missing.
Students will fill in the missing numbers using magnetic numbers or a dry-erase marker.
Build a Gingerbread House
Your December Morning Tubs for Kindergarten wouldn't be complete without building a gingerbread house!
For this Build a Gingerbread House activity, students select a number "directions" card. This card will be their building instructions.
They will use the direction card to count out each color of gumdrops and put it on the gingerbread house to complete their "construction."
There are 15 gingerbread house instruction cards included, so students can get creative with various gingerbread house designs.
If you enjoyed this sneak peek, you can grab all of these activities and more in my December Morning Tubs for Kindergarten resource.
These gingerbread activities will keep your students on track and on task all December long. Plus, they'll make planning easier on you and will make learning more fun for everyone.
Tell me in the comments below which gingerbread activity your students would be most excited to see!
If you'd like to learn more about morning tubs, how to get started with them, how to organize them, or have questions about them, read more about them in these blog posts.