December Morning Tubs for Kindergarten
December is one of my favorite months in Kindergarten. Aside from the fall apple theme, gingerbread is my second favorite theme to cover. I love the read-alouds, making Gingerbread houses, and everything in-between. My new favorite gingerbread activity are these new December Morning Tubs for Kindergarten. If you are covering a gingerbread theme this month, these would be a perfect fit.
Teachers know that December is one of the busiest months of the year. It's also the shortest as far as "school days", so maybe that's why it feels so busy. During this crazy time, important to plan activities that are highly engaging, fun for overly excited students, and as easy to manage as possible. What I love most about these tubs, is there's no recording sheets. This means you won't find yourself with extra papers to grade.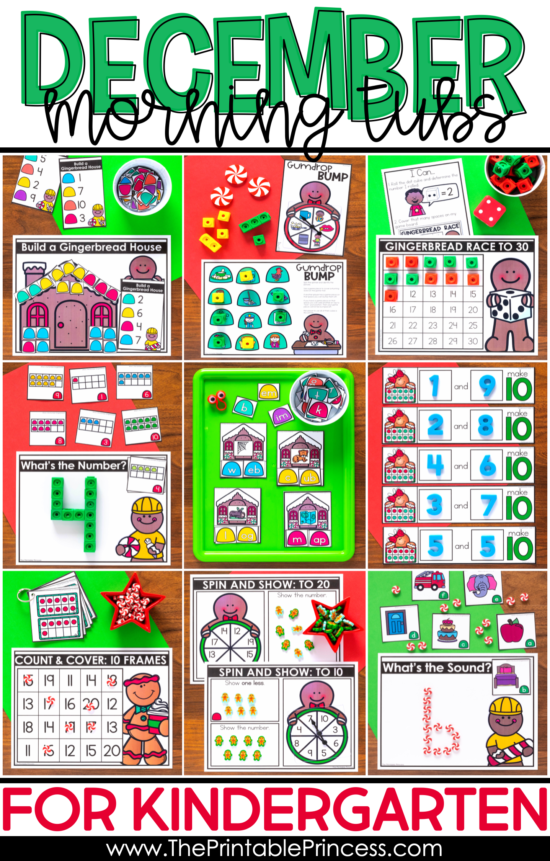 This article, along with many other articles on The Printable Princess, contains Amazon affiliate links. If you purchase through the links I earn a small commission. Clicking these links does not cost you any extra but helps this website to keep great articles and freebies coming your way.
December Literacy and Math Tubs
Don't let the "morning" part fool you – these activities can be used throughout the day. Whether it's a few fun activities to keep your students engaged as everyone arrives, or need math or literacy stations, or maybe just some fun filler activities – these activity tubs are a perfect fit.
The December Morning Tubs for Kindergarten kit includes literacy and math activities with a fun gingerbread theme. The skills included in this resource are ones that your Kindergartners are most likely working on during the month of December. Students will be engaged and learning because this resource is packed full of games and interactive activities.
Each activity comes with an "I Can" card to promote independence. In addition, each piece or card is labeled to help you stay organized and pair up missing pieces if something gets lost.
These activities use basic classroom supplies like magnetic letters, dry erase markers, plastic math cubes, play dough, and more.
Mini Erasers for December:
If you've been following along for awhile, you know that I love using mini erasers for activities. I often get asked where I find mini erasers and how I keep them all organized – so much that I wrote a blog post sharing all of my mini eraser secrets. So when I found these adorable Gingerbread shaped mini erasers on Amazon, I knew that these would help make tubs these tubs the perfect gingerbread activities for Kindergarten!
Additionally, this variety pack of mini erasers includes snowmen, snowflakes, and peppermints. The peppermints would pair well with the gingerbread mini erasers, linked above. And you can save the snowman and snowflake erasers for the January Morning Tubs!
Literacy Tubs for Kindergarten:
What's the Sound?

In December, you may have several students still finalizing those letter sounds. The December Morning Tubs for Kindergarten includes several activities to help students solidify sounds as well as challenge those students who are ready for more.
In this activity, students select a picture card and determine the beginning sound. They use mini erasers or other small manipulatives to form the letter on the gingerbread mat. There are two versions of each picture cards included – one with the letter cue and a set without.
Gumdrop Onset and Rime:

For this activity, students say the name of the CVC picture on the gingerbread house. They match the gumdrops to show the onset and rime and place them on the gingerbread house mat. It is recommended that you go over the picture names with your students before they complete this activity independently.
Sound Gumdrops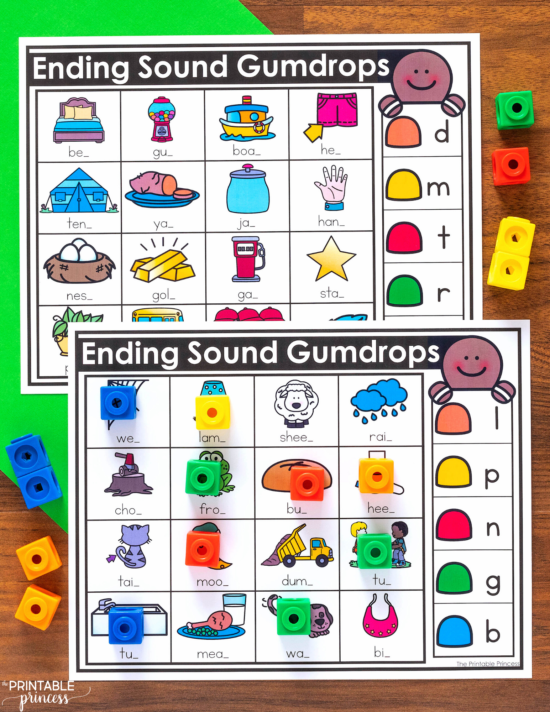 Ready to challenge those students who have mastered beginning sounds? To complete this activity, students say the name of each picture and identify the missing part. They use the gumdrop color code to cover the pictures.
Gingerbread mats to practice ending sounds, CVC middle sounds, and word family versions are all included – for a total of six mats.
Gumdrop Cover-Up

Here's a gingerbread themed activity that all of your students can be successful at because there is something for everyone! Skills include uppercase and lowercase letters sort, letter and word sort, and real and nonsense word sort.
Students use the color code on the right side of the mat to cover the spaces.
Math Tubs for Kindergarten:
These December Morning Tubs for Kindergarten also include a variety of math skills – here's a peek at some of those.
Count and Cover Ten Frames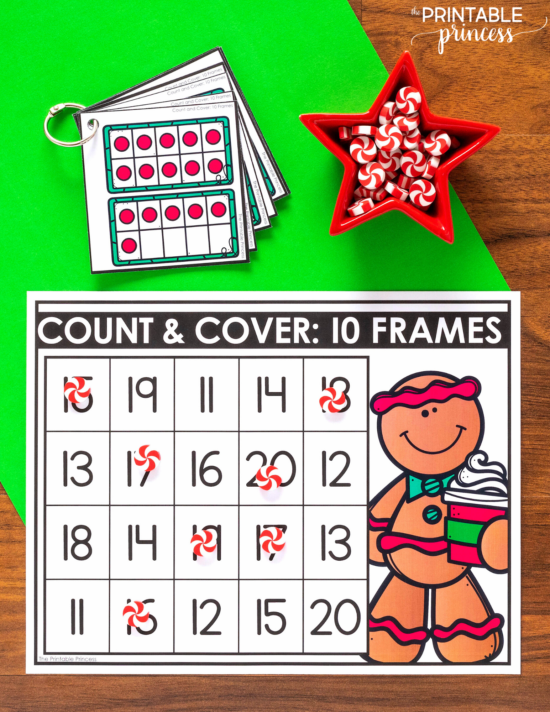 Whether your students are working on numbers to 10 or numbers to 20, this gingerbread activity will be a hit! Students will select a card and identify the number. They find a space with the matching number and cover it with a cube. Two activities are included – numbers to 10 and 20.
What's the Number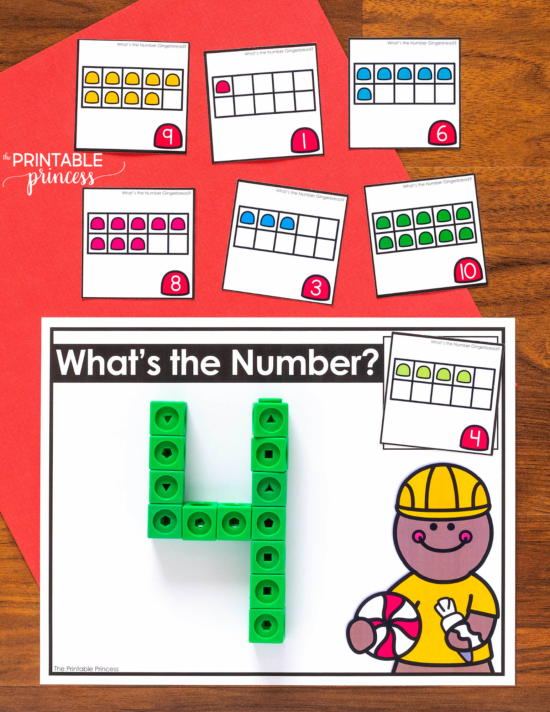 Students select a picture card and determine the number represented. They will use mini erasers or other small manipulatives to form the number on the mat. There are two versions of the ten frame cards included here. You can pick whether or not you'd like the number shown on the gumdrop.
Gingerbread Make 10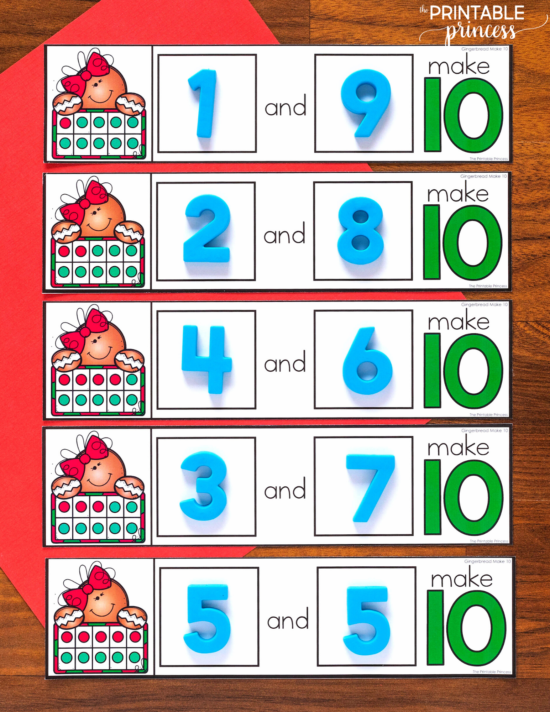 Using the gingerbread ten frame, students identify the way to make ten. They will use magnetic numbers or dry erase markers to show a way to make 10.
Build a Gingerbread House
Your gingerbread activities for kindergarten would not be complete without building a gingerbread house! For this activity, students select a number "directions" card (aka building instructions). They count out each color of gumdrops and put it on the gingerbread house to complete "construction". 15 building instruction cards included
Spin and Show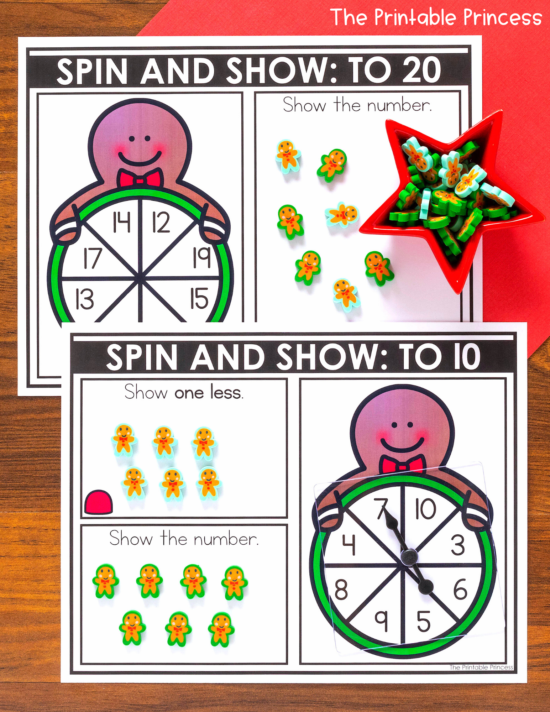 Students spin the spinner to determine the number. They count and show that many manipulatives on the mat. Then, if prompted they will show one more, one less, or ten more. Numbers within 10 and within 20 are included.
For a more in-depth look at the December Morning Tubs, check out this video:
You can check out these activities on The Printable Princess online shop or in my Teachers Pay Teachers shop. Just click on the corresponding link below:
I hope these December Morning Tubs for Kindergarten ideas help make your month easy to plan and fun to teach!