Halloween Activities for Kindergarten
Halloween is the official start to the busy holiday season. It's such an exciting time for children as they get to dress up, use their imagination, and experience the excitement of the holiday. Today I'm sharing some of my favorite Halloween activities for kindergarten.
I always prefer to celebrate Halloween with light and cute ideas, nothing too scary. In this blog post, you'll find ideas for Halloween activities with themes such as pumpkins, jack-o-lanterns, spiders, bats, candy, etc.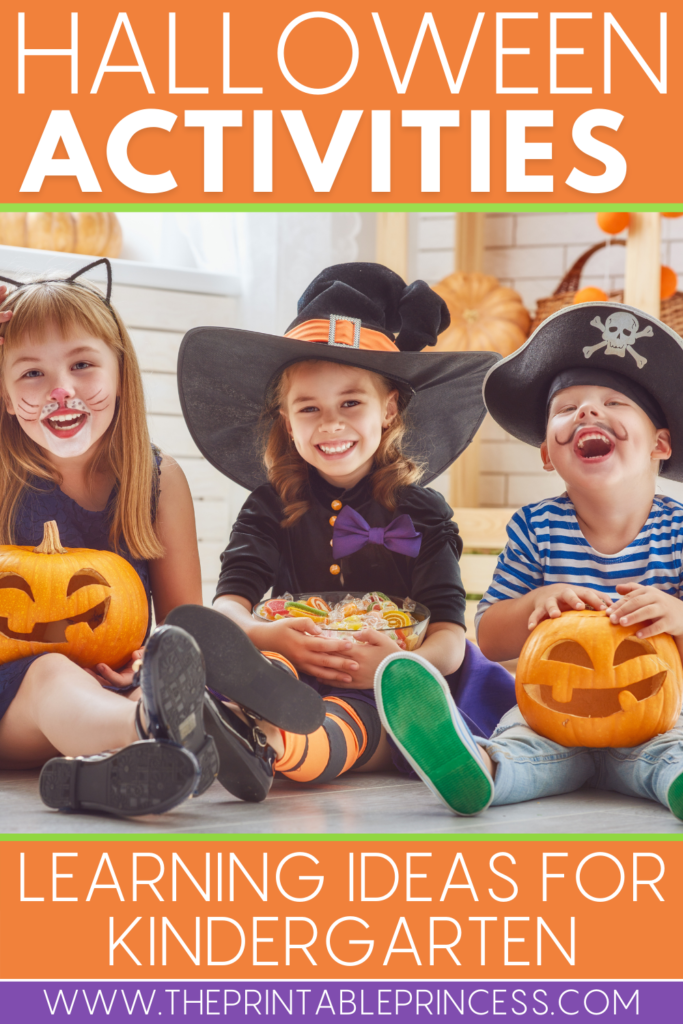 This article, along with many other articles on The Printable Princess, contains Amazon affiliate links. If you purchase through the links I earn a small commission. We only share links to resources and products we love.
Halloween Read Alouds
Halloween is one of my favorite times of year because of all the great read alouds and Halloween-themed stories. There's just something about these stories that gets students hooked, using their imagination, and giggling all the way through.
Here are some of my favorite, not so spooky read alouds that are perfect for kindergarteners around Halloween.
Pumpkin Patch in a Cup Snack
What better way to follow up a Halloween read aloud than with an easy, DIY Pumpkin Patch in a Cup snack?
This snack is great to treat your students to all fall long, but is perfect to use around Halloween. This could even be a fall or Halloween party snack for your students.
All you need to whip up this snack is chocolate sandwich cookies, vanilla pudding cups, pumpkin candies, green frosting in a tube, and a spoon.
For step-by-step picture directions and a video tutorial on how to make this adorable snack, check out this blog post.
Halloween Writing Activities
Just like Halloween read alouds seem extra fun, so do Halloween writing activities for kindergarten. Students can really use their creativity, imagination, and writing/illustrating skills with Halloween-themed writing prompts.
There are also fall, fire safety, and anytime-themed writing prompts included, making these writing prompts perfect to use all October long.
Not only will students enjoy writing about fall and Halloween-themed topics, but they'll also be practicing important beginning writing and handwriting skills along with writing conventions.
You could even have a Halloween writing party where students choose their favorite piece of writing from the month and read it to the class. You can turn off the lights and let them read it to the class using a flashlight for maximum Halloween effect!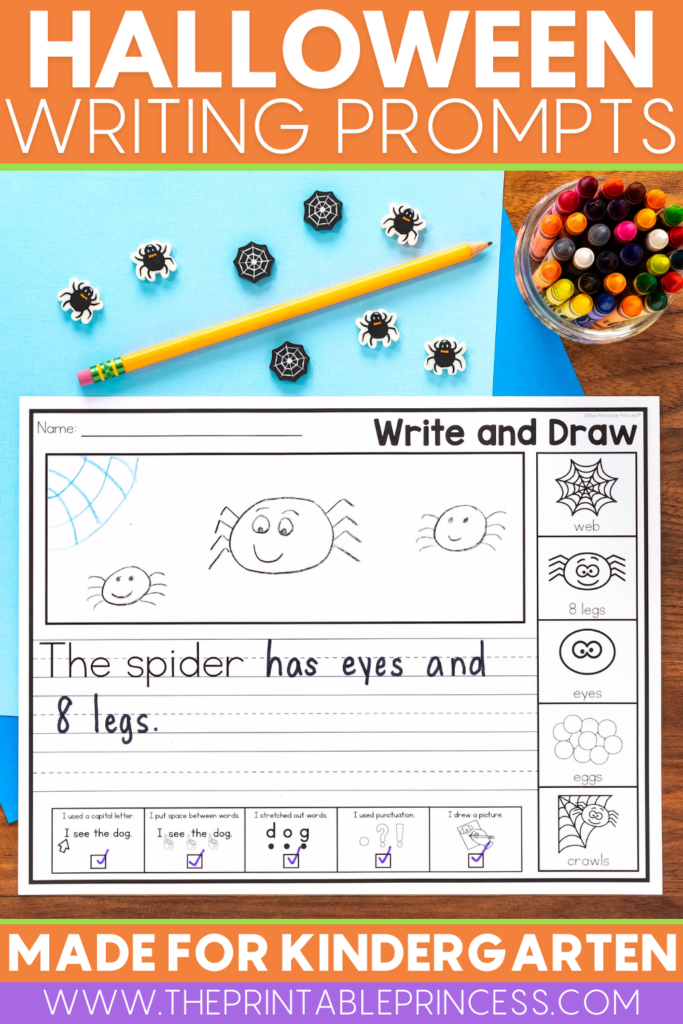 Halloween Math and Literacy Centers
Halloween activities for kindergarten aren't all for fun and games, they're also great for learning and mastering critical math and literacy skills.
Make practicing these skills feel like fun and games with these Halloween math and literacy centers in a "too cute to spook" theme.
With 22 Halloween-themed center activities included, 11 math and 11 literacy, you'll be set for meaningful practice all October long.
Your students will have a blast while practicing skills such as beginning sounds, rhyming, letter recognition, counting, number order, comparing numbers, and much more!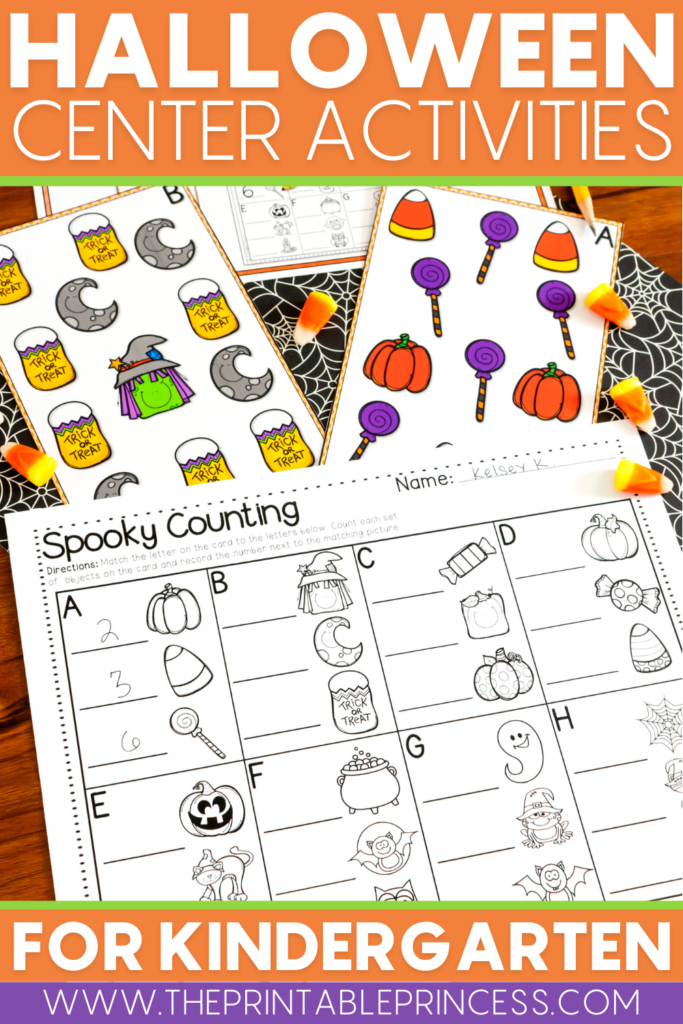 Halloween Mini Eraser Activities
If you're like me and you're obsessed with mini erasers, then you probably keep your eye out all fall for Halloween-themed mini erasers. You can find them at stores like Target, Dollar Tree, or even on Amazon. Hello 2-day shipping and not having to leave the house!
Trick or Treat Counting Activity
The first mini eraser Halloween activity for kindergarten is super simple and all you need are small pumpkin containers and candy mini erasers. Simply write numbers 1-10 on the outside of the pumpkin containers to prep them.
This "Trick of Treat" activity can be done independently or in partners. To use this activity independently, students will read the number on the pumpkin and put that many candies in the pumpkin.
To play with a partner, the students will pretend to go trick or treating. One student selects a pumpkin and reads the number. They say to their partner "Trick or treat. I need three sweets please." Then they hold the pumpkin up for their partner to place that number of sweets in the pumpkin.
This is reason #472 why I love teaching Kindergarten. The silliest and smallest things make them excited about learning!
For extra fine motor practice, you can add jumbo tweezers or plastic spoons to have students scoop up the candy erasers with.
Fall Mini Eraser Mats
To practice number and letter recognition and formation, these mini eraser mats are the perfect addition to your October lesson plans. There are anytime themes included as well as themes for fall, Christmas, winter, Valentine's Day, and more.
Students will get fine motor practice as well as number and letter practice as they identify numbers and letters and use mini erasers to form them on their mini eraser mat. You can work in extra fine motor practice by adding in chunky tweezers as well.
Fall Game Mats
Reviewing math and literacy skills is extra fun in the fall with mini eraser game mats. Use the fall-themed mat along with your fall or Halloween mini erasers to make reviewing skills a blast.
There are several seasonal and anytime-themed mats included, so you can use these game mats all year round.
A few ideas of skills you can review are sight words, CVC words, addition and subtraction questions, etc. Each time the student gets the answer correct, they get to mark a space on their game mat. The first student to fill up their mat wins!
Halloween Math and Literacy Freebies
While Halloween is a fun time of year, it's also a super busy time of year as well. It seems like October is jam-packed with learning new skills, holidays, and special days to celebrate.
To make your life easier and save you big on planning time, I created a couple of fun and hands-on Halloween freebies for you to add to your lesson plans this month!
Halloween Math and Literacy Freebie
This Halloween math and literacy freebie has 2 activities included to help your students practice counting and forming letters.
All your students will need for these activities are crayons for "Candy Counting" and mini erasers or another small manipulative for the "Witch Letter Should I Build?" activity.
Click here to download your Halloween math and literacy freebie.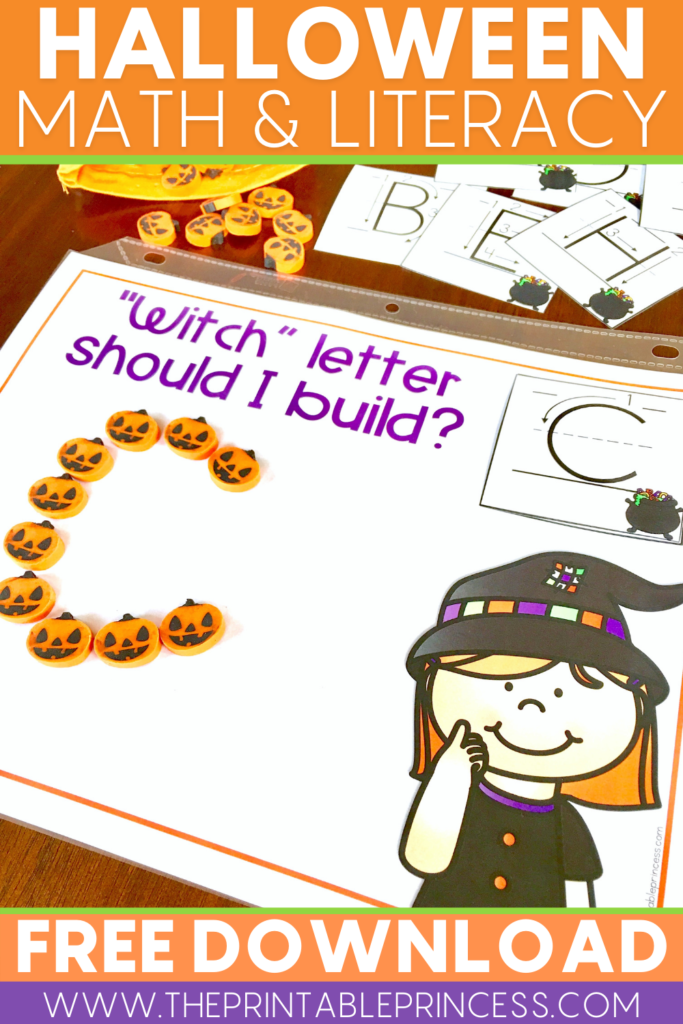 Halloween Mini Eraser Freebie
Next up is a set of Halloween mini eraser freebies that you can easily print and implement with your students all month long.
You'll find activities for letter and number recognition, counting, a fall math game, and more!
To grab your set of Halloween mini eraser freebies, fill out the form below to join our email community and get your freebie delivered straight to your inbox.
I hope you've enjoyed these Halloween activities for kindergarten. Here's to a fun and imagination-filled Halloween season for you and your students.