Gingerbread House Craft for Kids
Nothing says December quite like gingerbread houses. In another blog post, I shared how you can ditch those milk cartons and make a MUCH easier gingerbread house (plus this version is edible!). Today I'm back sharing a DIY Gingerbread House Craft that's perfect for the holiday season.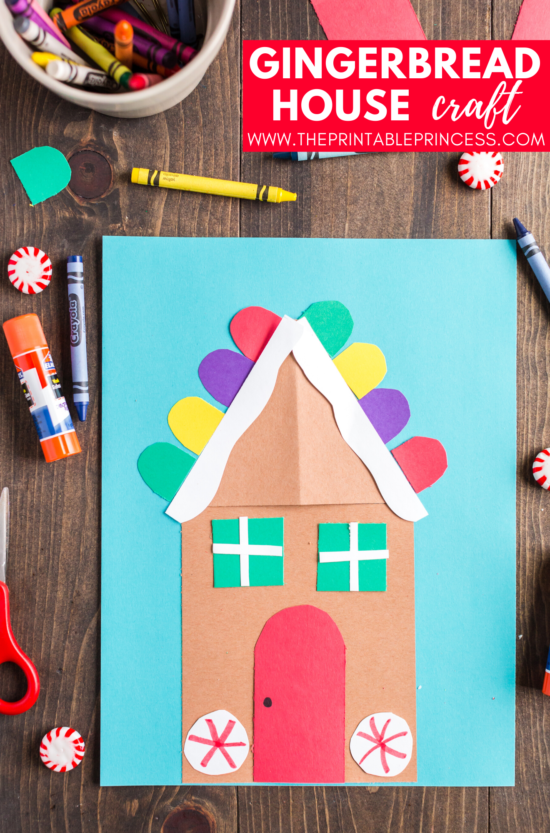 This article, along with many other articles on The Printable Princess, contains Amazon affiliate links. If you purchase through the links I earn a small commission. Clicking these links does not cost you any extra but helps this website to keep great articles and freebies coming your way.
Gingerbread House Craft
You can complete this craft as a whole group, or as a station during rotations. This activity is great to strengthen fine motor skills, but it also encourages students to listen and follow directions.
I think it's a good idea to have a completed example to show the students what they will be making. But then I also make the craft with them, so I am modeling as we go. There are no tracers – just simple rounding corners and following directions.
I think it works best to pass out each section one at a time. That way students know what piece to work on and there isn't any confusion. We work on the gingerbread house craft step by step. Except for the gumdrops, once the students have done one, they usually have the hang of it and can do the other independently. First I model how to cut the paper and then the students cut the paper.
Supplies You'll Need: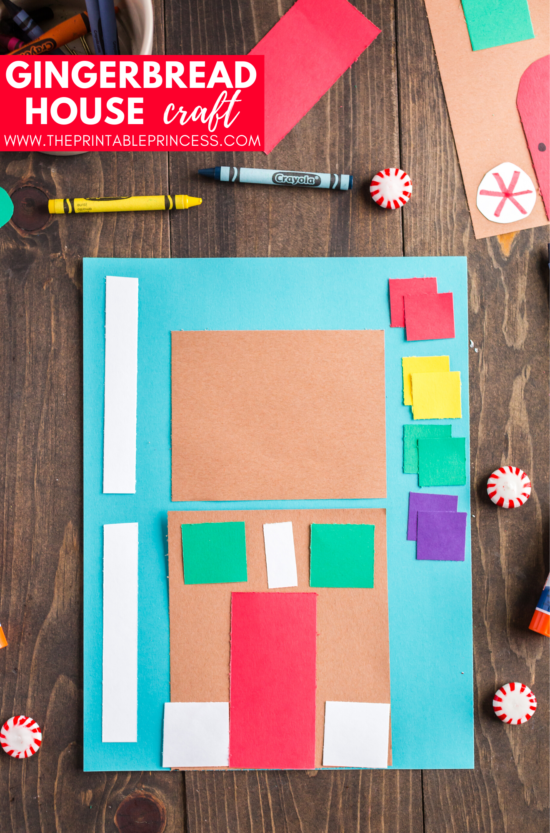 All you'll need for the gingerbread house craft is construction paper, scissors, glue sticks, and a red marker. You can chose to have students make the gingerbread house fun and festive colors – or use traditional colors like red and green. Better yet, let the students pick!
Each student will need:
House – 5×6 rectangle
Roof – 5×4 rectangle
Door – 2 x 4 rectangle
Gumdrops – 1 1/4 x 1 1/4 squares
Snow on Roof – ½ x 5 (two pieces)
Windows – 1 ½ x 1 ½ squares
Window Frames ½ x 1 ½
Peppermints 1 ½ x 1 ½
All measurements are in inches.
Assembling the Gingerbread House: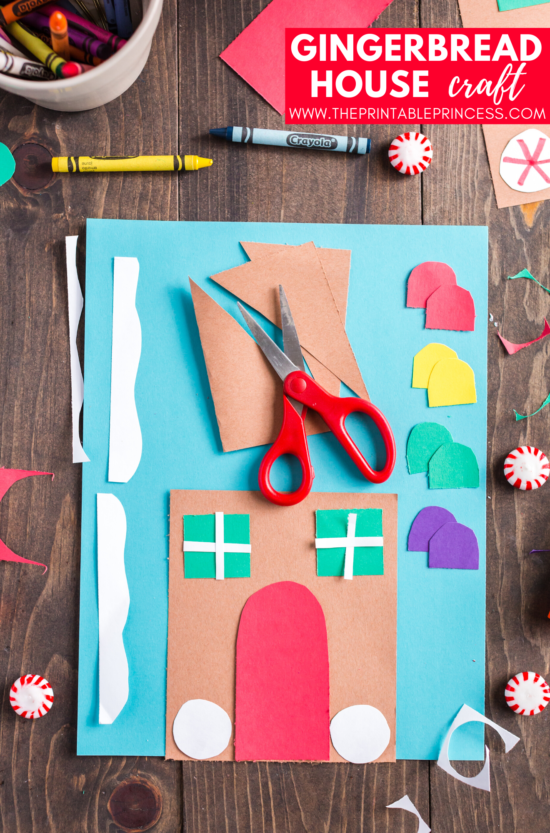 Students will need a 5″ x 6″ brown rectangle for the base of the gingerbread house. Nothing is done to this piece, except gluing it on the paper. This is the first step to creating this gingerbread house craft.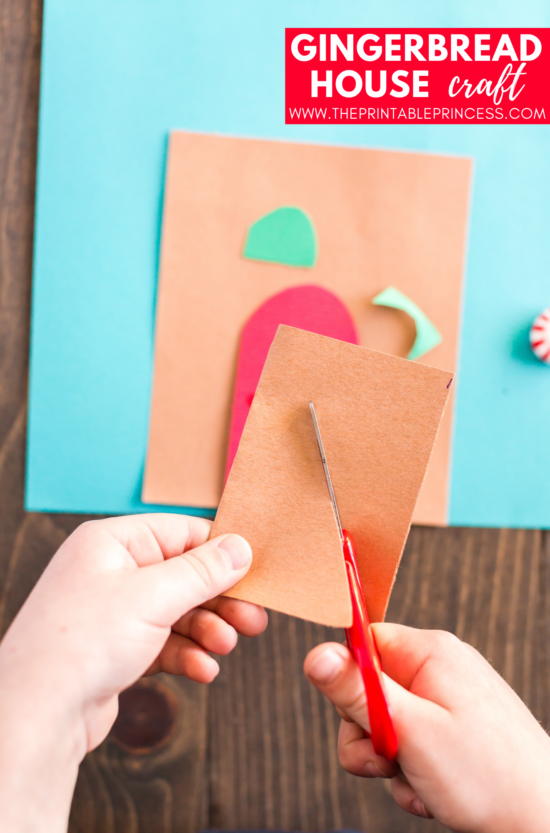 For the roof, fold the 5″ x 4″ rectangle in half and cut diagonally. Glue on top of the brown gingerbread house base.Students can pick which color they would like for the door. They don't necessarily have to use red. They will take the 2″ x 4″ rectangle and round the top only. Use a marker to create a door knob.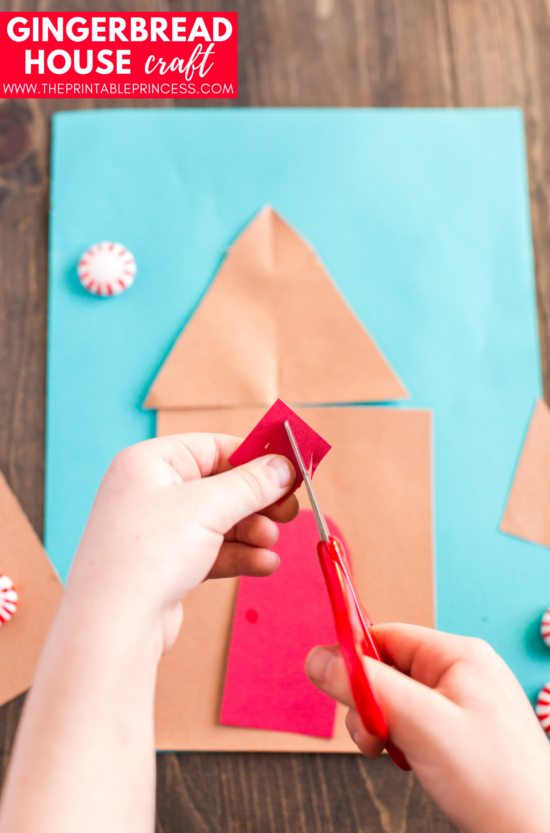 For this gingerbread house craft, students will need eight 1 1/4 x 1 1/4 squares for the gumdrops. You can choose to use a variety of colors or stick to traditional red and green. I like to leave out a variety of color options and let students pick eight.Just like the door, students are going to make simple cuts and round the tops only.
Creating the Roof: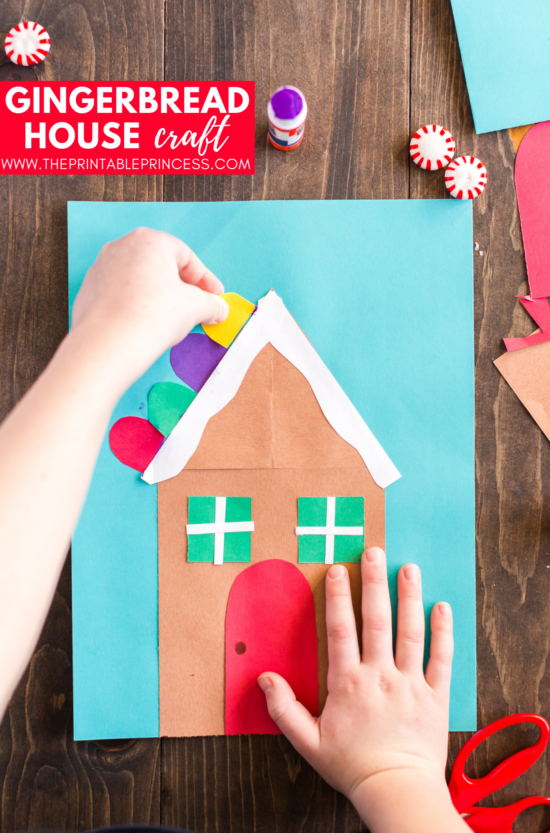 Two white pieces of paper cut ½" x 5″ is needed for the snow on the roof. Students will cut one side of each piece in a wave pattern.Glue the snow on the roof first and then the gumdrops along the top.To create the windows, students will glue two 1 ½" x 1 ½" squares on the gingerbread house base.
For the window frames, cut the ½" x 1 ½" piece into 4 equal pieces. If this step is too much, you can have students draw the window frames on with a marker.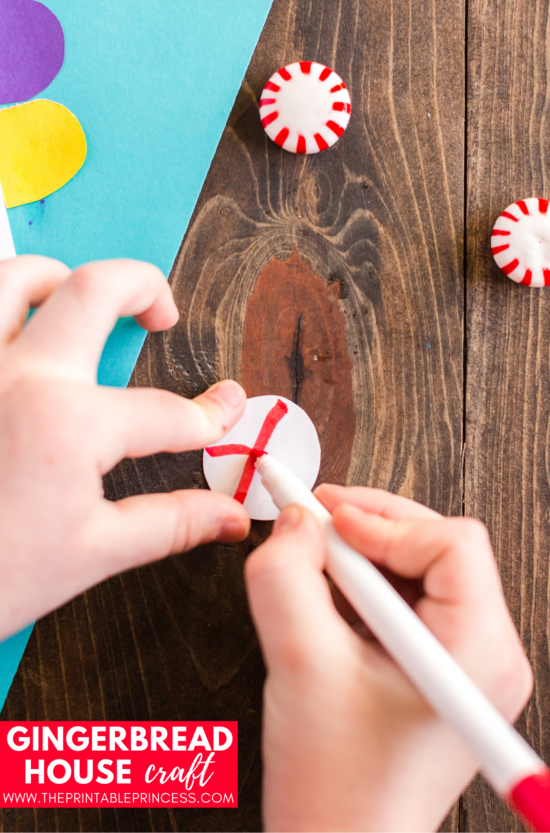 To create the peppermints, students will need two 1 ½" x 1 ½" white pieces of paper. They will round the corners of each square to create a circle. Use a red marker to draw lines so it looks like a peppermint.These are glued on each side of the door.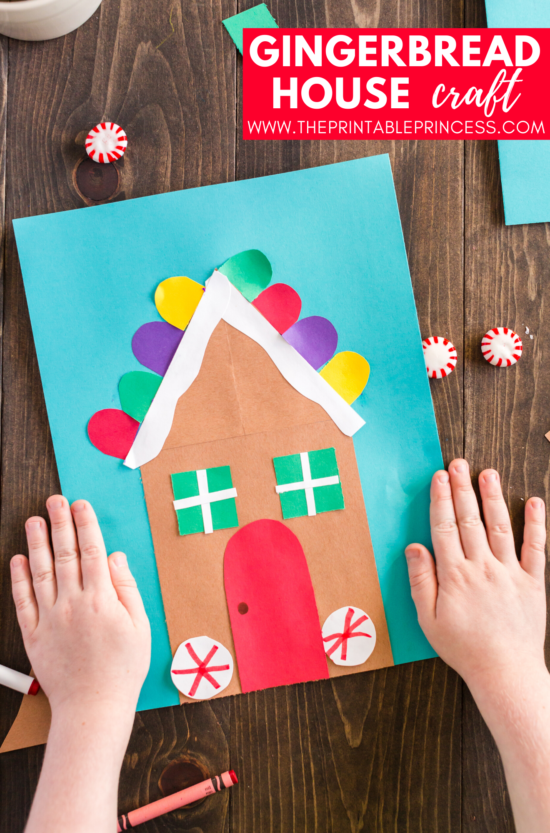 For a more in-depth look at the Gingerbread House Craft, check out this video:
This gingerbread house craft makes an adorable bulletin board or window display for the month of December. They are cheerful, colorful, and students can put their own unique spin on them.