Get the free Valentine's Day Snack printables to make delicious, easy, and fun snack with your class! From editable parent letter to snack printables – this post has everything you need!
---
During class parties, I love combining snacks and craft activities – we call them snack-tivities. I think it's so much easier to have a "snack plan" than having 6 dozen cupcakes, 80 juice boxes, 5 dozen cookies, 9 bags of chips, and 4 bags of candy. Not to mention, it's more fun for students to have a hand in making their snack. For winter parties one of my favorite snack-tivities is Graham Cracker Gingerbread Houses. Today I'm sharing my favorite Valentine's Day snack. I promise this Valentine's Day snack is so fun for class parties, and it makes planning MUCH easier.
Valentine's Day is the perfect occasion to incorporate kindness and friendship activities. So it's only fitting that we make a Friendship Trail, as our Valentine's Day snack! Friendship Trail Mix is all about coming together for a common goal (a delicious snack!) and building a classroom community.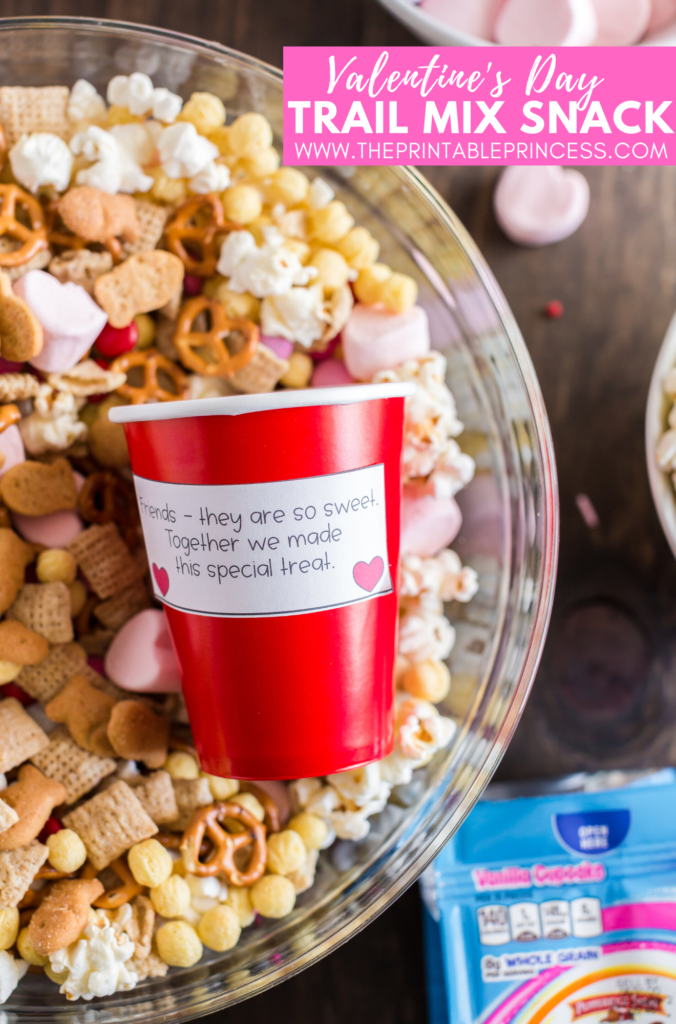 This article, along with many other articles on The Printable Princess, contains Amazon affiliate links. If you purchase through the links I earn a small commission. Clicking these links does not cost you any extra but helps this website to keep great articles and freebies coming your way.
INGREDIENTS YOU'LL NEED FOR THE TRAIL MIX:
The nice thing about this Friendship Trail Mix, is there is no right or wrong way to make it. You can use as many ingredients as you'd like or as little. The ingredients I am sharing in this trail mix are all peanut-free.
I generally keep my trail mix to about 8 or 9 ingredients. I assign 2-3 students the same ingredient. This way, if someone forgets or can't bring something in – it's not a big deal. If a student can't bring something in, I give them another task to help so they feel included and important. This could be something like helping me get the cups ready or passing out napkins.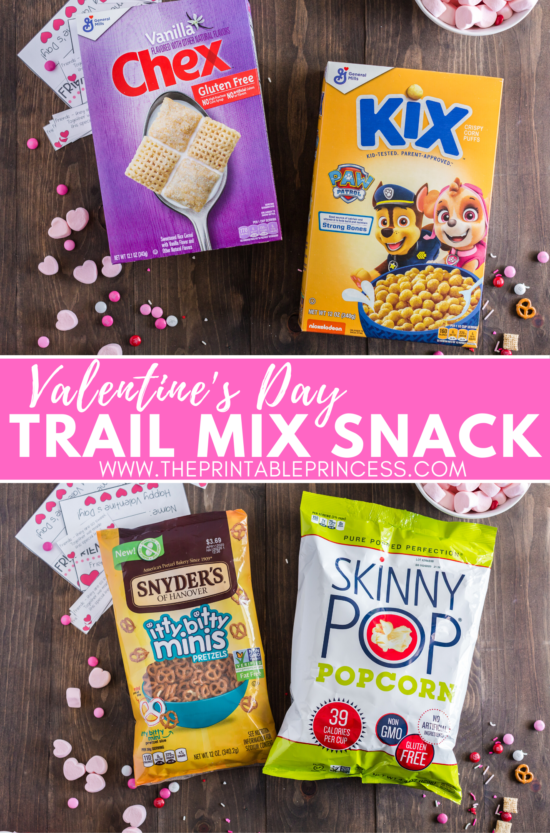 I like to use as many low-sugar options as possible. These include things like:
Vanilla Chex Mix
Kix Cereal
Mini Pretzels
Pre-popped popcorn
Other ideas for low-sugar options are regular Chex cereal, Cheerios, animal crackers, pretzel sticks, and goldfish.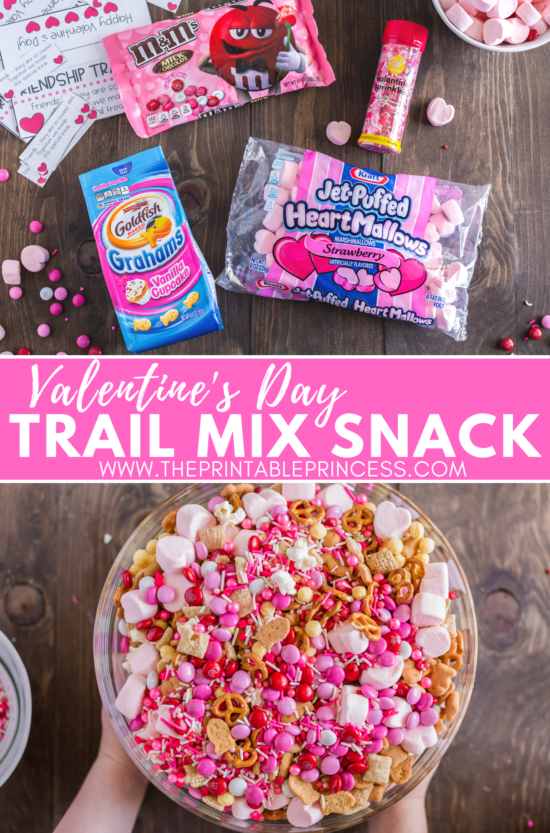 But let's face it – this is a party. It's a special day that deserves a few special treats.
Some of the other ingredients I ask for are:
sprinkles or jimmies
Valentine's marshmallow
Goldfish grahams
Valentine M&Ms
Other ideas for special treat options include: mini marshmallows, teddy grahams, chocolate chips or white chocolate chips, conversational hearts, and yogurt covered raisins.
Editable Teacher Letter: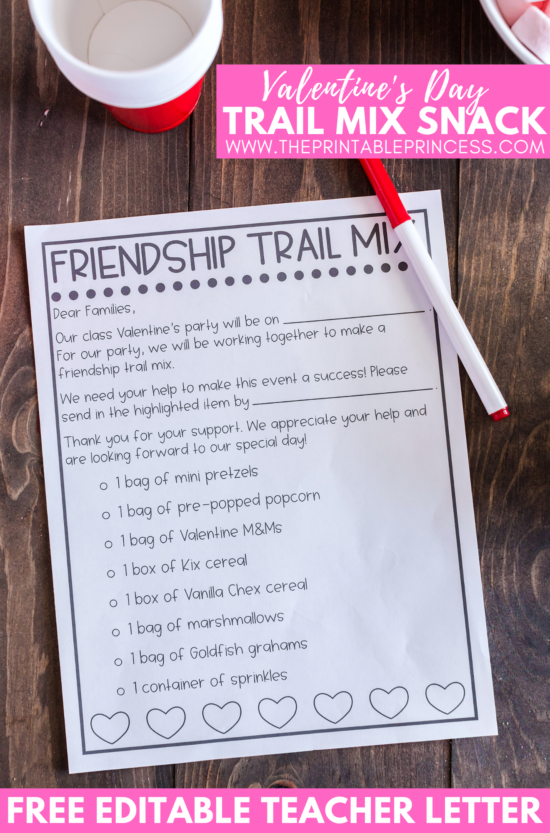 This is a copy of the teacher letter I use. I've included a copy for you at the bottom of this post. One parent letter is titled Friendship Trail Mix and the other is titled Valentine Trail Mix. You can decide what you'd like to call it!
Both have an editable ingredients version included, in case you need other ingredients.
You can also use a sign-up website such as Sign-Up Genius to gather donations.
Two Ways to Prepare Trail Mix
There's two ways you can serve this trail mix. You can do a buffet style of a mix and dump style. I'll explain both!
Buffet Style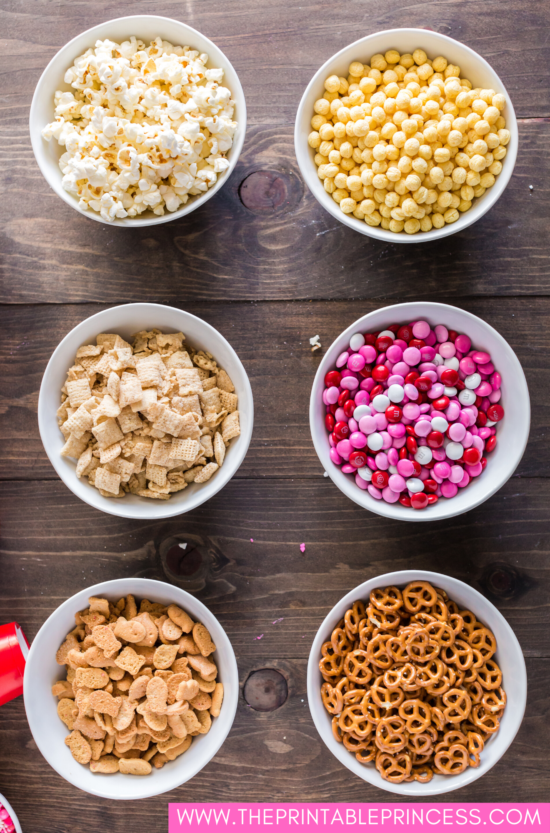 Buffet style is exactly how it sounds. Pour all of the ingredients into separate serving bowls. Students will use a small scooper to scoop the ingredients into their cup.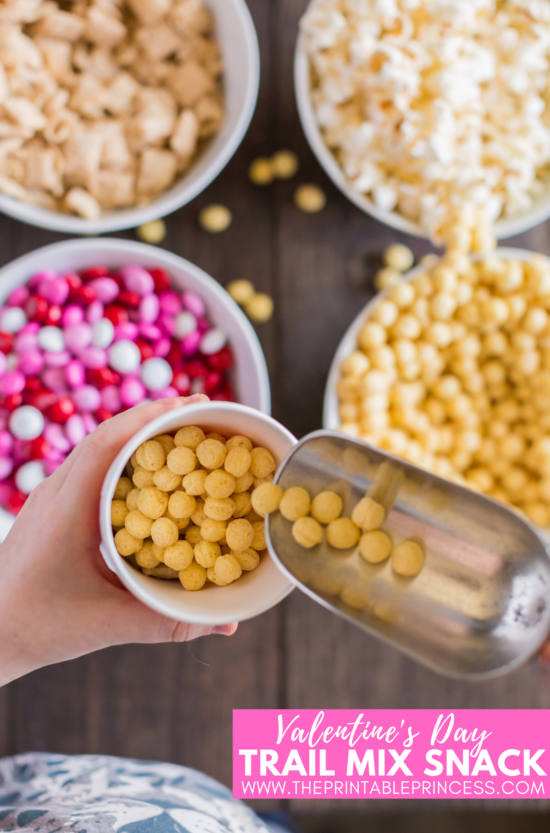 Dump and Mix

For this method, you'll need a large bowl or container. The foil pans from the dollar store work great for this. Plus they are disposable, so there's no clean up.
You can have students take turns, one at a time, pouring in the ingredients that they brought in. Be sure to put in the large ingredients, like pretzels, popcorn, and cereal first. Put the smaller items like sprinkles in last. Otherwise those smaller ingredients will get lost.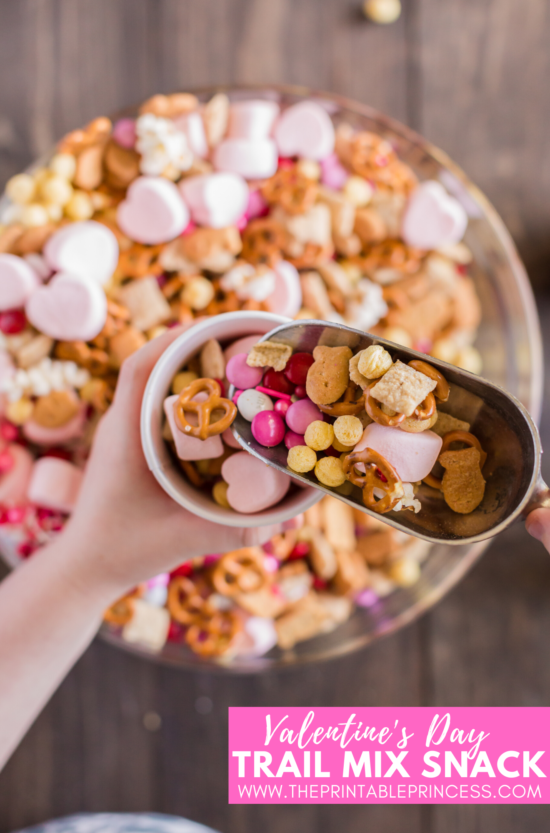 Students use a small scooper to scoop the ingredients into their cup.
Two Ways to Serve
This trail mix makes a lot, so much that you will probably have left overs. You can either share with another class, or send it home with your students. While serving the trail mix in class, a cup works great. I've created a little poem that you can print and cut-out to decorate the cups. I'll also be sharing an easy way to send the trail mix home with students.
Valentine Trail Mix Cups: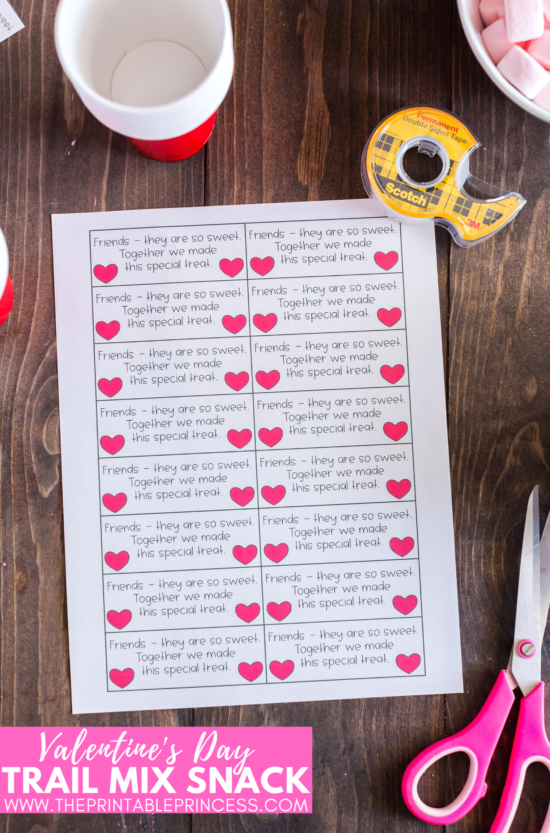 You'll need red paper cups, scissors, double stick tape, and the printable poem. Honestly, any color works – red are just festive.
The printable poem included comes in color and black and white.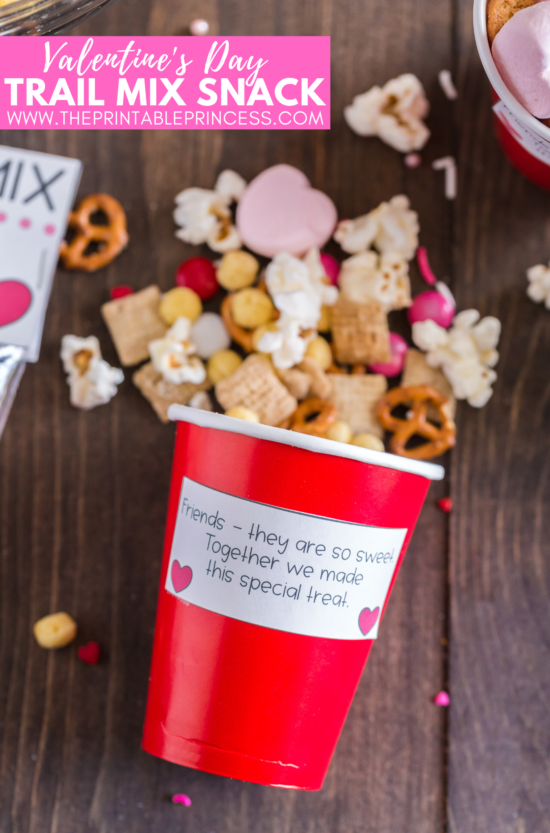 Cut apart the poems. Use small pieces of double stick tape to adhere the poem to the paper cup.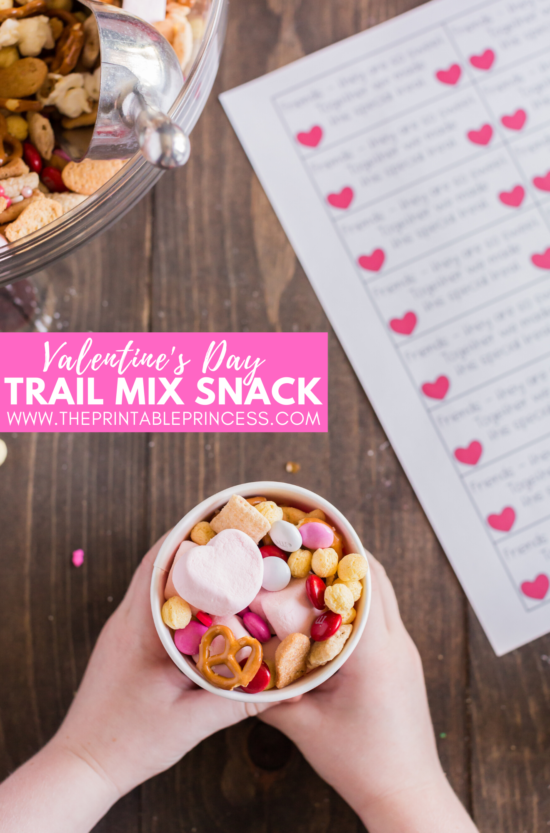 Take Home Bags: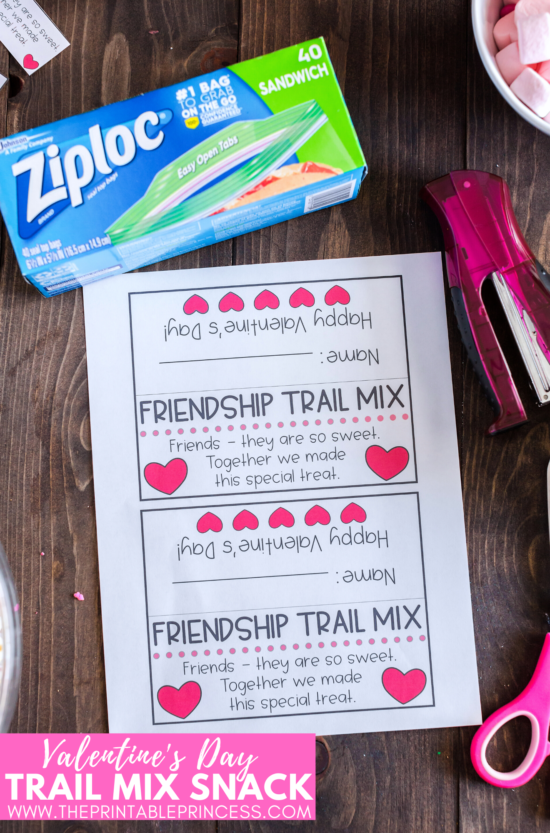 If you find yourself with a ton of leftovers, this is a great way to send them home. For this you'll need the bag topper printable, a stapler, and sandwich size zip-top bags.
There's two bag toppers included – one says Friendship Trail Mix and the other says Valentine Trail Mix. Pick which one works best for your class! Both come in color and black and white.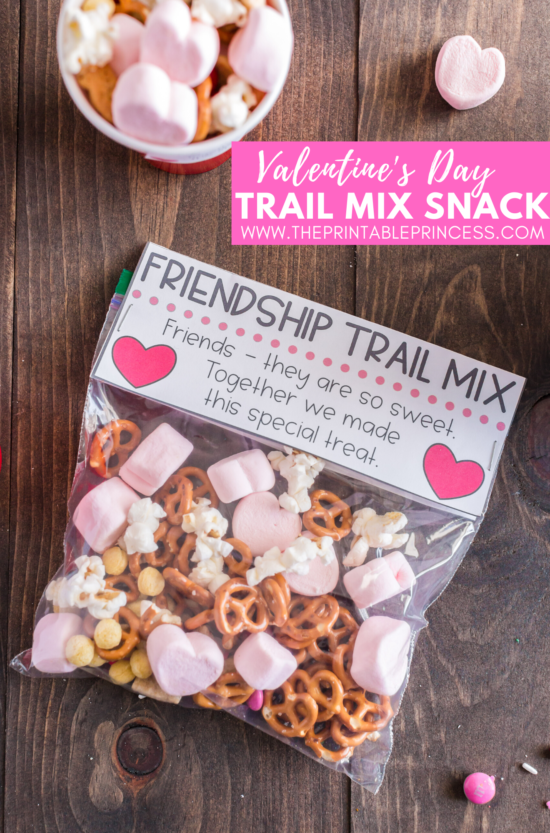 Cut out the bag toppers, fill the sandwich bag with leftover trail mix, zip it up, and staple the bag topper on top.
For step-by-step directions, check out this video:
If Valentine's Day has already passed, pin this image to remind you to make party planning easier for next year!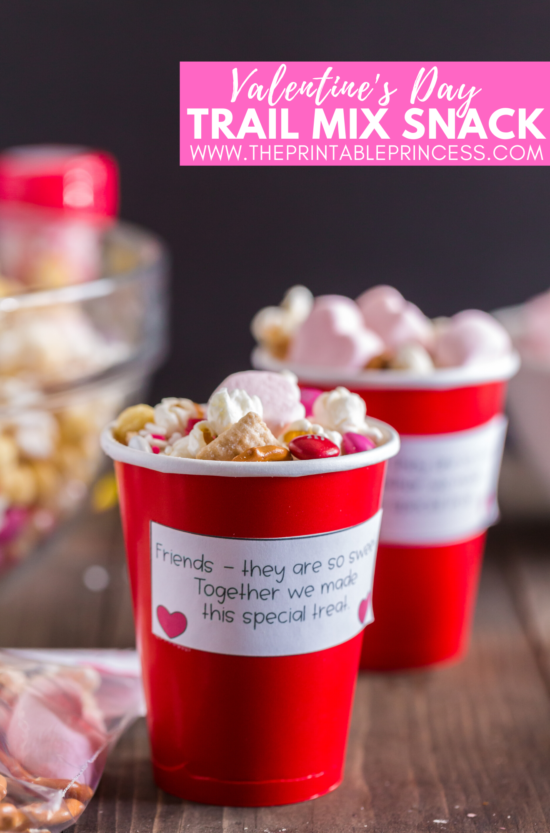 You can download your free copy of the Valentine's Day Snack printables here.