Valentine Sight Word Craft
Looking for an easy, fun, and festive Valentine's craft? This blog post is for you! By creating this FREE sight word craft, your students will have so much fun, they won't realize they are actually learning!
---
As teachers we know that sight words are critical for building fluent readers. Sight words make up a large percentage of words, and since most can't be sounded out – they must be memorized. But how do you get little people to memorize all of these words? By practice and repetition through activities, songs, games, and crafts – of course! This Valentine Sight Word Craft is a great way to review what students have learned and to help them show off what they know!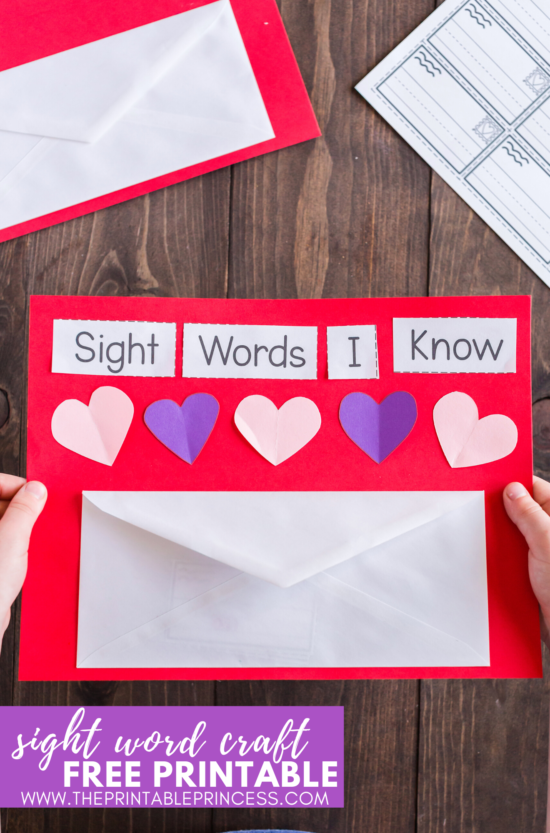 This article, along with many other articles on The Printable Princess, contains Amazon affiliate links. If you purchase through the links I earn a small commission. Clicking these links does not cost you any extra but helps this website to keep great articles and freebies coming your way.
Craft Supplies Needed: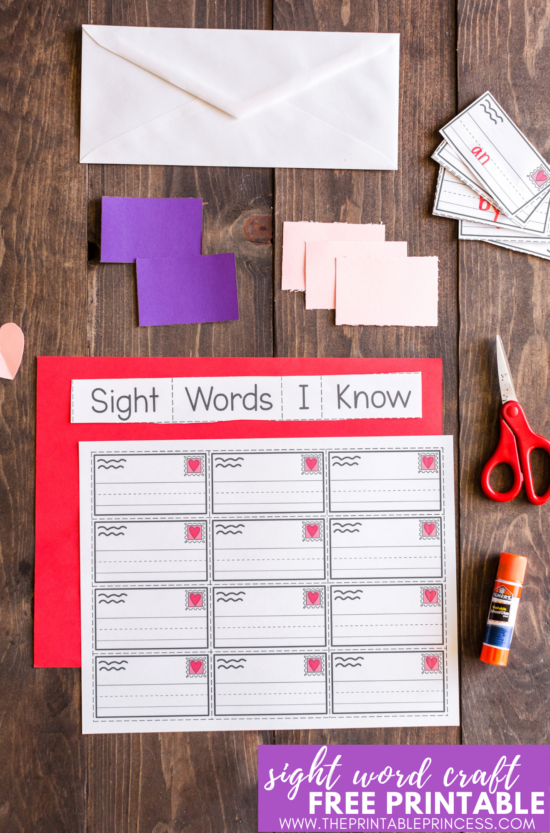 You'll need the following supplies for this sight word craft.
#10 envelopes (1 per student)
scissors
glue sticks
pencils or markers
Sight Words I Know free download
How to Make the Sight Word Craft:
Preparing the Base: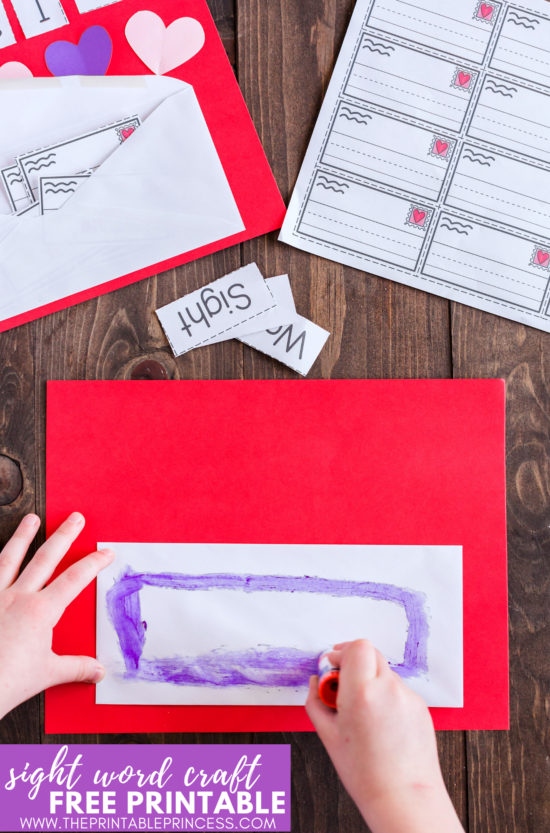 Students will first prep the base of this sight word craft. Using a glue stick, they will apply glue to the front of the envelope (the side where you would write the address).
Students will glue the envelope on the bottom of the 9×12 construction paper.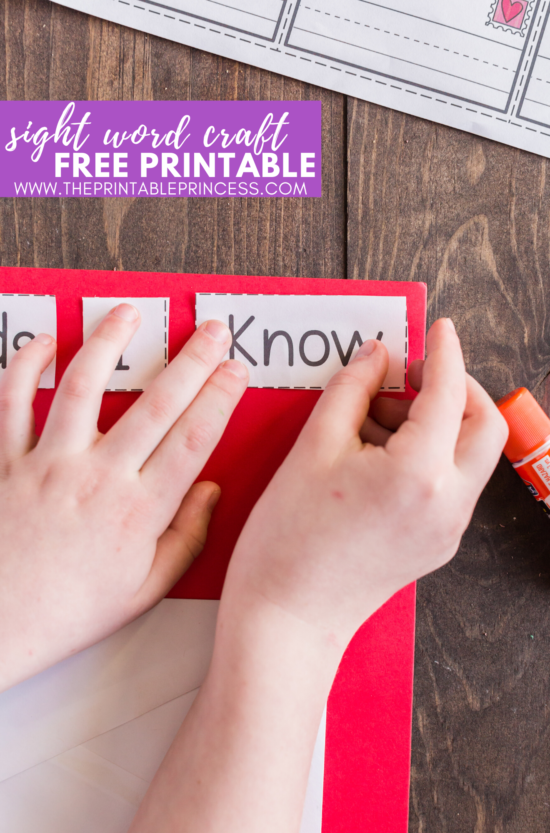 They will need one strip of the "Sight Words I Know" title. They will cut the title apart and glue it at the top of the 9×12 construction paper.
Making Paper Hearts:
Back in November did you show your students that they can make a turkey by tracing their hand? Did they become obsessed and draw hand-turkeys whenever they had free time? This was my class every single year. I feel like it's a kindergarten rite of passage.
Then Valentine's Day rolls around and they learn that they can make paper hearts with a simple fold and a few snips. It's their new favorite thing. So this sight word craft incorporates that new skill!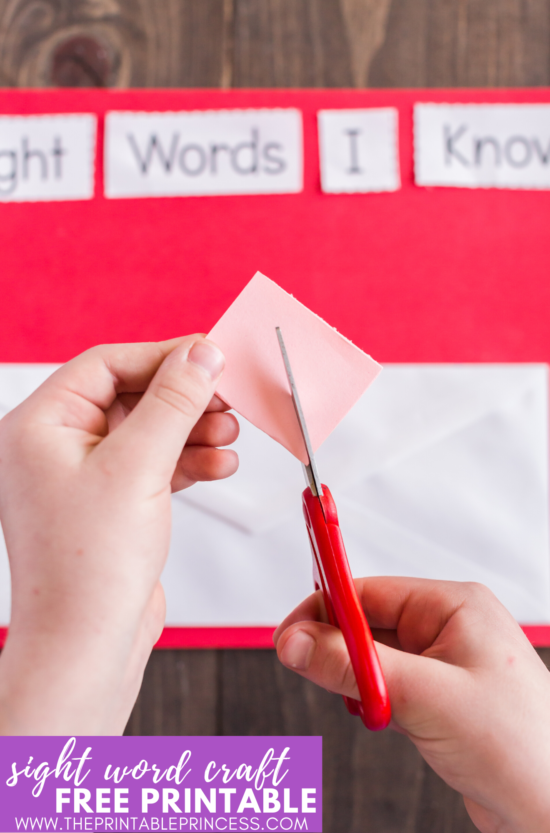 For the hearts you'll need 2″ x 3″ pieces of paper. You can use any color, it doesn't have to be pink and purple. You might put out several colors and let students pick the colors they want for their sight word craft.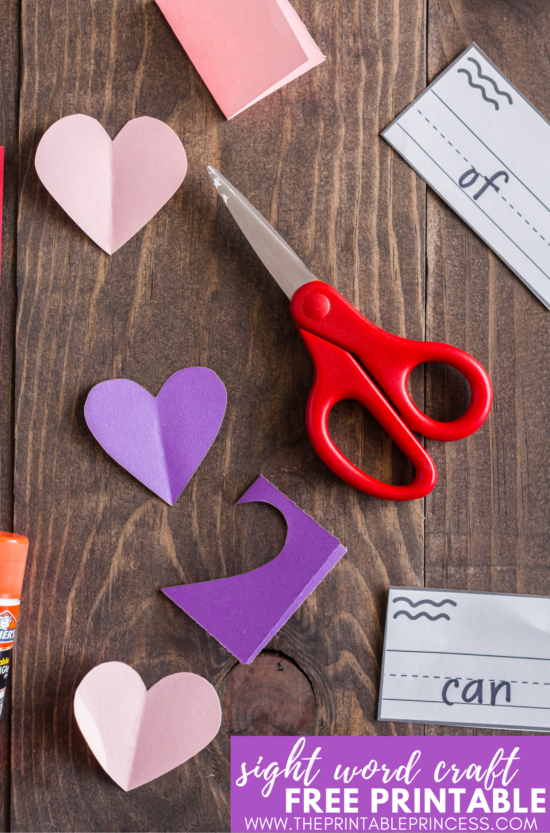 Students will fold paper in half and cut to make a heart. It's really important that you model HOW to make paper hearts. Be sure to show students that they cut on the side with the fold – NOT the open side.
Preparing the Sight Word Cards: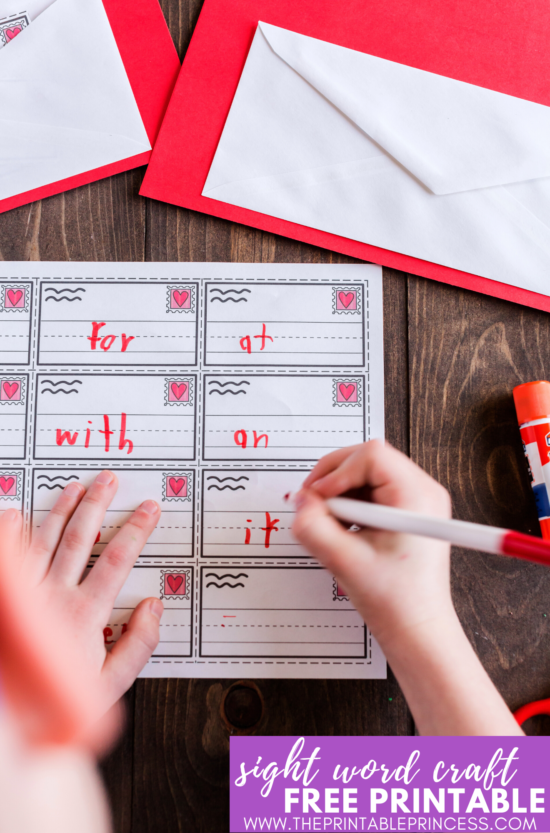 For this part of the sight word craft, you'll need the free printable download – there's a place to download it at the end of this blog post.
Students will color the stamps on the envelopes and write their sight words on the cards. If you have more sight words than 12, simply print additional copies for each student.
You can have students use pencils or markers to add a colorful, festive touch.
You may want to display the sight words for students to copy from. Or students can use the classroom word wall. Since students are writing their own sight words, you can customize the words and have students write the words they know or that they need to work on.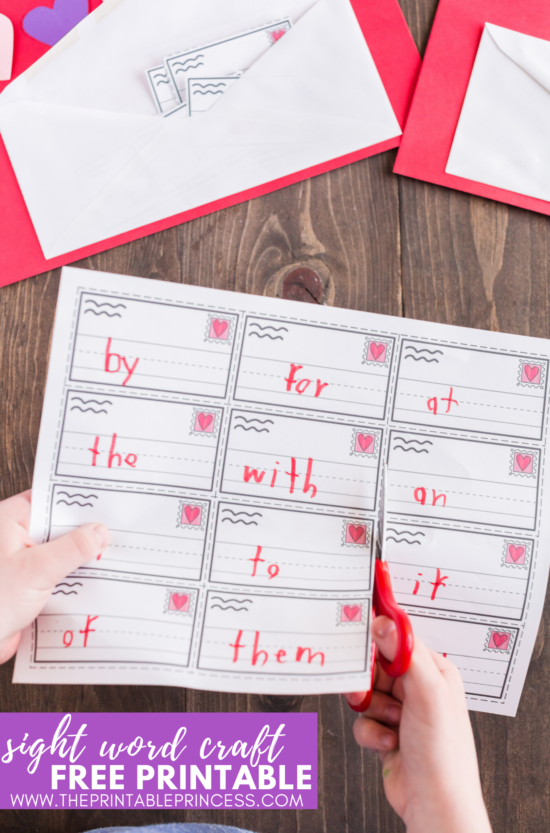 Students will cut along the dotted line to cut the sight word cards apart.
Storing the Sight Word Cards:

Once the sight word cards have been cut-apart, students can open the envelope flap and tuck their cards inside. They can take them out and read the sight words to a classmate, stuffed animal, or a classroom helper.
This is also a great craft to send home to parents. It's a fantastic way to show parents what you've been working on in class and give students a little extra sight word practice at home. Win-win! I guarantee parents will love seeing that their child is reading words and has made so much growth!
For a more in-depth look at the Valentine Sight Word craft, check out this video:
Fill out this form and have your copy of the Valentine Sight Word craft sent straight to your inbox!
For more hands-on activities for February, check out this blog post.