February Morning Tubs for Kindergarten
February is the month of love, the month of kindness, and the month of trying to squeeze it ALL in. With so many themes and topics to cover, you can turn to these February morning tubs for kindergarten to bring the consistency (and fun!) to your morning routine.
Between Groundhog Day, Valentine's Day, President's Day, and Dental Health month, there are a lot of themes and important topics to cover, despite it being a short month.
With all that needs to be taught, having a structured, hands-on activity for your students to complete right away can be a real life and sanity saver.
Instead of your classroom erupting into mass chaos in the morning, these February Morning Tubs will give your students a predictable routine and a soft start to the day.
This will help them warm up their brains and get ready for a successful day of learning.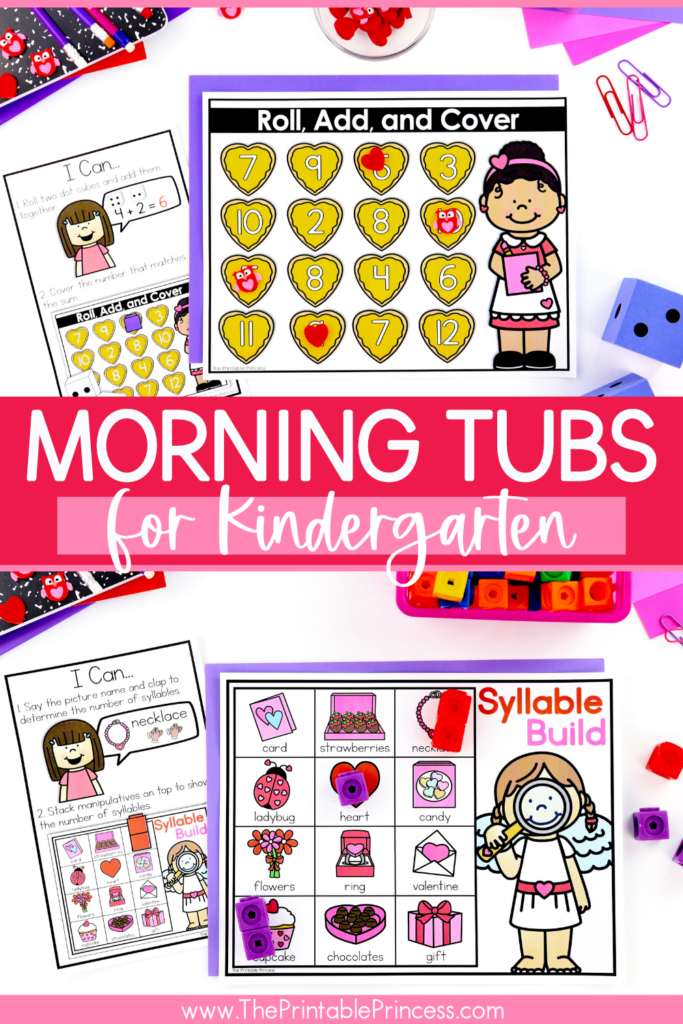 This article, along with many other articles on The Printable Princess, contains Amazon affiliate links. If you purchase through the links I earn a small commission. Clicking these links does not cost you any extra but helps this website to keep great articles and freebies coming your way.
Why Morning Tubs are Different Than Other Morning Work Activities
There are so many options for activities that you can have students complete upon arrival in the mornings. There is no right or wrong way to start the day, and you have to find what works best for your students.
Morning tubs are different than traditional paper and pencil morning work because they are completely hands-on and require no recording sheets or grading. Now, that's sure to make your teacher heart happy!
Morning tubs give students a hands-on and open-ended way to start their day. It allows them to work and explore with manipulatives and practice key math and literacy skills.
For some students, completing paper and pencil work right away in the morning is frustrating. Their brains need some time to warm up and get acclimated, which is exactly what morning tubs allow for.
Morning tub activities also incorporate fine motor skills- which is a huge benefit, as little learners are still developing these skills. This will help them in many areas of their life and learning.
February Morning Tubs for Kindergarten
Whether you need a structured activity in the morning or something for early finishers, these February Morning Tubs for Kindergarten are a great way to reinforce the math and literacy skills your students are working on.
Each activity comes with an "I Can" card to promote independence. In addition, each piece or card is labeled to help you stay organized and pair up missing pieces if something gets lost.
There are no recording sheets included, so you won't find yourself with a ton of extra papers to check over.
These activities use basic classroom supplies like magnetic letters, dry erase markers, plastic math cubes, play dough, mini erasers, and more.
Mini Erasers for February Morning Tubs
It's no secret that I LOVE incorporating mini erasers into learning activities whenever possible. They are an affordable, easy way to add a little fun flair to your activities.
Here are a few of my favorite mini erasers to use for the month of February:
These smiley face hearts come in pink, purple, and red. There's 144 in a pack, so you'll have enough for a few students to share.
I love the colors in these little heart mini erasers. There are 300 erasers included, so you'll have more than enough for small group work.
These big hearts are another great mini eraser option for February. There are a few different versions, which makes them great for making patterns or addition practice.
You can easily incorporate fine motor skills into your morning tub routine by adding these jumbo tweezers, which are perfect for little hands. Students can use the tweezers to pick up the mini erasers, instead of using their fingers.
Literacy Morning Tubs for February
Make practicing key literacy skills such as syllables, rhyming, and CVC words fun for students all month long.
Check out this sneak peek of the literacy activities included in this set of February Morning Tubs.
Syllable Build
This Syllable Build literacy activity is a fun way for students to practice syllables in a fun, interactive way.
To play, students say the name of each picture and clap to determine the number of syllables. To represent the number of syllables in each picture, students will stack that many cubes on top of the picture.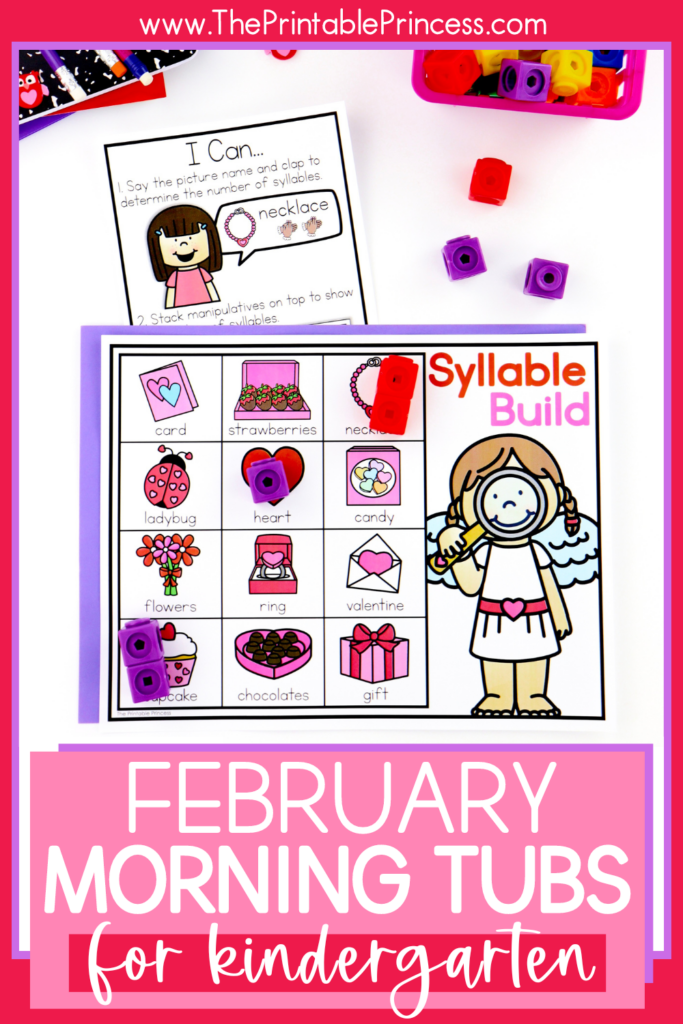 Roll and Rhyme
Roll and Rhyme is another learning activity that feels like a board game! What kid doesn't love that?!
Students will roll the dot cube and read the corresponding CVC word. Then, they'll find a CVC word that rhymes and cover it with a mini eraser or other manipulative.
Students will continue to roll and cover until all of the words have been covered. There are five activity mats included so students can practice various word families.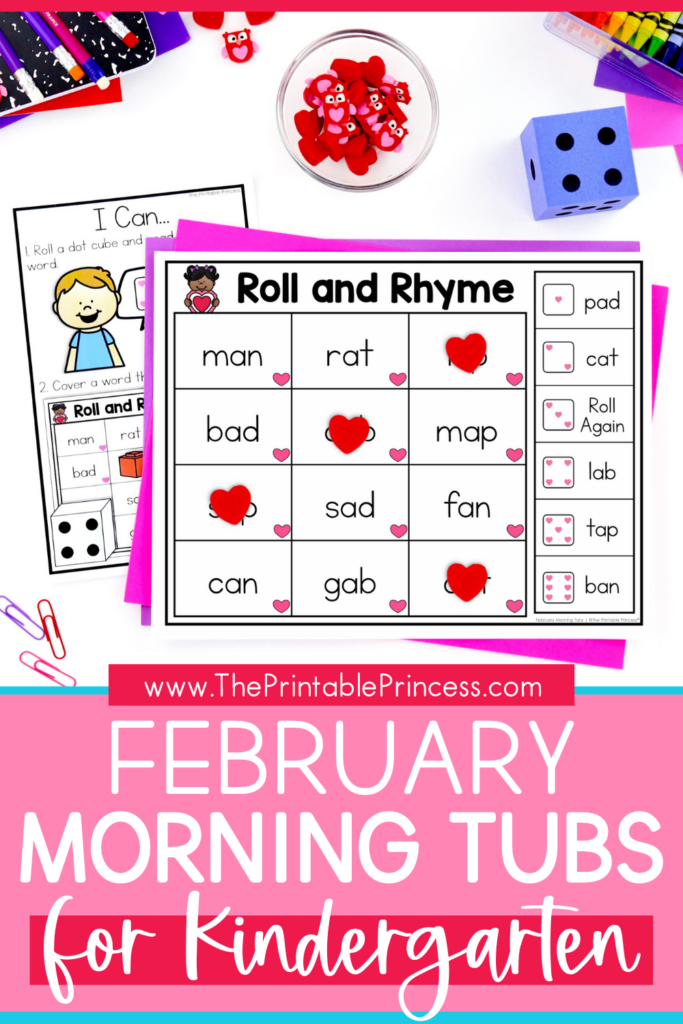 Special Delivery
This Special Delivery activity is a fun way for students to practice sounding out CVC words and practicing onset and rime.
Students will say the name of the CVC picture on the mail cart. Then, they'll match the letter cards to show the onset and rime.
Teacher tip: Go over the picture names with your students before they complete this activity independently so they know what each picture is.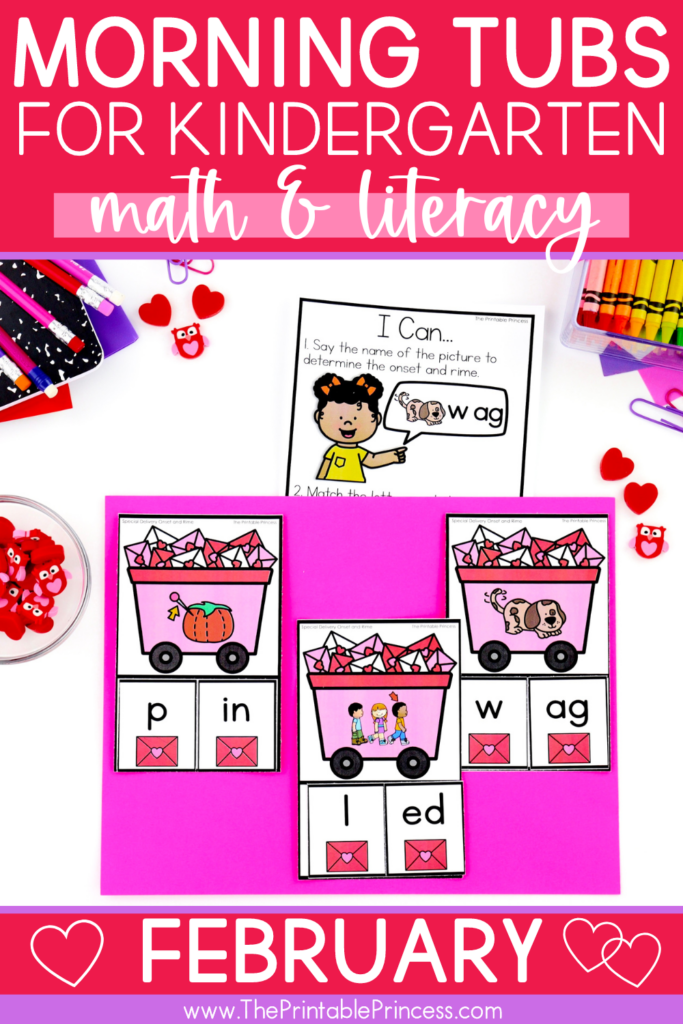 Math Morning Tubs for February
Incorporating hands-on morning tub activities with manipulatives is a great way to make mastering math skills more fun for students.
Take a look at these math activities included in the February Morning Tubs edition.
Count and Cover 11-20
Teen numbers is a big skill for kindergarteners to practice this time of year. This Count and Cover 11-20 activity is the perfect way for students to work on this skill.
Students will count to determine the number represented on the card. Then, they will find a corresponding number on the activity mat and cover it with a manipulative.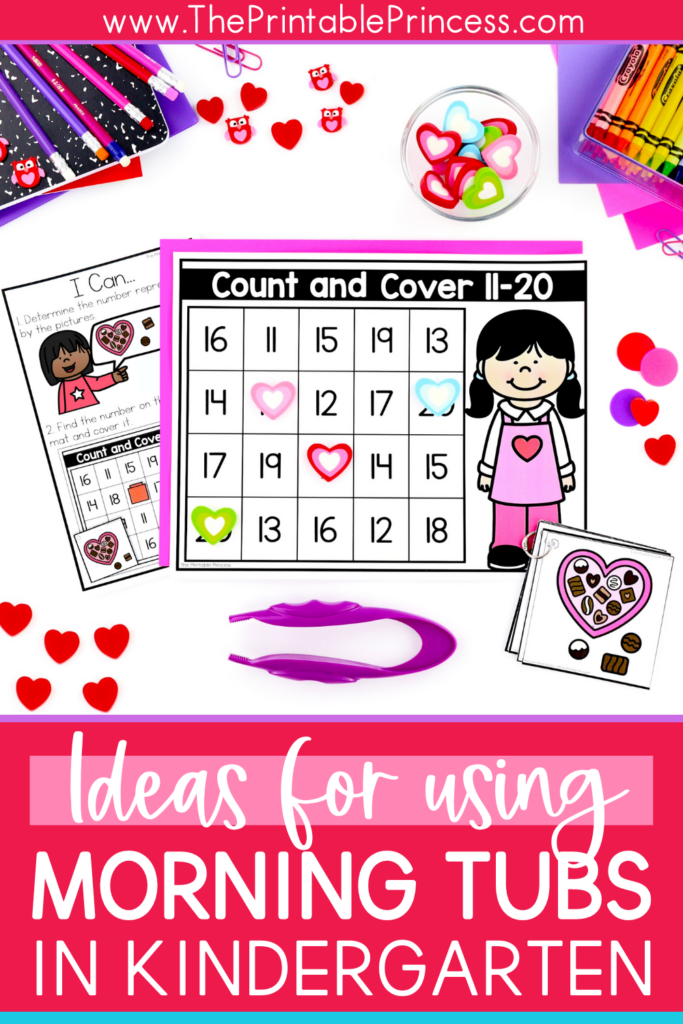 Build the Number
Number formation is a skill that students must practice and review all year long. In this Build the Number morning tub activity, students select a picture card and determine the number represented.
Then, they will use mini erasers or other small manipulatives to form the number on the mat. There are four sets of picture cards included: number words, making 10, tally marks, and ten frames.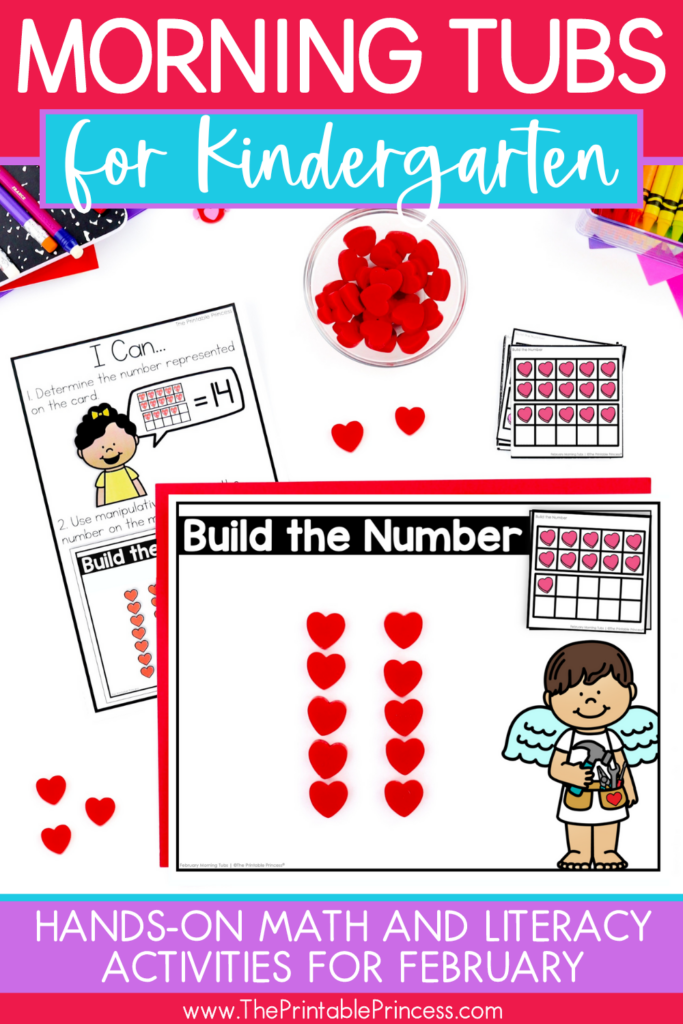 Color-Code Cover
Color-Code Cover is an engaging way for students to practice solving basic addition and subtraction problems.
To begin, students will solve each addition or subtraction sentence on the game mat to determine the answer.
Using the color code on the right of the mat, they will cover the space with the correct cube to show their answer. There are six mats included this activity.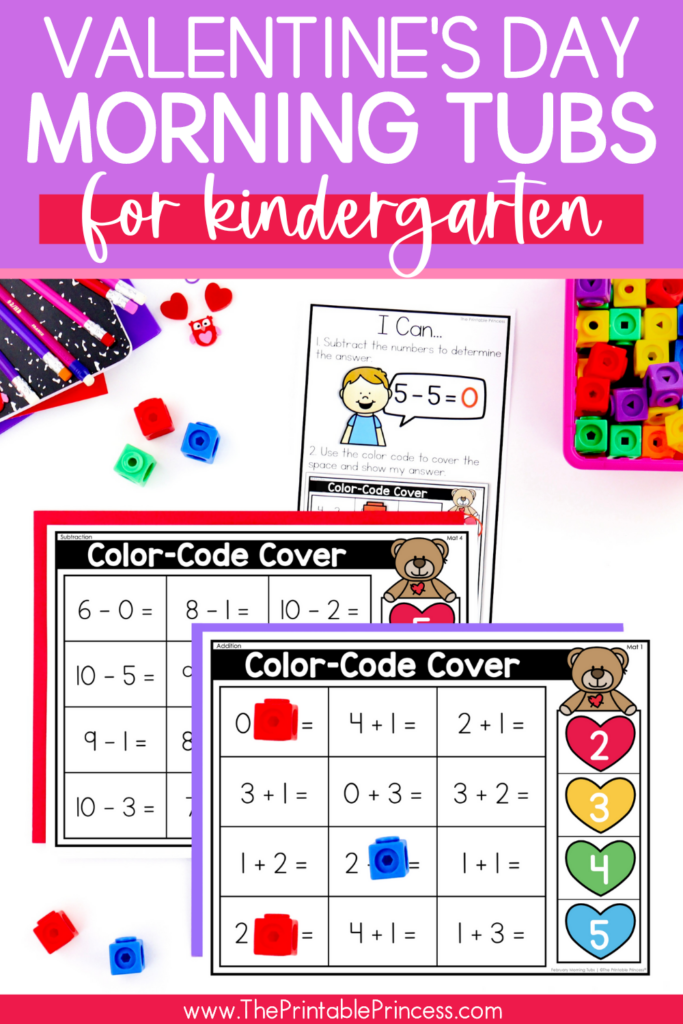 I hope you enjoyed this sneak peek of these morning tubs for the month of February!
Do you want to get your morning tubs done for you this month? Grab all of these activities in the February Morning Tubs resource.
For more tips on implementing morning tubs in your kindergarten classroom, check out these blog posts:
Do you use morning tubs in your classroom? Comment below and let me know which activities are their favorite!